|
If you want to install a new roof or replace the old one without breaking your bank, using three tab shingles for the job can be an excellent choice.
3 tab asphalt shingles are durable, visually appealing, and best of all, affordable, so it's no surprise many homeowners choose them.
To get started on your roof replacement project, contact your local roofing pros for FREE ESTIMATES!
What Are 3 Tab Shingles?
Three tab shingles are made of asphalt and feature several tabs or strips along their lower edge. Each section of a 3 tab shingle gives the visual impression of being comprised of several individual shingles.
3 tab shingles have been around for decades, and they have been the dominant type of roof shingles for a long time.
Nowadays, three tab shingles are often used as a budget-friendly roof replacement option. Plus, many homeowners who are partially replacing their roofs use them to match the rest and do so in an economical way.
Tab shingles and three-tab shingles are two terms often used interchangeably. As their name indicates, these shingles have three tabs.
Unlike other asphalt shingles, tab shingles are designed in a single, flat layer with a uniform pattern.
Homeowners that like a simple style often choose 3 tab shingles. These shingles also look great on houses with interesting decorative elements.
How Much Do 3 Tab Shingles Cost?
Install Asphalt Shingles Roof:
(258,245 projects)
National Average Cost
$5,287
See Costs in Your Area!
Start Here - Enter your zip
3 Tab shingles are sold in squares, and each square covers 100 square feet. They are the most affordable type of asphalt shingles, and their price ranges from $100 to $140 per square without labor costs.
If you decide to hire a professional, you'll need to pay an additional $170 to $230 per square for installation.
So, the total material and labor costs to install 3 tab shingles is $270-$370 per square, or $2.70-$3.70 per square foot.
Most homeowners spend between $5,580 and $11,760 to have 3 tab shingles installed. The average amount homeowners spend is $8,670 installed on a 1,800 sq. ft. roof.
Although all 3 tab shingles are made of asphalt, some manufacturers make them more resistant to wind, algae, hail, etc. That's why there's a significant price difference between different manufacturers and shingles brands.
You can use our Asphalt Shingles Cost Calculator to estimate the cost of installing 3 tab shingles on your roof.
Cost of 3 Tab Shingles vs Other Top Roofing Materials
Installation prices for most popular roofing materials in US:
All prices are for an average 1 story walkable ranch/cape house, and include labor, materials, dump fees, building permit, roofer overhead and profit. Below are real national average costs for each roofing material that you can estimate with our roof calculator:
| | | |
| --- | --- | --- |
| Architectural Shingles | $5,312 | ( $356 per square ) |
| 3-tab Asphalt Shingles | $5,262 | ( $353 per square ) |
| Standing Seam Metal Roof | $12,234 | ( $821 per square ) |
| Metal Shingles Roof | $12,439 | ( $835 per square ) |
| R-panel Metal Roof | $9,281 | ( $623 per square ) |
| EPDM Rubber Roof | $9,086 | ( $610 per square ) |
| TPO Flat Roof | $10,020 | ( $672 per square ) |
| PVC Flat Roof | $11,045 | ( $741 per square ) |
| Cedar Shingles or Shakes | $11,571 | ( $777 per square ) |
| Natural Slate | $17,344 | ( $1,164 per square ) |
| Synthetic Slate | $14,774 | ( $992 per square ) |
| Clay/Concrete Tile Roof | $13,544 | ( $909 per square ) |
Note: Above prices are based on contractors prices in our Local Roofers Directory, and 749,169 roofing projects estimated by RoofCalc.org. Prices vary by state (see regional details below).
What Is The Labor Cost For Installing 3 Tab Shingles?
With 3 tab shingles, labor costs are often more expensive than the material. They usually make up around 70% of the total costs.
Do 3 Tab Shingle Prices Vary Depending On The Brand?
Yes, depending on the manufacturer you select, you can end up spending $500-2,000+ more on your shingles roof.
For example, GAF, Malarkey and CertainTeed are considered to be the most expensive roof shingles manufactures, while IKO, Tamko, and Owens Corning are considered cheaper.
The price difference will also vary depending on the type of shingle you purchases from a specific manufacturer.
As previous discussed, 3 tab shingles are the cheapest, architectural shingles are middle of the road, and premium shingles are the most expensive.
To better understand price differences between various top asphalt shingles manufacturers, check out our in-depth guide on GAF vs CertainTeed shingles.
Factors That Determine 3 Tab Asphalt Shingles Cost
There are several factors you need to keep in mind when installing 3 tab shingles:
Old roof removal – Removing and disposing of the old roof can cost you from $2.70 to $5.20 per square foot. Keep in mind that prices can increase depending on the difficulty of the process.
Damaged trusses – Trusses or rafters support your roof construction. If they are damaged, they may not be able to support your tab shingles and will require replacement, thus increasing the final cost.
Steep roof pitch – Installing tab shingles on a house with a steep pitch imposes a greater physical risk to the installers, which can increase the price.
Updates – Adjustments that improve your roof's function will cost you more.
Accessibility – If your roof is difficult to access or has power lines or tree branches nearby, the cost will be higher.
Three-Tab vs. Architectural Shingles
Since three-tab and architectural shingles are both very popular, many homeowners aren't sure which type to get. We'll summarize the advantages and disadvantages of architectural vs three tab shingles according to numerous factors.
Shingle Composition
Both three-tab and architectural shingles are made of asphalt, making them similar in composition. The crucial difference between the two lies in the amount of material used, which affects the overall quality. Architectural shingles are around 50% heavier than three-tab shingles. Their base mat is also thicker, making them sturdier.
Moreover, stronger adhesives are generally used for architectural shingles, and they have more granules on their surface. Often, a higher-quality asphalt is used for architectural shingles.
Esthetics
Three-tab shingles feature a single layer, shape, and size. This gives them a uniform, flat look. Architectural shingles feature multiple layers of material and have a more dimensional look.
In terms of esthetics, it all comes down to personal preferences. Some homeowners prefer the simple style, while others want to make their homes more visually appealing with interesting shingle designs.
Lifespan
One of the crucial factors to consider when getting new shingles is their lifespan. You want to get as many years as possible out of them without needing frequent maintenance or having unexpected problems.
Because of their high-quality composition, architectural shingles tend to last longer. On average, they last between 18 and 30 years, depending on how often they're exposed to severe weather conditions. By contrast, the lifespan of three-tab shingles ranges from seven to 20 years.
Keep in mind the lifespan depends on numerous factors. Properly maintained three-tab shingles will almost always last longer than unmaintained architectural shingles.
Shingles Cost
The cost of replacing a roof is a pain point for many homeowners. Three-tab shingles are the most affordable type of asphalt shingles. If you're on a tight budget, these shingles are an excellent option.
Architectural shingles tend to be around 15-25% more expensive, compared to 3 tab shingles.
When thinking about the cost, it's essential to look at the bigger picture. Three-tab shingles may be more affordable, but they tend to deteriorate faster than architectural shingles, which often have better warranty conditions.
Maintenance
Although three-tab and architectural shingles differ in many aspects, they are equal in terms of maintenance. Both require at least annual maintenance that can catch minor issues early on and ensure your roof lasts longer and looks great.
Wind Ratings
Three-tab and architectural shingles have different win resistance ratings. Typically, three-tab shingles are resistant to winds of up to approximately 60 miles per hour.
Architectural shingles can be rated for winds of 80 to 120 miles per hour, depending on the manufacturer. If you live in a windy area, wind ratings are something you should always consider before purchasing shingles.
Did you know? Shingles with the highest wind rating can resist winds up to 150 miles per hour.
Fiberglass Shingles vs. Organic Three-Tab Shingles
There are two types of three-tab asphalt shingles: fiberglass and organic. Both have an asphalt exterior but a different base.
Fiberglass shingles feature a fiberglass mat, while organic ones contain a non-synthetic material, most commonly paper.
Fiberglass shingles tend to be more lightweight, which is why they are easier to install. Due to their fiberglass base, these shingles are more resistant to fire.
If you live in areas with extremely high temperatures, fiberglass shingles are a better choice than those with a paper base. Although their performance in hot areas is undeniable, fiberglass shingles aren't ideal for cold regions. Low temperatures make them brittle and cause breakage.
These shingles contain less asphalt, which can be both an advantage and a disadvantage. From an environmental point of view, fiberglass shingles are a better option.
However, since they don't contain as much asphalt, these shingles are not as heavy and are more prone to damage.
In contrast, organic asphalt shingles contain more asphalt, making them more durable and better for colder climates with harsh winters.
Because they are paper based, they usually don't have a high fire rating. Keep in mind that organic asphalt shingles are heavier, making the installation process more challenging.
If you're hiring a professional for the installation, you'll likely pay more for installing organic asphalt shingles compared to fiberglass shingles.
Factors That Affect The Service Life Of 3 Tab Shingles
As mentioned, tab shingles usually last between seven and 20 years. Many factors can extend the life of your tab shingles and prevent unexpected issues.
Ventilation
Even the highest-quality shingles won't last if your attic isn't properly ventilated. When there's no adequate ventilation, the trapped hot or cold air will shorten your roof's life. Plus, most manufacturers will void your warranty if the damage happened due to improper ventilation.
Proper Installation
Proper installation plays a vital role in the lifespan of your tab shingles. Incorrect roofing techniques cut short your roof's life and cause more expenses down the road.
For this reason, it's crucial that installation is done by someone with years of experience and a history of proper roof installation.
Weather Conditions
Although this is one of the factors you can't change, it's an important one. Different weather conditions can leave a mark on your roof.
The degree of extreme weather in your area can determine how fast your shingles will experience granular loss.
If you live in a region that gets a lot of hail, you should consider getting high-quality shingles.
Roof Orientation
Even though it seems irrelevant at first glance, the direction your home faces can significantly affect your shingles' lifespan.
If your roof faces east and west, it will get an equal amount of sunlight throughout the day.
However, if the roof faces south, that side will receive direct sunlight all day, thus leading to faster deterioration.
Maintenance
The key to a long-lasting roof is regular maintenance. Although many homeowners skip it thinking it's unnecessary, regular roof maintenance can actually save you money in the long run.
It's a great way to identify and fix minor issues before they turn into bigger (and more expensive) problems.
Average Roof Replacement Cost in US:
Low End

$4388

Mid Range

$5287

High End

$6608
DIY 3 Tab Shingles Installation vs. Hiring A Professional
If you have some roofing knowledge, you can install tab shingles yourself. Although this can seem like an excellent way to save money, most manufacturers don't recommend DIY installation.
Firstly, climbing on the roof can be risky, and one second of distraction could lead to severe injuries. Professionals understand the risks and have been trained extensively to minimize the possibility of injuries.
Secondly, most homeowners don't have the necessary tools and equipment for completing the job.
Thirdly, improper installation could lead to damage to the entire roof structure. If you want to have peace of mind and enjoy your shingles for years to come, we recommend hiring a professional.
Pro tip: If you decide to hire a contractor, ensure you get multiple quotes. That way, you won't overpay for the installation service.
How Do I Calculate How Many Shingles I Need?
One of the ways to roughly calculate the number of shingles you'll need is to look at your home's square footage.
However, this can be tricky because roof pitch and certain elements (gables, dormers, etc.) affect the amount. If you want a precise number, you'll need to measure your roof's surface.
Instead of worrying about buying the right number of shingles, you can leave it to a contractor. They can accurately estimate how many shingles it will take to get the job done.
What Is The Most Common Type Of Asphalt Shingle?
For decades, three-tab shingles were the most common type of asphalt shingles. Nowadays, with advancements in technology, the roofing industry is shifting towards architectural shingles.
What Are Premium Shingles?
Like three-tab and architectural shingles, luxury shingles are made of asphalt. In fact, they are the highest-quality type of asphalt shingles.
Luxury shingles offer premium weather protection and durability and make your home more visually appealing.
For example, CertainTeed Shingles offer many lines of premium shingles, such as Grand Manor, Presidential Shingles, Carriage House, and Belmont Shingles.
One of the main disadvantages of premium designer shingles is their cost. These shingles are the most expensive type, which is why many homeowners don't choose them.
Did you know? Luxury shingles can cost up to six times more than three-tab shingles.
Average Roof Replacement Cost in US:
Low End

$4388

Mid Range

$5287

High End

$6608
Benefits of Installing 3 Tab Shingles
Asphalt shingles have numerous benefits, and it may come as no surprise many homeowners choose them for their home.
First, asphalt shingles are highly versatile. They can cover different angles and shapes and work well with almost any type of roof. No matter how complex your roof structure is, you can be confident asphalt shingles will cover it up.
Perhaps the most significant benefit of asphalt shingles is that they offer high performance at a lower cost. Some budget-friendly shingles are Atlas and IKO.
They are the most cost-effective roofing material and can offer years of exceptional service. Unlike wood-based shingles, asphalt shingles aren't prone to algae development, making them more resistant.
If you want to keep the shingles in great shape, yearly maintenance will be more than enough.
One surprising benefit of asphalt shingles is their energy efficiency.
When you purchase an asphalt roof and hire a professional to install the whole system, you'll be able to make your home more energy efficient.
Plus, you can find specially designed shingles on the market that can reflect the sun's infrared radiation, thus lowering the roof's temperature. This means you'll spend less energy on cooling down your home.
Another benefit of asphalt shingles is their ability to insulate sound. Their composition offers sound protection and makes them absorb noise more than metal shingles. In the case of heavy downpours and hail, asphalt shingles will "soften" the noise.
Finally, asphalt shingles are easy and quick to install, which means the installation costs aren't as high as with other types of shingles. If you ever need to replace even a single one, you'll have no trouble finding the product or a contractor for the job.
Average Roof Replacement Cost in US:
Low End

$4388

Mid Range

$5287

High End

$6608
What Are Some Trusted 3 Tab Shingle Brands?
Many brands manufacture different types of asphalt shingles. Here are a few recommendations:
CertainTeed Shingles
CertainTeed offers a wide variety of shingle designs and colors, and it's one of the most popular brands on the U.S. market.
If you choose a contractor certified by CertainTeed, you can take advantage of an extended warranty, depending on the shingle type you get.
GAF Shingles
Like CertainTeed, GAF is a reputable and well-known name in the roofing industry. They offer three-tab, architectural, and luxury asphalt shingles.
Although they have a wide selection, they don't offer as many styles and designs as CertainTeed. They also enable you to extend your warranty under certain circumstances.
Owens Corning Shingles
Owens Corning is another company worth researching. This brand features a large selection of tab shingles and other types of asphalt shingles at great prices. You can also enjoy a non-prorated warranty if you decide to change your entire roof system.
While choosing a reliable brand is important, it's much more important to find a good contractor that will do a proper job. Using high-quality products won't mean a lot if the installation isn't done right.
Should I Remove The Existing Layer Of Shingles Before Installing New Ones?
Many homeowners may think installing new shingles on top of existing ones makes the roof stronger and more resistant. However, most contractors recommend removing the existing layer.
Although this may sound like a trick to get you to pay more money, removing old shingles actually makes sense.
First, the old nails that hold the existing layer of shingles may harm the new shingles. More importantly, chances are your roof structure was designed to support one layer of shingles, plus a little additional weight.
Having two layers of shingles on top of each other puts a strain on the entire structure and can cause significant damage.
Another reason why you should remove the existing layer is because of the warranty. Namely, most manufacturers automatically void the warranty for your new shingles if you place them on top of old ones.
So, even if something's wrong with the product, you won't be able to file a claim.
Finally, keep in mind roof inspections can't occur if you don't remove the old roof.
What Color Of Three-Tab Shingles Is The Best?
There isn't a universal answer to this question since not all people like the same colors. In terms of heating and cooling costs, a properly insulated and ventilated attic is much more important than the shingles' color.
Did you know? In urban areas, dark shingles can create enough heat to increase local temperatures.
That said, dark-colored shingles usually break down faster than lighter ones, mostly due to their absorption of UV rays. Since lighter colors also make a home look larger, many homeowners choose them.
For more shingle color ideas, check out our guide to House and Roof Color Combinations
Are 3 Tab Shingles Worth It?
3 Tab shingles are among the most popular shingle types for a reason. Their affordability, ease of installation and maintenance, esthetic appeal, and durability make them ideal even for those with strict requirements.
Although other types of asphalt shingles may offer higher quality, tab shingles are an ideal cost-effective option for most homes.
Install Roof Shingles

$4872


Average price

Install Metal Roof

$10253


Average price

Install Flat Roof

$8257


Average price

See costs in your area Start Here - Enter Your Zip Code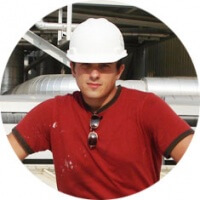 Author: Leo B
For over 20 years Leo has run a successful roofing business in New England, specializing in metal roofing, as well as cool flat roofing technologies. Having replaced and installed hundreds of roofs in New England, Leo has first hand experience with pretty much every residential roofing material and roofing manufacturer available in the US.