Thanks to modern technology, there are now synthetic slate roofing options that look identical to real slate stone, but cost at least 50-60% less.
You can install high quality composite slate roof shingles for about $15,000 on a simple 1,600 sq. ft. ranch or cape style home.
Compared to real slate, these synthetic slate shingles and tiles are also lighter in weight, highly durable, and weather resistant, making them a premium, high-quality roofing material.
Begin your roof replacement project by requesting free quotes from local roofing pros.
Average Roof Replacement Cost in US:
Low End

$4388

Mid Range

$5287

High End

$6608
What Are Synthetic Slate Shingles Made Of?
Synthetic slate shingles are a relatively new roofing material that is made from a mixture of fiberglass, hemp fibers, post industrial plastic, recycled paper products, polymers, and a number of others, depending on the specific blend that a manufacturer uses.
These synthetic shingles are known as "composite shingles" not to be confused with composition shingles, which are really asphalt shingles.
As the name "composite" implies, each composite roofing product can actually be made from very different materials, which will then impact its durability, longevity and weather resistance.
When you research composite slate shingles its very important to check out the actual composition of each product, to ensure you are getting a top quality roof.
How Much Does A Faux Slate Roof Cost?
Compared to other popular roofing materials, synthetic slate shingles fall in the middle of the price spectrum.
Composite slate shingles or tiles cost $5.25-11 per square foot installed, including all materials and professional labor. On a 2000 sq. ft. roof this is equivalent to $10,500 – 22,000. Most homeowners report spending $7.75-8.5 per square foot or $15,500 – 17,000 on a 2,000 sq. ft. composite shingles roof.
Material prices range from $350-475 per square. If you use copper for valleys, drip edge, pipe boots, and flashing, then the cost can go as high as $525-600 per square.
By comparison you would spend at least $35,000 on a natural slate roof of the same size. Total installation cost for a real slate roof starts at $1,650 per roof square and can go as high as $3,000 per square. (1 roof square = 100 sq. ft.)
Pricing for composite slate shingles is most similar to metal roofing. Compared to asphalt roofs, synthetic slate shingles and tiles cost 2 to 3 times as much.
Keep in mind that your total roof installation cost can vary greatly depending on the following factors:
– complexity of your roof design
– number of stories in your house
– ease of access to the roof
– local professional labor rates in your area
– roofer you hire
For example, on both the West and East Coast, in most cities and suburbs the price for professional roofing installation can be 20-25% higher than the cost of the same job in less affluent areas, such as the Midwest, Texas, etc.
Moreover, even within the same area, some roofing pros can charge a lot more money for their work, depending on the size of their company, years in business, overhead costs and many other factors.
Best Slate Roof Shingles
Our pros have picked the top slate composite roof tiles and shingles, that can work well on a variety of architectural house styles.
1. Davinci Roofing
If you want all the benefits and looks of real stone, but without the shortcomings, consider Polymer Slate Shingles, manufactured by Davinci Roofscapes.
These shingles are manufactured from a state-of-the-art engineered polymer resin, crafted to have rough edges and a natural slate-like texture for a more authentic look.
Benefits:
1. High quality: unlike many other fake slate options, Davinci uses exclusively virgin resin to ensure the product's consistency. This results in greater durability and longevity, as compared to synthetic materials that use recycled components.
2. Cost-effective: the total cost of this roofing system (including materials and installation) is about half the cost of the natural stone.
3. Superior durability and longevity: the material is impregnated with fire retardant and the most advanced UV and thermal stabilizers available.
Thus, Davinci roofing can withstand harsh weather conditions, freeze and thaw cycles, as well as exposure to sun, rain, wind (up to 110 mph). It has a fire (class A), impact (class 4) ratings.
This is one of the most long-lasting composite slate roofs on the market, and comes with a limited Lifetime warranty.
4. Maintenance-free: you will not need to invest much time and money into regular maintenance or repairs.
5. Extra UV protection: if you live in an area with high exposure to the sun's rays, you can get the Renaissance finish with Kynar for additional UV protection (costs extra).
6. More tile width compared to other synthetic slate roofs, Davinci shingles and tiles are available in the largest variety of widths (five).
7. Extensive color options: the colors are formulated from a pallet of 24 earth tones. Custom blends are also available.
2. StoneCrest Slate Shingles
StoneCrest Steel Shingles, manufactured by Tamko, masterfully imitate the look of slate, but unlike a true composite roof, its actually made of metal.
These metal shingles rival real stone in terms of durability and longevity.
This makes StoneCrest Shingles ideal for homeowners who live in the snow country and whose primary concern is weather resistance.
Tamko metal shingles are manufactured with heavy gauge G-90 steel, and are double stamped for exceptional beauty and strength.
Pros:
1. Exceptional durability: specially coated with top quality Kynar 500®/Hylar 5000® coating system. This ensures superior resistance to fading, dirt, and environmental aging.
2. Superior snow protection: like any metal roof, it will protect your home from snow and ice dam related leaks that plague the majority of other roofing systems.
3. Can be installed over an existing roof: this is one of the few roofing materials that are light enough to be installed over existing asphalt shingles (if permitted by local building code). This eliminates the time, additional cost and waste associated with tear-off and removal.
4. Energy efficient: metal shingles are highly energy efficient and can bring significant savings on your energy costs. This product is available in Energy Star qualified cool colors.
5. Eco-friendly: Tamco manufactures its shingles from from 37% to 89% recycled content. At the end of its service life, this roof is 100% recyclable.
3. Ecostar Roofing
Majestic is a beautiful composite slate shingles roof, manufactured by EcoStar. It is an injection molded material, made primarily from recycled rubber. This roof is ideal for environmentally conscious homeowners.
Advantages:
1.Crack resistant: unlike natural stone, which is brittle and can easily crack and break when stepped on, Majestic rubber shingles highly flexible. This means that it will not crack or chip during installation and repairs.
2. Half the cost: Majestic tiles cost from $390 – $430 per square (material only). This is at least half the price of natural slate, which ranges from $650-750 per square.
3. Easy installation: the rubber-based composition of the material enables a contractor to simply nail each tile to the roof deck. This is a lot less labor intensive than having to nail through pre-drilled holes in slate, and possibly breaking some tiles in the process.
4. Eco-friendly and sustainable: it is manufactured from 80% post-industrial recycled rubber and plastic. At the end of the roof's service life, it can once again be recycled.
5. Beautiful color options: even a discerning eye will have a hard time distinguishing this roof from from real slate tile. It is available in 11 colors: Smoke Gray, Federal Gray, Midnight Gray, Black, Earth Green, Sage Green, Cedar Brown, Chestnut Brown, Driftwood Brown, Stone Red, and Mountain Plum.
4. Slate Select
Slate Select is a fairly new, top quality synthetic tile manufactured from a proprietary fiber cement matrix with reinforcing non-alkaline glass fibers.
The material is then cast in molds made from pieces of real slate tiles, making it appear nearly identical to the natural stone – even up close! It is manufactured in Garland, Texas.
Benefits:
1. Performs well in harsh weather: uniquely formulated with glass fibers, which enable it to withstand severe weather fluctuations. By comparison, most other fiber cement roofing materials use cellulose (wood) fibers, which tend to expand and contract in rain and adverse weather conditions.
2. Highly durable: offers strong insect, algae, rot and fire (class A and B) resistance. It will also not shrink or warp over time.
3. Easy, cost-effective installation: the process of installing this roof is very similar to wood shingles. This means you will have significant time and cost savings, compared to a natural slate roof install.
4. Superior color technology: one of the few roofing materials on the market that uses iron oxide pigments – the only pigments that are considered non-fading.
This means that the color goes all the way through, does not require additional paint application, and will not chip over time.
Where To Buy A Faux Slate Roof
In general, there are very few manufacturers that produce composite roofing, and synthetic slate roofing in particular.
Usually, big roofing manufacturers such as GAF, IKO, Owens Corning do not bother with these niche roofing materials, because the market share is too small.
Another, more important reason is the potential problems that can happen with composite roofing depending on the materials formulation and manufacturing process that is used.
Keep in mind that producing a high quality, long lasting composite slate roof is expensive, so don't expect any bargains on this type of roofing material.
If you are getting a quote for synthetic slate that is similar to the price of high-end asphalt shingles, you should be very suspicious of the quality of this product.
Did You Know? In the last two years, two big building manufacturers discontinued their popular synthetic slate roofing lines without disclosing the reasons for this decision.

One of them is Symphony Slate by CertainTeed which has been discontinued since 2019, but there is still a lot of information floating around about this roofing product on various roofing and home improvement blogs, because it was so popular.

Today, CertainTeed offers Matterhorn Metal Roofing Tiles that replicate the look of slate while offering all the perks of metal roofing.

Another is PlyGem Slate and Cedar Shakes roofing. They discontinued both these products in the summer of 2019.
Your Estimated Roofing Cost
Roof Price:
Cost per sq. ft.
Roof Size:
Roofing Material:

See costs in your area Start Here - Enter Your Zip Code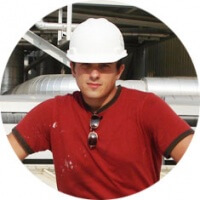 This roofing guide is presented by Leo B.

I've been a roofer for 15 years, and specialize in Metal Roofing and Flat Roofing.

Have a roofing question or issue? Ask me any roofing question!

Roofing Contractors - join our free Local Roofers directory to get more customers!