|
Contrary to common misconceptions, there is a wide range of metal roof colors and finishes that can beautifully match any house style.
Since metal is a lifetime material, and your new roof will cost at least $9,000-11,000 you want to pick a color that you will be happy with for many years to come.
In addition to curb appeal, it is important to consider the quality of the metal roof paint. Choosing a budget vs. premium coating will have a direct impact on how your roof will look ten, twenty, and thirty years down the line.
x
Low End
Mid Range
High End
Materials
$2486
$2793
$3547
Cost / S.F.
$6.09
$6.84
$8.69
Total Cost
$6086
$6838
$8685
See Costs in Your Area!
Start Here - Enter your zip
Best Colors of Metal Roofs
You can order your metal roof literally in any color you can imagine! In general, there are five categories:
standard colors
premium special order colors
two-tone colors
bare metal colors
custom roof colors
Lets take a closer look at each of these metal roofing color options below.
1. Standard Tin Roof Colors
There is a wide selection of pre-mixed or stock metal roof coating choices. Each metal roofing manufacturer will have at least a few dozen of these colors readily available.
These color options are the most budget-friendly and convenient, since they are pre-mixed and ready to order.
However, while most standard roofing colors are similar across manufacturers, certain shades will vary.
Something that is pre-mixed from one manufacturer, may have to be a special order from another.
Install a Metal Roof:
(66,226 projects)
National Average Cost
$11,318
See Costs in Your Area!
Start Here - Enter your zip
Take a look at this metal roof color chart:
Moreover, standard colors can also vary depending on the roof's profile. For example, standard metal roofing paint for standing seam roofing panels may not be the same as the standard paint used for metal shake.
This means that your best bet is to first look online and then request catalogs from manufacturers whose colors you found appealing.
Special Order Roof Colors
There is a selection of regularly available premium shades for different metal roofing profiles.
You can even chose from multi-tone mixes that very closely resemble Aged Copper, Natural Bronze, etc. These custom color will cost 10-15% more than standard options.
Two-Toned or Variegated Metal Roof Colors
This is a fairly new color coating technology that allows the metal roof coating to combine two tones of color, producing a dimensional and sophisticated look.
You may find that the selection of the two-toned options is still limited, but it is growing daily, as manufacturers master the process.
If you are interested in these trendy colors, contact a few different companies to take a look at their selection.
One manufacturer that does a spectacular job with this technology is EDCO. Their steel roof colors realistically replicate wood shake and slate.
Here is an example of their gorgeous ArowLine Slate Roofing product line.
Another manufacturer, pioneering two-tone colors is Matterhorn. While the company is a new player in the field, they have been recently acquired by CertainTeed, so they have a highly reputable, building products manufacturer standing behind their products.
Matterhorn has come out with unique and beautiful lines of Metal Shake and Metal Slate that are sure to turn heads. Looking at this roof, very few people would be able to tell its metal!
Here is a sample of their options. You can choose from 4 shades that closely replicate the stages of color changes on a real cedar shake roof, from rich browns to the famous silver-grey tones.
Here is what a finished roof looks like:
Bare Metal Roof Colors
Who said that a metal roof needs to painted?
Here is an example of an unpainted steel roof on a contemporary beach house.
Plenty of people enjoy the look of bare metal, and for good reasons.
Especially on modern style homes and on the standing seam profile, this option is very attractive.
Aluminum, steel, copper, and zinc each have a distinct look that can rival the beauty of any painted color.
Custom Color Metal Roofs
If you have your heart set on a special color metal that is not readily available, it can be custom made.
In fact, options are virtually limitless and include custom levels of shininess or gloss. These come with a premium price tag, but may be well worth the cost given the length of time this roof will be on your home.
Note, that the extra cost will depend greatly on the size of the job. There needs to be a minimum quantity of material for which a manufacturer would be willing to produce the custom order.
The larger your metal roof, the more reasonable the extra cost will be.
Your installer can help you figure out exactly how much you can expect to spend to put a custom color on your roof.
x
Low End
Mid Range
High End
Materials
$2486
$2793
$3547
Cost / S.F.
$6.09
$6.84
$8.69
Total Cost
$6086
$6838
$8685
See Costs in Your Area!
Start Here - Enter your zip
What Is The Best Paint For A Metal Roof?
Typically metal roofs are manufactured using two types of roof color coatings : Kynar/Hylar roof coating or SMP coatings.
Its recommended to go for Kynar color coatings, as these provide more fade and chalking and chipping resistance over time, compared to the cheaper SMP coatings.
If you want to paint your metal roof, you should use Acrylic latex paint. This type of paint can be used to paint both bare metal roofs as well as metal roofs that already have a paint coating on them.
How Often Do You Need To Paint A Metal Roof?
If you got a high-quality Kynar/Hylar paint coating from the metal roofing manufacturer, you will not need to repaint your metal roof for at least 20-30 years.
Even after that time, you will not need to do an entire roof paint job, only small touch ups, here and there.
On the other hand, if you got a lower quality metal roof paint coating, you may need to repaint your roof as quickly as 12-18 years, depending on the severity of the local weather conditions.
If you initially installed a bare metal roof decided to paint it yourself, this paint job will need to be repeated every 10-12 years, depending on a number of factors.
Can You Restore A Faded Metal Roof?
Yes! To bring an old faded metal roof back to life, you will need to first put a thick coat of primer on the entire surface of the roof. Once it dries, you can apply the new roof color.
Its very important to make sure that the primer and paint coating you use is especially designed for metal roofs.
What Color Metal Roof Is The Coolest?
Many homeowners worry that a metal roof may make the inside of their house hotter by attracting heat.
This is actually not true, because all metal roofs are actually a lot more energy efficient compared to asphalt roofs because metal repels sun rays and keeps the house cooler.
However, if you want to ensure that you have a truly cool roof with the most energy efficiency, its best to select the lightest roof color coatings, such as: white, bare metal colors, light blue, light green, beige, light grey, peach, etc.
What Color Metal Roof Fades The Least?
In general, how quickly your metal roof color fades depends on the quality of the original paint coatings. High quality roof paint is manufactured to be resistant to fading for many years to come, even when exposed to sun for many months out of the year.
If you are worried about fading and don't want to invest into a high-end paint coating, its best to select lighter metal roof colors, since fading will not be very noticeable.
On the other hand, very bright vivid colors will tend to fade faster and will also look less attractive as more fading takes place.
How To Choose The Right Metal Roof Color
Ideally, the color of your roof will complement and elevate the look of your home. Here are simple, but time-tested design tips to consider.
You can also check out our comprehensive guide on the best House and Roof Color Combinations.
1. With permanent house siding, be extra careful about your roof color
There are many beautiful roof and house color combinations. On a stone or brick home, it is critical to pick a color that will match well, as you don't have the option to repaint your siding.
In case of a metal roof, you also will not be replacing it any time soon.
Consequently, try to avoid very dark or bright shades (especially if you have a large roof), as you don't want it to be the first and the only thing that stands out about your house.
You should also steer clear of overly earthly colors such as brown, as these make the entire house look heavy and boring.
Instead, your best bet would be something custom. Take a careful look at your brick or stone, and consider some complementary shades.
2. On a traditional style home, stay away from bright, bold hues
Most traditional style homes work well with both neutral and darker colors. For example, a brown metal roof is usually a very beautiful and safe choice. Unusual or very bright tones may look off -putting on a traditional style home.
Here are home styles that call for special colors:
French Country: these homes look amazing with the green bluish shades that imitate slate
Spanish or Mediterranean: a staple roof color on these homes is the terracotta/orange/reddish tile
Contemporary: these homes may call for a bold shade to complement some unique architectural choices. For example, a black metal roof can beautiful on such a modern house.
Also, as we previously discussed the look of bare metal works very well on many such homes. In recent years, installing a black metal roof has becomes a trend on many modern houses.
3. A light color roof makes the house appear taller
A light shade may be a great option, if you want your house to appear taller. Moreover, it may work well if your home has a low roof pitch. White metal roofs are a popular choice in areas that get year round exposure to sun and very hot temperatures.
4. Take a look at roof color samples in different lighting conditions
This is a crucial tip that many people miss. Exterior coatings, including those of your roof will look very different depending on the time of day/amount of light.
Something that looks great in your living room under electric light, may look less than desirable in natural light.
Take your samples and evaluate them in the sun, in the shade and at different hours of the day. Pick the one you like under most of the lighting conditions.
5. The roof should fit in to its surrounding environment
In addition to considering the exterior colors of your house, take a look at other dominating hues in your surroundings.
Are there trees around your house, a large green lawn, a lake, or a river? What colors are most of the houses and roofs in your neighborhood?
Picking a similar tone will make your new roof fit right into its surroundings, instead of being an eyesore.
Your Estimated Roofing Cost
Roof Price:
Cost per sq. ft.
Roof Size:
Roofing Material:

See costs in your area Start Here - Enter Your Zip Code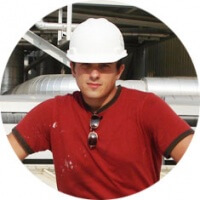 Author: Leo B
For over 20 years Leo has run a successful roofing business in New England, specializing in metal roofing, as well as cool flat roofing technologies. Having replaced and installed hundreds of roofs in New England, Leo has first hand experience with pretty much every residential roofing material and roofing manufacturer available in the US.