There is a wide range of flat roof materials that you can install on your house.
Single ply flat roofing membranes, asphalt, metal and modified bitumen flat roofs each have their associated costs, as well as pros and cons.
Flat roofing prices depend on the type of material you choose, complexity of the project, as well as local labor rates.
If you are ready to install a flat roof, contact your local pros to get 3-4 free flat roof estimates.
How Much Do Flat Roof Materials Cost?
The average cost to replace a flat roof on a 1,500 sq. ft. home ranges from $8,000-11,000, depending on the material you use and the complexity of installation.
Installation prices quoted below are for very simple flat roofs, over 1,000 sq. feet.
Any additional roof insulation costs and increased installation complexity will increase your total labor charges.
PVC membrane: $6.50 – 7.50 + per sq. ft.

EPDM rubber: $5.50 – 6.50 + per sq. ft.

TPO roofing: $6.0 – 7.0 per sq. ft.

Modified bitumen and rolled asphalt roofs: $5.50 – 6.50 + per sq. ft.

Spray Foam Roofing: $4.5 – 7+ per sq. ft.
You can use our Flat Roof Calculator to quickly and accurately estimate the cost of your roof replacement.
Average Flat Roof Cost:
Low End

$6815

Mid Range

$8769

High End

$11211

See Costs in Your Area! Start Here - Enter Your Zip Code
Flat Roofing Materials Prices Per Square Foot
In general, materials used on flat roofs cost less than the ones used on sloped roofs.
EPDM rubber roofing costs $1.50 per square foot, making it the cheapest single ply membrane.
TPO roofing costs $1.70 per square foot
PVC roofing costs $1.90 per square foot
Modified bitumen and rolled asphalt roofs cost $1.30-2.20 per square foot, depending on the number of plies.
Tar roofs are installed extremely rarely, have to be special ordered and therefore pricing is not readily available.
Spray foam roofing costs $1.65 – 2.25 per square foot for a 1.5 inch layer of foam.
Note, that all the prices quoted above are for materials ONLY, and do not include insulation.
Install Roof Shingles

$4872


Average price

Install Metal Roof

$10253


Average price

Install Flat Roof

$8257


Average price

See costs in your area Start Here - Enter Your Zip Code
Flat Roof Material Types
While flat roof materials are rather limited when compared to sloped roofing options, there are still enough products to meet various aesthetic and budget needs.
Pro Tip: Keep in mind that when it comes to flat roofing, good insulation plays a key role in ensuring that your membrane will offer long lasting protection against the elements.

Insulating a flat roof can be expensive, because high quality insulation, such as 3 inch Poly Iso rigid foam board costs $1.25 per one square foot of insulation.

However, its ideal to install high quality roof insulation, to avoid many problems that cheap, crappy insulation will cause further down the line.
Lets take a look at the most popular materials that are installed on flat roof houses across the US.
Single-ply Roofing Membranes
EPDM (Ethylene Propylene Diene Monomer), PVC (Polyvinyl Chloride), and TPO (Thermoplastic Olefin) are the most popular single-ply roofing membranes.
Today, these three flat roofing membranes are most frequently used in both commercial and residential construction. Overall, most architects and builders specify single ply membranes (EPD, TPO or PVC) for a flat roof install.
It important to know that these single ply membranes are NOT equal in quality and longevity. Each has very different formulations, durability specs and cost.
Single-ply means that there is just one layer of membrane as a waterproofing and weather surface. All membranes range in width from 6-18 feet.
The ones most commonly used are around 10 feet. The average thickness ranges from 45-90 mil. It is typically recommended to install a membrane that is at least 50 mil thick.
Pros
– Solar reflective and energy efficient
– Some materials can be recycled
– Long lasting: high end membranes last up to 30-40 years
– Systems with hot air welded seams (PVC and TPO) are water proof
– DIY installs and repairs are possible for EPDM rubber
– Resistant to inclement weather: snow, ice, rain, wind, fire
– Can be used a roof top garden or patio
Cons
– Membranes that have seams are prone to leaks (EPDM)
– Exterior penetrations, such as pipes, chimney, HVAC equipment can cause leaks without proper flashing work
– Require expensive expert installation and equipment (PVC and TPO)
– Can be punctured by a sharp object, falling tree branches, etc
Built-up flat roofs
Built-up roofs are manufactured using built-up layers of either tar-saturated paper and liquid tar with gravel, asphalt, rolled asphalt, or modified bitumen.
As the roof is installed, more and more layers are added to increase durability and longevity, hence the name "built-up".
Among them are: 1. Tar and Gravel 2. Modified Bitumen 3. Rolled Asphalt
All of these are considered outdated by modern construction standards. They are almost never installed on large commercial properties, but continue to be installed on some residential homes, due to their low cost.
You should keep in mind that any type of built-up material requires a positive roof slope ( at least 1/12 inches).
Pros
– Relatively cheap materials and installation costs
– Very low maintenance
– Resistant to foot traffic, UV rays and punctures
Cons
– Difficult to locate the source of leak
– Short service life of 10-15 years
– Costly repairs that often don't take care of the problem
– Very poor energy efficiency
– Not environmentally friendly
– Lacks flexibility in cold temperatures and is not recommended for installs in the Northern states
– Harmful fumes and vapors are emitted during the install of BUR
– Very heavy material that often requires structural reinforcement (BUR)
Pro Tip: even though many roofing and home improvement websites list modified bitumen, tar and gravel and liquid roof coatings as viable flat roofing materials, we personally would not recommend any of these to a homeowner.

Each of these has too many potential problems, they are difficult to install correctly, as well as costly and challenging to repair. In short, they are just not worth the trouble, given the abundance of better alternatives.
Spray-on/paint-on flat roofs
There are two main types:
1. Spray foam insulation (sprayed directly onto the roof deck and then coated with acrylic or urethane coating, as well as a layer of crushed stones/sand.
2. Roof coatings (manufactured for existing roofs and used to extend their service life by 10-15 years). They are typically installed on top of single ply, modified or low slope metal roofs.
Pros
– Seamless installation
– SPF foam can conform to all roof shapes and sizes, including irregular ones
– Offers good insulation and energy efficiency (high R-value)
– Does not have seams, which makes the coating waterproof
– Requires minimal maintenance
– Can be applied on top of existing roof, eliminating the need for costly tear-off and disposal
– Can last up to 40 years if properly installed
Cons
– Very costly. For example, silicone coating is one of the most expensive materials you can install
– Complex installation process that requires a lot of technical knowledge. Should only be done by and experienced pro.
– More potential for system failure due to poor installation and contractor errors
– SPF can only be installed during specific weather conditions (very narrow range of temperatures and humidity levels)
– SPF is usually specified for commercial buildings, not residential homes
– Spray foam roofing emits harmful fumes during the install
Metal flat roof
While it may come as a surprise there are actually many metal flat roofs out there. This is because metal is an overall superior material that offers durability in inclement weather and 100% protection against leaks and moisture penetration.
Standing seam roofs or corrugated metal panels are the two popular profiles to install on a flat roof.
While metal will be the most expensive out of all flat roof materials, its well worth the investment considering that it will last at least twice as long as most other options, and will require zero maintenance.
Most popular metals that are installed on flat roofs are aluminum or steel. Aluminum is a more expensive and durable option compared to steel. If you are choosing among steel sheets, go for thicker metal, such as galvalume, as it will offer better protection.
Keep in mind that if you choose cheaper corrugated steel panels with fasteners, you may have to deal with rust and leaks that may happen around the fasteners. However, even this type of metal flat roof will last much longer than singly ply membranes, spray on coatings, or modified bitumen roofs.
In terms of style, a flat metal roof will look best on a contemporary house or over a three-season porch, garage, or a modern house addition.
Durability Of Flat Roof Materials
We will cover in extensive detail the most common problems that impact the durability of a flat roof.
Leaks / Moisture
The biggest problem for most flat roofs is the presence of seams and flashing, because that is precisely where leaks occur.
PVC and TPO are the only two membranes that have hot-welded seams that will never come apart, and therefore do not allow any moisture to penetrate.
Tar and gravel, modified bitumen and rolled asphalt offer extremely poor protection against leaks and ponding water.
EPDM rubber typically fails at roof penetrations, flashing and seams, allowing moisture to penetrate.
One of the biggest issues with spray-on roofs is that the insulation can be eaten by birds, therefore also resulting in leaks.
Puncture resistance
Built-up roofs are typically 0.5 + inches in thickness, are made from hard materials and are therefore very difficult to puncture.
Single plies and spray foam roofs are generally easy to puncture by direct contact with a sharp object.
Some PVC materials come with a fiberglass reinforcing scrim, which makes it very difficult to puncture.
Keep in mind that increasing the width of a single ply membrane DOES NOT improve its ability to protect against leaks, However, it can extend its overall life, and makes it more puncture resistant.
What Is The Best Flat Roof Material?
There is big competition between TPO and PVC roofing membranes, and heated debate about which is better.
Today, PVC roofing is considered the most durable.
It is especially formulated to remain intact in a wide variety of adverse weather conditions (rain, snow, wind, sun, hot and cold temperature fluctuations).
Moreover, what makes PVC so strong is the fact that the top and bottom ply of the membrane have almost equal thickness.
To compare, TPO roofing has questionable durability, as there is no consistent formula among manufacturers, who are experimenting to make it as durable, but also cheaper than PVC.
As with any product, we all know what happens when you try to slash prices by lowering the quality of materials.
One factor that compromises TPO's strength is the fact that the top ply (weathering surface) of the membrane (which ensures durability) is actually thinner than the bottom ply. In most products the ratio is 40/60.
Lastly, most TPO roofs offer weak resistance to heat and solar overload.
Prices
Low End
Mid Range
High End
Materials
$3827
$4502
$5718
Total Cost
$9913
$11662
$14811
See Costs in Your Area!
Start Here - Enter your zip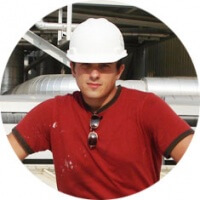 This roofing guide is presented by Leo B.

I've been a roofer for 15 years, and specialize in Metal Roofing and Flat Roofing.

Have a roofing question or issue? Ask me any roofing question!

Roofing Contractors - join our free Local Roofers directory to get more customers!