A flat roof looks and performs very differently compared to a traditional sloped roof such as shingles, tiles, or metal.
While a flat roof is not designed to be a water shedding system, because it has a low pitch, flat roofing can still protect your home from leaks and severe weather.
Today, there is a wide range of cutting edge flat roof systems that offer distinct pros and cons, longevity, and of course, price.
If you are ready to install a flat roof, contact your local pros to get 3-4 free flat roof estimates.
In this guide:
Flat roofing materials
Cost of installation
Materials prices
Installation options
Longevity
Durability
Importance of insulation
Maintenance and repair
Unique applications and benefits
Energy efficiency
Environmental impact
Types of flat roofs
A classic flat roof is either almost completely level or has a very slight pitch of 3 in 12 inches or less.
Most flat roofs are typically not as long lasting or durable as sloped ones, because the latter shed snow and rain a lot quicker. However, over the last few decades new and advanced materials have been developed. They are highly durable, energy efficient and can compete with traditional roofs on longevity.
Here are three general types of systems you can put on a flat roof:
1. Single – Ply
2. Built-up
3. Spray-on/paint-on



Average Flat Roof Cost:
Low End

$6815

Mid Range

$8769

High End

$11211

See Costs in Your Area! Start Here - Enter Your Zip Code
Single-ply roofing
EPDM (Ethylene Propylene Diene Monomer), PVC (Polyvinyl Chloride), and TPO (Thermoplastic Olefin) are the most popular single-ply membranes.
Today, these three roofs are most frequently used in both commercial and residential construction. It important to know that they are NOT equal in quality and longevity. Each has very different formulations, durability specs and cost.
Single-ply means just one layer of membrane as a waterproofing and weather surface. All membranes range in width from 6-18 feet. The ones most commonly used are around 10 feet. The average thickness ranges from 45-90 mil. It is typically recommended to install a membrane that is at least 50 mil thick.
Pros
– Solar reflective and energy efficient
– Some materials can be recycled
– Long lasting: high end membranes last up to 30-40 years
– Systems with hot air welded seams (PVC and TPO) are water proof
– DIY installs and repairs are possible for EPDM rubber
– Resistant to inclement weather: snow, ice, rain, wind, fire
– Can be used a roof top garden or patio
Cons
– Membranes that have seams are prone to leaks (EPDM)
– Exterior penetrations, such as pipes, chimney, HVAC equipment can cause leaks without proper flashing work
– Require expensive expert installation and equipment (PVC and TPO)
– Can be punctured by a sharp object, falling tree branches, etc
TPO vs PVC
There is big competition between TPO and PVC membranes, and heated debate about which is better.
Today, PVC roofing is considered the most durable. It is especially formulated to remain intact in a wide variety of adverse weather conditions (rain, snow, wind, sun, hot and cold temperature fluctuations).
Moreover, what makes PVC so strong is the fact that the top and bottom ply of the membrane have almost equal thickness.
To compare, TPO has questionable durability, as there is no consistent formula among manufacturers, who are experimenting to make it as durable, but also cheaper than PVC. As with any product, we all know what happens when you try to slash prices by lowering the quality of materials.
One factor that compromises TPO's strength is the fact that the top ply (weathering surface) of the membrane (which ensures durability) is actually thinner than the bottom ply. In most products the ratio is 40/60.
Lastly, most TPO roofs offer weak resistance to heat and solar overload.
Prices
Low End
Mid Range
High End
Materials
$3827
$4502
$5718
Total Cost
$9913
$11662
$14811
See Costs in Your Area!
Start Here - Enter your zip
Built-up roofs
Built-up roofs are manufactured using built-up layers of either tar-saturated paper and liquid tar with gravel, asphalt, rolled asphalt, or modified bitumen. As the roof is installed, more and more layers are added to increase durability and longevity, hence the name "built-up".
Among them are: 1. Tar and Gravel 2. Modified Bitumen 3. Rolled Asphalt
All of these are considered outdated by modern construction standards. They are almost never installed on large commercial properties, but continue to be installed on some residential homes, due to their low cost.
You should keep in mind that any type of built-up material requires a positive roof slope ( at least 1/12 inches).
Pros
– Relatively cheap materials and installation costs
– Very low maintenance
– Resistant to foot traffic, UV rays and punctures
Cons
– Difficult to locate the source of leak
– Short service life of 10-15 years
– Costly repairs that often don't take care of the problem
– Very poor energy efficiency
– Not environmentally friendly
– Lacks flexibility in cold temperatures and is not recommended for installs in the Northern states
– Harmful fumes and vapors are emitted during the install of BUR
– Very heavy material that often requires structural reinforcement (BUR)
Spray-on/paint-on roofs
There are two main types:
1. Spray foam insulation (sprayed directly onto the roof deck and then coated with acrylic or urethane coating, as well as a layer of crushed stones/sand.
2. Roof coatings (manufactured for existing roofs and used to extend their service life by 10-15 years). They are typically installed on top of single ply, modified or low slope metal roofs.
Pros
– Seamless installation
– SPF foam can conform to all roof shapes and sizes, including irregular ones
– Offers good insulation and energy efficiency (high R-value)
– Does not have seams, which makes the coating waterproof
– Requires minimal maintenance
– Can be applied on top of existing roof, eliminating the need for costly tear-off and disposal
– Can last up to 40 years if properly installed
Cons
– Very costly. For example, silicone coating is one of the most expensive materials you can install
– Complex installation process that requires a lot of technical knowledge. Should only be done by and experienced pro.
– More potential for system failure due to poor installation and contractor errors
– SPF can only be installed during specific weather conditions (very narrow range of temperatures and humidity levels)
– SPF is usually specified for commercial buildings, not residential homes
– Spray foam roofing emits harmful fumes during the install
Cost of installation
The average cost to replace a flat roof on a 1,500 sq.ft. home ranges from $8,000-11,000, depending on the material you use and the complexity of installation.
Installation prices quoted below are for very simple roofs, over 1,000 sq. feet. Your total price will vary depending on many variables, such as roof size and complexity, geographic region, etc. Any additional insulation and details will increase your total labor charges.
PVC membrane: $6.50 – 7.50 + per sq. ft.
EPDM rubber: $5.50 – 6.50 + per sq. ft.
TPO roofing: $6.0 – 7.0 per sq. ft.
Modified bitumen and rolled asphalt roofs: $5.50 – 6.50 + per sq. ft.
Spray Foam Roofing: $4.5 – 7+ per sq. ft.
You can use our Flat Roof Calculator to quickly and accurately estimate the cost of replacement.
Material prices
In general, materials used on flat roofs cost less than ones used on sloped ones.
EPDM is $1.50 per sq foot, making it the cheapest single ply membrane.
TPO is $1.70 per sq foot
PVC is $1.90 per sq foot
Modified bitumen and rolled asphalt roofs cost $1.30-2.20 per sq foot, depending on the number of plies.
Tar roofs are installed extremely rarely, have to be special ordered and therefore pricing is not readily available.
Spray foam roofing costs $1.65-2.25 per square foot for a 1.5 inch layer of foam.
Note, that all the prices quoted above are for materials ONLY, and do not include insulation.
Install Roof Shingles

$4872


Average price

Install Metal Roof

$10253


Average price

Install Flat Roof

$8257


Average price

See costs in your area Start Here - Enter Your Zip Code
Installation types
Single ply roofing is either fully adhered or mechanically attached.
The fully adhered method consists of gluing the membrane directly to insulation, or to the substrate.
The mechanically attached method consists of fastening each row of membrane to the roof deck with screws and barbed plates. Fasteners are typically spaced 12 inches O.C.
The most common problem with the fully adhered installation (typically EPDM rubber) is that the seams are poorly glued, there are bubbles in the membrane, and leaks inevitably result.
Torching is used in the installation of Modified Bitumen, and therefore can be a fire hazard to your home or commercial property.
Today, EPDM is the most commonly installed single-ply membrane both for residential and commercial applications. It is so popular because no special equipment is needed to complete the install.
We strongly recommend that you find a contractor who specializes in single ply roofing to ensure that there will be no leaks after installation. Many customers make the mistake of hiring contractors specializing in sloped roofing (asphalt shingles), who have little to no experience in this field.
It is best to do a full tear-off before proceeding with the installation, to eliminate any moisture and replace any rotted substrate.
Longevity
The visual above displays the most common signs you would notice when your roof starts to get really old. These include:
– Thinning and blistering
– Cracking
– Contractions or pulling
– Flaking
– Slice marks
– Grease and dirt built-up that can no longer be removed
PVC is considered to be the longest lasting. Because of heat-welded seams, it remains flexible throughout its lifetime and can also withstand thermal movement.
A PVC roof can last well over 30 years. Manufactures offer a 25 year warranty for commercial installations and some offer LIFETIME warranty for residential (IB, Flex, Fibertite). Here is a good article on real world performance of PVC roofs: https://www.coolflatroof.com/flat-roof.php
EPDM lasts only about 10-15 years. Even though manufacturers offer warranties that are up to 40 years for commercial roofing (none for residential), its important to be aware that these warranties do not cover failing seams or ponding water. Both of these are the primary causes of failure for a rubber membrane.
Longevity of TPO roofing varies greatly due to issues with membrane's formulation. Currently, they range from 7-20 years. Manufacturer warranty is up to 20 years for commercial TPO installs and none for residential.
Keep in mind that warranties offered on different types of single ply membranes vary greatly depending on thickness, size, method of installation, and environmental conditions. Thus, you should carefully read and compare warranties for different materials you are considering.
Tar & Gravel as well as Modified Bitumen roofs last about 10-20 years, but are very costly to remove at the end of their service lives. How long they last greatly depends of the installer, because today there are very few roofers who actually know how to work with this material. If you have one of these roofs and it needs repair, it is best to call on a pro who has experience with it; someone who does single membranes will not do a very good job.
Durability
We will cover in extensive detail the most common problems that impact the durability of a flat roof.
Leaks / Moisture
The biggest problem for most flat roofs is the presence of seams and flashing, because that is precisely where leaks occur.
PVC and TPO are the only two membranes that have hot-welded seams that will never come apart, and therefore do not allow any moisture to penetrate.
Tar and gravel, modified bitumen and rolled asphalt offer extremely poor protection against leaks and ponding water.
EPDM rubber typically fails at roof penetrations, flashing and seams, allowing moisture to penetrate.
One of the biggest issues with spray-on roofs is that the insulation can be eaten by birds, therefore also resulting in leaks.
Puncture resistance
Built-up roofs are typically 0.5 + inches in thickness, are made from hard materials and are therefore very difficult to puncture.
Single plies and spray foam roofs are generally easy to puncture by direct contact with a sharp object.
Some PVC materials come with a fiberglass reinforcing scrim, which makes it very difficult to puncture.
Keep in mind that increasing the width of a single ply membrane DOES NOT improve its ability to protect against leaks, However, it can extend its overall life, and makes it more puncture resistant.
Importance of insulation
If you are planning to install a flat roof, it is very important to put in high-quality insulation, with appropriate R-value. Without it, you will be wasting a lot of money on heating and cooling costs. You will also experience severe temperature fluctuations inside your house.
The best product out there is Polyiso rigid foam. It is also the most expensive; $55 per 100 sq.ft. for 1 inch of insulation, which has a 6 R value. It is available in various thicknesses, at 1 inch increments.
We recommend you consult with your contractor to figure out what type of insulation will work best for your home, and how much of it you will need.
Pro Tip: It is not a good idea to save money on insulation. It will only result in decreased service life of your roof, poor energy efficiency, as well as uncomfortable temperatures inside your home. Most likely, you will end up spending more money to fix insulation problems, which could have been avoided from the beginning.
Maintenance and repair
A typical flat roof repair costs at least $350 – 400 and involves locating sources of leaks and patching the seams or holes. However, depending on the severity of the damage, and the type of material installed, repairing a flat roof can cost as much as $600-800+.
PVC membranes are easy to maintain and repair. Their heat-welded seams remain weldable throughout their service life, which makes any repair, maintenance or modifications to install new equipment fast and simple.
A typical repair of a heat – welded membrane, such as TPO or PVC consists of welding a patch on the membrane over the hole that has been discovered as the source of a leak, or re-welding a void in the seam.
If no leaks occur, its still recommended to re-seam (apply 6 inch cover tape over all seams) an EPDM rubber every 7-10 years, when adhesive starts to naturally fail. Repairs are done using EPDM peel & stick flashing + EPDM primer (recommended method) or using older black glue. Penetrations are repaired using uncured flashing that can be stretched to form around angled surfaces.
Built-up roofs are very difficult and expensive to fix, or even to find the source of the leak.
You can fix a rubber roof yourself by using this rubber roof repair kit.
Unique applications and benefits
A flat roof is the best material on a very large size building. Installing a pitched roof on such a building is not recommended, because it will be a lot more difficult, and costly. It will also require special engineering to accommodate the additional structural weight, as well as rooftop HVAC equipment and drainage.
One of the most unique features of flat roofs is that most can be utilized as a deck, green roof (rooftop garden), patio or penthouse. Green building enthusiasts prefer these systems, because they can be turned into rooftop gardens. A side benefit of a rooftop garden is that it improves air quality and reduces the heat island effect in large urban areas.
If you are planning this type of application, it is best to use 80 mil or thicker PVC or TPO membrane, because hot-air welded seams ensure that the roof will not leak under the soil and plants.
Another advantage is that flat roofing works best in cases when large HVAC equipment needs to be installed. It can go straight on the rooftop, instead of being installed on the ground.
Lastly, these roofs are great for large-scale solar PV installations, as they are typically not shaded and get very strong sun exposure throughout the day.
Energy efficiency
One of the greatest advantages of a flat roof house is that it can be highly energy efficient. Both TPO and PVC roofs are considered to be very reflective, with up to 90% of heat back into the atmosphere. This means that one of these membranes can help you save hundreds of dollars on your energy bills. Both are Energy Star Rated for their cool properties.
It is important to note that white color roofs collect a lot of dirt and dust over their lifetime. Over time, this decreases their energy efficiency. However, they still remain highly reflective. Good, regular maintenance can help prolong optimal energy efficiency of a white membrane.
Today, many darker color membranes are are also formulated to have light-reflective properties and offer energy savings. You should check the manufacturer's specifications on a particular product to see its efficiency ratings.
Modified Bitumen and EPDM offer the lowest energy efficiency. In fact, because they are so dark, they can heat up to 170 degrees in the summer, making your HVAC system run over-time and rake up huge energy bills.
Environmental Impact
Both TPO and PVC are 100% recyclable. At the end of their service lives, old membranes get recycled back into making new ones.
It is possible to install PVC over an old roof, thus eliminating tear off, which cuts your costs and saves landfill space.
On the other hand, EPDM, Tar & Gravel, Modified Bitumen are not eco-friendly. They all cannot be recycled, because they are made from petroleum based by-products. Therefore, they have to be landfilled.
Your Estimated Roofing Cost
Roof Price:
Cost per sq. ft.
Roof Size:
Roofing Material:

See costs in your area Start Here - Enter Your Zip Code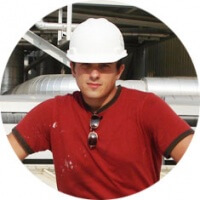 This roofing guide is presented by Leo B.

I've been a roofer for 15 years, and specialize in Metal Roofing and Flat Roofing.

Have a roofing question or issue? Ask me any roofing question!

Roofing Contractors - join our free Local Roofers directory to get more customers!