|
Many homeowners who want to replace their old roof debate between installing economical 3 tab shingles vs. architectural shingles, which are more expensive.
On a 1,600 sq. ft. roof the average difference in the total price between 3 tab vs architectural shingles can be $800 – $1,100+ This is a lot of money, considering that replacing the roof of this size costs about $5,000 – $6,000.
Lets explore why architectural roofing shingles cost so much more than 3 tab shingles, and whether they are worth the extra spending.
To get started on your roof replacement, contact your local roofing pros for FREE ESTIMATES!
Typical Price Range
Average:
What is the difference between regular shingles vs architectural shingles?
When you compare 3 tab (regular shingles) and architectural (laminated shingles) 3 major differences stand out:
Shingle composition: both types of shingles are made up of the same essential components:
– asphalt
– fiberglass mat/backing
– granules for the top layer
– adhesives
However, the major difference is in the quality and the amount of materials. For example, architectural shingles have a much thicker and sturdier base mat, finer quality asphalt, stronger adhesives, and more top surface granules.
Also, more advanced printing technologies are used to create subtle color variations that significantly enhance the shingle's appearance. Greater amount of surface granules also means that architectural shingles will maintain their original look much longer, compared to regular shingles.
Thickness: overall architectural shingles are 50% thicker and heavier than 3 tab ones. A thicker body of the shingle gives it more strength against wind uplift and other types of severe weather.
3 tab shingles are weaker and flimsier, as a result they don't last as long, especially in regions that have frequent bad weather.
Surface look: 3 tab shingles have a very flat look. This is because all the tabs are the same size and shape, and run in even rows.
Architectural shingles have a three dimensional appearance because the tabs have slightly difference shapes and sizes. Moreover, extra thickness also contributes to a more dimensional look.
Looking at a roof, its instantly obvious which type of shingle is installed. Architectural shingles boast a high-end, attractive appearance, while regular shingles tend to look rather cheap and lack any distinct features.
Many architectural shingles replicate the appearance of cedar wood shingles or slate, while regular shingles cannot look this way.
Architectural Shingles Price vs 3 Tab Shingles
Overall, traditional 3 Tab shingles are at least 20-25% cheaper than architectural shingles.
3 tab shingles cost an average of $0.75 – 0.90 per square foot, or $25-30 per bundle (note, a bundle of shingles covers about 33 sq. ft.) For a 1,500 sq. ft. roof you will spend roughly $1,125 – 1,350 on 3 tab shingles.
Most popular 3 tab shingle brands include:
– Royal Sovereign by GAF
– Duraseal by Malarkey
– Marathon by IKO
– Castlebrook by Atlas
– Supreme by Owens Corning
– XT 30 by CertainTeed
Architectural or composite shingles cost about $1.2 – 1.8 per square foot or $35-45 per bundle.
Materials for a 1,500 sq. ft roof will cost about $1,800-2,250. Higher-end, designer shingles are priced at $1.9-2.5 per square foot.
Clearly, expensive laminated shingles that have a designer look can cost 2 to 3 times more than regular shingles.
Most popular architectural shingles are:
– Timberline by GAF (best seller across the US)
– Landmark by CertainTeed
– Legend by Atlas
– Heritage by Tamko
– Highlander by Malarkey (has one of the overall highest satisfaction ratings by consumers)
– Duration by Owens Corning
– Cambridge by IKO
Shingles Installation Cost
While the process of installing 3 tab and architectural shingles is virtually the same, the latter do cost slightly more to install. This is because most roofers put a premium for installing more expensive materials.
In addition to installing shingles themselves, labor charges also include items such as: tear off and removal of old roofing, underlayment and other necessary accessories of the roof system.
On the low end installation costs can start at $1.9 per square foot. However, $2.3-2.5 per square foot is a more common price among professional roofers.
Complex installations, where the roof is cut up and a lot of flashing work is required can start at $3.5+ per square foot.
Thus, when you add all materials and labor, you are looking to spend about $4,800 – 5,100 on installing 3 tab shingles, and about $5,800-6,200 to install architectural shingles on a 1,500 sq. ft. gable roof.
You can use or Shingles Calculator to get a more accurate estimate for your roof.
Durability and Lifespan
Since 3 tab shingles are a budget quality product, they usually also last less than laminated shingles. Depending on the severity of weather conditions (snow and ice, frequent rains, excessive heat strong winds, etc), 3 tab shingles can last an average of 12-15 years. In severe weather, their lifespan can be as short as 7-10 years..
Comparatively, architectural shingles, especially the higher-end products, offer a longer service life. On average, they can last 18-20 years, but in good climates can easily last up to 30 years.
Longer lifespan also translates into different manufacturer warranties. Most 3 tab shingles carry warranties of 10-25 years. Most architectural shingles have 50 year or "Lifetime" warranties.
Finally, because of thinner composition, 3-tab shingles are more prone to being blown off, curbing or buckling. They are also more susceptible to granular loss.
Out of all 3-tab roofing shingles, most pros recommend CertainTeed Shingles: either 25XT or XT 30 IR (these have added impact resistance), which are known to be more durable than other shingles in this class.
Pro Tip: Local weather conditions impact shingle durability!!! When you are choosing a shingle product, you have to look for something that has a proven track record of success in YOUR geographic location.

Some shingles do better in snow, wet areas than others. Similarly some are better able to withstand heat or strong winds, etc.

Its not enough to read online reviews and manufacturer's specs. Only seasoned roofers that have tried different shingle brands over the years will give you a real answer as to which products have lasted the longest in your area.

For example, Owens Corning shingles have a reputation among roofers in Texas for being able to withstand heat and humidity better than other products.
Shingles Color Options
One of the biggest factors that contributes to the greater popularity of laminated shingles is the fact that there are a lot more colors and styles to choose from, compared to regular asphalt shingles.
The fact that 3-tab shingles from the top manufacturers have a very limited product line puts off many homeowners. After all, the color of the roof is one of the biggest factors in the purchasing decision, and people want to have as many options as possible.
For example, one of the most popular 3-tab shingles, Royal Sovereign by GAF, only has 8 colors to choose from.
Moreover, Royal Sovereign is only one of two 3-tab shingles lines that GAF manufactures. Marquis WeatherMax is the other, but it has an even smaller color pallet.
By comparison, GAF offers 6 different lines of their architectural Timberline shingles, with a total of 48 color options from all Timberline products.
When it comes to other roofing manufacturers, the situation is similar. For example, basic IKO Marathon 3 tab shingles have only 4 colors, while the Marathon Plus AR offers 11 colors.
However, there is once exception, and that is 3-tab shingles by CertainTeed. They are more expensive than the lowest-end traditional shingles, however you get a lot more choices and better performance.
Choose from 5 product lines and a multitude of colors. For example, CertainTeed XT25 product line has 30 colors!
Should You Spend More Money On Architectural Shingles?
Visually, a roof constitutes about 50-60% of the entire house. This means that an ugly or mismatched roofing shingle can really ruin the curb appeal of your home.
This can be a huge issue if you are trying to sell your house. Prospective buyers can make their decision in a matter of seconds, just as they first see the house. This means that your roof better be making the best impression.
In addition to the appeal of the dimensional look of architectural shingles vs the flat look of 3-tab ones, laminated shingles can also hide imperfections.
These can be both imperfections in the structure of the roof deck itself, or installation flaws that remain visible on the roof. Unfortunately, with regular shingles, all these blemishes can be immediately apparent and can stick out like sore thumb.
If you need to replace your roof to prepare your house for sale, and can spare an extra $1,000-1,5000, its best to go for beautiful architectural shingles.
If this is not the case, still try to find a shingle that can work well with your house architecture and siding. GAF has a virtual roof design tool that can help you find the right shingles.
Even if you are not planning to sell your home now, most designers and builders agree that its still better to install architectural shingles.
They help maintain the value of your property and you can recoup up to 60% of their cost, if circumstances change and you end up selling the house in a few years.
Quality Of Roof Shingles Installation
Its very easy to fall into a false line of thinking and assume that if you buy more expensive architectural shingles they will automatically be more durable than 3 tabs. This is not the case, and the primary reason is installation quality.
Traditional shingles that are properly installed can last longer than most expensive architectural shingles that have been poorly installed.
Unfortunately, most homeowners who are trying to save money on the shingles, also want to save money on the installation. So it ends up that cheap, lower quality shingles are often installed by inexperienced or careless roofers, who are willing to charge hundreds of dollars less than real pros, just to get your business.
Cheap materials + poor labor = disaster. These roofs often start leaking or failing as quickly as 5 years down the line. The shingle itself is not to blame here, the installer is.
The bottom line: if you decide to go for a budget shingle, don't settle for a cheap install.
Instead, find experienced local pros, get a few estimates, and go with a company that provides the best references. This may mean paying a few hundred dollars extra compared to the cheapest bid you get, but paying more for the installation will get you a lot more service years for your new roof.
Conversely, if you want to shell out big bucks for high-end architectural shingles, don't assume that they will automatically stay put, and therefore you can save a few hundred on the install.
Still, hire the best roofer you can afford, to make sure that the workmanship matches the high quality of the shingle you are purchasing.
Pros & Cons Of 3 Tab Shingles vs Architectural Shingles
Here is a comprehensive chart that summarizes all the benefits and disadvantages of 3 tab vs architectural shingles.
| | 3 – Tab Shingles | Architectural Shingles |
| --- | --- | --- |
| Average cost of materials | $0.75 – 0.90 per square foot | $1.2 – 2.10 per sqyare foot |
| Look | Flat | Dimensional |
| Colors | Up to 10 – 12 choices from each brand | Dozens of choices from each brand |
| Average life span | 12-15 years | 16 – 30 years |
| Energy efficient options | No | Yes |
| DIY friendly install | Yes | Yes |
| Typical warranty | 20 or 25 year | 50 year or Lifetime |
| Wind Warranty | Up to 60 mph | Up to 130 mph with proper installation |
| Conceal roof deck imperfections | No | Yes |
| Home value | No impact | Increased value |
| Popularity | Diminishing | Growing |
Who Should Install 3 Tab Shingles On Their Roof?
While there are numerous advantages to laminated shingles, there are still a number of situations where regular 3 tab shingles would be a better, more practical choice.
– You previously installed 3-tab shingles, and didn't have issues with roof leaks
– On a starter home, in a low to average income neighborhood
– You want to save money on a re-roof and are not planning to sell your home in the near future
– You need to replace a large section of a roof that already has regular shingles
– Emergency roof replacement due to severe damage and you need a low cost shingle
– You are replacing shingles on a detached garage or shed, and are not looking for premium looks
– On a low to mid-range rental property
Typical Price Range
Average: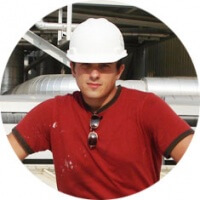 Author: Leo B
For over 20 years Leo has run a successful roofing business in New England, specializing in metal roofing, as well as cool flat roofing technologies. Having replaced and installed hundreds of roofs in New England, Leo has first hand experience with pretty much every residential roofing material and roofing manufacturer available in the US.