In recent years flat roofs have grown in popularity because of their distinctly modern look, as well as ease of installation and repair.
The average cost to replace a flat roof is
$5-10 per square foot
. Installing a simple 1,600 sq.ft. flat roof costs
$8,000 - 16,000
, depending on the material you choose.
Flat Roof Cost Calculator quickly estimates the total cost to install the following roofing materials
1. Single Ply Membranes (TPO, PVC, EPDM Rubber)
2. Modified Bitumen
3. Rolled Roofing
Pricing is for new or retrofit flat roof projects and includes all materials, roof accessories and labor by a professional, licensed contractor.
x ft.
Curbs (Skylights / Chimneys / Hatches)
#
Parapets length:
ln. ft.
Insulation:
Roof Pitch:
Old Roof Removal:
Job Complexity:
Roofing material:
Region (US Only):




How to use the calculator
1) Measure your house/building from corner to corner
.
If there are overhangs, be sure to include these into the Dimensions field. 12" overhang over 100 foot eave span adds 100 sq. ft. to the total roof area, which can cost as much as
$1,000 or more
.
2) Enter the exact number of large penetrations / curbs (hatches, skylights and/or chimneys).
Penetrations require special flashing work and will add significant cost for each unit. If you do not include them, you will see a huge discrepancy between this estimate and one from a contractor, because he WILL include these.
3) Enter the length of parapet walls (and metal cap).
The parapets can add significant roof surface and extra work, so do not discount them. Your roofer WILL charge you for these.
4-6) Select insulation thickness, roof pitch, tear-off layers.
Use our easy
Roof Pitch Calculator
to estimate the pitch on your roof.
7) Select job complexity
.
This can be vague, but if you have multiple penetrations, curbs, roof-to-wall flashing, difficult drainage, choose the
Medium
or even
Complex
setting. Also, be aware of ease of access to the roof. If your contractor needs to hire police detail, or if your roof is 7 stories off the ground, the cost WILL go up.
8) Select the material you want
.
You can get a price for the chosen material, and then re-calculate again for a different one, to compare. EPDM rubber roofing is the most popular choice, because its the most budget-friendly option. TPO is the second most frequently installed flat roof on residential properties.
9) Select your region in the US.
Prices may differ as much as 30% depending on where you live.
10.) Understanding your price estimate
You will see three price estimates - LOW-END, MID-RANGE and HIGH-END. These are based on National Average roof costs. The estimated flat roof cost includes:
- All materials
- Labor
- Tear-off roof cost
- Dump fees
- Building permits
- Profit & overhead
Average flat roof material prices
The table below lists average flat roofing prices that you can expect to pay depending on the material you want to install. Keep in mind that your geographic location, roof size and complexity will greatly impact the final cost of the job.
| Flat Roof Material | Cost per sq.ft. | Installed cost per sq.ft. | Lifespan |
| --- | --- | --- | --- |
| EPDM rubber membrane | $1.50 | $5.50-6.50 | 10-15 years |
| TPO membrane | $1.70 | $6-7 | 20-30 years |
| PVC membrane | $1.90 | $6.5-7.5 | 30-50 years |
| Modified Bitumen | $1.30-2.20 | $5.5-6.50 | 12-20 years |
| Rolled asphalt | $1.30-2.20 | $5.5-6.50 | 8-12 years |
| Spray foam | $1.65-2.25 | $4.5-7 | 20-40 years |
Flat roof installation cost
Compared to the
cost of asphalt shingles
, most contractors charge 20-35% more to install a flat or low slope roof. This is because its actually difficult to install a flat roof correctly so that it remains leak free. Out of the total installation cost on a new flat roof, around 70% will be the cost of labor!
The cost of installation starts at
$5 - 5.5 per square foot
, but can go up to as much as
$7-9 per square foot
, depending on roof size and complexity. This includes tear off, insulation and the new roofing membrane. Final prices depend on the quality of the material, roof size and complexity, your contractor and location.
Installing a flat roof on a two or more storie home costs
at least 30% more
than on a single storie house.
Moreover, curbs, corners and penetrations, such as chimneys, vents and skylights will all increase the total cost, because they need to be flashed in order to be watertight. This adds more hours of labor, and drives up the final price.
Overall, labor costs are higher because flat roofing is a specialized field that requires expert knowledge, tools, and a particular set of skills. This means that a regular contractor, who shingles roofs, will NOT be able to properly install a single ply membrane or any other flat roofing material.
Many people try to save money on installation and believe promises of general contractors who are willing to charge less, just to get your business. Chances are your new roof will leak shortly after they are done. Sometimes it takes as little as 1-2 heavy rain storms for the damage to show.
In fact, most flat roofs leak due to faulty installation. Even the best, most expensive membranes will fail, if a contractor does not know what he is doing.
Also, keep in mind that once your roof leaks, you will need to spend a lot of money on repairs. Depending on the material, patching up a leaking membrane can cost an average of
$350-600
.
If there are many leaks and damaged insulation, the cost of repair can be well over
$1,000.
Because the cost of repairing a flat roof is so high, its really not worth it to try to save a few hundred bucks and hire an unqualified installer.
We strongly recommend working only with
licensed pros
who specialize in the field of flat roofing, and have references of recently completed jobs.
What is the best flat roof material?
When it comes to cost, a flat roof is cheaper than the majority of sloped roof materials, with the exception of
composite shingles
.
While flat roof materials are rather limited when compared to
sloped roofing options
, there are still enough products to meet various aesthetic and budget needs. Here we will list the most popular flat roof materials, along with their benefits and costs. Overall, architects and builders specify single ply membranes (EPD, TPO or PVC) for a flat roof install.
Keep in mind that when it comes to flat roofing, good insulation plays a key role in ensuring that your membrane will offer long lasting protection against the elements. Insulating a flat roof can be expensive, because high quality insulation, such as 3 inch Poly Iso rigid foam board costs
$1.25 per one square foot of insulation
.
However, its ideal to install high quality roof insulation, to
avoid many problems
that cheap, crappy insulation will cause further down the line.
Pro Tip: even though many roofing and home improvement websites list modified bitumen, tar and gravel and liquid roof coatings as viable flat roofing materials, we personally would not recommend any of these to a homeowner.

Each of these has too many potential problems, they are difficult to install correctly, as well as costly and challenging to repair. In short, they are just not worth the trouble, given the abundance of better alternatives.
EPDM rubber roof
Most existing commercial and residential flat roofs are covered with an EPDM rubber membrane.
Rubber roofing
is the cheapest membrane roof. The average rubber roof cost is
$1.5 per square foot.
This is why EPDM rubber membranes continue to be the most popular cover for a flat roof among businesses and homeowners.
Moreover, ease of installation further contributes to such a large volume of installs. If you are looking to do a quick re-roof before selling your home, or
replacing a roof
on a rental property, a rubber roof is a good option to consider.
Overall, you can expect a rubber roof to last 10-15 years. However, it is highly likely that it will leak and require repairs multiple times throughout its service life.
Rubber roofs are known to be the least durable in areas that have severe temperature fluctuations throughout the year. Drops and increases in temperature cause issues with the glue that attaches the rubber membrane to the roof deck and also cause the membrane to expand and contract. All these factors weaken the EPDM membrane, particularly at the seams and penetrations, creating tears and allowing water to seep in.
PRO TIP: If your current roof is EPDM rubber, consider repairing it - either yourself or by hiring a contractor specializing in flat roofs.

Most rubber roofs can be fixed for a fraction of new replacement cost, and service life can be extended by 3-7 years!


TPO roofing
In the last decade,
TPO roofing
has started to gain major recognition. This single ply membrane offers good value. It provides better quality and durability than EPDM rubber, but cheaper pricing than a premium material, such as PVC.
You can expect to pay around
$1.79 - $2.25 per square foot
of TPO material, when you include all required accessories. Many higher-end residential new construction projects or re-roofs now specify a TPO membrane.
Essentially TPO roofing technology is very similar to PVC. The membrane also has hot air welded seams and can be mechanically attached to the roof deck, all of which helps to prevent leaks and greatly improves durability. Similar to PVC roofing, TPO is also considered a green roof, as the membrane reflects solar heat and saves energy.
However, the
main difference between PVC and TPO
is in the chemical composition of the material. PVC roofs are designed to be able to withstand temperature fluctuations, rain, snow, etc. On the other hand, TPO roofs have a different chemical composition which makes the membrane overall less durable and more susceptible to inclement weather. The cheaper chemical composition makes the cost of the TPO membrane cheaper to the consumer, but on the downside the roof is overall less reliable than a PVC membrane.
Before you settle on installing a TPO membrane, check out our extensive guide on
TPO roofing problems
.
Prices
Low End
Mid Range
High End
Materials
$3327
$3914
$4971
Total Cost
$8619
$10140
$12878
See Costs in Your Area!
Start Here - Enter your zip
PVC roofing
In my experience,
IB PVC
is the most reliable thermoplastic material. I've been installing it for over 12 years, and while I have tried a number of other products, I still always go back to IB. While it is more expensive, about
$1.90 per square foot
, you get superior durability, longevity and leak-free performance, compared to all other materials.
A properly installed PVC roof can easily last 30-45 years, which is by far the longest service life among all flat roofing materials. Moreover, once installed, a PVC roof will require very little maintenance and almost no repairs (unless some major accident happens that will tear the membrane).
Experienced roofers, builders and architects know that PVC roofing is top of the line and is the most durable flat roof material. A properly installed PVC membrane features a breaking point of 300 pounds per inch (the industry standard is 200 lb). Moreover, white color membranes are highly energy efficient and reflect sun light. Many homeowners can save up to 30% of their energy costs.
PVC is therefore often used in luxury residential and commercial building projects. If you are planning to stay in your home for at least another 5 years, and don't want to deal with roof leaks and repairs, a PVC membrane is the best option.
A PVC membrane is installed with hot air welded seams, which prevents leaks. And it turns out the welded seams are stronger than the membrane itself. Most commercial and residential PVC membranes are mechanically attached to the roof deck.
Here is an example of a PVC roof installation on a residential home:
Metal flat roof
While it may come as a surprise there are actually many metal flat roofs out there. This is because
metal
is an overall superior material that offers durability in inclement weather and 100% protection against leaks and moisture penetration.
Standing seam roofs or
corrugated metal panels
are the two popular profiles to install on a flat roof.
While metal will be the most expensive out of all flat roof materials, its well worth the investment considering that it will last at least twice as long as most other options, and will require zero maintenance.
Most popular metals that are installed on flat roofs are aluminum or steel. Aluminum is a more expensive and durable option compared to steel. If you are choosing among steel sheets, go for thicker metal, such as galvalume, as it will offer better protection.
Keep in mind that if you choose cheaper corrugated steel panels with fasteners, you may have to deal with rust and leaks that may happen around the fasteners. However, even this type of metal flat roof will last much longer than singly ply membranes, spray on coatings, or modified bitumen roofs.
In terms of style, a flat metal roof will look best on a contemporary house or over a three-season porch, garage, or a modern house addition.
How to choose the right roofing membrane
In your online research, you may notice that there are many different companies selling
flat roof materials
. It can be confusing to figure out which one you should get.
This is particularly true when it comes to selecting a TPO membrane (thermoplastic olefin). Because TPO so popular, there are many small - time manufacturers that produce TPO, and sell it at discounted rates. However, their quality and longevity is often questionable.
As a rule of thumb, its best to get your roof membrane from a reputable manufacturer that has been making these products for decades. Manufacturers you can trust are
GAF
,
Duro-Last
,
Versico
,
IB
,
Sika Sarnafil
, etc. While you will pay a bit of a premium for the "brand", you will have the peace of mind of owning a high quality roof.
You should also ask your roofing contractor which material he would recommend. A seasoned roofer will have installed various single ply membranes from different brands, and will know which one has had the least problems. His advice is important, because you need to get a roof that performs well in your particular geographic location.
Membranes from different brands have different chemical formulations, and some do better in certain climates than others. For example, some TPO roofs don't last long when exposed to extreme heat for a long time, such as in Texas or Arizona. You roofer will know which product can protect your home from local weather conditions.
This is another reason why you want to hire someone who has worked with flat roofs for at least a decade. A newbie contractor may have good technical skills, but he will not have enough experience to recommend the best material.
Tear off considerations
When replacing a flat or low slope roof, building code in most states limits you to no more than two layers of material. For example, if you have EPDM rubber now, you may put on a new PVC or TPO membrane.
On the other hand, if you have Modified Bitumen (Mod. Bit.) or gravel and tar, with rubber on top, you need to remove the rubber roof. Removing EPDM or another single ply membrane is simple and relatively inexpensive.
To tear off one layer of membrane costs
$0.45 per square foot
, and two layers costs $0.60 per square foot. Thus, tearing off 1,600 of single ply roofing will cost you
$720 - 960
, depending on the number of layers being taken down.
However, if you need to tear-off Tar + Gravel of multi-layer rolled roofing, the cost will go up significantly. One layer tear off runs about
$1.5 per square foot
, where as two layers costs
$2 per square foot
.
You will pay
$2,400 - 3,200
to remove an old tar roof from your house. Its so expensive because rolled roofing is very heavy, many dumpsters need to be ordered, and it can only be removed using special equipment.
Our roof estimator takes tear off costs into consideration when calculating your price quote.
Make sure you select an appropriate number of tear-off layers to get an accurate quote.
Where should you install a flat roof?
In addition to serving as a beautiful and durable cover for the house, a flat roof has a number of other useful applications. Many homeowners prefer to install a flat roof over a porch, a house addition or a garage. One of the biggest architectural trends is to have a house with a sloped roof and build a modern looking addition with a flat roof. Moreover, a flat roof membrane can even be used to
build a deck
!
If you are building a brand new home or an addition, remember that your flat roof will not actually be flat. For the best water drainage, it should have a slope of at least 1/8 inch per foot. The minimal slope allowance for flat roofs, according to most building codes, is 1/4 inch per foot.
Because a flat roof tends to collect water and sheds it much slower than a pitched roof, it may not be an ideal option if you live in an area that gets a lot of heavy rains and snow storms. EPDM rubber roofs are particularly notorious for developing leaks as a result of ponding water.
Flat roofs last the longest in a mild, dry climate that does not have severe temperature fluctuations. Still, states in the northern parts of US do have their fair share of houses with flat roofs, and its perfectly fine to install a flat roof in a state like Massachusetts or Vermont. You just have to be ready for more frequent maintenance checks and potential repairs.
Did you know? a flat roof with proper insulation will be 30-40% more energy efficient than asphalt shingles, which are used on the majority of sloped roofs. This can save you hundreds of dollars in heating and cooling costs. For maximum savings, you need to make sure that you are installing rigid foam insulation (Poly Iso) with a proper R-value.


Cost of flat roof repair
Leaks are the most common problem that most flat roof materials have. However, EPDM rubber is most notorious for leaking at the seams. Properly installed PVC and TPO roofs should not have leaks, unless something causes a tear in the membrane that lets water in. Built up roofs often have leaks that are very hard to find and therefore repair, which is why these roofs are installed less and less. Also, there are a lot fewer flat roofing pros that really know how to repair built up roofing in a way that actually eliminates the source of the leak.
Overall,
repairing a simple leak
in a single ply membrane requires patching and sealing the surface, and costs
$300-500
. Fixing up multiple leaks can cost
$1,000-2,000+
depending on the scope of work. For example, repairing leaks that happened around a chimney or a skylight, will be a lot more costly, because the roofer will need to spend time properly sealing the membrane around the penetration to ensure that the leak does not come back.
Therefore, its best to hire a seasoned flat roofing pro, who will take his time to properly seal the membrane. Otherwise, your leaks will simply come back after a few strong rains, or a big snow storm.
Regular maintenance and inspection is the best way to prevent leaks on a flat roof. Its easy to do a DIY inspection since you can safely walk on the surface of the roof. You should look for any standing water or visible tears in the membrane. If you live in an area that gets a lot of snow or rain, you should inspect your flat roof after any big snow or rain storm to ensure that the membrane is intact.
Additional Resources
Here are related guides about different types of flat and low-slope roofs, and how much they cost.
EPDM Rubber Roofing
PVC Roofing Cost Calculator
TPO Membrane and Installation Prices
Install Roof Shingles

$4872


Average price

Install Metal Roof

$10253


Average price

Install Flat Roof

$8257


Average price

See costs in your area Start Here - Enter Your Zip Code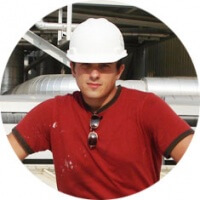 This roofing guide is presented by Leo B.

I've been a roofer for 15 years, and specialize in Metal Roofing and Flat Roofing.

Have a roofing question or issue? Ask me any roofing question!

Roofing Contractors - join our free Local Roofers directory to get more customers!