Accurately estimate gutter installation cost on your home or building.
Price quote includes all materials ( Seamless Aluminum gutters, downspouts, elbows, drain outlets, hangers and wall attachments) and labor.
How To Use Gutters Prices Calculator
1) Measure the length of your gutters (along the eaves of your roof), and plug in the number in the length field.
2) Count the number of downspouts (drain pipes) on your house/building, and enter the number in downspouts field.
3) Select gutter type:
5″ K gutter is the most common type, and is used in 95% of all installations and works for sloped roofs of all types (shingles, metal, slate, wood, etc). 5″ gutters typically use 2×3 downspouts.
6″ K gutter is used for higher volume of water runoff to a single point (typically on flat roofs) or larger commercial buildings. 6″ gutters typically use 3×4 downspouts, to accommodate higher volume of water.
4) Choose the height of your home/building. This will affect the total prices, as more downspouts will be needed, and longer ladders will have to be used on higher buildings.
5) Select if you want to have a leaf-guard installed:
Budget option is for 4′ leaf guard sections sold in home improvement stores (while it sounds "bad", it is actually my preferred option to use these – they cost significantly less than "premium" options, but work just as well, and are easy to remove, if you need to, unlike more expensive options
Expensive option is essentially the same thing as budget, made of aluminum in 10′ sections, and costs 3 times more.
6) Select you region: Prices vary greatly (+/- 15-20%) depending on your region, state and even city/town. However, we broke this down into groups of states (regions) with similar price levels, to represent more realistic local conditions. Note, that if you live in a major metropolitan area, your actual cost may be slightly higher that our estimates (within 5-10%).
Price Variations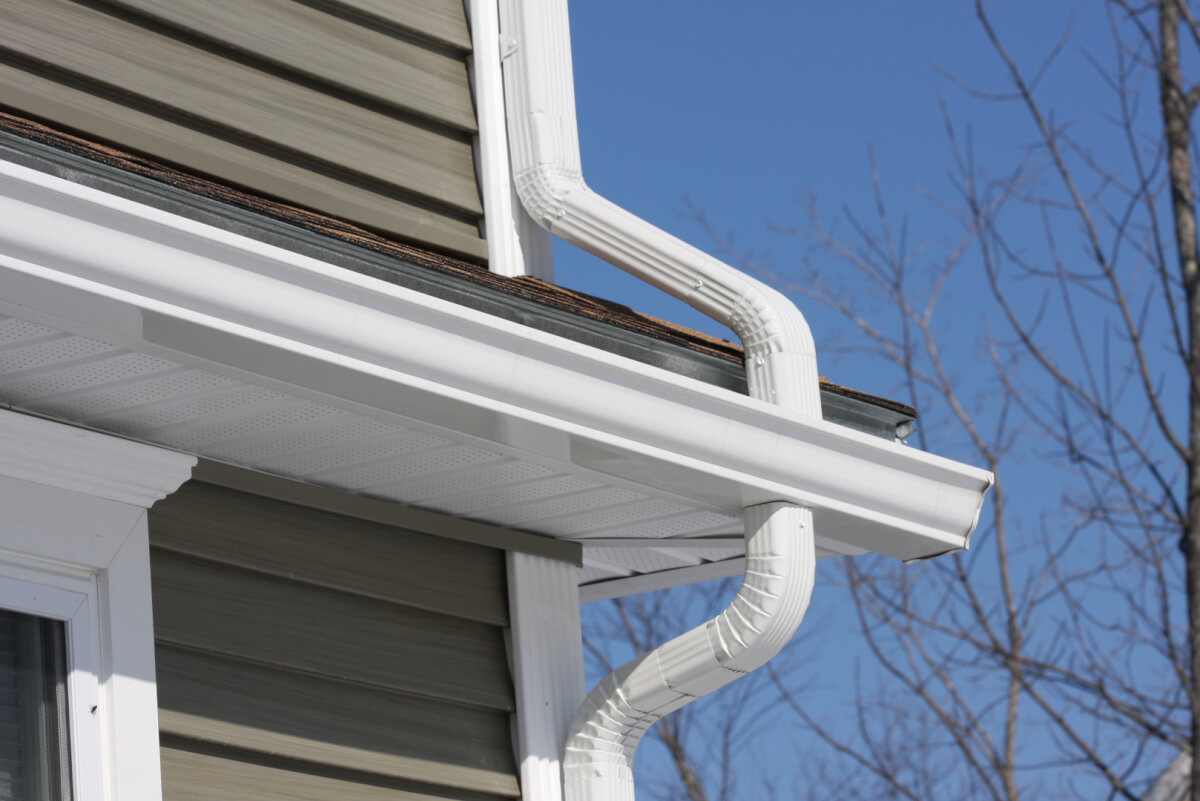 Gutter cost will vary (low, mid and high ranges) depending on the contractor, their labor and overhead costs, and material prices.
You will typically get better pricing from companies with their own roll-forming machine, where they make your gutters on the job-site. Usually, these companies will have lower cost of goods, since they manufacture gutters from aluminum coil, using their own equipment. However, even when a contractor buys gutters from a distributor, the price difference is only about $0.50 per linear foot.
Removal Of Old Gutters
Estimates do not include the cost to remove existing gutters. You can budget $100-150 for Aluminum and 250-300 for plastic gutters.
Removing wood gutters can start at $1000+. In addition, you will likely have to put in new fascia boards, to cover up the holes that will be left. This can average about $7-10 per linear foot.
Installation Tips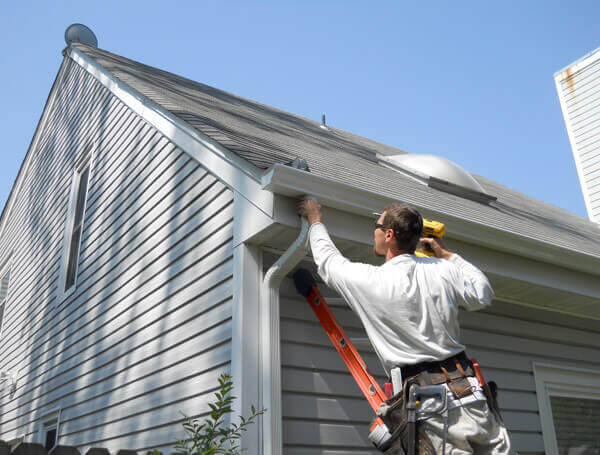 You should get multiple quotes from local installers – at least 3.
Your total cost for gutter replacement should be about $10-12 per linear foot for a basic project (over 50 feet). If you get something like $18 per foot quote for a 5″ K gutter, you are being ripped off!
Select a pro you are most comfortable with or a mid-range price. Its best to work with an owner operated company – even if others offer a lower price. Trust is a big issue when hiring contractors.
Bottom line – it's pretty hard to screw up this job, but it is possible. Here is what you need to know:
It's important that your contractor installs gutters with proper slope. If drains are above the low point of your gutters, water will stand, and eventually you will get a small garden growing in there. Usually long runs of gutters have two downspouts on each end, and center slightly raised compared to the edges (even 0.5″ to 1″ difference is enough for water to drain properly).
You should replace any rotted fascia boards (wood behind your gutters), as these are your nailing surface and must be in good condition to hold gutters in place.
Use concealed hangers with screws to attach your gutters and NOT long aluminum nails. Nails tend to come out, as they split the wood, when installed. Also, nails cannot be re-adjusted vertically.
I recommend using any type of leaf guard. As mentioned above, my recommendation is to use solid plastic 4′ sections from Home Depot & Lowe's – these are least expensive, and work just as well as premium guards.
The total price difference to have plastic leaf-guards installed is about $550. You may spend more than that to have your gutters cleaned just once.
Leaf guards also minimize ice dams in gutters!
Finally, I don't recommend integrated leaf guards (where guard is built into the gutter), as well as Mesh, Foam or Filter type guards.
The reason is that they all get clogged with leaves and pine needles, and are a pain to clean. Moreover, an integrated solution is A) very expensive and B) if it get's clogged (although it's "guaranteed not to), you will never be able to clean it out.
Best of luck with your project – please let me know in the comments below how much you ended up spending per ln.ft.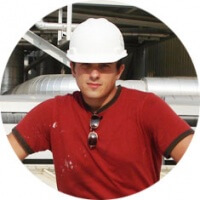 This roofing guide is presented by Leo B.

I've been a roofer for 13 years, and specialize in Metal Roofing and Flat Roofing.

Have a roofing question or issue? Ask me any roofing question!

Roofing Contractors - join our free Local Roofers directory to get more customers!