|
With an ever increasing popularity, standing seam metal roofing is a top choice for high-end as well as new construction homes.
A standing seam metal roof is ideal for homeowners interested in a modern looking roof with superior weather protection. It is a highly durable, long lasting and energy-efficient alternative to asphalt shingles.
To get started on installing a metal roof, contact your local roofing pros for FREE ESTIMATES!
How Much Is A Standing Seam Metal Roof?
x
Low End
Mid Range
High End
Materials
$5,425
$6,096
$8,047
Labor
$6,408
$7,200
$9,504
Cost / S.F.
$7.40
$8.31
$10.97
Total Cost
$11,833
$13,296
$17,551
See Costs Near You!
Start Here - Enter your zip
Homeowners across the US report spending $11,700 or $727 per square, to install a standing seam metal roof on a 1,600 sq. ft. one storey, ranch or cape style house.
On the low end, you can install a standing seam roof for as little as $6.00 per square foot or $600 per square. This will be a 29 gauge steel, typically made on site, and covered with acrylic paint.
On the high end, a standing seam roof costs $9-15 per square foot or $900-1,500 per square. This will be 0.032 inch aluminum with Kynar coating or 24 gauge steel with Kynar coating.
If you are willing to spend up to $2,000 per square, you can get multi-tone 0.040 inch aluminum with a Kynar coating, that looks simply stunning!
These estimates include: removal of one layer of old shingles, all material and labor costs, and dump fees.
However, keep in mind that metal roofing installation costs can vary. Major factors that impact the final price include:
– materials supplier
– metal gauge
– type of coating
– installer qualifications / experience
– local economic conditions
– competition
– type of house
– roof complexity
On average, you can expect to pay 25-35% more for standing seam metal roof than you would for metal shingles. The total is higher, because the process of installation is a lot more complex and involved.
You can use our Standing Seam Metal Roofing Calculator to estimate the cost of installing standing seam metal roofing panels on your roof.
What Is A Standing Seam Metal Roof?
Standing seam gets its name from the noticeable ribs that run vertically up the roof. These prominent ribs are interlocking seams that join one metal panel to the next.
In fact, this roofing profile is so famous that when most people think of a metal roof, they picture standing seam panels".
Because most of these metal panels can be cut right at the job site, you get the benefit of having longer metal panels and attractive seamless lines that go from the eave to the edge of the roof.
x
Low End
Mid Range
High End
Materials
$2486
$2793
$3547
Cost / S.F.
$6.09
$6.84
$8.69
Total Cost
$6086
$6838
$8685
See Costs in Your Area!
Start Here - Enter your zip
What makes a standing seam roof more durable and more expensive is the fact that the panels are made from thicker grades of steel compared to corrugated metal roofing.
Typically, galvalume steel, which is considered the best quality, is used to manufacture steel standing seam metal panels. Some products, use G-90 steel, which is also highly durable. Higher-end standing seam roofs are made from aluminum, zinc or copper.
Because for decades raised seam metal roofing has been the staple choice for commercial and industrial buildings, as well as barns and warehouses, many homeowners used to have a hard time picturing this "commercial" roof on their homes.
However, since modern looking, "industrial" style architecture has taken off in the residential building market, many homeowners are falling in love with the sleek appearance of raised seam metal roofs.
Manufacturers are further boosting their popularity by coming out with increasingly diverse panel styles and colors, ideal for a wide range of residential metal roofing applications.
Install Standing Seam Metal Roof:
(30,018 projects)
National Average Cost
$12,234
See Costs in Your Area!
Start Here - Enter your zip
Standing Seam Metal Roof Cost Per Square Foot
Standing seam metal roofing is manufactured used different metals, and this impacts its cost per square foot as well as the overall durability and longevity.
Steel panels
A standing seam metal roof made of steel is the most budget-friendly option. A classic rib steel roof is most frequently favored and installed on homes across the US.
Its available either as stone-coated steel or stainless steel. Stainless steel standing seam metal roof costs $3 per square foot for materials only. Stone coated metal costs $3.50-4.25 per square foot.
Aluminum panels
Aluminum standing seam roofing is an ideal choice for homeowners who live in coastal areas. Because of close proximity to the ocean/sea, there is a high concentration of salt in the environment, which would cause corrosion in a steel roof.
Typically, steel will rust/corrode when installed within 1 mile from ocean/sea/salt water. Even "corrosion resistant" / galvanized / Galvalume / G90 / G100 steel roof WILL RUST.
Aluminum panels, on the other hand, are corrosion resistant and will survive well in this environment. Prices for aluminum standing seam panels start at $4 per square foot.
Check out this aluminum standing seam metal roof near in Naples, FL (near the Gulf of Mexico).
Zinc and copper metal panels
At the highest end of the price spectrum are standing seam roofs made of either copper or zinc. These metals are prized for their longevity and outstanding aesthetics.
Any copper or zinc roof can last hundreds of years, maintaining a beautiful, distinguished look. Copper is famous for developing a lovely green patina.
In terms of durability, both metals offer the same level of protection as aluminum. A copper standing seam roof costs about the same as zinc, and starts at $9-14 per square foot for materials only.
Is An Asphalt Roof Cheaper Than A Standing Seam Metal Roof?
Install a Metal Roof:
(66,226 projects)
National Average Cost
$11,318
See Costs in Your Area!
Start Here - Enter your zip
Yes, by far! If you are looking for the most budget friendly roofing material, composite shingles are your best friend.
You can install average quality asphalt shingles for as low as $375-400 per square. On a ranch style 1,200 sq. ft. roof, composite shingles cost $4,500-4,800.
To compare, metal shingles cost $550-800 per square, while standing seam roofing will be $900-1,500 per square. For a 1,200 sq. ft. roof, you would spend $10,800-18,000 to install a standing seam metal roof. This is 2.5-3.5 times as much as regular shingles!
Install Roof Shingles

$4872


Average price

Install Metal Roof

$10253


Average price

Install Flat Roof

$8257


Average price

See costs in your area Start Here - Enter Your Zip Code
Standing Seam Roof Installation Considerations
While metal is a "forever" roof, it requires very precise installation to protect your house from adverse weather for a lifetime. A solid job requires special tools, knowledge and technical skills.
Therefore, it is critical to find a contractor who specializes in metal and has extensive experience. Such an installer will charge more for his labor than the average general roofer, but you will have the peace of mind that the job is done right.
Cutting corners or not following manufacturer specifications can lead to complete roof failure very shortly after installation.
If you don't want this to happen to your roof, keep in mind the following essential information:
Minimum roof pitch
In most cases, standing seam roofing installation requires a minimum slope of 3:12. However, its possible to install it on a pitch as low as 1:12. For this, you MUST use a mechanically locked standing seam or structural standing seam, such as space metal buildings.
According to NACHI (International Association Of Certified Home Inspectors) the minimum slope for standing seam can be 1/2:12. However, this is not a professional roofing forum, so their info is not 100% correct. Certain manufacturers allow installation of standing seam panels on a pitch of 1:12.
Other limitations of putting metal panels on a low slope roof are:
1. you really should not have skylights or chimneys on a slope below 3, because they will be prone to leaks.

2. the roof is highly reliant on sealant, if the panel is spliced in the middle and at the ridge or head wall flashings. These areas will pose significant potential leak problems. They will also require maintenance every 5 years or so, such as replacing sealant.

3. For the same reason, other areas of concern on the low slope are any type of roof penetrations.
The ideal material for a low slope roof is a PVC flat roofing membrane and we don't recommend using metal roofing panels.
Putting A Standing Seam Metal Roof Over Shingles
While its possible to install a metal roof over asphalt shingles, its best to avoid doing this!
While in some cases its permissible to have metal shingles over an old asphalt roof, its strongly NOT recommended to do this with standing seam.
Here are the reasons:
1. old shingles will telegraph underneath the new panels. If a lot of snow piles up, it is possible for the shingles underneath to make horizontal dents in the metal. All of this will completely destroy your roof's curb appeal.
2. More importantly, if you install standing seam over asphalt shingles, the expansion and contraction of metal will make it rub against the stone coating in the shingles, causing rust and corrosion from underneath. This will shorten the life of your roof to about 5-10 years, whereas a properly installed metal roofing should last a minimum of 40-50 years.
3. By leaving the shingles, you are trapping possible wood rot and making ventilation none-existent. This will shorten the lifespan of the substrate and you will have to remove your new roof and scrap it within 10-15 years, just to fix the substrate.
Thus, it is always advisable to remove old materials.
Types Of Standing Seam Roofing Panels
A raised seam roof consists of vertical metal sheets that run from the top of the roof to the eaves. They overlap and fit together in order to conceal the fasteners. This is what creates the recognizable look of "ribs".
There are four panel types:
Snap Lock (Dutch Seam)

A continuous panel with an internal seam. Since the lock and seam are an integral part of the panel, no seam caps need to be installed.
This means you will not have to worry about "blow-off" or "creeping" of the seam or cap. The dutch seam is a structural panel that can be fastened right on to the purlins or solid substrate. No mechanical seaming is required.
It requires a minimum roof pitch of 2:12 for proper installation. If your home has a flat roof, it is actually possible to convert it to the necessary slope with the addition of a light-weight truss system.
Eco-Seam

Economical, one-piece, positive-locking, with no extra caps, strips or clips.
Installation is done by hooking the panel into the previous one and fastening it with mechanical fasteners through pre-punched holes. The fasteners are not visible as they are covered by the adjacent panel.
This design allows for expansion and contraction. It is also virtually impossible for the panels to come apart due to the positive locking action.
Eco seam can also be used as siding.
Field Lock / Mechanical Seam
This option is available in many different seam heights, and must be mechanically or manually (with hand tools) seamed in the field.
A double field lock allows for optimal water-tightness, and can be used on roof slopes of 1 and higher, whereas other types require a minimum of 3/12 roof pitch.
Seaming is done after everything is laid down in place, and clips are fastened to the substrate.
For this it is possible to use a hand seamer that costs around $100 (inexpensive, but very time consuming option), or a robotic / mechanical seamer which costs over $2500, but saves a lot of time and labor.
Many roofing suppliers and tools sellers offer mechanical seamers for rent, at about $100-150 per day. So if a contractor only needs a seamer for 1 or two days, it's often cheaper to rent it.
Non-Structural PC Panels
This standing seam metal roof consists of two parts: the flat panel itself and a separate seam or batten. Installation requires snapping the seam over the clips, thereby concealing the fastening system.
With the batten option, the panel is installed with a spacer clip and is snapped in place. Because these are not structural, they must be installed on to a solid substrate.
One significant benefit is that they can be used for tapered and curved installations.
Standing Seam Roofing Color And Style Options
Today, there is a wide range of standard, premium, two-tone and custom colors available from top standing seam metal roofing manufacturers.
Typically, most manufacturers sell products finished with Kynar 500 coatings, which is the industry's best. It offers superior protection against color fading and chalking, and comes with a 30 year warranty.
Below is a palette of standard and premium (multi-tone) colors which are available from nearly all manufacturers in US.
These are practically the same among major manufacturers, since they come from same 3-4 steel / aluminum coil producers and are usually painted with the same Kynar / Hylar or Acrylic coatings.
In terms of style options, you can select from 4 different looks:
| | | | |
| --- | --- | --- | --- |
| Standard | Embossed | Stiffening Ribs | Striations |
Standard: smooth, continuous surface that offers a sleek and clean look.
Embossed: textured surface that adds visual interest and sophistication.
Stiffening Ribs: vertical ribs running across the entire roof, offering a more traditional look and feel.
Striations: a series of ridges/linear marks that add visual interest.
Here is an aluminum Patina Green Snap-Lock raised seam roof that my crew and I installed in Plymouth, Massachusetts, in 2008. We used aluminum because the house is near the ocean, and aluminum does not corrode, like steel would.
It was made from coil supplied by ATAS, and made locally by Coastal Metal (a division of Beacon Sales roofing supply).
Paneling was not manufactured on site – instead pieces were cut to a specific length, and I brought them over in my truck.
Durability And Weather Protection Of A Standing Seam Metal Roof
It is hard to beat any metal roof when it comes to durability and unfailing protection against the elements. Unlike composite or asphalt shingles, metal will never crack, warp, or rot. It offers superior protection against:
– hail
– wind uplift
– snow and rain
– fire
– UV-damage from the sun
– algae, moss, insects
Most importantly it is designed to be virtually impervious to leaks!
In fact, a ribbed metal roof is so durable that many insurance companies offer discounts of up to 35% for homeowners who have it installed.
Particularly in the snow country, it offers the best protection from ice dams, which can cause thousands of dollars in damages. It is designed as a snow shedding system, so it will not leak even in the most severe snow storms.
If properly installed, a metal seam roof will last at least 50 years. This length of service is specified in the standard manufacturer warranty.
Moreover, it is not unusual to find metal panels that have been perfectly functional for 100 years. During this time, you will not need to worry about regular maintenance or repairs.
Install Roof Shingles

$4872


Average price

Install Metal Roof

$10253


Average price

Install Flat Roof

$8257


Average price

See costs in your area Start Here - Enter Your Zip Code
Is A Standing Seam Metal Roof More Energy Efficient?
If you want to improve your home's environmental foot print and save money, standing seam roof panels will make your house a lot more energy efficient.
It will reflect solar heat in the summer months and retain it during the winter. On average, it can potentially save you 10-15% on heating and cooling costs, while helping reduce energy consumption.
It is important to realize that not all products have the same reflective and emissive properties. These largely depend on the special chemicals that are put into the paint coating by the manufacturer.
Generally, lighter colors will be more "cool" than darker colors, but you need to carefully check the specifications of the coating you are interested in.
Additionally, metal is considered a green building material, because its made from at least 30-60% recycled content. At the end of the service life, it can be completely recycled, instead of going to a landfill.
Best metal roof color to maximize energy savings
While any metal roof is already considered "green" and offers much better efficiently that asphalt shingles, choosing the right color panels can further increase your savings.
If you live in an area that gets a lot of sun year around, its best to pick a light color metal. For example: light blue or green, off-white, beige, sand, tan, champagne, light bronze. etc.
Englert Inc. produces architectural metal roof systems in a large number of light shades, perfect for reflecting UV rays and boosting your savings:
– Everglass Moss
– Patina Green
– Stone White
– Bonewhite
– Sandstone
– Champagne
– Pre-weathered galvalume
– Dove Grey
– Sierra Tan
Why A Standing Seam Metal Roof Is Better Than Asphalt Shingles
Comparing costs side by side for metal roofing and composite shingles, any homeowner would ask why would I spend thousands of dollars more on a standing seam roof, or any metal roof for that matter?
The short answer is that a standing seam metal roof will provide you with superior durability and weather protection; the kind that even the best, most expensive asphalt shingles are simply not designed to deliver.
So if you live in an area that gets severe weather, snow, ice dams, hail, hurricanes, etc investing into metal roofing is simply the smartest way to protect your house from disaster.
While you may need to spend a few more thousand dollars on metal compared to asphalt, you will enjoy a leak-free, maintenance free service.
Homeowners whose asphalt roofs fail on them, spend significantly more to repair extensive interior damages compared to the cost of metal roofing.
On the other hand, if you reside in a mild climate, are not worried about any natural disasters, and don't have thousands of extra dollars to spare, a quality asphalt roof may be just fine for you.
Another point you need to consider when comparing roofing costs is the length of service life.
Even in the best case scenario, a very expensive asphalt roof ($500-600 per square) will not last more than 20-25 years. That is just the nature of asphalt shingles and the way its manufactured.
A more realistic estimate is that you will need to replace your shingles about every 12-14 years. During this time you will end up spending $4,000-6,000 on minor repairs that are bound to come up here and there.
Its no secret that metal roofing and especially standing seam is warranted by the manufacturers to last 50 years. Many last a lot longer! So you are getting at least double the service life, and more like at least triple, all without additional maintenance or repair costs.
Now the choice comes down to your plans for the future: if you want to sell off your house in the next 2-5 years, there is not need to invest in a new metal roof.
However, if see yourself staying in your house for at least the next 10-15 years, or leaving the property for your next of kin, then metal is a much better solution.
Standing Seam Metal Roofing Manufacturers
There are hundreds of standing seam manufacturers in the US. Since the technology is not patented (or patents have run out), anyone can make their own products.
All they need is a $30,000 -100,000 investment in roll-forming equipment. In fact, hundreds if not thousands of contractors have the equipment and do this for their clients.
Still, the biggest and most reputable companies are: Drexel, Englert, McElroy, MBCI, Fabral, and ATAS.
Of these, ATAS metal is the most expensive for an unknown reason (that's why it's listed last). Overall, they all offer similar material warranties.
We recommend any one of these, because the reality is that they all buy their coil from the same 3-4 coil manufacturers in the US.
Your Estimated Roofing Cost
Roof Price:
Cost per sq. ft.
Roof Size:
Roofing Material:

See costs in your area Start Here - Enter Your Zip Code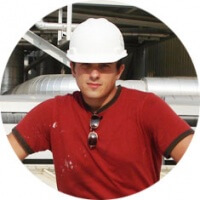 Author: Leo B
For over 20 years Leo has run a successful roofing business in New England, specializing in metal roofing, as well as cool flat roofing technologies. Having replaced and installed hundreds of roofs in New England, Leo has first hand experience with pretty much every residential roofing material and roofing manufacturer available in the US.