There are many flat roofing options, but my personal favorite is IB Roof Systems. On average, IB PVC costs $6.50 – 8.0 per square foot installed, depending on thickness.
The roof is made from a sheet of single ply thermoplastic membrane, reinforced with polyester mesh (scrim). Once properly installed, it will not leak!
I've been installing this flat roof since 2005, and in 12 years not one leaked, except for a mechanical damage to the membrane.
Here, I will discuss the features of the IB PVC membrane, its installation costs, as well as pros and cons.
How Much Does IB Roofing Cost?
On average you can expect to spend around $9,750 – 12,000 on an IB PVC roof installed on a 1,500 sq. ft. a ranch style home. The final price will depend on the thickness of the membrane you choose.
Keep in mind that thicker membranes are more expensive, but they are also a lot more durable and longer lasting. We recommend using at least a 60 mil product, especially if you live in an area with inclement weather, and frequent temperature fluctuations.
Materials And Installation
Let's set some basic specs for the job, so we don't have to repeat it.
1) New Install: Includes installation of 1/2″ Styrofoam insulation and a mechanically attached PVC membrane, 2 or 3″ PVC coated edge metal, 1 chimney or skylight flashing, 2 bathroom stack flashing, and 2 IB Air Vents.
2) Replace Old Roof: Same specs as a "New Install" with added tear off and disposal of 1 layer of old materials.
These are the two most common scenarios. In all other cases the cost differences are in the following:
– insulation thickness
– brand of the PVC material
– any added penetrations – extra skylights, chimneys, bulkheads, vent pipes, etc.
– rare parapet walls
– roof to wall transitions
We will discuss all these extra items below.
---
Simple flat roof on 1 or two storey house: While these are rare, and most roofers LOVE to do jobs like this one, these still turn up once in a while.
1 square of new IB 50 mil membrane should cost around $650-$750
1 square of new IB 80 mil membrane should cost around $720-$800
Extra Items
These will cost about the same for any type of single ply membrane roof, because they are basically extra labor and materials.
If the roof is over 30 squares (3000+ sq. ft.) you should be getting a 3-7% discount for volume.
Tear-off and disposal for 1 layer of an old rubber membrane should cost about $75-100 per square.
Each additional penetration flashing such as a chimney or skylight should cost about $200-250
If your house is located within 1 mile of the ocean, you should use Stainless Steel PVC clad edge metal. Stainless steel is very expensive. Figure $7-8 per linear foot of roof edge.
Insulation should run about $55-65 per square per 1 inch thickness. So, if your roof is 10 squares, and you want 3 inches of PolyISO rigid foam insulation, you will be spending an additional $165-195 per square. Insulation is very expensive, and most of this cost is MATERIALS only, as well as longer screws and building out higher wood nailer along the roof perimeter.
Additional pipe penetrations 3-4″ are $40-50
Large pipe flashings are $75-100
Cost of IB vs. other PVC manufacturers
IB is not the only manufacturer of PVC roofs. Other popular brands are Everguard PVC by GAF, JM PVC, Sure-Flex by Carlisle, Duro-Tuff by Duro Last, FiberTite and Sarnafil.
IB is considered by most credible sources in the roofing industry to be one of the best PVC roofs in the world, rivaled only by Sarnafil and Fibertite.
Here is how PVC membrane pricing for an IB roof compares to its competitors:
– 20-25% more expensive that GAF, Carlisle, and JM.
– 10% more expensive than Duro – Last.
– 5-10% cheaper than FiberTite.
– Sarnafil costs about the same as IB.
In this comparison, we take the cost of a complete roofing system, with all accessories and flashings, excluding insulation. Moreover, prices are compared for the same thickness membrane.
Pros
Having tried numerous products over the years, I prefer and recommend IB PVC material for nearly all low slope and flat roof applications – even Roof Decks! Other seasoned roofers will also recommend it for both residential and commercial applications, especially if it is a high-end project.
Here are the advantages you get by installing IB:
Superior Durability
All IB products far surpass the ASTM standards for single ply roofing membranes (ASTM D4434.96). Check out the specs for materials of different thicknesses.
| SPECIFICATIONS | 50 MIL | 60 MIL | 80 MIL |
| --- | --- | --- | --- |
| | | | |
| Weathering Surface | 156% Thicker | 187% Thicker | 250% Thicker |
| Seam Strength | 247% More Reliable | 310% More Reliable | 360% More Reliable |
| Elongation | 266% More Pliable | 266% More Pliable | 266% More Pliable |
| Tearing Strength | 160% More Durable | 162% More Durable | 164% More Durable |
| Breaking Strength | 185% Stronger | 233% Stronger | 270% Stronger |
Resistance To Harsh Elements
– Solarwise™ finish ensures solar reflectivity and nice appearance
– UV stabilization formula protects against external elements
– Class-A fire rated
– Leak free service due to heat-welded seams, which are impervious to moisture
Longevity
Many IB membranes that have been installed in 1978, when the company got started, are still functioning today. This is 40 years, or 3-4 times longer than the majority of other flat roofing materials.
Longest Warranty In The Industry
You get 30 year commercial warranty and Lifetime residential material warranty.
Largest Selection Of Colors
Here are membrane colors and thicknesses that are available in stock:
You can also watch this video to get a better sense of how this roof is installed, what it looks like and how it preforms.
Your Estimated Roofing Cost
Roof Price:
Cost per sq. ft.
Roof Size:
Roofing Material:

See costs in your area Start Here - Enter Your Zip Code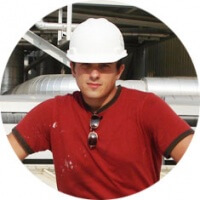 This roofing guide is presented by Leo B.

I've been a roofer for 15 years, and specialize in Metal Roofing and Flat Roofing.

Have a roofing question or issue? Ask me any roofing question!

Roofing Contractors - join our free Local Roofers directory to get more customers!