|
Gutter Guard Cost Estimator will help you calculate the cost of installing new gutter guards using various types of covers, from the very simple DIY type, that you can by at Home Depot / Lowe's / Costco, etc., to name brands such as LeafGuard® *, Gutter Helmet® *, etc.
Leaf Gutters protect your home's foundation, siding, windows from water damages, while leaf gutter guards protect your gutters from clogging and overflowing.
A single gutter cleaning will cost between $275 and $550 & should be done annually, whereas you can install permanent leaf protection for as little as $690!
See costs in your area Start Here - Enter Your Zip Code
* Prices for LeafGuard® and Gutter Helmet® are approximated based on our survey of multiple end users (homeowners) who have installed these systems OR received an estimate for these systems from their respective dealers.
How Much Do Gutter Guards Cost?
The price range for gutter guards can vary rather drastically, depending on the brand you select and the type of material used.
Gutter guards can cost as little as $0.50 per square foot to as much as $8-10 per square foot. For 200 sq. ft. of gutter guards, you can expect to spend as little as $100-250 or as much as $2,000+
Higher end gutter guard brands include: Gutter Glove, Gutter Helmet and Leaf Guard.
If you need to install new gutters, you can use our Gutter Cost Estimator to calculate your total costs.
Why Install Gutter Guards?
Gutter Leaf Covers / Guards protect your gutters from clogging with leaves, and other debris, which causes gutter overflows and damage.
Each gutter cleaning can cost as much $290-$520, and is need to be done at least once a year.
However you can protect gutters with various types of covers or gutter guards for as little as $200 when you install these covers yourself, or $600-1100 when you hire a gutters contractor.
Typical Price Range To Install Seamless Gutters
Average:
$820 - $1,245
How to Get An Accurate Gutter Guards Cost Estimate
This gutter guard cost estimator is very easy to use, but accuracy of your inputs will determine how accurate the results are. Follow these steps to get fair price estimate in your area:
Step 1 (Gutter Length): Enter total length of your gutters. Most cape / ranch type homes will have between 90-100 linear feet of gutter (45-50 ln.ft. on the front and rear of the house).
Step 2 (Leaf Guards Type): Select the type of the leaf/gutter guard system the you want to estimate costs for. Note – items marked with "DIY" do not include installation labor – only cost of materials, and you would have to install these yourself. However it is the cheapest option, and these products are easy to install yourself.
Step 3 (Project Type): Choose if you want to install ONLY gutter guards or Guards + New Gutters. If you select the latter, additional option with become available, where you can select the type of new gutters to install (see next step).
Step 4 (New Gutters Type – optional): If you selected "Gutters + Leaf Guards", this option becomes available. Here you can select if the type of new gutters. Most homeowners choose Seamless Aluminum Gutters, as these are very inexpensive, good looking and have fewest possible leak points (only at end caps, corners, and drain outlets).
Step 5 (Number of Downspouts – optional): This one is also optional and is available only when you select "Gutters + Leaf Guards" in step #4. Most homes have 4 downspouts (drain pipes) – one in each corner. Therefore default value is 4. If you have 2 or more floors, do not multiply number of downspouts by number of floors – our calculator will do all the magic.
Step 6 (House Height – Number of Floors): Select how many floors / levels your home has. This option will change the final cost, as it it more labor intensive to install gutters on a triple-decker, compared to a ranch home.
Step 7: Calculate the price – this will give you the most accurate cost estimate available on the interwebs, short in accuracy only compared to an actual estimate from a local installer. BTW, right below the prices, you will be able to request a price estimate from up-to 4 local gutter installers in your area – just enter your Zip Code, and fill out a short form.
Typical Price Range To Install Gutter Guards
Average:
$970 - $2,745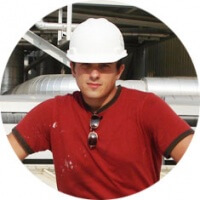 Author: Leo B
For over 20 years Leo has run a successful roofing business in New England, specializing in metal roofing, as well as cool flat roofing technologies. Having replaced and installed hundreds of roofs in New England, Leo has first hand experience with pretty much every residential roofing material and roofing manufacturer available in the US.