Putting a durable and long lasting roof over your house requires striking a fine balance between quality and price. This guide covers replacement costs for asphalt shingles, metal shingles, standing seam, corrugated metal panels, and flat roofs.
Across the US, the average cost to install a new asphalt roof on a 1500 s.f. single-story house is around $4800-7050 or $3.20-4.70 per square foot.
For comparison, installing an average size metal roof runs about $8250-17100 or $5.80-11.40 per square foot.
When shopping around for quotes, the majority of homeowners typically focus on the TOTAL roof cost, without considering how this figure is actually calculated. Too often, this lack of understanding results in spending way more than the roof is worth.
Later in this guide, I will also discuss why you should (in most cases) choose a contractor who is licensed, insured and has a good reputation with their past clients.
Typical Price Range
Average:
New Roof Costs by State
Here is a further breakdown of costs for each state in the US:
NOTE: Prices above assume a 1500 s.f. ranch type house roof, with 1 layer tear-off, 1 chimney flashing, ridge vent, and other typical penetrations (for a flat roof assume typical 1500 square/rectangular shape roof).
Steep slope, extra layers of old materials, extra penetrations, and increased job complexity would increase these prices.
The numbers above, are real contractor prices from our local roofers directory. Our state-level prices are updated dynamically, as more contractors join our network.
See how these materials compare:
Roofing Shingles
Being the most popular material in the US, asphalt shingles are installed on as much as 75% of all steep slope residential roofs.
The average price to install 3-tab shingles in US is $3.49 per square foot, while laminates go for about $3.51 per square foot.
Install Asphalt Shingles Roof:
(257,716 projects)
National Average Cost
$5,287
See Costs in Your Area!
Start Here - Enter your zip
While there are numerous manufacturers and various quality/price levels of shingles, these can be easily classified as the following:
3-tab shingles
Architectural (laminated) shingles
Premium / lifetime* shingles
3 tab and laminated shingles cost about the same to install. While material cost for 3 tabs is about $0.15 lower than laminates, the extra work required to keep the vertical lines straight, makes up for that difference.
READ: Complete Roof Shingles Installation Cost Guide for 2018
Premium shingles, such as CertainTeed Arcadia Shake, range from $5.29 to $6.90 per square foot. The main difference here is much higher material cost for the contractor, need to use special trim and flashing accessories, higher wight, more bundles per square, and more time needed to make sure vertical lines are straight.
* Lifetime: Lifetime is specified in the warranty of each product. However, in our opinion, "lifetime" is a gimmick!
Most manufacturers call their basic laminated shingles "lifetime", and the premium shingles are also referred to as "lifetime". The main difference is in the warranty and thickness of each shingle.
For example, a GAF Timberline shingle is about about 1/2 the thickness of GAF Camelot. Naturally, Camelot will last much longer than Timberline. Even when the top layer (granules) begins to disintegrate, the sheer thickness of Camelot will keep the roof from leaking for several extra years.
The big deciding factor here is attic/roof ventilation. If your attic is not ventilated, both Timberline and Camelot will "bake" too fast, become brittle and fall apart, long before their intended lifespan.
The same applies to basic and premium shingles from ALL other manufacturers.
Metal Roofing
If you want a truly lifetime roof, your best bet is metal. These roofs come in a huge variety of shapes, colors, and types of metal used in their manufacturing.
Install a Metal Roof:
(66,079 projects)
National Average Cost
$11,318
See Costs in Your Area!
Start Here - Enter your zip
From basic steel or aluminum to copper or zinc, and even Stainless Steel – the choices are numerous, and in the end – it's all about cost. If you want better, you will have to pay more.
However, you don't always need the best to get at least 50 years out of your roof (in many cases over 100 years life span).
On average, a metal roof costs 2.2 times more than architectural shingles or $7.44 per square foot. However, if we look at premium asphalt shingles VS metal – the cost is almost the same. To me, the choice becomes obvious – metal!
The vast majority of metal roofs installed in US are Standing Seam, Exposed Fastener (R-Panel) and Metal Shingles. Most of these are steel or aluminum, but can also be made of other metals.
ESTIMATE COSTS: Metal Roofing Calculator
R-Panel is the lease expensive, coming in at an average of $5.93 per square foot. However, this includes major metropolitan areas, where costs are much higher. In many rural areas, you can find these for as little as $3.50-4.00 per square foot.
If your are a DIY type, R-panels are also extremely easy to install, and you can buy the materials for about $1.75 per foot, and do the job yourself!
Standing Seam is arguably the most popular type of metal roofing, and can be installed for anywhere between $7 to $13 per square foot. We provide such a wide range because there are many factors at play here:
– type of metal
– gauge
– type of paint/coating
– job complexity
The cost of standing seam is extremely sensitive to how cut up your roof is. Much more so than all other types of roof coverings. If you have a simple ranch/barn type roof, installation will be a breeze, and your costs will be low.
If you have multitude of valleys, dormers, skylights, and other penetrations, your cost can easily double, and time to install can triple!
Metal Shingles are the most versatile type of metal roof, making it the easiest to install on complex roofs. This fact alone will significantly reduce your total cost compared to standing seam.
Metal shingles come in a variety of styles, from slate impressions to metal wood shakes, etc. They are typically made from steel or aluminum and come with premium paint/coating (Kynar/Hylar), in solid and multi-tone colors.
Metal shingles average $7.50-$12 per square foot installed.
Flat Roof Membranes
Low slope materials cannot be directly compared to asphalt or metal. If your roof has a low slope, you MUST use some type of a flat roofing membrane. Asphalt and metal are not an "equal" substitute, as they require a minimum of 3/12 pitch.
Install EPDM Rubber Roof:
(40,119 projects)
National Average Cost
$9,086
See Costs in Your Area!
Start Here - Enter your zip
While there are numerous flat roofing options, they can essentially be divided into 4 material types:
PVC
TPO
EPDM Rubber
Built-up roof (BUR) / modified bitumen
The first 3 are all considered "single ply" membranes, where as the last one is a multi-ply roof. BUR & modified materials are rarely used in US today, and in my opinion are inferior to single ply. Thus, we will skip these.
ESTIMATE COSTS: Flat Roofing Calculator
Among single plies, EPDM rubber is the most widely used type. However, it is quickly losing popularity to PVC and TPO which are white, heat-welded systems that have a much longer system life, and are easier to install/repair/maintain.
Rubber roofs cost an average of $6.16 per foot to install.
TPO materials come in at about $6.67 per square foot, while PVC is the most expensive of the three, costing $7.55 per square foot.
Now the question is – which one should you get? If you ask me – PVC is the clear choice, as it will last the longest, with fewest problems. Also in case of roof leaks, PVC is the easiest to repair!
TPO roofing is a PVC "knock-off". Manufacturers tried to make TPO to be a cheaper version of PVC, with all the same characteristics. However, there are numerous problems with formulations, material and seam failures, etc.
Rubber is a whole different animal, as it uses glue to keep the seams together. When glue breaks down (and it will), the roof will begin to leak, and repairs will be very costly. By my estimation, EPDM rubber will cost you more than PVC to install and maintain within the first 5 years!
Average Roof Replacement Cost in US:
Low End

$4388

Mid Range

$5287

High End

$6608
Cost vs. Quality
All too often, a cheap roof means that it will NOT last a long time.
When it leaks, a "cheap" contractor will usually not honor his warranty, and the cost of repairs or replacement will be on you.
The bottom line – a company needs to make money to stay in business, to be able to repair your roof if or when the need arises.
What you should avoid is saving a few bucks, only to face another re-roof soon after.
In fact, because most contractors compete on price, cutting corners has become the norm.
For years, the industry has been torn to shreds by uninsured crews hiring illegal labor, with very little expenses.
For honest, licensed and insured roofers, who build a reputation on doing excellent work, it has become immensely difficult to compete in such an environment.
In order to get enough work, many of these good crews have to drop prices. Moreover, to compensate for lost profits some also begin cutting corners and reducing the quality of their work.
How Contractors Determine Your Roof Replacement Quote
When giving a roof estimate, a typical pro looks at the following factors:
Roof size
Slope
Job complexity
Number of existing layers
New material to be installed
Underlayment and accessories
Material waste
Ventilation to be installed
Flashing work to be done
Trash disposal costs
Labor costs
Overhead costs (insurance / advertising / trucks /cost of doing business / etc)
Profit
Most roofers already have all these figured out, and adjust prices for each individual job, based on these factors.
A typical contractor has a base price per "square". 1 square is an area of 10*10′ or 100 sq. ft., and is used in the industry to simplify communication between suppliers, architects, sub-contractors and customers.
On top of the base price per square, a roofer will add additional factors, such as complexity of the job, amount of flashing to be done, and other items such as ventilation, etc.
Let's look at an example: typical roof – a ranch house that is 26 feet wide by 48 feet long, and has a pitch of 5 in 12. The size of such a roof is 1350 sq. ft. With waste of 10%, the contractor will need about 1485 sq. ft. (15 squares) of shingles or other material.
Cost of materials and labor
Whether the roofer calculates this job per square of roof area, or per square of materials to be installed, the overall number should be about the same.
First, the total amount of materials is calculated. On top of materials (usually shingles), he calculates the underlayment (felt or synthetic underlayment and/or ice and water shield), ventilation, flashing, and accessories (nails, caulking, pipe flashing, etc.) needed. This is the material price / square, needed for the job.
Having the cost of materials in mind, he already knows how long such a job should take, and how many installers + laborers he will need. This provides the cost of labor, including taxes and workers comp insurance.
Overhead
The cost of doing business, or overhead is what can differ the most among contractors. However, it is still similar for most licensed / insured roofers. Overhead will be higher depending on the type and amount of advertising done, office expenses, equipment / trucks / fuel, and the cost of Worker's Compensation insurance.
Worker's Comp can range from 25% to over 40% of the payroll, depending on the state in which the company operates and past incidents. If the company had on the job injuries, the Worker's Comp rate can jump over 10% easily.
Think of it this way – an installer gets paid say $20 / hr. Working full time, that would be $48,000 / year. On top of that a 40% (or $.40 per dollar of payroll) would be ADDITIONAL $19,200 per year per worker, that a contractor has to pay just for worker's comp insurance. In Massachusetts for example, a typical Worker's Comp rate for ROOFING, starts at around 38%, before any incidents. If there are any incidents, it can easily go to almost 50%.
Let's calculate a hypothetical contractor's overhead cost
Lets say a contractor hires 1 secretary / office manager at $18/hr, rents an office / storage for about $1,000 / month, buys liability insurance for $7,500/year, and spends $500 / month on advertising, and about $200/ month on utilities, as well as $1,000/ year in office supplies and equipment.
On top of that, each truck insurance is about $1,500 / year, + $1,500 / year in maintenance and repairs. Fuel cost for an average work truck is say $4 per gallon of diesel fuel. Having a 15 MPG, and driving 30,000 miles per year, a truck will use 2,000 gallons of fuel / year, which is $8,000.
Here is the break down:
Office manager salary: $36,000 + 18% for Workers comp, taxes, unemployment insurance = $42,800 / year.
Office / storage rental: $12,000 / year + $2,400 in utilities = $14,400.
Advertising: $6,000 / year.
Insurance: $7,500 / year.
2 Trucks: $9,500 / year * 2 = $19,000.
Office supplies: $1,000 / year.
Miscellaneous: $1,000 / year.
Total: $91,700 or $251 each day of the year!
Moreover, additional and UNAVOIDABLE overhead is income taxes. Uncle Sam takes 35% flat rate form any corporation, and then taxes personal income of the company owner.
There are ways to pay a lower rate, or avoid double taxation, using S-Corp, but still, most of the time, the personal tax rate of the business owner is around 35%.
Average Roof Replacement Cost in US:
Low End

$4388

Mid Range

$5287

High End

$6608
Profit
Of course, any roofer wants to charge as much as he can get away with for the installation. However, reality dictates its own terms. Competition from other contractors who are uninsured, and do not carry any worker's comp. insurance (or inadequate workers comp. such as SIDING, which is only about 13% vs. 38% for roofing trade) is tremendous.
Pros have to "sell" based on quality, against LOW PRICES. Meanwhile, most homeowners typically look at the total price (LOWEST PRICE), without much concern for what's included in it.
With all the competition and expenses, a contractor needs to make at least 25% NET profit on each job to stay in business. He also needs volume to maintain an adequate income. If volume is low, net profit must be higher than 25%.
Profit can and will vary among different roofers, and will in great part depend on the volume. However, once again – a roofing company that does not make money will not be around to uphold the warranty – that is just how it is.
How Much Does A New Roof Cost?
Ultimately there is no magic number. The total varies greatly depending on your geographic location, as well as local economic conditions and competition.
However, we can look at the formula used in our calculator to see how much an average roof costs.
Materials and accessories
1. One square of Lifetime or formerly known as "30 years" architectural asphalt shingles is about $100. This is set to be increased by an average of 5-9% in the spring of 2013, as indicated by the "materials price increase" notices, that suppliers are now sending out to contractors.
2. Underlayment and accessories – another $40-50 / square.
3. Dump fees can range from $30-100 per ton (2000 lbs.) depending on where you live. 1 square of 1 layer of shingles weighs ~ 250 lbs., or 8 squares per ton. a 15 sq. roof is about 2 tons for one layer to be removed. A typical dumpster rental fee is $350 with 2-3 tons of debris allotment. If a roofer has his own dump truck, disposal cost is about 50-60% that of dumpster rental cost (includes salary of the driver and fuel).
Overall, materials are about $150 / square + $350 for dumpster + $50-100 for building permit. Read our complete Asphalt Shingles Prices Guide here.
Installation charges
If a typical installer gets $15/hr, a foreman gets $20/hr, and a laborer gets $10-12/hr, and you need say 6 guys to rip and install a 15 square job in one day, that gives you 5 guys * $15/hr * 8 hours = $600. Add a foreman at $160 / day, gives us $780 in payroll. Add another 65% (workers comp, unemployment insurance, payroll taxes).
The average cost of labor would then be $1,285 to install 1 roof.
I cannot overstate the importance of hiring an experienced pro! This is the single biggest mistake I have seen homeowners make time and again.
As a homeowner, you ideally want to install a roof that will protect your home for many years to come. However, even if you are willing to spend thousands of dollars on an expensive, high quality roof, it will still be ONLY as good as the pro who installs it.
The last thing you need is to replace your new roof within a few short years, just because you initially tried to save money and hired a sub-par contractor.
Overhead costs
As mentioned before, the overhead cost would roughly be $251 per day.
Total contractor cost to install a roof (15 squares)
Materials: $150 / square.
Labor: $86 / square ($1285 / 15 squares).
Overhead: $17 / square (assuming that a roofer does only 1 roof per day).
Dumpster + permit fees: $400 or $27 / square.
Total contractor's cost: $4,186 to install a typical 15 squares ranch house roof, or $279 / square, before ANY profit.
If we consider that a roofer makes an average 25% NET profit on each job, before taxes, then our hypothetical roof above would yield $1,046 in profit. Total cost of this job would be $5,232 or $350 per square.
x
Low End
Mid Range
High End
Materials
$1879
$2042
$2593
Cost / S.F.
$3.05
$3.31
$4.2
Total Cost
$4598
$4998
$6348
See Costs Near You!
Start Here - Enter your zip
Roofing labor cost per square across the US and Canada
It just so happens that in most places and according to most roofers that I've spoken to, the average cost per square that they charge ranges between $250 and $400 / square, so our calculation of $350 / square falls right in the middle of that average.
Our cost calculator formula is in large based on these calculations. It also takes into account additional items, such as chimney / skylight flashing, different roof slopes, houses that are 1, 2 or 3 stories high, different materials, and overall  job complexity.
Therefore, you will get different "prices" depending on your home's conditions.
To figure out how roofing costs vary based on where you live, see our local roof prices guide.
Other factors affecting installation prices
Among many factors that can impact how much you will spend on a new roof, a major one is your geographic location. Depending on the area, cost of living, as well as local economic conditions, contractor labor rates can be significantly different.
For example, $15 / hr in Boston or NYC is probably a bare minimum on which a working person can "survive" because of high rent and food / clothing prices. However, somewhere in the Midwest, or recession-torn areas, $15 / hr, can provide a person with a very decent level of comfort. Additionally, in urban areas, cost of materials, insurance and other overhead costs are typically higher than in suburban "away from civilization" places.
On top of local costs of living, there are many uninsured roofers, who hire illegal workers, and have a much lower overhead. Therefore, it's not uncommon to see prices for a new installed roof to be around $250-275 / square even in the Boston / NY / NJ / DC stretch.
Regional differences
Keep in mind that roofing prices and contractor's costs differ depending on the region. For example, in the Midwest and the south, prices are impacted in large part by the insurance companies.
This is because there is a lot of insurance work there, due to storms.
Thus, prices are much lower than in the Northeast or the Pacific regions.
Here is a separate article about insurance work, and how it affects the roofing market as a whole, the quality of work, and price levels – How Insurance Companies Manipulate Residential Roofing Prices
Price data updated on Jul 10, 2018. State level prices are updated daily, to reflect real time prices of roofers in our directory.
Your Estimated Roofing Cost
Roof Price:
Cost per sq. ft.
Roof Size:
Roofing Material:

See costs in your area Start Here - Enter Your Zip Code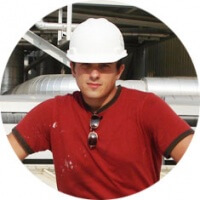 This roofing guide is presented by Leo B.

I've been a roofer for 15 years, and specialize in Metal Roofing and Flat Roofing.

Have a roofing question or issue? Ask me any roofing question!

Roofing Contractors - join our free Local Roofers directory to get more customers!