If your old roof is leaking beyond repair, replacing it with a shingle roof remains the most popular and cost effective option.
The average cost to install roof shingles is about $4,800 – 5,100 for a 1,500 sq.ft. ranch house, including materials and labor.
Total installation cost may vary depending on your location, roof complexity and the contractor you hire.
In this guide:
Shingles prices per square foot
Cost breakdown by shingle type
Price differences by shingle brand
Architectural vs 3 tab shingles
Cost of Home Depot shingles vs. roofing supplier
Accessories prices
Labor and installation costs
Roof removal and tear-off charges
Pros and cons of a DIY install
Regional cost differences
Avoid roofing scams
How much do roof shingles cost?
Most People Spent:
$4,390 - $7,940
(for 1600 sq. ft.)
See costs in your area Start Here - Enter Your Zip Code
Across the US, the average price for roof shingles is $3.20 – 3.40 per square foot, including materials and installation. This is equivalent to $320 – 340 per roof square (1 roof square = 100 sq.ft.)
You can use Roof Shingles Calculator to get a more accurate estimate for your home.
The two most popular shingle styles are 3-Tab and Architectural (laminated). These as well as premium varieties are made by multiple manufacturers in US and Canada. The largest are: GAF / ELK, CertainTeed, Owens Corning, Tamko, IKO, and Atlas.
Material prices for basic 3 tab composition shingles start at around $0.80 per square foot.
Laminated or architectural shingles cost $0.85-0.90 per square foot. The most popular architectural shingles sold in the US are, Timberline HD by GAF. Their biggest competitor are Landmark shingles by CertainTeed.
Read our comparison guide on Timberline vs Landmark to get a better sense of what will work for your house.
Designer or premium shingles run for $1 – 1.10+ per square foot.
Cost breakdown
Here is a closer look at the material costs for different types of asphalt shingles. (Note, shingles are sold in bundles. There are 3 bundles per square. 1 square of roof area covers about 100 sq.ft.)
| PRODUCT | COST |
| --- | --- |
| 3 – Tab (standard) | $25 – 30 / bundle or $75 – 90 / square |
| Standard Architectural (Laminated) | $28 – 32 / bundle, or $84 – 96 / square |
| Premium Architectural (Laminated) | $45 + / bundle or $135 + / square |
| Energy-Efficient (Cool Roof) | $40 + / bundle or $120 + / square |
In the past three years, from 2016-2019, prices have actually gone down by about 20%. This is great news for homeowners looking to get a new roof.
Compare shingles prices based on brand
When researching various shingle products for your roof, you have surely noticed that some manufacturers and brands are more expensive than others.
However, usually for the same class products, prices are pretty competitive across manufacturers. The biggest difference between them is mostly in the brand name recognition, roofers' and homeowners' perception of material quality, and installer's preference.
Here is a quick reference chart comparing shingle costs across the top brands: GAF, Certainteed, Owens Corning, IKO, Tamko and Malarkey.
| | GAF | Certainteed | Owens Corning | IKO | Tamko | Malarkey |
| --- | --- | --- | --- | --- | --- | --- |
| | | | | | | |
| 3-tab | $0.81 | $0.89 | $0.82 – 0.84 | $0.79 | $0.72-0.77 | $0.73 – 0.82 |
| Architectural | $0.87 – 1.33 | $0.91 – 1.42 | $0.97 – 1.26 | $0.86-0.88 | $0.84 – 1.05 | $1.21 – 1.55 |
| Designer | $1.6 – 2.85 | $1.48 – 2.47 | $1.48 – 2.80 | N/A | $1.80 – 2.05 | $1.58 – 1.70 |
Why do architectural shingles cost more than 3 tab shingles?
Across the board, you will notice that laminated or architectural shingles cost about 20-35% more than standard 3-tab shingles. To a naked eye, this cost difference can be attributed to curb appeal: laminated shingles provide a more dimensional, attractive appearance.
However, the real reason for the extra cost is material composition, and as a result longevity and durability of the shingles.
One of the biggest differences between these three different classes of shingles is the thickness on the product. Architectural shingles have a body that is about 30% thicker compared to 3-tabs, and designer shingles can be as much as 50% thicker.
Thicker shingles are more durable, long lasting, as well as weather resistant. Another huge benefit is that these shingles look a lot more attractive and dimensional than 3-tabs, which have a very flat appearance.
Accessories prices
When considering the cost of materials, many people take into account just the shingles. This is incorrect, as a roof made up of them alone will not work. You also need to factor in all the accessories that must be included in a complete system.
On average, you can expect to pay an additional $125-150 / square for materials only.
A roofing system consists of the following components:
Shingles
Underlayment: Felt, Synthetic, Ice & Water Shield
Hip / Ridge cap
Flashing
Drip edge metal
Ventilation (ridge vent)
Pipe boots
Lead & step flashing
Nails, caulking, and other small things
Without utilizing all of these accessories, your roof will likely leak, and your warranty (from ANY manufacturer) will be null and void immediately after installation!
On average, here is what homeowners across the US report spending on the individual accessories:
| ACCESSORY TYPE | COST |
| --- | --- |
| 15 / 30 lb felt | $21.25 / roll. Covers 400 / 200 sq. ft. |
| CHEAP Ice & Water shield | $98 per roll. Covers 200 sq. ft. |
| GOOD Ice & Water shield | $139 per roll. Covers 200 sq. ft. |
| Hip / Ridge Cap | $46.93 / bundle. Covers 20 ln. ft. |
| Ventilation (ridge vent) | $50.25 for a 20 ft. roll of Cobra ridge vent |
| Synthetic Underlayment | $84 for 400 sq. ft. roll of GAF Deck Armor |
Local MA prices
To give you a real life example of how material prices may differ depending on where you live, we went to a Home Depot in Boston, MA and got the following information:
| | |
| --- | --- |
| 15 / 30 lb felt: | $15.75 / roll. 400 / 200 sq. ft. coverage respectively |
| Ice & Water BARRIER (generic): | 69.00 per roll – 200 sq. ft. coverage |
| Ice & Water Shield (by Grace): | $138.00 per roll – 225 sq. ft. coverage |
| Hip / Ridge Cap: | $51.95 / bundle. 20 ln. ft. coverage |
| Ventilation (ridge vent): | $55 for a 20 ft. roll of Cobra ridge vent |
| Synthetic Underlayment: | $101.84 for 400 sq. ft. roll of GAF Deck Armor |
| GAF DeckArmor 1000 s.f. Synthetic Underlayment: | $203 for 1000 sq. ft. roll |
Importance of quality underlayment
I mention DeckArmor above, because in my opinion it is the best synthetic underlayment available on the market, based on quality and price. Compared to FELT, price per square foot of deck armor is $0.202 vs $0.079 for felt or about 4 times more expensive. In reality it's even less, because you have 60% more overlaps with felt, thus the actual coverage is much less.
However, since most roofs are about 1600 sq.ft., 2 rolls should be enough for a typical house. In the grand scheme of things, Deck Armor will cost only$249 more. However, it is hands down a much better WATERPROOFING product, so it is very much worth it!
Cost of shingles at Home Depot vs. roofing supplier
If you are planning to install the shingles yourself, you may be wondering whether you can save money by buying them at Home Depot rather than a roofing supply store.
In short: Home Depot 3 Tab shingles will be only slightly cheaper – a difference of about 2.5%
Here is an example of pricing I got from Beacon Sales in West Bridgewater, MA (Brockton branch), for CertainTeed Landmark, GAF Timberline and IKO Cambridge laminated shingles.
This chart compares prices from Beacon vs. Home Depot
| Brand | Home Depot Price | Roofing Supply Store Price |
| --- | --- | --- |
| 3-Tab | $23.20 per bundle or $69.6 per square | $23.50 / bundle or $70.50 / square |
| GAF TIimberline Natural Shadow | $25.20 / bundle or $75.6 / square | N/A |
| GAF Timberline | $26 / bundle or $78 / square | $26.67 / bundle or $80.01 / square |
| CertainTeed Landmark | N/A | $26.67 / bundle or $80.01 / square |
| IKO Cambridge | N/A | $25.00 / bundle or $75 / square |
Note, that prices for 3 tabs are calculated based on a quantity larger than 16 squares. The cost for architectural varieties is calculated based on a quantity larger than 12 squares.
Installation costs
Across the US, homeowners report spending an average of $2.5 – 3 per square foot for professional installation of a new roof.
Typically, material charges constitute about 40% of the total, while labor charges take up the other 60%.
In most states, a roofing contractor charges $60-75 per hour for his work. In some high-income areas the cost of labor can be as high as $80-85 per hour.
On complex roofs that have a lot of corners, penetrations (skylights, vents, chimney, etc) installation may be as high as 60-70% of the total.
There are a number of important factors that impact how much you will end up spending on professional installation.
1. Product quality and brand (premium options can be priced 30-40% more than standard ones)
2. Your location (expect to pay more if you live in city/area with a high cost of living). The price difference between various regions in the US can be as high as 15-20%.
3. Roof complexity and accessibility. For example, installing shingles on a Ranch style house is a lot simpler and therefore cheaper, compared to a Colonial or a Tudor home. If your roof has complex eaves and valleys, a contractor will charge up to 30-40% more for installation.
4. Damaged roof deck or substrate. In older homes, a roofer frequently finds a rotten deck that needs to be replaced or repaired before new shingles can be put on. This improvement can cost $1,000-3,000+ depending on the extent of damage and scope of work.
5. Damaged fascia, gutters, and soffits. If your roof has these problems they will need to be repaired. Otherwise you are risking leaks from these weak areas, and having a brand new roof will not help.
5. Contractor you hire (an experienced, licensed pro will charge more than a fly-by-night contractor)
Install Roof Shingles

$4872


Average price

Install Metal Roof

$10253


Average price

Install Flat Roof

$8257


Average price

See costs in your area Start Here - Enter Your Zip Code
Removal of old roofing materials
Before your roofer can install new shingles, he needs to remove the old roof. Removal and tear off fees can be expensive.
It can cost as much as $55 per square to take down one layer of old shingles, and $84 per square to tear off two layers. So if you need to remove 2,000 sq.ft. of old materials you will be spending $1,000 – 1,680, depending on the number of layers.
Despite the high cost, doing this is absolutely essential, as leaving the old material will greatly accelerate the disintegration of the new roof and shorten its life cycle.
This is because ventilation is reduced, which in turn increases the average temperature of the shingles, causing the product to dry up quicker and the granules to start falling off faster.
Another reason why its a bad idea, is because a roofer will typically not install underlayment between old and new roofing. If there are pre-existing problems in the leak prone areas: such as skylights, chimneys, vents and valleys, installing the new roof will not solve them! This means that your new roof will continue to leak.
Failing to tear off old roofing will also negatively impact your warranty. Most large shingle manufacturers explicitly state that your material and labor warranty automatically becomes void, if their product was installed on top of an old roof.
In most states, the building codes require that you remove the old roofing materials, if there are more than two layers of it already there.
Some unscrupulous roofers who are after making a quick buck may suggest that you can save time and money by installing the new shingles right on top of the old ones, and save a good chunk of money. This should not be done, and you should not sign a contract with anyone who offers this plan of action.
Should you consider DIY installation?
As we discussed before, professional labor to install new roofing constitutes at least 50% of the total cost. This means that you can potentially save thousands of dollars if you can do the tear off and installation yourself. The big questions is, should you?
When it comes to asphalt shingles, one of their biggest benefits is that they are extremely DIY friendly. Indeed, they are one of the very few roofing materials that a handy homeowner can put up on their own.
Shingle installation does not require any special tools or technical training. This is the reason why so many roofers install them – its the easiest entry point in this field.
You can purchase all the necessary materials and supplies at your local big box home improvement store, and avoid the hassle of hiring a roofing company. Moreover, there are many step-by-step guides and youtube videos on how do this correctly.
However, there are some serious disadvantages to consider. While its easy to nail a strip of shingles properly, making sure the entire roof is watertight is much harder. If your roof is complex, and has various penetrations, you may not be able to caulk and seal the shingles properly in those areas to make sure that water does not seep in. This is a hard job even for roofers, which is why many professionally installed roofs leak.
Don't forget that in this process you may also need to fix the rotten or damaged roofing substrate, as well as correctly install underlayment and ventilation. In short, installing a new roof, even when its basic shingles, is a harder job than one might image.
Still, if you do everything carefully and educate yourself about the nuances of proper installation, you can do a very successful shingle install and keep thousands of dollars in your pocket.
Regional price differences
When you research prices online and compare them to quotes from your local contractors you may discover a surprising fact: these prices can be VERY DIFFERENT.
This is not because online information is false, or roofers are out of touch with reality. Rather, actual construction costs vary widely, depending on where you live.
Different costs of living, from very high to very low, basically set the standard for labor rates in a particular region. If you live in an expensive city, such as New York or San Francisco, you will be paying a premium price for a new install.
This premium can be as high as 18% more than the national average. On the opposite end, if you live in a small town somewhere in the middle of Arkansas, you will be paying less than the national averages sited online. Often, as much as 16% less.
How to avoid roofing scams
All too often, a homeowner does not know if the quotes he is getting from local pros are fair. As a result, some roofers take advantage of this lack of information, and charge unreasonably high prices…and some homeowners end up paying:(
Here is a telling example from my business:
I was doing an estimate the other day, and the client showed me a quote he got from another contractor. Besides a ridiculously high price (about $700 / square, on a 22 squares, 12 pitch roof, with 1 layer tear-off and 3 dormers), what struck me the most was the difference in price between 3-tab and architectural "lifetime" shingles (formerly knows as 30-years).
For 3-tabs (25 years), the price was $14790 ($673 / square), and for "lifetime" architecturals, it was $16500 ($750 / square). So what gives?
Why is there a $1710 difference between the two quotes?
Do architectural products cost $77 more per square?
The truth is, the roofer was taking the homeowner for a "ride", trying to sell a "premium" package for an unjustified up-charge.
While I'm not judging the other contractor – it's their business – I want to inform homeowners of the real price difference between the two. So when you are getting quotes, you will know how much premium upgrades really cost.
As you will see below, the $77 / square up-charge was completely unjustified. The cost difference between 3-tab and laminated shingles is only $10 per square, while ALL other components of the system, as well as the installation costs are the SAME.
Thus, the difference should be maybe $300-500 – not $1700!
By researching prices on line you can avoid falling into the trap described above. If you educate yourself, you can get a quality roof without spending a fortune.
Your Estimated Roofing Cost
Roof Price:
Cost per sq. ft.
Roof Size:
Roofing Material:

See costs in your area Start Here - Enter Your Zip Code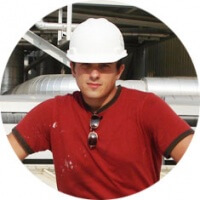 This roofing guide is presented by Leo B.

I've been a roofer for 13 years, and specialize in Metal Roofing and Flat Roofing.

Have a roofing question or issue? Ask me any roofing question!

Roofing Contractors - join our free Local Roofers directory to get more customers!