For homeowners looking for a durable metal roof that will not break the bank, corrugated metal panels have become an increasingly popular option. R panel and 5V Crimp metal roofs can cost as little as $4.95-7.06 per square foot, including all materials and professional labor.
This is almost 50% less than metal shingles or standing seam panels, which cost $7.65-12.59 per square foot
x
Low End
Mid Range
High End
Materials
$3053
$3430
$4356
Cost / S.F.
$4.95
$5.56
$7.06
Total Cost
$7472
$8396
$10662

See Costs in Your Area!
Start Here - Enter your zip
Moreover, if you do all the work yourself, your total cost can be as little as $2 per square foot, because R Panels (5-Rib) and 5V Crimp corrugated panels are priced at $1.00-$1.50 per square foot at Lowe's and Home Depot.
Keep in mind that both chains sell these roofing panels only in select locations – mostly in Northern states, Midwest and in the South. This is because there is not enough demand in every store.
In the southern states, both stores also sell a 5V Crimp metal roof. In my opinion, it looks nicer that an R-panel. The 5V Crimp is NOT available in northern states, but I'm sure it can be ordered through either store. You can order online, or at the Pro Desk, and in a couple of days your materials will be shipped to your nearest store for pick-up.
Both chains sell UNPAINTED galvanized 5V panels only.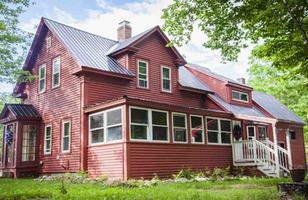 Install 5-rib (R panel) Metal Roof:
(13,536 projects)
National Average Cost
$9,156

See Costs in Your Area!
Start Here - Enter your zip
What Is A Corrugated Metal Roof?
Also commonly known as tin roofs, corrugated metal panels used be exclusively installed on industrial buildings, factories, farm houses and barns.
Essentially, this roofing system is made up of sheet metal panels and are held together by exposed fasteners. These metal sheets are typically made of thin G-60 or G-90 steel, and have a paint coating on top. Some more expensive products can be made from aluminum, galvanized or stainless steel.
The panels can be formed into different shapes, hence the names: R-panel, V- panel or U panel. The corrugated grooves facilitate quick shedding of rain water, snow or ice. This is why these metal roofs work so well in Northern states that get regular ice and snow storms. They are also fire, hail and wind resistant, and can provide significant energy savings, compared to asphalt shingles. Moreover, in many states where wildfires are a big problem, homeowners can get a home insurance discount if they install a metal roof.
Most budget friendly metal panels (which we will discuss here) are covered with acrylic paint coatings, or are sold as bare metal. However, these can fade and corrode over time. A longer lasting, but more expensive alternative are corrugated steel panels which are covered with a Kynar 500 coating, also known as PVDF.
Unlike other types of more expensive metal roofs, which require professional installation, R-panels or other corrugated roofs can be easily installed by a handy homeowner. In some cases, these panels can be installed over existing asphalt shingles, which can further save you money of tear off and dump fees.
Pro Tip: Contractor's installed prices for 5-Rib or 5V Crimp range from $4.5 to $6.7 per square foot, so if you can do the job yourself, you will save a lot of money (about $3-4 per square foot savings for DIY installation).
Average New Metal Roof Costs In US:
Low End

$9,202

Mid Range

$10,339

High End

$13,131

See Costs in Your Area! Start Here - Enter Your Zip Code
Metal Roof Panel Prices at Lowe's
Lowe's sells corrugated and 5-rib R-panels made by Fabral – a well-known and respected manufacturer.
It is important to note that prices at Lowe's differ a lot depending on the color! Unpainted Galvalume and Brown colors are the cheapest at $35 and $39 for a 3×12 foot panel, or just about $1 per square foot.
If you go for Red or White colors, the same size panel will cost $52.98 each, or $1.47 per square foot, which is 50% more than Brown or unpainted. Green color costs $46.98 or $1.31 per square foot.
These prices were sourced on Sep 27, 2017 in Rochester, NH store. In other regions they may be less or more expensive, but I've not seen more than a 5% difference.
12 foot panel is the longest you can buy from Lowe's. However, Home Depot sells these up-to 16 feet long. So if your roof run is more than 12 feet, you will need to cut and overlap, which is not ideal. It is a waste of time and money.
See more Lowe's prices – Lowe's 5-Rib panel (select your store for accurate local prices).
Lowe's Price Variations Based On Location
Honestly, I do not know how the company comes up with pricing in different locations, but I'm sure it has to do with demand and cost of delivery. The cheapest price I have found is in Glenville, NY (middle of nowhere upstate New York – north of Albany). It is $32.90 per 3×12′ panel.
Highest prices are in stores where these panels are NOT in stock. In Montgomery, AL, our benchmark panels cost $40.38. In Columbus, OH, and Helena, MT the same $40.38..
Basically you are paying about 13% premium for delivery to the store.
Roof Panels Cost At Home Depot
Home Depot sells the same type of 5-rib R Panel made by Fabral and another "no name" brand – Metal Sales Manufacturing Corporation. Honestly, I've never heard of them, while Fabral is a big industry player.
However, here, you will find much better deals, especially for painted R panels, and you also can buy 16 foot long ones (unlike at Lowe's).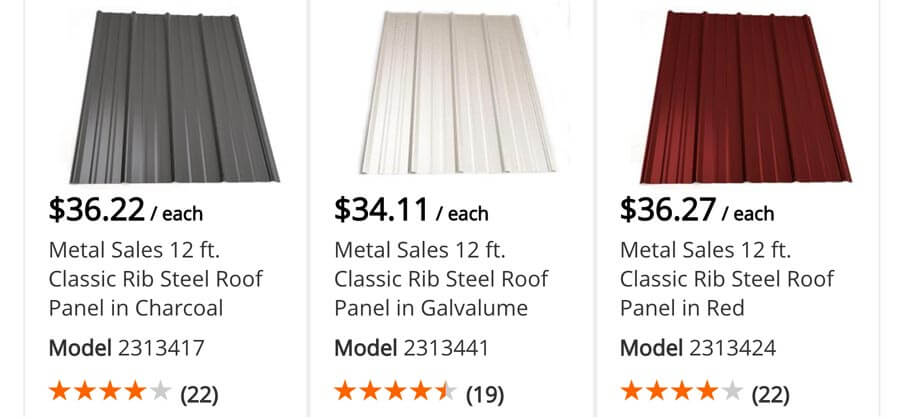 Once again – the cost of corrugated metal roofing varies by state, with about 5% swing up or down.
Home Depot vs Lowe's Pricing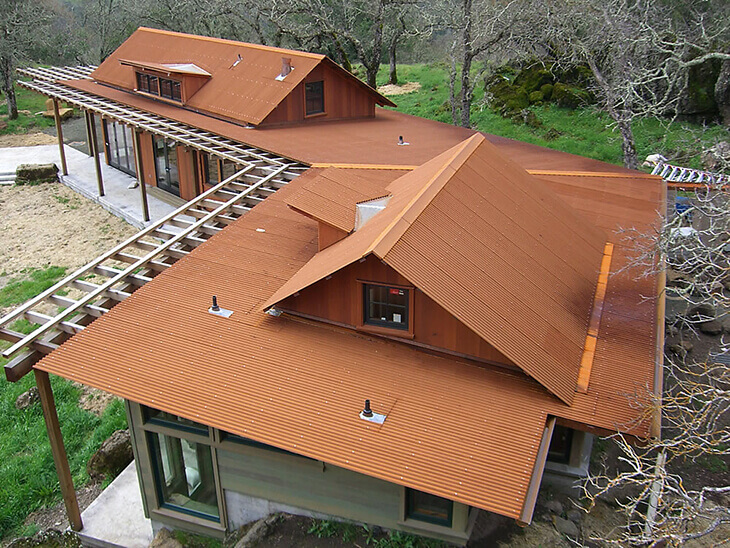 As of September 2018, Home Depot's price for 3×12 panel is around $36.25 in Rochester, NH, for ANY color, and $34.11 for unpainted Galvalume. For comparison, Lowe's price for a color panel is from $39-$53, and $35 for Galvalume. The 16 foot products are about $48 each which is the same $1/square foot of the 12 ft. panel.
The white color metal panel from Home Depot is 50% cheaper than the same panel at Lowe's. Only brown colors are similar in price. So there is a pretty big price difference in favor of Home Depot. However, if you consider that Lowe's sells Fabral (a well-known brand), vs Home Depot's little known MSMC, the extra cost may be justifiable.
At the same time, since all steel used for roofing in the US comes from the same 2-3 manufacturers, and undergoes similar galvanization process, using Galvalume (for vertical panel steel roofs only), I'd say both brands are very much comparable in quality.
Neither specifies Kynar/Hylar resin used in paint, so we can presume that paint is most likely acrylic (not very good). Both cover only paint finish/color fading under their warranties (no rust or corrosion coverage, which is pretty standard for steel roofs).
Given the above factors, I would actually say both brands are similar in quality, so Home Depot's "no name" product clearly wins.
5V Crimp Metal Panel Prices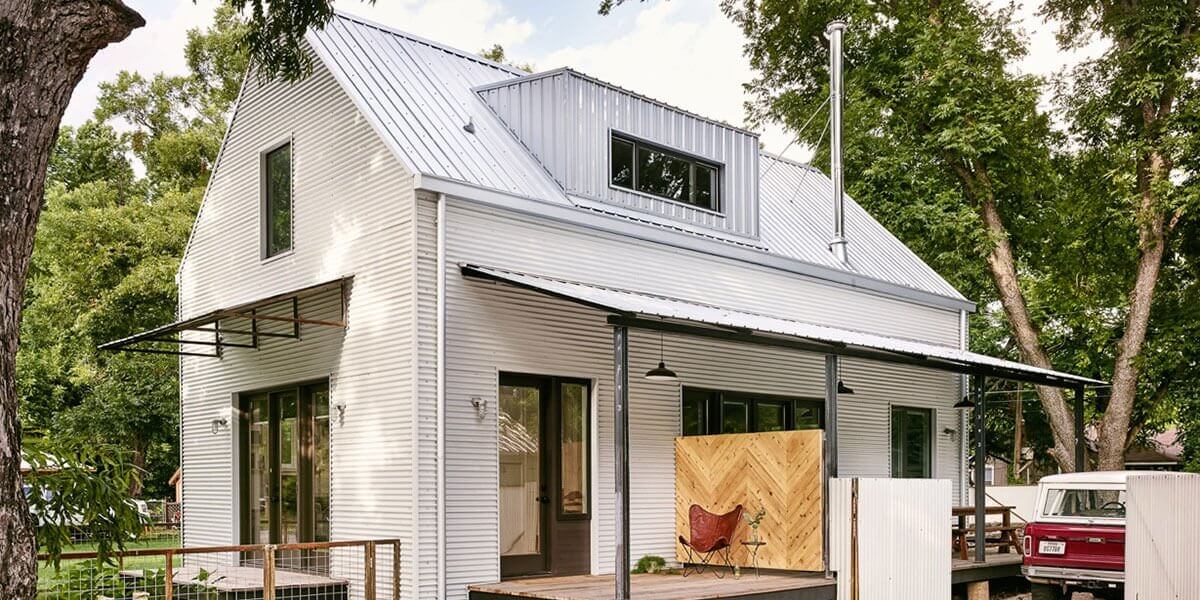 In my opinion, 5V Crimp looks a lot better than R-Panel, while it's still cheap and easy to install, given that both use the exposed fastener attachment method. Here is how good a 5V crimp can look:
Both Lowe's and Home Depot sell Fabral 5V Crimp in 2×12 ft. sizes, and only as unpainted Galvalume (no color options).

Both stores only sell these panels in select southern states, and as far as shipping to Massachusetts / New Hampshire, its not available (meaning I can't buy it online and have it shipped to MA/NH).
Home Depot's price is $23.97, while Lowe's is $2 more, or $25.93, as of October 20, 2017. Again, if I was buying this from a big box improvement store, I'd go with big orange, given that it's an identical product.
However, I WOULD NOT buy 5V Crimp from home improvement chains. The problem here is that you can only get a 12 foot panel, and only unpainted. I would go to a roofing supplier such as Beacon's Coastal Metal and order there, in the exact size that I need, and my desired color.
Prices Have Dropped Over 20% Since 2013!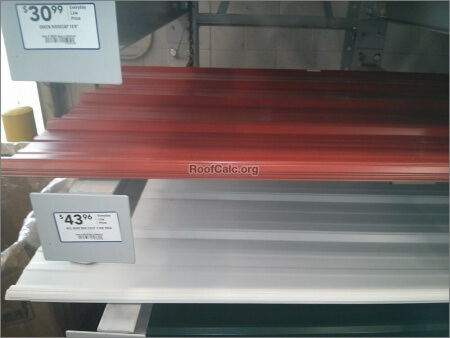 I have gathered more data on Lowe's metal roofing than any other source, except for the company itself. The good part that I'm happy to share with you, is that since Sep. 2013, when I began tracking, classic rib steel panel prices have dropped by more than 20%!
This is great news for ALL homeowners (and contractors) interested in finding a CHEAPER price. Now, what you will pay will be on par with asphalt shingles, which have had only a marginal change of less than 2-5%, depending on the brand and type of shingle. And this is when crude oil costs a mere $30 / barrel, and oil byproduct (bitumen) is the main and most expensive ingredient in shingles manufacturing.
So if we consider that the cost of oil has dropped 3 times since 2013, I would expect a much steeper decline in shingles prices. However, the clever roofing industry is all about profits, and the cost of shingles NEVER goes down, even when oil prices do so, significantly.
Limited Availability
The primary products that both of these stores sell is a 5-rib (R-panel profile) 29 ga steel roof panel with acrylic coating. This is an "exposed fastener system that is VERY easy to install for roofers and homeowners alike. It provides great protection from rain, snow and ice. Unlike asphalt shingles, it is a long-lasting roof covering (with proper maintenance).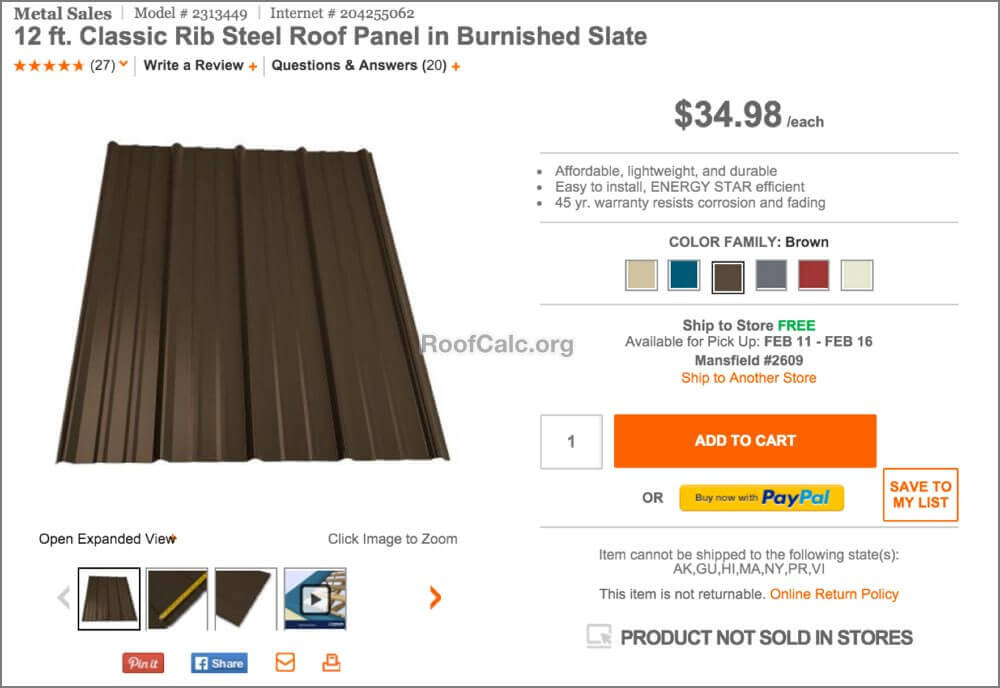 If you look at the image above it says:
Item cannot be shipped to the following state(s): AK,GU,HI,MA,NY,PR,VI
So if you live in ANY of these states, you cannot buy this product from Home Depot 🙁
Other Accessories For The R-panel System
Of course the system is not complete without accessories. However, the R-Panel system is the easiest, when it comes to accessories. You have the Ridge Cap, Gable Trim and J-Channel. That's it.
10′ Ridge cap – $30.99
10′ Eave Trim – $33.86
100 rubber washer screws – $12.00
5-rib metal roof is installed on battens, over old shingles
Installing an R-panel roof is VERY easy, until you have to deal with penetrations such as chimneys/skylights/dormers. This product is ideal for simple roofs, farm buildings, sheds, garages, etc. I would not recommend putting it on a cut-up Victorian house! Besides the fact that it will look horrendous, it's also hard to make it watertight on a cut-up roof.
For advanced flashing, such as skylights and chimneys, this is not a very good product – hence you don't see much of it installed on residential homes. While it can be done with some custom flashing, I recommend that you hire a professional roofer, for any complex flashing details.
See this example – here is a step by step chimney flashing done on a metal shingles roof, which is a much more "user-friendly" system, when it comes to penetration flashing.
Unfortunately it's very difficult to do something like this for a 5-rib system, and you will have to rely heavily on caulk and 3rd party / custom-made components.
Alternative Panel Colors
Many homeowners are hesitant about installing a corrugated roof on their home, because they don't want their home to look like a barn. Tin roofs don't have a rep for being particularly stylish. However, with recent developments in color technology for metal roofs, this perception is changing.
While the cheapest corrugated panels, like the ones sold at Home Depot and Lowe's, do have a limited color pallet, there are other more attractive options to consider.
For example, Mueller Inc sells R-panels, with an up to 30 year limited paint warranty in 32 beautiful colors. See the chart below. Clearly, there is a shade here that would complement any siding color or style.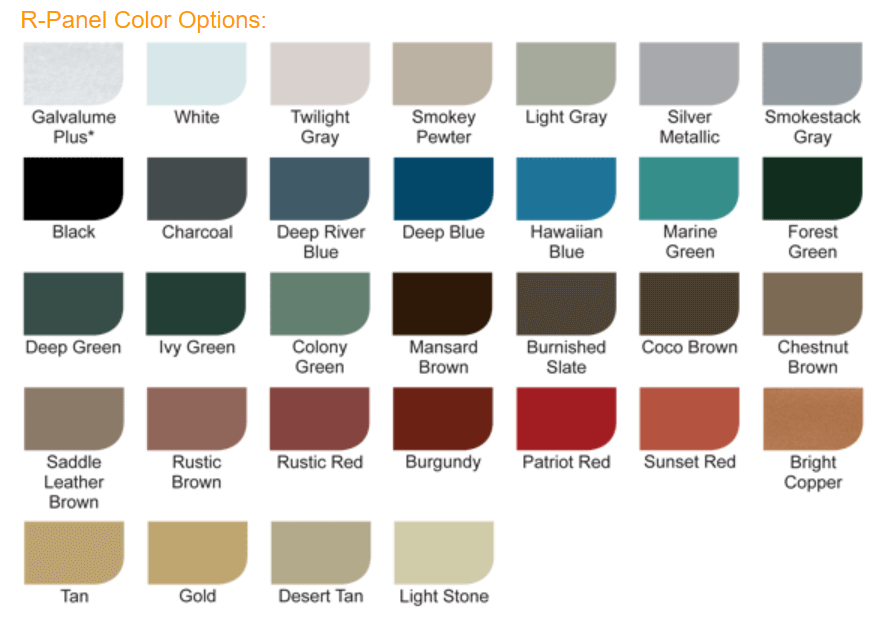 Pros and Cons of Corrugated Roofing
Installing a corrugated metal roof has numerous benefits, especially when you compare it to traditional composite shingles. The biggest benefit is that for pretty much the same price as asphalt, you can have a durable metal roof that will protect your house for twice as many years, with minimal maintenance. The ROI of any metal roof, even a budget one like steel R panels is still much greater than the returns you could get from architectural shingles.
Still there are some downsides to keep in mind such as, possible corrosion of the fasteners, color fading, and the need to re-fasten the panels every 10 or so years.
Here is a summary of pros and cons to consider:
| Pros | Cons |
| --- | --- |
| Economical – 1/2 price of other types of metal | Much thiner and less durable than metal shingles or standing seam |
| Costs slightly more than architectural shingles with 2x long life | Has exposed fasteners, which may not fit every house style |
| Lasts 25-35 years | Other types of metal offer greater degree of protection against leaks |
| Prevents ice dams | Fasteners and washers are a weakness – they corrode and need replacement |
| Offers leak free service | Acrylic paint finish can fade rather quickly |
| Protects from winds of up to 140 mph | Re-coating may be neccessary once the finish wears out |
| Class A fire resistant | |
| Class 4 hail and impact resistant | |
| Energy efficient and solar reflective – potential savings of 20-30% | |
| Home insurance savings | |
| Easy to install DIY and save on pro labor | |
| Light-weight material | |
| Requires minimal regular maintenance | |
| Green roof that can be recycled at the end of its service life | |
Your Estimated Roofing Cost
Roof Price:
Cost per sq. ft.
Roof Size:
Roofing Material:


See costs in your area Start Here - Enter Your Zip Code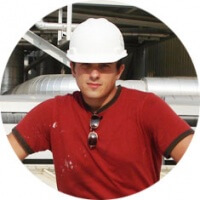 This roofing guide is presented by Leo B.

I've been a roofer for 13 years, and specialize in Metal Roofing and Flat Roofing.

Have a roofing question or issue? Ask me any roofing question!

Roofing Contractors - join our free Local Roofers directory to get more customers!