|
Roof Shingle Calculator estimates the total installation cost of asphalt shingles on a gable / hip roof. This includes: materials (with all other necessary accessories), 1-layer tear-off, labor, dump fees and permits.
Simply enter your roof dimensions, type of roof as well as approximate pitch, to get an accurate roof replacement cost estimate.
* Installation includes: Labor, Contractor's Overhead and Profits, based on date from roofing contractors in our Local Roofing Directory.
Overhead includes Liability and Worker's Comp insurance, cost of running business, dump fees and building permit, advertising, etc.
Profit – nobody works for free, right?! Roofers need to make profit, to stay in business – so that if something goes wrong with your roof, the company is still around to make necessary repairs.
For more info on contractor's overhead & profit, see our roof installation cost guide
How To Use Roof Shingle Calculator
We continuously adjust the results of the Shingle Calculator to reflect the most up to date pricing from local and regional roofing suppliers, as well as contractors.
We also regularly adjust costs for underlayment and other accessories that comprise a roofing system, and are required during installation.
To estimate the correct amount of materials and accessories needed for the job, follow the steps below:
Step 1: Measure your roof accurately
Use a measuring tape (preferably 50 or 100 feet long), and get exact ground dimensions of your house. Place the end hook of the tape on the corner and run it all the way to the opposite corner of the house. Measure both the WIDTH (gable side) and the LENGTH (eave /gutter side).
NOTE: If your house has a HIP roof, then it does not matter which side is the LENGTH and which is the WIDTH for an accurate result. This is only important for gable roofs, as the calculator uses a specific formula to estimate roof run (length of gable). See the diagram below:
Step 2: Add overhangs
If you have overhangs on the front, back and sides of your house (you most likely do), take the width of the overhang, multiply it by 2, and add to each side.
If the overhangs are not equal width, apply appropriate overhang width * 2, to the respective roof side.
Step 3: Enter appropriate roof pitch / slope
If you do not know how to calculate roof pitch, see our guide.
To get the slope of your roof based on degrees, roof rise or X inches per 12″ run, use our Roof Pitch Calculator.
Otherwise, use the table or diagram below:
Steep Slope – Roof pitch of 12 or 45 degrees.
Medium Steep Slope – Roof Pitch of 9
Medium Slope – Roof Pitch of 6
Medium Low Slope – Roof Pitch of 3 or 4
Note that if your roof has a low slope (below 3 pitch) asphalt shingles are NOT the right material for it.
You will need some type of rolled or single ply material, such as Rubber, Rolled Modified Roofing, Rolled Asphalt, or TPO / PVC membrane (best choice, but expensive).
Step 4: Choose roof type
You have the option of selecting: Gable, Hip or Mansard Roof. For a Mansard, choose the roof run or height of the mansard. See the diagram below:
Note: Mansard roofs are pretty much "walls" that are built at an angle, and have a FLAT roof in the middle, which is not included here. Only the sloped wall part is being calculated.
The RUN of a Mansard Roof is the distance from the top to bottom edges. This is the primary measurement used in mansard calculation, and you need to enter the correct number to get accurate results.
Step 5: Click the "CALCULATE" button.
Results will appear below. They include:
– Total Installation Cost

– Price for materials

– Cost of labor

– All dimensions you entered

– Your Region
Average Shingle Roof Cost
In the calculation, we use a 30-year type architectural asphalt shingles and include all necessary accessories and flashing. Waste is calculated at 7.5% for a gable roof, and 15% for a hip roof, which are typical in the roofing industry.
Note, that in the last 3-4 years, costs of roof shingles and many accessories have gone down by an average of 18-20%
Currently, the US national average for Benchmark Architectural Shingles is around $74.51 per square or $25 per bundle.
x
Low End
Mid Range
High End
Materials
$1879
$2042
$2593
Cost / S.F.
$3.05
$3.31
$4.2
Total Cost
$4598
$4998
$6348
See Costs Near You!
Start Here - Enter your zip
How Your Location Affects Roof Replacement Cost
If you live in a very expensive area, your prices for roofing materials and labor will be higher than for someone who lives in a small town with a low median income.
The highest material and labor costs are on the East and West Coast. Specifically, homeowners living on either the East or West Coast and in large cities, such as Los Angeles, San Francisco, Boston, New York, Washington D.C., Seattle, etc, will be paying the most for roof replacement or repairs. If you live in the South, you can enjoy the lowest price for both materials and installation.
But that is all very general information. Here are the hard numbers:
Highest Cost Of Roof Installation
In the Pacific Region (west coast), your cost per square for lifetime laminated asphalt shingles (such as GAF Timberline or CertainTeed Landmark) will be $160 per square when you include all REQUIRED parts and accessories, and waste. And that is for a Gable Roof.
If you have a hip roof, the cost jumps to about $174 per square, which accounts for more waste and extra ridge caps that you will need to purchase.
Labor will run you about $2.58 per sq. ft.(gable) and $2.87 per sq. ft. (hip)
Lowest Roof Installation Cost
If you live in South (AL / AR / GA / KY / LA / OK / MS / NC / WV / TN / TX and parts of Florida panhandle) you will have some of the lowest prices. The exact same materials and accessories will cost you about $114-$124 / per square on a Gable roof, and $127-138 per square for a hip roof.
Installation would be $1.64 per sq. ft. for gables and $1.76 per sq. ft. for a hip type roof.
National Average Roofing Prices
Because we have 300+ million people living in the US, average cost does not mean much for a specific homeowner. However, you can use it as a benchmark that shows if your prices are above or below what people pay (on average). Still, here are some numbers:
Materials: $1.46 / $1.58 per sq. ft (gable/hip)

Installation: $1.95 / $2.10 per sq. ft. (gable/hip)
Lowest vs. Highest Shingle Roof Cost
This is where things get interesting. The Pacific region is about 18% higher than the National Average. But if we compare it to the South, the difference is even more dramatic! Let's not worry about a hip roof for this exercise.
So, if we take the lowest price in the South and combine labor + materials, we get $2.78 per sq. ft. total installed cost.
Now, the same roof on the West Coast will be $3.76 per sq. ft. This is a difference of 35.25% (or $0.98 per square foot).
Bottom line – you will need to pay $1 more per square foot for your roof, if you live in New England or on the West Coast. Part of it goes toward more expensive materials, and part goes to the contractor doing the work, having higher operating and labor costs, higher dump fees, etc.
So if you want to save on roofing (and many other pleasures in life) sell your home in Seattle or Boston, and move to Alabama 🙂
Regional Variations In Roofing Costs
Since roof installation cost can vary by as much as 18% across different regions of the US, there is a Regional Selector Option in the calculator. This enables you to get the most accurate quote for your location.
For example, in Boston, MA the cost for Benchmark Architectural Shingles is about $80 per square. However in the Mid-West, the same product costs about $67 per square.
Your Estimated Roofing Cost
Roof Price:
Cost per sq. ft.
Roof Size:
Roofing Material:

See costs in your area Start Here - Enter Your Zip Code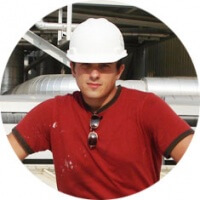 Author: Leo B
For over 20 years Leo has run a successful roofing business in New England, specializing in metal roofing, as well as cool flat roofing technologies. Having replaced and installed hundreds of roofs in New England, Leo has first hand experience with pretty much every residential roofing material and roofing manufacturer available in the US.