|
This post will discuss how to install shingles on a roof correctly, to avoid future problems. The most important steps in the process are to:
1. Tear off the old roofing material
2. Repair plywood or sheathing
Unfortunately, many homeowners neglect to do this in an effort to save money, without realizing that they are running a very high risk of ending up with a bad roof.
Typical Price Range
Average:
While there are some legitimate ways to cut costs that will not jeopardize the integrity of your roof, others do more harm than good in the long run.
One such dangerous way is to shingle over an existing roof, instead of tearing it off.
Another, is to forgo repairing old plywood or sheathing before doing the install.
Some contractors, who desperately want your business, may lure you in with promises of "big savings", if you agree to go for one or both of these options. Many DIY savvy homeowners, are also interested in figuring out how to reroof over existing shingles.
I will describe a recent job that will clearly illustrate why its NEVER a good idea to save money in this way.
Bad Roof Installation: Case Study
Last winter we worked on replacing shingles on a roof that sustained massive ice dams damages. As a result, the kitchen, hardwood flooring and walls were also destroyed.
Before any work began, the homeowner wanted to leave the old shingles in place, to cut down on job costs.
Although I explained the negative consequences of making this decision, the possibility of saving $2000+ on tear-off and plywood was too attractive. This is somewhat understandable given the huge amounts of money he would need to spend on other renovations.
So, the homeowner continued to insist on putting a new roof over the existing 1 layer of shingles.
However, while doing the initial inspection, we found that removing the old material and fixing the substrate was not only the right thing to do, but also absolutely necessary.
Here is why:
Outdated Construction Standards
The house was built in the 1960's and back then the building code required a minimum of 3/8″ roofing plywood – something no good contractor would think of doing today. Now, any new roof (in Massachusetts) must have a minimum of 7/16″ sheathing with H clips.
However, it is best to use 5/8″ CDX plywood or OSB roof sheathing for overall structural integrity. Additionally, the majority of manufacturers require the same substrate specs for warranty purposes.
As I stepped on the roof, I felt that I was going to break through it with my feet, if I stepped between rafters.
That was an immediate call to alter the job specs – we simply could not do the install onto the existing plywood.
After changing the contract terms with he homeowner, we began removing the old shingles.
What we found below was scary to the say the least!
After we opened the roof up, we found 3/8″ thick plywood that was old, dilapidated, broken in many places and with several spots of water damage.
Lazy / Irresponsible Builder / Roofer
Additionally, the rafter spacing was not a standard 16″ on center and not even the odd 24″ OC – rafters were not evenly spaced at all. Some had 17″ of spacing – some were 19″, 20″, 21″ etc.
Whoever built that house, really did not care much for the quality, or the additional work required in properly laying down the plywood roof sheathing.
This video demonstrates exactly what we discovered:
Potential roof problems
Lets look at different issues that may arise when you install a roof over existing shingles and/or damaged plywood.
1) Roof will not be properly nailed
Most contractors use 1 1/4″ long nails on new construction projects. This meets the code, but isn't good enough in my book. A 1 1/2″ or 1 3/4″ long Home Depot roofing nails hold much better!
But if someone uses 1 1/4 or 1 1/2 inch long nails to install a second layer, its "Houston we have a problem". Assume that each layer is almost 1/2″ thick, so 2 layers = 1″ give or take. Thus, 1 1/2″ nails will barely penetrate the plywood. 1 1/4″ will NOT penetrate it at all!
At the same time, all systems require at least 0.5″ penetration, meaning the nail must protrude at least half an inch past the plywood. So basically such a roof would not be nailed properly.
2) Dry / rotted plywood does not hold nails well
As was the case on this roof, dry rotted 3/8″ plywood would not hold the nails even if they were long enough – you could pull them out by hand – that is how weak it was. This means that you MUST replace old roofing plywood. Here is approximately how much different options cost:
5/8 inch – $26.87 per sheet. This is the BEST product to use, because its very sturdy and high quality. If there is water damage it will preform significantly better than the 1/2 plywood. Note, that when you buy in bulk, the price drops to $24.18 per sheet. Bulk pricing is for at least 58 sheets or 18.5 squares. If your roof is smaller than this, you can still request the pro to buy 58 sheets, and use what is left over for other home improvement projects.
1/2 inch – 24.85 per sheet. This is what most people use, and its ok quality. However, think about it this way: the difference in price between this and 5/8″ is $2 per sheet or $6 per roof square. If the total job is 20 squares, the total material price difference is only $120 dollars, and you will be getting a significantly better quality material. Bulk pricing for 1/2 inch is $22.37 per sheet, and you need to buy 70 sheets.
OSB roof sheathing – about 60% cheaper than standard plywood.. While its allowed by code, we strongly advise against using OSB for sheathing. The minute any moisture gets in, its starts to break apart within 2-3 months. Then, you will need to do expensive repairs, and will actually waste hundreds of dollars in the end.
Note, these estimates were sourced from Home Depot. Lumber Yard prices are usually the same or higher.
3) Failure to install underlayment
On most "over the top" jobs (second layer installs), roofers do not use felt or any other underlayment.
While it makes some sense, if you are already doing a second layer, you should put down a synthetic breathable underlayment, for leak protection, and to avoid trapping any attic moisture.
4) Added weight
Roof shingles are HEAVY. On average 2.5 lbs / sq. ft. 2 layers equal 5 lbs / sq. ft. By comparison, clay tile and slate are about 8 lbs / sq. ft. However, those heavy materials come with increased snow load framing already built into the roof structure.
MANY asphalt roofs have 2×6 framing, or 2×8 spaced 24″ on center. With an average roof being about 1600 sq. ft., this framing is not designed to hold 8,000 lbs of shingles and a snow load on top. For example, past winter, here in MA, we had 97″ of snow, of which 70″ fell within 30 days. Do the math.
5) Increased thermal mass
Asphalt shingles is the least energy efficient building material in US / Canada.
Not only they fail to reflect solar heat, they also absorb and store it (thermal mass). That is why the top floor of nearly every home in US is always so hot in the summer, even long after the sun goes down. Now, two layers is double the thermal mass – try to cool that with an AC:(
6) Most important – decreased longevity and NO warranty
To get the somewhat useless warranty on your roof, you need it installed exactly by the manufacturer specs. This includes adequate (not damaged, proper thickness) substrate – plywood or boards. Moisture protection barrier (felt / underlayment), ice and water barrier where required by building code and/or shingles installation specs, proper ventilation, and some other nuances.
Doing a 2nd layer install will void that warranty. Also, because shingles will not be properly ventilated (even with adequate attic ventilation) they will dry out much faster, and will last maybe 1/2 of their intended lifespan.
What happens in the end?
All of the issues described above often result in "new" roofs lasting less than 3 years.
So there you go – trying to save $1200-2000 on roof replacement by not removing old shingles and not repairing / replacing rotted plywood, will usually cost at least $4000-6000 more just in few short years. And this does not include any interior damages.
Think about it before you spend your money.
Oh and also – if the roofer offers or insists on doing the second layer – my advice to you – kick them out immediately.
Your Estimated Roofing Cost
Roof Price:
Cost per sq. ft.
Roof Size:
Roofing Material:

See costs in your area Start Here - Enter Your Zip Code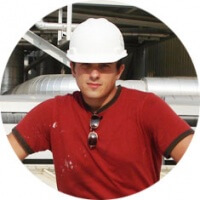 Author: Leo B
For over 20 years Leo has run a successful roofing business in New England, specializing in metal roofing, as well as cool flat roofing technologies. Having replaced and installed hundreds of roofs in New England, Leo has first hand experience with pretty much every residential roofing material and roofing manufacturer available in the US.