|
Metal roof shingles cost $11,000-14,000 installed on a 1,600 sq. ft. ranch style home. A metal roof is an ideal option for people who plan to stay in their house for many years.
Metal shingles is a premium roofing material that offers exceptional style, durability and longevity.
If you are ready to install a new metal shingles roof, contact your local roofing pros for FREE ESTIMATES!
Average Metal Shingle Roof Cost
Metal shingles cost $300-500 per square or $3-5 per square foot for materials only. Including professional installation, metal shingles cost $7-9 per sq. ft..
Thus, if you have a 1,600 sq. ft. roof on a one-storie ranch/cape style home, installing metal roof shingles will cost $11,200-14,000. This price includes tear-off, as well as dump fees.
You can use our Metal Roofing Calculator to estimate the cost of installing metal shingles on your roof.
Install a Metal Roof:
(66,226 projects)
National Average Cost
$11,318
See Costs in Your Area!
Start Here - Enter your zip
Cost of Aluminum vs Steel Metal Shingles
Its important to note that metal shingles prices will vary depending on the type of metal you want. Aluminum is a premium material, priced at about $4 per sq. ft.
Aluminum shingles are actually installed very rarely, and few manufacturers offer them. As a result, you will have less color and style options.
The two most reputable and commonly used companies are Interlock and Classic Metal Roofs.
Steel shingles are the most common. They cost less than aluminum, about $3.00 per square foot You will have a lot more style and color options, and there are many manufacturers to choose from.
Tamko manufactures the most budget-friendly, but great quality steel shingles. EDCO product lines are in the middle of the price range, while Matterhorn metal shingles products are the most expensive.
Additionally, you will see a difference in price of metal shingles depending on the color you want.
Standard metal roofing colors can cost as low as $2.65/sq. ft, while premium, or two-tone colors start out at about $3.75/sq. ft. and can go up to $4.75/sq. ft.
Install Metal Shingles Roof:
(36,208 projects)
National Average Cost
$12,439
See Costs in Your Area!
Start Here - Enter your zip
Cost To Install Metal Shingles
On average, homeowners spend $3-5+ per square foot on the cost of installation for a metal roof, depending on the size and complexity of the job.
When it comes to labor, there will be a lot of regional and local variations in contractor's rates. For example, if you live in New York City, you may pay 12-18% more for the same install than someone who lives in Houston, Texas.
If your roof is more complex; has dormers, skylights, slope changes, hips, etc and is on a two or more storie home, a contractor will charge 15-30% more for labor.
Cost of Metal Shingles vs Asphalt Shingles
Average New Metal Roof Costs In US:
Low End

$9,202

Mid Range

$10,339

High End

$13,131

See Costs in Your Area! Start Here - Enter Your Zip Code
At face value, a metal shingles roof is significantly more expensive than traditional asphalt shingles.
On a 2, 000 sq. ft. roof, you can install basic asphalt shingles for as low as $4,000 – 5,000, and a fancier asphalt shingles roof will cost you $9, 000 – 12, 000.
For the same size roof, the cost of metal shingles starts at $11,000 – 14,000.
However, compared to asphalt roofing, metal is the MOST cost effective option, because it has at least 2-4 times the longevity of asphalt.
This means that someone who has a classic 3-tab shingle roof will need to do another re-roof 2-4 times, while metal roofing will remain intact.
Over the years, the total cost of these additional replacements will actually be higher than the initial cost of a metal roof.
When comparing the two materials, you also need to consider weather resistance.
Metal roofing is designed to protect your home pretty much under any weather conditions: from hail and fire to rain and ice dams.
This is not the case with asphalt roof shingles: while they do well in mild climates, they are prone to leaks and all sorts of damage from severe weather.
Metal Shingles Styles
Today, you can enjoy all the benefits of metal, combined with the aesthetic appeal of other materials.
With advanced technologies, steel shingles can now closely imitate the look of stone, wood and clay.
Therefore, you can order your roof to look like traditional asphalt shingles, cedar shake, slate and
tile.
Classic Shingles
Homeowners who like the traditional shingle look, can go for the Tamko Astonwood Line. There are about 8-10 colors to choose from, depending on your geographic location.
Metal Slate Shingles
If you love the premium look of slate, you have a number of gorgeous products from EDCO to consider. Their Arrowline Slate Roofing line, offers 11 two-tone colors. Each color has two tones, creating a very realistic replica of real slate roofing.
Metal Shake Shingles
For those who enjoy cedar shakes, there is a Classic Metal Roofing line of Country Manor Shake. It is available in 9 beautiful colors.
Metal Tile
If you have a Spanish or Mediterranean style home, you can go for metal tiles. Consider metal roofing tile options from Matterhorn. There are 8 distinctive colors to choose from, ranging from hues of orange to shades of patina green.
Advantages of Metal Shingles
There are numerous reasons why so many homeowners are choosing to install metal roofing shingles. You too can enjoy the following unique benefits:
Superior durability and resistance to extreme weather conditions
Metal shingles are designed to withstand the most adverse weather conditions, such as ice and snow storms, hail, heavy rainfall, ice dams and hurricanes.
This makes metal shingles a prime choice for homeowners who live in areas that get frequently hit by these natural calamities.
Moreover, metal shingles remain virtually unaffected by any fluctuations in temperature. They are also not susceptible to rust or moisture related problems, such as mold and mildew, all of which cause major damage to other popular roofing materials.
Cost effective
Aluminum and steel shingles are the most affordable types of metal roofing. Due to their small profile and construction reinforced by integrated locks on all 4 sides, they can be made from thin gauge steel or aluminum sheet, without sacrificing durability, longevity and wind uplift ratings.
Aluminum shingles are made from .017″ coil and in some cases even less (Classic's rustic shake is made from .012 aluminum!). Compare this to a minimum .032″ aluminum required for standing seam, and you get almost 50% less material used to cover same area. Same goes for steel.
This reduced use of metal, combined with simpler installation is reflected in the cost. On average, they are 40% less expensive than good quality, architectural standing seam!
Great curb appeal
As discussed, metal shingles will suite the aesthetic needs of the most discerning homeowners. You can use them to enhance any architectural home style from contemporary to traditional, to rustic.
The best part is that unlike other options, steel roof shingles will maintain excellent looks even years down the line.
With high-quality, Kynar 500 paint coating, they are almost unaffected by the wear and tear caused by natural elements.
What also keeps them looking like new is their resistance to stains and streaks caused by mold, mildew and airborne algae.
As a result, a metal shingles roof will increase the value of your home, should you ever choose to sell it.
Long service life
Steel roof shingles have warranties of at least 50 years and will essentially last a lifetime. However, to ensure that your metal roof lasts as long as its supposed to, you need to hire a professional contractor, who specializes in metal.
This point cannot be stressed enough, because metal roofing installation is very different from other materials.
It requires special tools, training and experience that most contractors DO NOT have. Always look at previous jobs completed by a contractor, you are considering hiring.
By choosing to invest into high quality installation, you are guaranteed to not ever have to do another re-roof in your life.
Virtually maintenance free
Because of exceptional durability, metal is virtually maintenance free, regardless of the climate you live in.
You not only save yourself time and the hassle of having to take care of your roof, but also additional money that you would spend on professional maintenance, necessary with other materials.
Save on energy bills
This material provides excellent insulation for your home, keeping the temperature inside at a comfortable level, regardless of the temperature fluctuations outside.
Because a metal roof has high thermal reflectivity, it will keep the house warm in the winter and cool in the summer.
During the summer, this roof makes your home cooler by efficiently reflecting away sunlight and reducing the amount of heat transmitted inside the house.
Likewise, it makes the house warmer in the winter, by reflecting inside heat from the underside of the roof back into the house.
This means that you will be saving a lot of money on the ever increasing heating and cooling costs.
Homeowners across the US consistently report energy savings of as high as 20-25%, after installing metal shingles on their roofs.
Metal Shingles Are Environmentally Friendly
Most metal roofs contain at least 25% recycled content. This is in stark contrast to other materials, such as asphalt, which have a much shorter service life and use oil-based products as their primary raw material.
Metal shingles can also be recycled at the end of their long service life, instead of going into our landfills.
Lastly, there are many metal shingles roofs available that are already manufactured from 90-100% recycled content.
Can You Walk On A Metal Shingle Roof?
Its possible to walk on metal shingles, if your roof is not too steep. Also, keep in mind, that metal shingles will be slippery after it rains, so its best to avoid walking on the roof at that time.
Overall, its best to ask a roofing pro to come check out your metal roof if there is an issue with it, instead of walking on it yourself, unless you have experience with safely walking on a roof.
Will A Metal Shingles Roof Make My House Hotter?
You don't need to worry about excessive heat inside your home with a metal roof. In fact, the opposite will happen – a metal roof will actually make your house cooler.
This is because most metal shingles come with special coatings that repel sun rays, making your home more energy efficient.
A classic dark color asphalt roof will heat up in the sun and retain heat a lot more than a metal roof.
For maximum energy efficiency, consider installing a lighter metal roofing color.
Do Metal Roof Shingles Interfere With Cellular Service/wifi Signal?
You don't have to worry that installing metal shingles will cause trouble to your cell phone or internet signal. There is absolutely no evidence of a metal roof causing such issues.
How Long Will Metal Shingles Last?
With quality installation, you can be sure that your metal shingles roof will last at least 40-50 years.
Is A Metal Shingles Roof Noisy In The Rain?
The supposed noise that a metal roof makes, that so many homeowners worry about is not a concern for residential homes.
Tin metal roofs can be noisy when installed on barns of industrial warehouses, when there is substrate between the ceiling and the roof.
However, a residential metal roof is installed on substrate (usually wood), so you will not hear any outside noise, similar to any other roofing material.
Are Metal Shingles Worth It?
Installing a metal shingle roof is an expensive investment, and its important to figure out whether its really worth it.
In terms of ROI, any metal roof, including metal shingles offers top returns of over 85%
In the snow country, where metal roofs provide the biggest protection against snow and ice dams, installing a new metal roof bring in an ROI of 95%+
Moreover, a metal roof brings in significant savings over a few decades by virtue of requiring minimal maintenance and repairs.
On the other hand, an asphalt roof will cost thousands of dollars in repair and maintenance fees in the same span of time.
Overall, if you are looking to keep your house for at least 10 years, its worth it to invest in a metal roof.
However, if you plan to sell your home in the next 3-5 years and are on a tight budget installing a cheaper roofing material may be best.
Your Estimated Roofing Cost
Roof Price:
Cost per sq. ft.
Roof Size:
Roofing Material:

See costs in your area Start Here - Enter Your Zip Code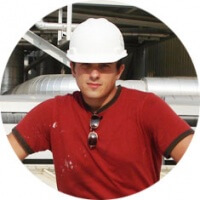 Author: Leo B
For over 20 years Leo has run a successful roofing business in New England, specializing in metal roofing, as well as cool flat roofing technologies. Having replaced and installed hundreds of roofs in New England, Leo has first hand experience with pretty much every residential roofing material and roofing manufacturer available in the US.