Standing Seam Metal Roof Cost Calculator estimates the cost of materials and professional installation for different types of vertical metal roofing panels, such as Standing Seam (snap-lock, mechanical lock, ect), corrugated R-panel and 5V-crimp.
Standing seam metal roof costs are calculated based on roof style (ridge / hip roof), roof slope, house dimensions, panel type & width, and metal type.
See Costs in Your Area! Start Here - Enter Your Zip Code
Materials Cut List:
Total Panel Length:
ln. ft.
Total Length of Hip/Ridge cap:
ln. ft.
Total Length of Drip Edge:
ln. ft.
Total Length of Z-Bar:
ln. ft.
Panel Lenghts:
In the results section you will get low-end, mid-range and high-end installation price estimate, as well as complete panels cut-list: Length of each panel, ridge/hip cap length, drip edge and gable trim length.
Get An Accurate Standing Seam Roof Cost Estimate
Unlike asphalt shingles, where scrap pieces from one section, can be used on another section of the roof, standing seam is much less forgiving.
Exact measurements down to an inch are required for final production, and is recommended to use even for ball-park estimating.
All standing seam metal roof panels are custom made to your specs, either in field (using a mobile form rolling machine) or in a sheet metal shop.
If your panels are 2-3″ too short, you may need to scrap the entire order of perfectly good metal panels. Sometimes it's better to make your panels 2-3″ longer, and field-cut them. However, this increased waste, and will require a lot of extra work.
Best practice is to physically measure the roof structure from ridgh to eave, and add 2″ of length to each panel (to account for reverse lock on the bottom). If you are using ridge-venting, you should also subtract 1 inch for a ridge cutout.
If your roof width is 16′ 3″ and you are using 12″ panels, you will need 17 panels on each roof plane. 16 x 12″ and the last panel is for that last 3 inches. Figuring out this 3″ wide panel in the field will be fun for the installer 🙂
Types Of Metal Used For Standing Seam Metal Roofs
Most common metal is Galvalume Steel in 26 gauge thickness. These panels are usually coated with Kynar/Hylar paints, and provide long-lasting durability, corrosion resistance and paint fading performance.
Cheaper corrugated roof panels (such as R-panel and 5V-crimp) may be painted with Acrylic paint, or not painted at all (mill-finish). These can sometimes be made of regular Galvanized Steel vs. Galvalume.
Types Of Standing Seam Metal Panels
Standing seam roofs are essentially vertical metal panels that are clipped / locked together either with some type of tensions (snap-lock) or mechanical lock.
These panels are typically installed with concealed fasteners, which are screwed into metal clips or a nailing fin on the panel itself, an hold the panel down.
The vertical ribs or locks give these metal roofs a cool industrial look, as well as serve as mounting surfaces for snow guards / snow retention bars, solar panels, etc.
Most standing seam roofs are made of 26 or 24 gauge steel. They can also be made from .032″ / .040″ aluminum or Zinc or 16 oz. copper.
The type of metal used, makes the biggest impact on the cost of materials and the whole roof, with 26 ga steel being the cheapest, and copper/zinc being the most expensive!
Most snap-lock panels come in 12″, 16″ or 18″ pan widths. 5V crimp panels are 24″ wide, while R-Panels are 36″ wide.
Standing Seam Panels Cut Lengths & Trim
Our calculator makes a "3d-model" of your roof, based on sizes and roof slope, and divides this 3d-roof into panels of exact length and width.
If the width of your roof is 10.3 "panels", our calculator will always round it up to 11 panels. This is to make sure you do not order fewer panels than you need.
If you have a hip roof, you will need multiple panels of different length, which is taken into account by our 3D-roof model, and you will get complete and accurate cut list of all the different sizes.
Standing Seam Roof Calculator will also provide the length of Ridge/Hip caps, drip-edge (starter strips), gable trim, and z-bar flashing – all are essential parts of a standing seam roof installation.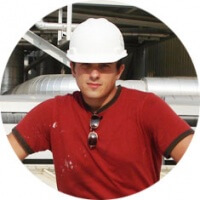 This roofing guide is presented by Leo B.

I've been a roofer for 15 years, and specialize in Metal Roofing and Flat Roofing.

Have a roofing question or issue? Ask me any roofing question!

Roofing Contractors - join our free Local Roofers directory to get more customers!