|
Flat Roof Cost Calculator quickly estimates the total cost to install the following roofing materials:
1. Single Ply Membranes (TPO, PVC, EPDM Rubber)
2. Modified Bitumen
3. Rolled Roofing
Pricing is for new or retrofit flat roof projects and includes all materials, roof accessories and labor by a professional, licensed contractor.
In recent years flat roofs have grown in popularity because of their distinctly modern look, as well as ease of installation and repair.
The average cost to replace a flat roof is $5-10 per square foot. Installing a simple 1,600 sq. ft. flat roof costs $8,000 – 16,000, depending on the material you choose.
How To Use Flat Roof Calculator
1) Measure your house/building from corner to corner.
If there are overhangs, be sure to include these into the Dimensions field. 12″ overhang over 100 foot eave span adds 100 sq. ft. to the total roof area, which can cost as much as $1,000 or more.
2) Enter the exact number of large penetrations / curbs (hatches, skylights and/or chimneys).
Penetrations require special flashing work and will add significant cost for each unit. If you do not include them, you will see a huge discrepancy between this estimate and one from a contractor, because he WILL include these.
3) Enter the length of parapet walls (and metal cap).
The parapets can add significant roof surface and extra work, so do not discount them. Your roofer WILL charge you for these.
4-6) Select insulation thickness, roof pitch, tear-off layers. Use our easy Roof Pitch Calculator to estimate the pitch on your roof.
7) Select job complexity.
This can be vague, but if you have multiple penetrations, curbs, roof-to-wall flashing, difficult drainage, choose the Medium or even Complex setting. Also, be aware of ease of access to the roof. If your contractor needs to hire police detail, or if your roof is 7 stories off the ground, the cost WILL go up.
8) Select the material you want.
You can get a price for the chosen material, and then re-calculate again for a different one, to compare. EPDM rubber roofing is the most popular choice, because its the most budget-friendly option. TPO is the second most frequently installed flat roof on residential properties.
9) Select your region in the US.
Prices may differ as much as 30% depending on where you live.
10.) Understanding your price estimate
You will see three price estimates – LOW-END, MID-RANGE and HIGH-END. These are based on National Average roof costs. The estimated flat roof cost includes:
– All materials
– Labor
– Tear-off roof cost
– Dump fees
– Building permits
– Profit & overhead
How Much Does A Flat Roof Cost?
Typical Price Range To Install new Flat Roof
Average:
$6,980 - $9,720
The table below lists average prices that you can expect to pay depending on the flat roofing material you want to install.
Keep in mind that your geographic location, roof size and complexity will greatly impact the final cost of the job.
| Flat Roof Material | Cost per sq. ft. | Installed cost per sq. ft. | Lifespan |
| --- | --- | --- | --- |
| EPDM rubber membrane | $1.50 | $5.50-6.50 | 10-15 years |
| TPO membrane | $1.70 | $6-7 | 20-30 years |
| PVC membrane | $1.90 | $6.5-7.5 | 30-50 years |
| Modified Bitumen | $1.30-2.20 | $5.5-6.50 | 12-20 years |
| Rolled asphalt | $1.30-2.20 | $5.5-6.50 | 8-12 years |
| Spray foam | $1.65-2.25 | $4.5-7 | 20-40 years |
Cost to Install A Flat Roof
Compared to the cost of asphalt shingles, most contractors charge 20-35% more to install a flat or low slope roof.
This is because its actually difficult to install a flat roof correctly so that it remains leak free. Out of the total installation cost on a new flat roof, around 70% will be the cost of labor!
Flat roof replacement cost starts at $5 – 5.5 per square foot, but can go up to as much as $7-9 per square foot, depending on roof size and complexity.
This includes tear off, insulation and the new roofing membrane. Final prices depend on the quality of the material, roof size and complexity, your contractor and location.
Typical Price Range To Install new Flat Roof
Average:
$6,980 - $9,720
Installing a flat roof on a two or more storie home costs at least 30% more than on a single storie house.
Moreover, curbs, corners and penetrations, such as chimneys, vents and skylights will all increase the total cost, because they need to be flashed in order to be watertight. This adds more hours of labor, and drives up the final price.
Overall, labor costs are higher because flat roofing is a specialized field that requires expert knowledge, tools, and a particular set of skills.
This means that a regular contractor, who shingles roofs, will NOT be able to properly install a single ply membrane or any other flat roofing material.
Many people try to save money on installation and believe promises of general contractors who are willing to charge less, just to get your business. Chances are your new roof will leak shortly after they are done. Sometimes it takes as little as 1-2 heavy rain storms for the damage to show.
In fact, most flat roofs leak due to faulty installation. Even the best, most expensive membranes will fail, if a contractor does not know what he is doing.
Also, keep in mind that once your roof leaks, you will need to spend a lot of money on repairs. Depending on the material, patching up a leaking membrane can cost an average of $350-600.
If there are many leaks and damaged insulation, the cost of repair can be well over $1,000. Because the cost of repairing a flat roof is so high, its really not worth it to try to save a few hundred bucks and hire an unqualified installer.
We strongly recommend working only with licensed pros who specialize in the field of flat roofing, and have references of recently completed jobs.
Typical Price Range To Install new Flat Roof
Average:
$6,980 - $9,720
Cost Of Flat Roof Tear Off
When replacing a flat or low slope roof, building code in most states limits you to no more than two layers of material. For example, if you have EPDM rubber now, you may put on a new PVC or TPO membrane.
On the other hand, if you have Modified Bitumen (Mod. Bit.) or gravel and tar, with rubber on top, you need to remove the rubber roof. Removing EPDM or another single ply membrane is simple and relatively inexpensive.
To tear off one layer of membrane costs $0.45 per square foot, and two layers costs $0.60 per square foot. Thus, tearing off 1,600 of single ply roofing will cost you $720 – 960, depending on the number of layers being taken down.
However, if you need to tear-off Tar + Gravel of multi-layer rolled roofing, the cost will go up significantly. One layer tear off runs about $1.5 per square foot, where as two layers costs $2 per square foot.
You will pay $2,400 – 3,200 to remove an old tar roof from your house. Its so expensive because rolled roofing is very heavy, many dumpsters need to be ordered, and it can only be removed using special equipment.
Our roof estimator takes tear off costs into consideration when calculating your price quote. Make sure you select an appropriate number of tear-off layers to get an accurate quote.
Cost Of Flat Roof Repair
Leaks are the most common problem that most flat roof materials have. However, EPDM rubber is most notorious for leaking at the seams.
Properly installed PVC and TPO roofs should not have leaks, unless something causes a tear in the membrane that lets water in. Built up roofs often have leaks that are very hard to find and therefore repair, which is why these roofs are installed less and less.
Also, there are a lot fewer flat roofing pros that really know how to repair built up roofing in a way that actually eliminates the source of the leak.
Overall, repairing a simple leak in a single ply membrane requires patching and sealing the surface, and costs $300-500. Fixing up multiple leaks can cost $1,000-2,000+ depending on the scope of work.
For example, repairing leaks that happened around a chimney or a skylight, will be a lot more costly, because the roofer will need to spend time properly sealing the membrane around the penetration to ensure that the leak does not come back.
Therefore, it's best to hire a seasoned flat roofing pro, who will take his time to properly seal the membrane. Otherwise, your leaks will simply come back after a few strong rains, or a big snow storm.
Regular maintenance and inspection is the best way to prevent leaks on a flat roof. Its easy to do a DIY inspection since you can safely walk on the surface of the roof.
You should look for any standing water or visible tears in the membrane. If you live in an area that gets a lot of snow or rain, you should inspect your flat roof after any big snow or rain storm to ensure that the membrane is intact.
How To Choose The Right Flat Roof
Most People Spent:
$7,655 - $9,104
(For a 1600 sq. ft. Roof)
See costs in your area Start Here - Enter Your Zip Code
In your online research, you may notice that there are many different companies selling flat roof materials. It can be confusing to figure out which one you should get.
This is particularly true when it comes to selecting a TPO membrane (thermoplastic olefin). Because TPO so popular, there are many small – time manufacturers that produce TPO, and sell it at discounted rates. However, their quality and longevity is often questionable.
As a rule of thumb, its best to get your roof membrane from a reputable manufacturer that has been making these products for decades. Manufacturers you can trust are GAF, DuroLast, Versico, IB, Sika Sarnafil, etc. While you will pay a bit of a premium for the "brand", you will have the peace of mind of owning a high quality roof.
You should also ask your roofing contractor which material he would recommend. A seasoned roofer will have installed various single ply membranes from different brands, and will know which one has had the least problems. His advice is important, because you need to get a roof that performs well in your particular geographic location.
Membranes from different brands have different chemical formulations, and some do better in certain climates than others.
For example, some TPO roofs don't last long when exposed to extreme heat for a long time, such as in Texas or Arizona. You roofer will know which product can protect your home from local weather conditions.
This is another reason why you want to hire someone who has worked with flat roofs for at least a decade. A newbie contractor may have good technical skills, but he will not have enough experience to recommend the best material.
Install Roof Shingles

$4872


Average price

Install Metal Roof

$10253


Average price

Install Flat Roof

$8257


Average price

See costs in your area Start Here - Enter Your Zip Code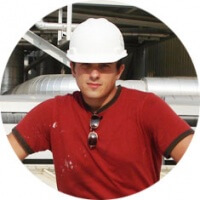 Author: Leo B
For over 20 years Leo has run a successful roofing business in New England, specializing in metal roofing, as well as cool flat roofing technologies. Having replaced and installed hundreds of roofs in New England, Leo has first hand experience with pretty much every residential roofing material and roofing manufacturer available in the US.