Estimate the cost to install a metal roof for your home or business - Standing Seam, Corrugated R-panel, Steel or Aluminum Shingles/Shakes, Stone Coated Steel, Copper & Zinc vertical panels.
Average metal roofing prices are
$5.85 to $9.78 per square foot.
However, your total cost may be 15% lower or much higher, depending on the material type, where you live, your roof footprint, and many other factors.
How To Use Metal Roof Calculator
1)
Measure your house foundation length / width, and enter your dimensions into "roof size" fields. Don't forget to include roof overhangs. See diagram below: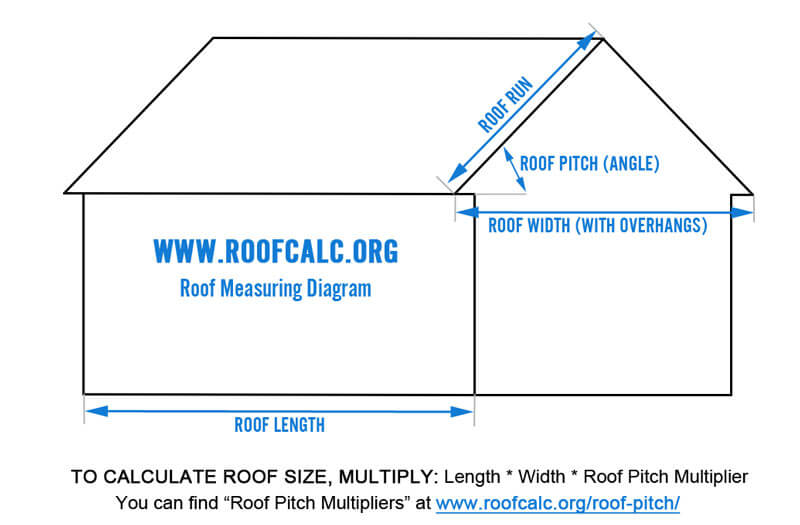 2)
Choose desired metal roofing type (materials are sorted by popularity among homeowners).
3)
Enter your roof pitch, relative job complexity, old material tear-off & building height.
NOTE: Job complexity is "relative". Very often what homeowners deem simple, is in fact a medium complexity install. Select
"simple"
if you have a "Ranch / Cape" style roof, without dormers, skylights, valleys. If you have dormers and other roof "structures", use the
"medium"
setting.
4)
Select your region, or keep the standard National Average price data.
5)
Calculate! You will get 3 quotes in your area:
Low
,
Mid - range
and
High - end
prices, which will fairly represent most local markets.
US Average Installation Prices For Most Popular Metal Roofing Types:
Here are the average costs of the top metal roofing types that homeowners like to install. All estimates include: labor, materials, dump fees, building permits, roofer overhead and profit.
| | | |
| --- | --- | --- |
| R-panel / 5V-crimp Metal Roof | $8,842 | ( $593 per square ) |
| Standing Seam Metal Roof | $11,813 | ( $793 per square ) |
| Aluminum Metal Shingles Roof | $12,639 | ( $848 per square ) |
| Steel Metal Shingles Roof | $11,879 | ( $797 per square ) |
| Stone Coated Steel Tile (Decra) | $15,040 | ( $1,009 per square ) |
| Zinc Standing Seam | $19,325 | ( $1,297 per square ) |
| Copper Stanind Seam | $21,918 | ( $1,471 per square ) |
Note: Costs listed above are based on contractors' prices in our Local Roofers Directory, and 556,652 roofing projects estimated by RoofCalc.org. Installation prices vary by state (see regional details below).
Metal's Lifecycle Cost Savings
When comparing a metal roof to other materials, its important to consider how much you will be
spending vs saving
over the service life of a particular roof.
While metal calls for a pretty hefty investment upfront
(average of $12,000-18,000)
, throughout the roof's life time you will actually be saving money.
There are also "budget" versions of metal roofs available for around
$8,600-11,000
, such as R-Panel / 5V Crimp exposed fastener systems. Corrugated metal panels come in many colors, and are even available with Kynar/Hylar coatings (for a little extra cost).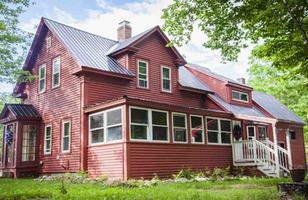 Install 5-rib (R panel) Metal Roof:
(13,027 projects)
National Average Cost
$8,842

See Costs in Your Area!
Start Here - Enter your zip
A properly installed metal roof requires very little to zero maintenance (aside form an occasional power wash) and no repairs. It is designed to be completely impervious to water and to withstand the harshest weather conditions. Since a metal roof easily lasts
at least 50 years
, you will be free from this additional spending.
On the other hand, if you install asphalt shingles, in the same 50 year time frame, you can expect to pay many thousands of dollars. First, you will go through 2-3 complete replacements, each will cost you
$4,600-7,000
depending on the size of your roof, and the quality of shingles you want.
Second, you will have to pay for repairs that will come as a result of leaks, shingles damage, blow off, etc. Each repair can cost
$500-2,500+
depending on what needs to be done. This can be necessary every
1-3 years.
Lastly, an asphalt roof will require maintenance every
5-7 years
, or even sooner. Typically, this involves: securing loose shingles, repairing roof valleys, putting fresh sealant on flashings and roof penetrations. A roofer will charge anywhere from
$350-1,500
for this work, depending on scope, complexity, etc.
Clearly, if you add up all these costs over a 50 year period, you will find that a metal roof is actually
$11,000-16,000 cheaper
than shingles!
Also, don't forget that metal roofing will put money back in your pocket every year. You will enjoy:
- reduced home insurance premiums (up to 20-35% depending on the state)

- lower energy bills (10-15% off heating costs in the winter and 20-40% off cooling costs in the summer, compared to asphalt shingles, and depending on your local weather as well as energy costs)

- government tax rebates for using a green building material (see your local offers)


Resale Value Of A Metal Roof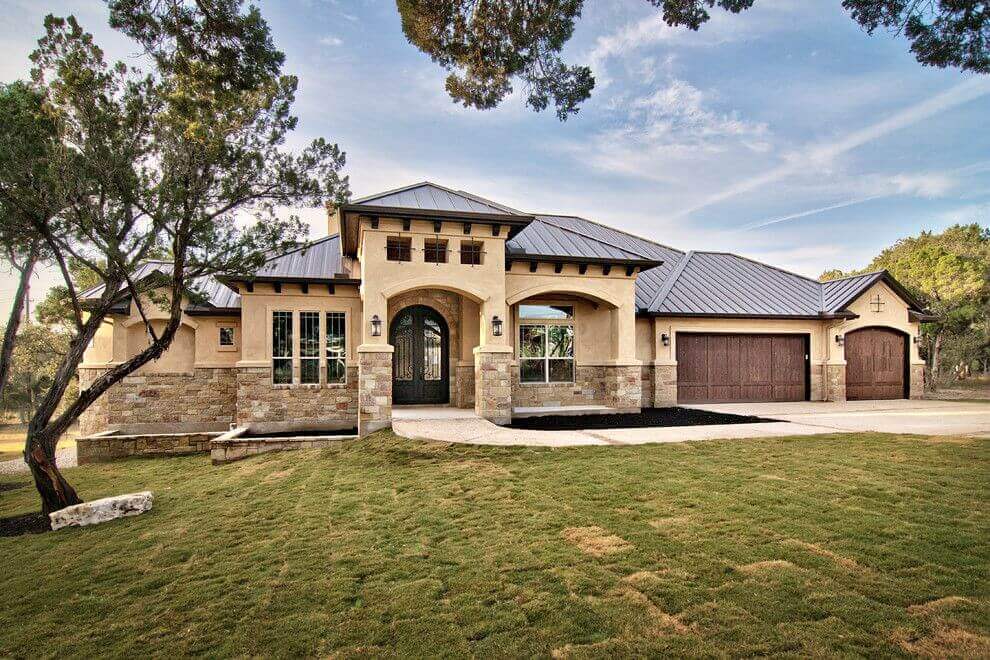 Even though a metal roof offers the greatest financial savings if you stay in your house for many years, it also boasts a high ROI
(80-86%)
, in case you need to sell your home. In fact, compared to all interior and exterior house renovations, installing a quality metal roof offers one of the highest returns on investment.
Its also important to note that some types of metal roofing systems are considered more premium and desirable than others. For example, in recent years, residential
standing seam
roofing installs have exploded across the states. This is the most high-end metal roof, and it looks stunning on contemporary style homes. Its followed in popularity by metal tiles and shingles. Corrugated metal panels is the most budget friendly choice, but it also has a lower value compared to premium metal roofs.
The consensus among builders and real estate experts is that having a metal roof can increase the overall value of your house and drive buyer's interest. Research shows that when two identical houses are for sale, and one has a metal roof, it sells faster and for more money (at least a 2-5% increase) than the other house. Everyone loves the idea of a "forever roof", so metal always wins.
Homeowner's preference for metal roofing is especially strong in regions that have regular severe weather, such as: snow storms and ice dams, hail, hurricane level winds, potential for fire, etc. Here, people perceive metal roofs as offering the ultimate protection and peace of mind, which at the end of the day results in very high returns of over 90%.
Additional Resources
If you are still debating whether a metal roof is the right choice for your house, get more in depth information from these guides:
2018 Costs To Install A Metal Roof:
comprehensive price guide that covers all metal roofing types and materials.
Standing Seam Roofing Costs:
research installation prices and design options for standing seam.
Metal Shingles Guide:
get detailed costs and features of the most popular metal shingles products.
Corrugated Metal Roofing Prices And Options:
learn about how much it costs to install the most economical metal roof.
Guide To Metal Roofing Colors:
if you are worried about a how metal will look on your house, check out all the beautiful color and style options available.
Average New Metal Roof Costs In US:
Low End

$9,202

Mid Range

$10,339

High End

$13,131

See Costs in Your Area! Start Here - Enter Your Zip Code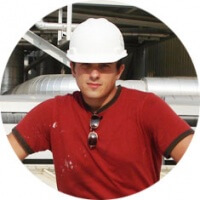 This roofing guide is presented by Leo B.

I've been a roofer for 13 years, and specialize in Metal Roofing and Flat Roofing.

Have a roofing question or issue? Ask me any roofing question!

Roofing Contractors - join our free Local Roofers directory to get more customers!