Atlas has been in the roofing industry for over 35 years. During that period, the company has installed shingles in thousands of households. But are Atlas shingles the right choice for you?
In this post, we'll cover all the top features, properties and prices of Atlas shingles.
Also, we'll compare Atlas shingles to other popular shingle brands, such as GAF and CertainTeed, as well as share reviews from previous customers so that you can see how Atlas shingles generally fare.
If you are ready to replace your old shingle roof, contact your local roofing pros for FREE ESTIMATES!
How Much Do Atlas Shingles Cost?
Atlas offers three categories of shingles, ranging from the least to the most expensive: 3-tab, architectural, and designer shingles.
The cheapest Atlas shingles range in price from 0.45- 0.52 per square foot, while the most expensive shingle cost $1.0 – 1.24 per square foot.
You can also consider installing other cheap asphalt roofing shingles, if you are pressed for money. However, you have to be aware that low-cost roofing coupled with cheap installation spells a very short life span for your roof.
On average, homeowners report spending $2.20 – 3.25 per square foot installed for Atlas shingles. On a 2,000 sq.ft. simple ranch style roof, installing Atlas Shingles costs $4,400 – 6,500, depending on the type of shingle you select.
Here is a breakdown of how much Atlas shingles cost on average:
| | Price Per Sq.Ft. | Price Per Roof Sq (100.sq.ft) | Cost Installed on 2,000 sq.ft |
| --- | --- | --- | --- |
| Atlas 3-Tab Shingles | $0.45 – 0.52 | $45 – 52 | $4,200 – 4,800 |
| Atlas Architectural Shingles | $0.61 – 0.81 | $61 – 81 | $5,220 – 5,900 |
| Atlas Premium Shingles | $0.86 – $1.24 | $86 – 124 | $6,300 – 6,980 |
You can use our Roof Shingles Cost Estimator to quickly calculate the cost of installing a shingles roof on your house.
Atlas Shingles Prices Per Square Foot
Lets take a closer look at how much various types of Atlas shingles cost per square foot, as well as together with professional installation.
| | Price Per Sq.Ft. | Price Per Roof Sq (100.sq.ft) | Cost Installed on 2,000 sq.ft |
| --- | --- | --- | --- |
| 3-Tab Shingles | | | |
| GlassMaster | $0.45 – 0.52 | $45 – 52 | $4,200 – 4,800 |
| Atlas Architectural Shingles | | | |
| CaslteBrook | $0.61 – 0.71 | $61 – 71 | $5,220 – 5,420 |
| ProLam | $0.69 – 0.81 | $69 – 81 | $5,380 – 5,620 |
| BriarWood Pro | $0.70 – 0.81 | $70 – 81 | $5,400 – 5,620 |
| Legend | $0.69 – 0.81 | $69 – 81 | $5,380 – 5,620 |
| Atlas Premium Shingles | | | |
| Pinnacle Pristine | $0.86 – 1.03 | $86 – 103 | 6,220 – 6,560 |
| StormMaster Shake | $1 – 1.18 | $100 – 118 | $6,500 – 6,860 |
| StormMaster Slate | $1.05 – 1.24 | $105 – 124 | $6,600 – 6,980 |
Keep in mind that the cost of professional roof installation varies greatly depending on a number of factors, such as local labor rates, as well as the complexity of a particular roof.
On average, licensed roofers across the US charge $1.5 – 2.25 per square foot to install asphalt shingles.
Cost Of Atlas Shingles vs GAF, CertainTeed, Owens Corning and Malarkey Shingles
Compared to asphalt shingles produced by other top roofing manufacturers, such as GAF, CertainTeed, Owens Corning and Malarkey, Atlas Shingles are certainly a very economical choice.
Check out the table below for a detailed cost comparison between these top shingle brands.
Atlas
GAF
Certainteed
Owens Corning
IKO
Tamko
Malarkey
3-tab
$0.45 – 0.52
$0.81
$0.89
$0.82 – 0.84
$0.79
$0.72-0.77
$0.73 – 0.82
Architectural
$0.61-0.81
$0.87 – 1.33
$0.91 – 1.42
$0.97 – 1.26
$0.86-0.88
$0.84 – 1.05
$1.21 – 1.55
Designer
$0.86-1.24
$1.6 – 2.85
$1.48 – 2.47
$1.48 – 2.80
N/A
$1.80 – 2.05
$1.58 – 1.70
CertainTeed shingles are by far the most expensive and highest quality shingles, where as Owens Corning is a more budget-friendly option, still more pricey than Atlas shingles.
Most Popular Atlas Shingles
Given that they vary in prices, Atlas shingles also have many differences in features and properties.
Below are the features of each Atlas shingles product:
3 -Tab GlassMaster Shingles
The most important properties and advantages of the GlassMaster 3 – tab shingles include:
•Resists winds of up to 60 mph
•30-year limited warranty
•Algae-resistant design
•Class A fire resistance
•Low price
These shingles are primarily appealing due to their low price and classic design. Their wind, fire, and algae resistance is also satisfactory. If you're looking for an affordable solution for your roof, the GlassMaster model might be what you're after.
Atlas Architectural Shingles Series
If you are looking for better looks and improved durability its best to install architectural or laminated shingles instead of 3-tab shingles. You can check out our in-depth guide on the differences between 3 Tab vs Architectural Shingles.
There are four products to choose from in the Atlas' Architectural Shingles Series:
CastleBrook Shingles
•Resist winds of up to 130 mph
•Limited lifetime warranty
•Eligible for Atlas' Signature Select System
•Class A fire resistance
•Cost-efficient
•Easy to install
CastleBrook architectural series is good value overall. These shingles offer decent wind and fire protection at a fair price. If maintained properly, you can easily get 15-20 years out of them, provided there are no extreme weather conditions on a regular basis.
ProLam Shingles
•Limited lifetime warranty
•Resists winds of up to 130 mph
•Eligible for Atlas' Signature Select System
•Algae-resistant design
•Class A fire resistance
•Large nailing area
ProLam is another money-saving architectural edition. It has good wind, fire, and algae resistance. In addition, the shingles are made with the HP42" technology. This gives them a much broader nailing zone than usual, meaning faster installation, less waste, and quicker cleanup.
Did You Know? The clearer and the broader the nailing zone, the smoother and faster the installation process.
BriarWood Pro Shingles
•Limited lifetime warranty
•Resists winds of up to 130 mph
•Eligible for Atlas' Signature Select System
•Class A fire resistance
•HD colors
Apart from good performance regarding wind and fire, the BriarWood Pro shingles are a fine choice if you're looking for an appealing design. The shingles are good-looking due to their enhanced HD color.
Overall, they are slightly better constructed than the CastleBrook model but still retain their cost-efficiency.
Pinnacle Pristine Shingles
The final member of the architectural lineup, Pinnacle Pristine shingles, may be a great option for the following reasons:
•Limited lifetime warranty
•Resists winds of up to 130 mph
•Eligible for Atlas' Signature Select System
•Scotchgard protection
•Class A fire resistance
If Scotchgard protection is one of your priorities, you can get it with Pinnacle Pristine shingles at a reasonable price. Moreover, their wind and fire resistance is also solid. The warranty options are quite flexible as well.
Premium Shingles Series
You can choose between Legend, StormMaster Shake, or StormMaster Slate to be your designer type of shingles.
Legend Shingles
Legend is the cheapest entry in the Premium Shingles series by Atlas. This is what they provide:
•40-year limited warranty
•Resists winds of up to 110 mph
•Eligible for Atlas' Signature Select System
•Scotchgard protection
•Good price for designer shingles
•Class A fire resistance
StormMaster Shake Shingles
StormMaster Shake is one of the two premium types of shingles at Atlas. Accordingly, they have the best properties:
•Core 4 Enhanced Polymer Technology
•Resists winds of up to 150 mph
•Class 4 impact resistance
•Scotchgard protection
•Class A fire resistance
•Lifetime limited warranty
•Eligible for Atlas' Signature Select System
StormMaster Slate Shingles
•Core 4 Enhanced Polymer Technology
•Resists winds of up to 130 mph
•Class 4 impact resistance
•Scotchgard protection
•Class A fire resistance
•Lifetime limited warranty
•Eligible for Atlas' Signature Select System
What Is The Core 4 Enhanced Polymer Technology?
As the very name suggests, the Core 4 technology consists of four innovative technological enhancements to shingles. This is how each one helps Atlas' StormMaster Shake and StormMaster Slate outperform much of the competition:
The PolyCore Technology
Since the two models are made with the PolyCore Technology, they are much longer-lasting and stronger than other brands. The design includes enhanced virgin polymers, giving the shingles greater consistency, as well as reduced variability. This helps extend your roof's lifespan.
The FlexCore Technology
This design technology gives the shingles better elasticity, making them a lot stronger. Owing to their flexibility, the shingles surpass the tear strength requirements by 50%. Additionally, the shingles lay completely flat when installed, making the seal more effective. This provides your home with much better protection.
The WeatherCore Technology
The StormMaster Shake and StormMaster Slate models both have a Class 4 impact-resistance rating. The shingles are made with enhanced polymers combined with the FASTAC adhesive sealant system.
As a result, they passed the UL 2218 testing, meaning that they can withstand powerful hailstorms and high winds.
The ThermalCore Technology
Due to better built-in granule adhesion, the shingles minimize the contraction and expansion effects caused by temperature changes. Also, this granule system protects your roof from asphalt exposure, accelerated aging, and deterioration.
Did You Know? The most reliable material for avoiding damage caused by thermal expansion is installing Class 4 Shingles with styrene-butadiene-styrene (SBS).
Both designer shingles by Atlas have what it takes to protect your roof from natural elements. They prevent algae discoloration, temperature disfiguration, as well as considerable hail and wind damage.
Therefore, if you don't mind paying extra for your shingles, there's no need for second thoughts about either of these two options.
Atlas Shingles Colors
When it comes to shingle colors options, Atlas offers a beautiful pallet for each of its shingles lines, although they are somewhat limited in variety compared to top shingle brands, like Malarkey.
For the largest selection of colors, consider installing Pinnacle Pristine shingles which boast a selection of 30 colors to choose from!
Most Atlas shingles lines have about 10 colors, both in their 3-tab series, as well as architectural and designer shingles series.
BriarWood Pro has the least number of colors to choose from – only five.
Pro Tip: Its important to make a final color selection for your roof ONLY using real size Atlas shingles, which your roofer can bring you sample of. Its best to look at the shingles in different lighting situations (evening, morning, day time) so you get a clear sense of what your roof will look like
Do Atlas Shingles Offer Good Protection Against The Elements?
The higher the quality of your Atlas shingles, the better the protection against wind, fire, algae, and impact. To give you the full picture, this is how much Atlas shingles can endure from each of these elements:
Wind Resistance
The least wind-resistant shingle in Atlas' lineup is GlassMaster. The model can resist winds of only up to 60 mph. The next best shingle in terms of wind resistance is the Legend edition, with a threshold up to 110 mph.
Shingle types that can resist winds of up to 130 mph include CastleBrook, ProLam, BriarWood Pro, Pinnacle Pristine, and StormMaster Slate.
You can expect the greatest wind resistance form the StormMaster Shake model. Atlas promotes the shingles as capable of enduring winds of up to 150 mph.
Fire Resistance
When denoting a roofing material's fire resistance, classes A, B, and C are used. Class A denotes materials that can withstand the most extreme fires.
Fortunately, all shingles produced by Asphalt have Class A fire-resistance ratings, making them one of the best fire-resistant shingles available.
Did You Know? Asphalt shingles can last for about two hours before catching fire, making them much more durable than wood shingles.
Algae Resistance
In terms of Algae resistance, Atlas' shingles vary. For instance, GlassMaster shingles have a five-year algae-resistance warranty. Some other models prevent algae growth for up to 10 years. These include the CastleBrook, ProLam, and BriarWood shingles.
On the other hand, Legend, Pinnacle Pristine, StormMaster Shake, and StormMaster Slate all have lifetime algae-resistance warranties. This is because each shingle possesses Scotchgard protection that stops algae from causing discoloration to your roof.
Impact Resistance
None but Atlas' StormMaster Shake and StormMaster Slate yield impressive impact-resistance results. Namely, these are the only two shingles Atlas makes that have a Class 4 impact-resistance rating.
They achieved the rating by completing the UL 2218 test, which included a 2" steel ball dropped from 20 feet to the same spot twice.
Check out other high-quality Class 4 Impact Resistant Shingles
How Long Do Atlas Shingles Last?
The lifetime of Atlas shingles largely depends on their quality. Here's an overview of their longevity according to the shingle grade they belong to:
Three-Tab Shingles:
•GlassMaster – 30 years
Architectural Shingles:
•CastleBrook – 35 years
•ProLam – lifetime (50 years)
•BriarWood Pro – lifetime (50 years)
•Pinnacle Pristine – lifetime (50 years)
Premium Shingles Series:
•Legend – 40 years
•StormMaster Shake – lifetime (50 years)
•StormMaster Slate – lifetime (50 years)
Pros And Cons Of Atlas Shingles
When considering the pros and cons of Atlas shingles, it's important to view them from both the contractors and homeowners' perspective. Here's what contractors can expect from Atlas:
Pros For Contractors
•The Atlas Signature Select Roofing System – it has several useful properties for contractors, such as Pro-Cut starter shingles that enable faster installation. Also, contractors can choose between two felt and two synthetic underlayment options depending on the job, providing greater flexibility.
•The Atlas Contractor Program – under this program, Atlas offers training, techniques, and tips for contractors on how to install Atlas' shingles. On top of that, the company can assure homeowners of the contractors' expertise.
Cons for Contractors
•Most contractors don't become a part of the Atlas Pro Plus team. Consequently, there are no Premium Protection warranties in place.
•Atlas' shingles don't seal properly during the winter. However, the company's warranties don't cover seal failures.
Pros for Homeowners
•Reliable quality – Atlas roofing is consistently rated as one of the TOP 5 asphalt shingles manufacturers in the US
•Weather-resistant shingles – due to the aforementioned Core 4 Technology, Atlas' premium shingles offer ideal protection against winds, hail, temperature changes, and impact.
•Options for everyone – since there are three grades of shingles available (low-cost, mid-grade, and premium), you can choose from many types depending on your budget and preferences.
•Outstanding warranties – Atlas' lifetime warranty period is 50 years, matching GAF, CertainTeed, and other reliable brands. It also offers one of the longest warranties for algae-resistant shingles.
Also, algae-protection warranties are some of the longest warranties available. Moreover, you can transfer your warranty once during Atlas' Premium Protection period. Finally, Atlas' warranty includes tear-off, disposal, and labor fees.
Cons for Homeowners
•Faulty seals during the winter – as mentioned earlier, Atlas' shingles don't seal during the winter, as well as they do in warmer temperatures.
•Denied warranty claims – the main issue homeowners have with Atlas is denied warranty claims. In many cases, the company refuses to grant the claim, leaving the homeowner with a risky option to sue the company.
To avoid this, try to get at least three seasoned installers to estimate your roof replacement. This will lower the chances of ending up with poorly installed shingles.
Pro Tip: Poor sealing is a problem for most asphalt shingles, not just Atlas. Moreover, Atlas, like most other roofing manufacturers will NOT cover any issues that result from poorly sealed shingles under its warranty.

This is why, its extremely important to only install your asphalt shingles during warm month, when there is enough sunlight and temperatures are at least 70 degrees, to ensure proper sealing.

Avoid installing any asphalt roof, if the temperature outside is 50 degrees or less. The sealant used for shingles may not take effect until the spring if applied in the winter.
Atlas Shingles Reviews
The reviews of Atlas' shingles are divided. There are lots of customers who are extremely satisfied with the service they received.
However, many homeowners have reported subpar installation and breakage of shingles. Here's what both sides say about Atlas:
Negative Reviews
Improper StormMaster Shingles
A family installed a StormMaster shingles series in 2011. After five years, the shingles started blistering across the entire roof.
The family decided to file a warranty claim, and an Atlas representative came to inspect the damage. However, the representative stated that the blistering was caused by the house's insulation, and not defective shingles.
The family reached out to two other roofing companies, and had them assess the situation. Both of them determined that the house's insulation hadn't brought about the blistering. Instead, the companies established that the defective shingles should be blamed for the damage.
Nevertheless, Atlas refused to grant the family's claim, meaning that the couple had to resort to suing the company. In addition, they also had to replace their entire roof.
Atlas' Problematic Warranties
A contractor purchased Atlas' shingles with a warranty against algae for the first ten years of the shingles' lifetime.
Despite the period claimed on the warranty, algae started developing on the contractor's roof. The homeowner checked the warranty and discovered that the covered period had not yet expired.
Hence, they reached out to Atlas to try to get a successful warranty claim. However, all Atlas said was that the warranties adjusted, and the representatives didn't discuss the matter any further.
Positive Reviews
A Successful Warranty Claim
A customer from Florida bought Atlas' Pinnacle Black shingles. But just six years later, the roof started fading in some areas. The owner contacted Atlas and demanded that they grant the warranty.
The customer filed the paperwork, sent them pictures from various angles, and shipped the company samples of the faded shingles. Luckily, Atlas notified them that the roof would be warrantied.
Atlas granted the warranty, and replaced the roof.
StormMaster Shingles that rose to the Occasion
A family from Chicago had Atlas' StormMaster shingles installed on their roof. Since Chicago is an extremely windy area, the couple was apprehensive about whether their roof would be able to withstand the high winds.
To their surprise, their roof was the only one left standing in the neighborhood after a series of fierce storms that took place during several years.
Atlas Shingles Warranties – Best of the Best
One important factor that you need to consider when researching various asphalt shingles brands, is the roofing warranty you will be getting.
While most shingle warranties sound about the same, its actually not the case, and having a solid warranty can make a huge difference in the service of your roof and your own peace of mind.
Atlas prides itself on offering one of the most comprehensive warranties in the industry, aimed at protecting the homeowner's interests.
To start off, Atlas's 3 tab shingles have a 40-year warranty, which is unusually long for shingles of this class.
Other Atlas lines are backed by a "Lifetime" warranty which in effect is 50 years. This is the same as the Lifetime warranties offered by other top shingle manufacturers.
When it comes to algae protection, Atlas boasts unusually long warranties as well, architectural shingles lines have a lifetime warranty, and 3-tab shingles have a 40 year warranty.
Your can transfer your Atlas warranty once, but only during the non-prorated period (Premium Protection Period). This is a 5 to 20 year window of times, depending on the shingle series and whether the roof was installed by an Atlas Pro Plus roofer.
One very unique thing about an Atlas warranty is that it includes labor, tear-off and disposal. Most shingle manufacturers cover only materials.
Are Atlas Shingles Worth Buying?
Even though there have been instances of Atlas' shingles underperforming over the years, the company still ranks as one of the most reliable shingle producers on the market. In fact, its ranked as one of the Top 5 shingles brands in the country.
A huge point of attraction is that Atlas shingles prices are very affordable, even if you're getting Atlas' designer shingles.
Another big bonus is that if you install the complete Atlas Signature Select System, you get a much better warranty than most other roofing manufacturers offer.
If you decide to go for Atlas shingles, just make sure that your contractors are seasoned professionals who know what they're doing. Also, don't forget to go through your warranty in great detail, and clear up any misunderstandings.
This way, you're much more likely to end up with a high-quality service, and prevent unpleasant surprises down the line.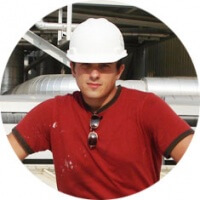 This roofing guide is presented by Leo B.

I've been a roofer for 15 years, and specialize in Metal Roofing and Flat Roofing.

Have a roofing question or issue? Ask me any roofing question!

Roofing Contractors - join our free Local Roofers directory to get more customers!