Roof Rafter Calculator estimates the Length, Board Size, Quantity, Cost per board and Total Cost of Lumber!
The estimates are based on your house foot print (length and width) and roof slope.
Prices are based on quotes from multiple lumber yards and building material suppliers.
2023 LUMBER PRICES We first published this Rafter Calculator back in Dec 2015. Since then, we have automatically added about 3% per year to account for inflation. Since lumber prices were more or less stable, we did not see a need to get new price quotes from our suppliers for each size of 2x pine or LVL.

Come COVID-19 era, and prices of ALL wood products, and lumber especially have skyrocketed. At some point in 2020 increase was nearly 400%. While prices did come back down stabilized, we now have a a clear picture that in most cases, cost of framing lumber has about doubled between Dec 2015 and Dec 2022, which is a 15% annual increase!
This tool will give you total number of rafters needed for the job (including ridge boards), length of each rafter, length of lumber (boards) for each rafter, as well as total cost for all materials, presented in easy to understand form.
x
Low End
Mid Range
High End
Materials
$1879
$2042
$2593
Cost / S.F.
$3.05
$3.31
$4.2
Total Cost
$4598
$4998
$6348
See Costs Near You!
Start Here - Enter your zip
How To Use Roofing Rafter Calculator
Use the diagram on the right to correctly enter your roof dimensions – this will help you calculate board length more accurately.
It is excellent for framers, builder, contractors, GC's and architects and will be helpful in planning new construction projects.

1) Enter house footprint: Length is the roof eave (gutter) side. Width or Span is the gable side of the roof, which is used in calculating rafter length and cost.
2) Enter overhang length: Most houses have overhangs (soffits) which are needed to protect the house exterior walls and foundation from water run-off from the roof. Enter desired overhang length – this will affect your rafter length and lumber needed for the job.
3) Enter roof pitch / slope: Roof pitch is the value of roof rise over roof run, using 12 as the base for roof run. Example: If your roof rises 5″ for every 12″ of run, enter 5 as roof pitch. If your roof pitch is in degrees, use our roof pitch calc to convert degrees to "pitch" value.
4) Select rafter spacing and width:
Rafter spacing (and roof length) will be used to determine quantity of rafters needed for your project.
Lumber size/ width (2×8″, 2×10″ or 2×12″ boards) will be used to estimate cost of each rafter, as well as total cost (excluding local sales tax).
Rafters LONGER than 20 feet: Home improvement stores DO NOT sell pine boards longer than 20 feet. If you need rafters that are 20′ 1″ or longer, you will need an LVL (Laminated Veneer Lumber) engineered rafter board, which is this yellow color plywood-like board made for structural purposes.
LVL is VERY expensive, but solves the limitation of 20 feet, in a common pine board. LVLs come in 24′, 28′, 30′ and 32′ standard lengths. If you need longer LVL, they can be custom ordered.
The calculator will automatically switch your board from PINE to LVL when you exceed 20 feet long threshold on rafter length.
LVL prices are calculated PER foot PER size. There is no "board price", meaning that a 24′ 2×10″ board will cost the same per foot as 32′ 2×10″ board. The only difference is length.
LVL Rafter prices (per linear foot):
Prices below were sourced from National Lumber in Newton, MA. These are "retail" prices and if you have an account and are working with an outside sales person, you can typically get 3-7% discount. Sizes are NOMINAL, which means that a 2×8 is actually 1.75″ x 7.25″ board.
2×8 – $4.37 / ln. ft.
2×10 – $5.23 / ln. ft.
2×12 – $6.48 / ln. ft.
2×14 – $8.35 / ln. ft.
2×16 – $9.24 / ln. ft.
Limitations Of The Rafter Length Calculator
This tool is designed for lumber length of up-to 20 feet, which can be commonly purchases at local home improvement stores and lumber yards. If your rafter length is calculated to be longer than 20 feet, then there are two options for you:
1) Most lumber yards and building materials suppliers sell an actual 2″ x 12″ by 24 feet boards for $45-55 each. Longer size boards are NOT available.
2) If you need a rafter longer than 24 feet, you will have to use engineered wood rafters.
For pricing we used Home Depot online prices, which are comparable to Lowe's prices for the same size boards. Lumber yard prices would be slightly higher, but supposedly be better quality wood.
For special order pricing (24′ boards or engineered wood rafters) contact local building material suppliers or lumber yards.
Additional Resources
If you are in planning stages of building your house, and need to figure out how much roof shingles cost, use this tool to get an accurate estimate for 3-tab and architectural shingles.
If you need to estimate roof replacement cost, use our price estimator. It will give you low – end, mid – range and high – end costs for top materials, including: shingles, slate, clay tile, wood, and metal roof.
Your Estimated Roofing Cost
Roof Price:
Cost per sq. ft.
Roof Size:
Roofing Material:

See costs in your area Start Here - Enter Your Zip Code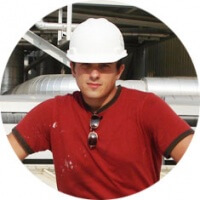 This roofing guide is presented by Leo B.

I've been a roofer for 15 years, and specialize in Metal Roofing and Flat Roofing.

Have a roofing question or issue? Ask me any roofing question!

Roofing Contractors - join our free Local Roofers directory to get more customers!