The average roof replacement cost is
$4,200-6,600
on a 1,600 sq.ft. ranch house using asphalt roof shingles. However, if you use premium materials such as metal, wood shingles, clay tile, etc, the cost of your roof will be at least
$9,500 - 16,000
.
Roofing prices can vary widely depending on the size and complexity of your roof, type of materials you use, as well as your location. This Roof Cost Calculator estimates accurate local installation prices for 10 different roofing materials.
All price estimates include labor and materials - total roof installation cost for new or retrofit projects, by a professional contractor.
Calculate your roof cost now:
Roofing calculator estimates costs for the following items:
- All materials
- Labor
- Tear off and dump fees
- Building permits
- Profit & overhead
You will see three price estimates - LOW-END, MID-RANGE and HIGH-END. These are based on the National Average
cost of a new roof
.
To better understand which price range you should choose, check out our
Roof Value Guide
.
To get local quotes, please provide your Zip Code and fill out an
estimate request
.
Most People Spent:
$4,190 - $5,740
(For a 1600 sq. ft. Roof)
See costs in your area Start Here - Enter Your Zip Code
Our calculator is based on the US roof market, and prices are calculated in USD. While Canadian market is very similar, due to currency fluctuations, you should also use the current exchange rate to get a more accurate number.
Number of roofing projects estimated by RoofCalc.org since 2012:
Roofing materials prices
This tool provides quotes for 10 most popular roofing materials, which can be grouped by type (Asphalt, Metal, Flat and other/specialty products).
Here are average prices that contractors across the US charge to install/replace a 1500 sq. ft. roof, including removal of one layer of old shingles.
Installation prices for most popular roofing materials in US:
All prices are for an average 1 story walkable ranch/cape house, and include labor, materials, dump fees, building permit, roofer overhead and profit. Below are real national average costs for each roofing material that you can estimate with our roof calculator:
| | | |
| --- | --- | --- |
| Architectural Asphalt Shingles | $5,312 | ( $357 per square ) |
| 3-tab Asphalt Shingles | $5,247 | ( $352 per square ) |
| Standing Seam Metal Roof | $12,235 | ( $821 per square ) |
| Metal Shingles Roof | $12,441 | ( $835 per square ) |
| R-panel / 5V-crimp Metal Roof | $9,282 | ( $623 per square ) |
| EPDM Rubber Roof | $9,087 | ( $610 per square ) |
| TPO Flat Roof | $10,021 | ( $673 per square ) |
| PVC Flat Roof | $11,047 | ( $741 per square ) |
| Cedar/Wood Shingles or Shakes | $11,572 | ( $777 per square ) |
| Natural Slate | $17,345 | ( $1,164 per square ) |
| Synthetic Slate | $14,776 | ( $992 per square ) |
| Clay/Concrete Tile Roof | $13,545 | ( $909 per square ) |
Note: Above prices are based on contractors prices in our Local Roofers Directory, and 705,113 roofing projects estimated by RoofCalc.org. Prices vary by state (see regional details below).
How to use Roofing Calculator
Step 1:
Enter you house/building/structure ground dimensions, including roof overhangs (if your roof has overhangs,
ADD
[overhang width * 2] to each house side that has an overhang).
Step 2:
Select roof slope/pitch/angle. This will help us accurately calculate your roof area.
Step 3:
Select roof complexity. For Cape/ranch homes - use "simple". For Victorian type homes, with dormers / towers and multiple slope sections - use "cut-up". For moderately difficult roofs - use "medium". Use your best judgement for this option. If your roof is very cut up, and you select the "simple" setting, your estimate will NOT be accurate. So, when you get price quotes from local roofers, they will be much higher.
Step 4:
Select tear-off (old shingles removal). We recommend to always remove old materials, before installing a new product. This will greatly extend the life of your roof. However, tear-off is not required, and won't even void the warranty for most materials, as long as you have no more than 2 total layers.
Step 5:
Select your home/building height. Number of floors affects ease of access, and as a result the total price.
Step 6:
Choose your desired material: 30/50 years Asphalt Shingles, Metal Shingles, Standing Seam for steep slope application, and PVC / TPO / EPDM rubber / Built-up /TAR & Grave for low slope & flat roofs.
Step 7:
Select your region (use the map below to match your state to the region).
"Local" Prices - REGION Setting
To get a more accurate calculation, select where you live to get an average price for this region. This will not be 100% accurate, but will work for most people.
What's the best roofing material?
Many homeowners looking to do a re-roof, are not sure which material would be appropriate for their house and budget. Here is a quick summary of the most popular roofing materials and their main features.
From a roofer's perspective, hands down the best roofing choice for any mid-range to high-end home is metal roofing. A metal roof offers the best value, longevity, ROI, curb appeal, and looks beautiful on both traditional and modern architecture homes.
Metal roofs come in a wide range of profiles and styles that replicate other popular materials, such as shingles and shakes. Of course, traditional metal roofing panels are also very popular on contemporary homes.
If you are looking for a more budget friendly material, asphalt shingles remain the Number 1 roof installed on both residential homes and commercial buildings across the US. Within the class of shingles there are many grades, profiles and styles, from very cheap ones to premium shingles that cost as much as a metal roof.
However, because shingles have many problems with leaks and don't stand up to severe weather, its not worth it to invest in expensive shingles, if more durable roofing options are available for the same price or slightly more.
Overall, asphalt shingles are a solid choice if you need a re-roof on a budget, or for low-end to med-range homes, priced under $400-500K
Homes or home additions that have a low pitch roof, a flat roof membrane is the most appropriate choice. The best options are single ply roofing membranes, such as EPDM, TPO and PVC roofing. Of these EPDM rubber is the cheapest option with the most potential problems for leaks and repairs, while PVC is the most premium options, with the longest service life and top notch durability from bad weather.
When picking a roofing material, the most important factor to consider is the climate you live in. If your region experiences severe weather, hot to cold temperature fluctuations, snow storms, heavy rains, winds, etc, its worth it to the invest in the most durable roof you can afford. Otherwise, you will never see the light of day from constant roof leaks and other problems. Ultimately, it becomes too expensive to have a cheap roof if you live in a region with poor weather.
On the other hand, if you live in a mild climate, you can get away with installing a fairly cheap asphalt shingles roof, and it will last without giving you too many problems. In these regions asphalt shingles roofs live out their longest possible service life around 20-25 years.
Asphalt shingles cost
On average, asphalt shingles cost
$3.20 - 3.40 per square foot
, including materials and installation. Composite shingles (3-tab and architectural) are the cheapest roofing material out there. They are also DIY friendly and quick to install.
Despite the growing number of options, most roofs installed in the US (about 67.53%) are still the tried and true asphalt shingles. This is because roof shingles offer a good combination of value, aesthetics and durability.
Today, there are hundreds of colors, profiles and styles to choose from, and modern shingles roofs have never looked better. The days when an asphalt roof appeared very cheap are long gone. Thanks to technological advancements, even inexpensive shingles roofs boast great curb appeal.
Shingles are a good option if you are looking to do a quick roof replacement on a budget before selling your house.
On the downside, asphalt shingles offer a rather short service life, about 12-16 years on average. They are also prone to leaks and may require frequent repairs. This is especially true if you live in a climate with regular cycles of rains, snow, ice dams, and severe temperature fluctuations. An asphalt roof is simply not designed to withstand harsh weather for many years, without breaking down. However, these roofs do much better and last longer in a milder climate.
Here is a tool that shows asphalt shingles prices, based on YOUR roof size (move the slider left or right to adjust measurements).
Install Asphalt Shingles Roof:
(232,210 projects)
National Average Cost
$5,279
See Costs in Your Area!
Start Here - Enter your zip
Metal roofing cost
A viable alternative to classic asphalt shingles are metal shingles, made either of steel or aluminum. They provide great curb appeal, along with superior durability and weather protection.
The average price for metal roofing shingles is
$8.35 per square foot
. More upscale metal roofs such as standing seam panels and stone coated metal shingles cost
$8.5-14.75 per square foot
.
In general, metal roofing has enjoyed a major spike in popularity over the last decade. Out of all premium roofing options, metal is the most affordable and offers lasting protection in any climate. The average lifespan of a metal roof is about 50 years, but many last a few decades longer.
For green building enthusiasts and homeowners that want to save the most on heating and cooling costs, metal is also the best material. Most metal roofs are manufactured from
50-80%
recycled materials, and are Energy Star rated as a cool roof. This allows homeowners to save anywhere from
15-35% off
their monthly energy costs.
Metal panels are also ideally suited for solar installation. In fact, this is the recommended roof for homeowners who are considering powering their homes using solar panels.
Lastly, in regions with inclement weather, metal roofs are the most desired roof for prospective homeowners, since everyone knows how well metal roofs stand up to severe weather conditions. For example, in New England, homes outfitted with a metal roof have a higher ROI, compared to homes that have asphalt or cedar shingles.
Alternative roofing materials
If you are looking for a more upscale and unique looking roofing material than just shingles or metal roofing, consider the following options:
-cedar shingles and shakes

- clay or concrete tile

- natural and polymer slate.
Each of these roofing materials boasts a unique curb appeal, and is typically chosen to match a particular architectural home style.
Wood, clay and slate are considered premium roofing materials and cost anywhere from
$8-20 per square foot
to install. Keep in mind, that repairing these roofs also costs more than regular shingles, because each materials requires special tools and expert technical knowledge.
While pretty much any handy homeowner can install asphalt shingles, this is not the case with any other roofing material. We strongly recommend that you only hire a licensed roofer who works with a particular material you want to install, rather than a "jack of all trades".
Most roof leaks and failures are actually the result of poor installation. In other words, they are often the result of homeowners trying to save a few hundred bucks and going with the cheapest bid.
Roof replacement vs repair
Doing a complete re-roof is a complex and expensive project. Sometimes, full replacement is not necessary, and a repair is the more appropriate course of action.
Hiring a pro to repair your roof typically costs around $500-700 for asphalt shingles, and $1,200-1,500 for metal, wood, and clay roofs. Slate repair is a lot more pricey, and can start from $2,000-3,000.
However, doing an expensive roof repair is still thousands of dollars cheaper than replacing the entire roof.
In general, replacement is warranted when your roof is nearing the end of its service life. Its actually best not to wait until the very end of the warranty period and consider replacement as a preemptive measure, before you are hit with sudden leaks and other problems.
The average lifespan of different materials varies broadly from as little as 12-17 years for asphalt shingles, to as much as 100+ years for natural slate.
Here are some telling signs that an asphalt shingles roof need to be replaced:
- Many shingles are noticeably buckling or curling

- A significant number of shingles is missing (check the gutters, you may find many of them there)

- Many shingles are missing in the area of the roof valley (this greatly compromises the roof and makes it susceptible to major water damage)

- Numerous shingles have large visible cracks

- There is visible shingle discoloration as well as dark streaks on many areas of the roof. Overall, it looks very old and ugly.
Another reason why a roof may need to replaced is due to poor installation, which causes continuous leaks and other problems. Sometimes the install can be so bad that its not worth it to keep investing money in repairs.
Moreover, if your roof has sustained major damage due to ice damming, fire, hail, hurricane, or an earthquake, etc, its best to get a new roof.
PRO TIP:
do a professional roof inspection every few years to determine what shape your roof is in, and fix any minor issues that are discovered. Paying for proper roof maintenance can add many years of service to your roof.
Factors that drive up roofing costs
Keep in mind that all calculated roof cost estimates are approximate. The real cost to replace your old roof will depend on many variables. Here are the most common ones:
Cost of materials:
may be affected by changes in the crude oil prices, seasonal rate spikes, local market conditions, supply and demand, as well as natural disasters, such as hurricanes, floods, etc. We regularly update the calculator, so it reflects current materials prices.
Installation complexity:
many factors are at play here, including: design of your roof (simple or cut up), accessibility, roof pitch and size, number of storeys in your house, number of penetrations and valleys, etc. A roofer will be able to provide an accurate estimate only after doing a physical inspection of your roof.
Labor charges:
the actual cost of professional installation will depend on local economic conditions, competition among roofers, costs of liability and worker's compensation insurance for the contractor, waste dumping costs, as well as overhead and profits.
See how we came up with the installation prices for this calculator in our
roof labor cost
guide.
Location:
your total roof replacement cost may vary SIGNIFICANTLY, depending on where you live. For example, if you are in the Pacific region (CA, OR, WA, AK), you will pay 18% more than the National Average. If, on the other hand, you are in the West South Central (TX, LA, OK, AK), you will pay 16% less than the National Average.
For more info on how your location affects the cost to install a new roof, go
here
.
Other Roofing / Building Calculators
Final Word of Advice for homeowners who want to get the lowest possible price: It's too expensive to buy cheap roofs, as it will cost you double to redo it after it starts leaking within a year. This is from my vast experience.


Average Roof Replacement Cost in US:
Low End

$4382

Mid Range

$5279

High End

$6599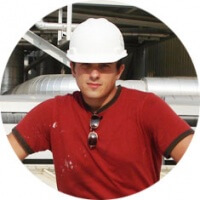 This roofing guide is presented by Leo B.

I've been a roofer for 15 years, and specialize in Metal Roofing and Flat Roofing.

Have a roofing question or issue? Ask me any roofing question!

Roofing Contractors - join our free Local Roofers directory to get more customers!