|
In a downturn economy, replacing an old leaking roof with a cheap roofing material may be the best option for many homeowners.
There are a number of budget friendly roofing materials to consider, including asphalt shingles and metal roofing sheets.
To get started on your roof replacement project, contact your local pros for FREE ESTIMATES!
How Much Does A Cheap Roof Cost?
Most experts agree that asphalt shingles are the cheapest roofing material available today.
Within the category of asphalt shingles, the most affordable option is the three-tab shingle. Other shingle types, like designer or dimensional shingles, cost more and tend to be too expensive for those on a tight budget.
Three tab asphalt shingles typically cost of $3 per square foot, including materials and professional installation. On a roof spanning 1,500 square feet, you can expect to be charged $4,500.
You can use our Roofing Cost Calculator to estimate the cost of installing a new roof on your house.
Below is a list of other more expensive roofing options to consider, along with their average costs:
| Roof Type | Cost per Square Foot | Average Materials Cost for a 1,500-Square-Foot Roof |
| --- | --- | --- |
| Asphalt Shingles | $3 | $4,500 |
| Wood Shingles | $5 | $7,500 |
| Metal Roof | $8 | $12,000 |
| Slate | $15 | $22,500 |
| Solar Glass | $23 | $34,500 |
It's crucial to know how much a square of roofing costs. A square is equivalent to 100 square feet. Prices are either quoted in squares or square feet, and you should read carefully before proceeding.
Roofing Cost Breakdown
Most of the expenses for roof replacement or installation are divided between labor and material costs.
You can assume 40% of your money is for the roofing material itself, and the remaining 60% is used to pay the contractors installing the roof.
These professionals do more than place shingles, bringing decades of experience and even help when looking for structural damage.
Labor costs generally include removing old material, repairing any damage, and installing the new roofing. Each item has its own cost factors, and depending on the contractor and where you live, there may be additional costs.
Some locations require homeowners to apply for roofing permits.
Particular contractors might ask for a small deposit before work starts. This isn't a universal practice, just something to keep in mind.
Your location may affect the final price of a roof replacement or repair job. Some remote areas are more difficult to reach, and contractors can charge extra.
Well-to-do neighborhoods may also incur higher costs.
Typical Price Range To Install A New Roof
Average:
$4,190 - $6,740
Cheap Roofing Material #1: Asphalt Shingles
Asphalt shingles come in three main types:
Three-tab shingles
Dimensional shingles
Designer or Luxury shingles
Three-tab shingles have three tabs on each strip. These are the cheapest shingle option for your roof. While not as long-lasting as the best shingles available, you can expect them to last up to 25 years or more.
Dimensional, or architectural shingles are the mid-range selection in this type, usually having a pattern or design that is visually more attractive. These shingles may have special features such as energy efficiency, impact resistance, and more. They usually last up to 30 years or longer.
Designer shingles are the cream of the crop, sometimes reaching more than ten times the cost of three-tab shingles. They offer some of the prettiest patterns available while having top-tier durability. It's common to see them last for around half a century.
Here are their average costs per square foot:
Three-tab shingles: $1.40 per square foot
Dimensional shingles: $5.50 per square foot
Designer shingles: $12 per square foot
The total average costs can be calculated assuming a roof measures 1,500 square feet.
Three-tab shingles: $2,100
Dimensional shingles: $8,250
Designer shingles: $18,000
You'll be paying for materials plus labor costs.
In the case of asphalt shingles, the type you buy influences the final price significantly. Sticking with three-tab shingles tends to reduce the money spent, as designer shingles are expensive and may be more difficult to install.
Check out our extensive guide on the difference between Architectural vs 3-Tab Shingles.
Environment, structural damage, and other situations can affect the money you spend on asphalt shingles as well.
High-wind areas need sturdier roof shingles.
Did you know? The same shingles in one location can be more expensive in another. Some products are only found in select regions so may not be available at all depending on where you live.
Your Estimated Roofing Cost
Roof Price:
Cost per sq. ft.
Roof Size:
Roofing Material:

See costs in your area Start Here - Enter Your Zip Code
Pros And Cons Of Asphalt Shingles
Pros
Affordable
Readily available
Many styles
Cons
Lower home resale value
Cheapest options may not last for extended periods
Cheap Roofing Material #2: Wood Shingles
As the name suggests, wood shingles are made of wood instead of asphalt.
Wood shingles are different from wood shake shingles, which are hand-split on one or both sides.
A standard wood shingle is smooth and flat, pairing well with traditional houses due to their consistent colors and dimension. Wood grain is relatively uniform and allows roofs to achieve a tidy appearance.
Most wood shingles are made of cedar.
Cedar has several qualities that make it a prime choice for roofing, particularly its durability and texture. It's also more resistant to pests.
The average cost to install wood shingles on a roof measuring 1,500 square feet is $7,500. Each square foot costs $5.
You can find wood shingles made of these other woods as well.
With the exception of pine, most standard wood shingles can last for 30 years. Pine is known to only last for 20 years.
Wood Shingles Cost Breakdown
Wood shingles are more expensive than asphalt shingles because they're made from logs, which take years to grow.
Loggers must harvest the wood and send it to processing plants, where machines fashion them into planks and later shingles. Each of these steps adds to the cost of the finished product, so wood shingles tend to cost more than asphalt shingles.
Wood shingles can age under the sun, starting their tenures with a light wooden color. As the elements affect them, they develop a dark-brown hue or sometimes a silver-gray color.
Maintaining wood shingle roofs is pretty straightforward, as you can clean them with a power washer. Doing so gets rid of mildew, dirt, and other unwanted substances. Use some mild detergent to ensure the wood isn't infested with other organisms.
Installing wood shingles is slightly more complicated than asphalt shingles, as poor handling can damage them.
Only trained professionals and experienced individuals should install wood shingles.
Most People Spent:
$4,190 - $5,740
(For a 1600 sq. ft. Roof)
See costs in your area Start Here - Enter Your Zip Code
Pros And Cons Of Wood Shingles
Pros
Beautiful patterns
Perfect for traditional themes
UV resistance
Cons
Flammable
Susceptible to moisture damage
Cheap Roofing Material #3: Metal Roofs
Many homeowners are considering replacing their traditional shingle roofs with metal roofing. While these cost more to install initially, there are long-term benefits. On average, it costs $12,000 for a 1,500-square-foot metal roof.
Originally, metal roofs were reserved for barns and other structures, but their longevity is compelling for those who prefer lower maintenance and easy cleaning. Most metal roofs can last between three to five decades.
Metal reflects light away from the house, leading to higher energy efficiency. In warm areas, this translates to lower cooling costs that help save money over time.
Here are the most common metals used to construct roofs.
Aluminum
Corrugated metal
Copper
Steel
Tin
Zinc
The material you choose will affect the final price. The cheapest metal roofing materials are corrugated metal panels, aluminum, and galvanized steel.
Because metal hinders mold and moss growth, a simple power wash can remove most substances. Algae might stick to the surface, but that's something a little bit of detergent can handle.
Metal Roof Cost Breakdown
The price of a metal roof largely depends on the metal you choose. Copper is the most expensive choice, while steel is usually cheaper. Metals must be forged or machined to achieve the desired shape, and companies must source the ore from mines.
It takes specialized knowledge to install metal roofs, making DIY installations challenging.
The reason metal roofs cost more is easy to understand. It mostly boils down to obtaining and processing the raw ore.
x
Low End
Mid Range
High End
Materials
$5,425
$6,096
$8,047
Labor
$6,408
$7,200
$9,504
Cost / S.F.
$7.40
$8.31
$10.97
Total Cost
$11,833
$13,296
$17,551
See Costs Near You!
Start Here - Enter your zip
Pros And Cons Of Metal Roofs
Pros
Easy to maintain
Reflects sunlight
Eco-friendly
Cons
More expensive up front
Not the prettiest roof
Requires professional installation and repairs
What Is The Least Expensive Roofing Material?
Though most would call asphalt shingles the least expensive roofing material, there's another even cheaper option. Rolled roofing is exceptionally affordable, and you can even find it sold for under a dollar per square foot.
These rolls are made of oil-based asphalt surfaced with minerals for hardness. There are three main varieties.
Mineral finish roll roofing
Smooth finish sheets
Saturated felt roofing
It may be fast and convenient, but rolled roofing doesn't win any aesthetic points and only lasts for eight years at most.
Most homeowners use rolled roofing for garages and sheds.
What Is The Cheapest Way To Do A Roof?
While you can save money on cheap materials like three-tab shingles, roof complexity and shape can still increase the costs. It's generally accepted that gable-style roofs covered with three-tab asphalt shingles are among the most affordable residential roofs.
The rolled roofing mentioned above is cheaper, but many homeowners won't use it as it doesn't last for even a decade. Rolled roofing is rather plain and doesn't make a house look good.
While there are cheaper roofing materials, you might risk having poor protection. Always look for the option that is affordable while still keeping the elements out and the interior safe.
What Is Cheaper, Tin Or Shingles?
Shingle roofs are cheaper than metal roofs.
The tin panels already cost more than shingles, and you'll pay extra because metal roofs require more installation skills.
Tin roofing ranks somewhere in the middle of the various metals in price, as it's more expensive than steel but cheaper than zinc or copper.
Not every roofer has experience installing a tin roof. While metal roofs are resilient, they have to be installed correctly.
Typical Price Range To Install a Metal Roof
Average:
$9,150 - $14,310
What Is the Most Common And Affordable Roofing Type?
Asphalt shingles take first place when it comes to availability and affordability. Every licensed roofer must know how to install a shingle roof, and many houses in the U.S. already have them. It's more out of the ordinary to see a non-shingle roof.
Shingle roofs are cheaper to repair than other types, as it's easy to cut them to size. That's why many households prefer getting a shingle roof.
The Risks Of Trying To Get The Cheapest Roof Replacement Possible
Paying less for a roof replacement can be risky because you get what you pay for.
Some contractors cut corners and leave vulnerabilities unrepaired after completing the job. You might end up paying more in the future for repair costs.
Issues may not appear immediately, as the damage takes time to reveal itself. However, it tends to do so at the worst times.
Cheap roofs may not have a warranty you can rely on.
Some of them only have a "tail light" warranty, which means the coverage is gone once the contractor's tail lights disappear. Those who are more generous might offer a warranty lasting several years.
Some people spend more on materials but skimp on installation costs. While the roof might be okay initially, it may not reach its entire lifespan due to poor installation.
Hiring contractors that offer the lowest price isn't the best idea. It's better to spend extra on reputable professionals that know what they're doing.
What Is The Most Cost-Effective Roof?
Even though rolled roofing is the absolute cheapest roofing material, the best affordable material is asphalt shingles. They're ubiquitous, and every professional knows how to install them.
Though you can splurge on some designer shingles, it's better to go for three-tab or dimensional ones when considering keeping costs low.
Most People Spent:
$4,190 - $5,740
(For a 1600 sq. ft. Roof)
See costs in your area Start Here - Enter Your Zip Code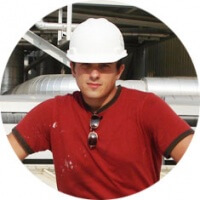 Author: Leo B
For over 20 years Leo has run a successful roofing business in New England, specializing in metal roofing, as well as cool flat roofing technologies. Having replaced and installed hundreds of roofs in New England, Leo has first hand experience with pretty much every residential roofing material and roofing manufacturer available in the US.