|
Currently, the average cost to install a TPO membrane is $5.5-6 per sq. ft. Out of all flat roofing materials, TPO roofing is considered to be one of the longest lasting and durable options.
Your total TPO roof installation cost will depend on a number of factors, such as: roof size and complexity, membrane thickness, insulation quality, and labor charges.
Use the calculator below to quickly estimate your TPO membrane roof cost.
How Much Does A TPO Roof Cost?
Prices
Low End
Mid Range
High End
Materials
$3327
$3914
$4971
Total Cost
$8619
$10140
$12878
See Costs in Your Area!
Start Here - Enter your zip
For a decent quality TPO membrane, pricing starts at $5.50-6.00 per square foot installed, without tear-off. If you have a 1,500 sq. ft. roof, you total installation cost for TPO roofing will be $8,500-9,000.
On the low end, TPO roofing prices start at $3.50-4.00 per square foot (materials and installation), but that is for very large commercial projects.
To estimate how many square feet there are, simply measure the perimeter of your house. If you have a pitched roof, there are a number of ways you can measure pitch to determine the total square footage.
Cost-effectiveness is one of the primary reasons for the growing popularity of TPO roofing.
TPO offers similar properties, but better pricing than its direct competitor, PVC roofing, and mitigates all the shortcomings of the cheaper, but leak-prone EPDM rubber roofing.
You can use our Flat Roof Cost Calculator to quickly estimate how much it will cost to install most popular flat roofing materials: TPO, PVC, PDM Rubber, Modified Bitumen.
TPO Roofing Cost Breakdown: Membrane, Accessories & Insulation
Most People Spent:
$7,655 - $9,104
(For a 1600 sq. ft. Roof)
See costs in your area Start Here - Enter Your Zip Code
We surveyed several commercial suppliers in the Boston MA area, and have gathered several "retail" and "discounted" rates for material sizes of 45 mil (.045″ thickness) and 60 mil (.060″ thickness), as well as insulation, bonding adhesive, drip edge, penetration flashings, screws, plates and PolyISO insulation, to make up a complete system.
Keep in mind, that the cost of the TPO membrane alone does not properly represent your total roof installation cost.
For example – 1″ thickness insulation alone is MORE expensive than the membrane itself. And on top, you have many other components that go along with the system.
Here we will provide price quotes form Harvey Building Products (supplier in the North East). While others also sell different TPO roofing material brands, prices are fairly similar across the board.
By speaking with a "decision maker" you can usually at least 10% off retail rate for small to medium size job, and 15-20% or more off large jobs (10,000 square feet and up).
For very large commercial jobs, like a Big Box store, discounts can go up to 30+ percent off retail. It's all about how you negotiate.
1st Quote – Retail Pricing for GenFlex TPO roof membrane 45/60 mil, & RPI 60 mil membrane + all accessories and insulation:
Retail means no discounts were applied. To get discounts, pros can contact their outside sales rep, or negotiate with a store manager. I did the latter. Negotiated rates will be below the retail rates.
On average, you can get 10% off street pricing. Negotiated rates will be for GenFlex only, as it's the cheaper of the two (GenFlex is about 6.7% less than RPI).
The quote above was received on October 23, 2022. It is for a 16 square roof (20 squares of material to cover waste, overlaps, etc) in Sharon, MA – all needed accessories and materials are included.
Typical Price Range To Install new Flat Roof
Average:
$6,980 - $9,720
TPO Membrane Prices
| Material | Unit Cost | Cost per Square Foot |
| --- | --- | --- |
| RPI 60 mil (10′ x 50′) | $335.30 | $0.67 |
| GenFlex 60 mil (10′ x 100′) | $625 | $0.625 |
| GenFlex 45 mil (10′ x 100′) | $500 | $0.50 |
Costs of POLY ISO Insulation
You cannot (or rather should not) install a flat roof without insulation. In most cases, insulation is more expensive per square foot than the surface material itself!
Also, most new construction and full tear-off jobs are required and should include a minimum of 3″ insulation (usually 20R which is actually 3.3″)
| Insulation Thickness | Cost per 4×8′ board | Cost per Square Foot |
| --- | --- | --- |
| 1″ ISO | $15.80 | $0.49375 |
| 2″ ISO | $24.35 | $0.761 |
| 3″ ISO | $36.48 | $1.14 |
Top TPO Roofing Material Manufacturers
Most People Spent:
$7,655 - $9,104
(For a 1600 sq. ft. Roof)
See costs in your area Start Here - Enter Your Zip Code
Because of the growing popularity and demand for TPO roofs, more manufacturers are producing their own lines.
Keep in mind that this is a fairly new product that has had documented issues with its membrane formulation in the past.
Consequently, it is best to buy from a reputable manufacturer, who has been producing TPO for at least 15 years.
1.Carlisle TPO Roofing: Carlisle offers white and tan Sure-Weld TPO membranes in various thicknesses and profiles. The Contour Rib profile replicates the look of standing seam metal. Energy Star® certified TPO membrane products are also available. Carlisle roofs are sold only to approved contractors.
2.GAF Roofing:GAF makes high quality EverGuard TPO membranes of various thicknesses.
3.Flex TPO Roofing: Flex manufactures 9 different products in various thicknesses.
4.Versico TPO: Versico produces VersiWeld membranes of various thicknesses, all of which are ENERGY STAR® qualified and CRRC rated.
You should know that Versico is a branch of Carlisle Syntec company, and the material is actually the same (as in produced in same Carlisle factories). However, warranties differ, and while Versico is sold through distribution, same as Carlisle products, they do not require contractors to be approved.
5.GenFlex TPO: GenFlex formerly an independent manufacturer, was bought up by Firestone a few years back. Produces / sells both EPDM and TPO, as well as accessories. They used to make PVC as well.
Typical Price Range To Install new Flat Roof
Average:
$6,980 - $9,720
Factors That Impact Your TPO Roof Replacement Cost
Here are the main factors that usually lead to an overall increase in the final cost for installing a TPO roofing membrane.
Sometimes, its necessary to pay more and ensure that you get the best quality materials and workmanship.
However, at other times, extra spending may be unnecessary and can be avoided, if you know this information ahead of time.
1. Insulation thickness
Most contractors will use a 0.5 inch fiber board as their default insulation. Fiber board has very little insulating value. If you want to have actual flat roof insulation, it will cost you a pretty penny.
1 inch (6 R value) thickness of PolyISO Rigid Foam insulation costs $45-50 per 100 sq. ft. So if you need 18 R value, you will need 3 inches of ISO, which comes out to $135-150 per 100 sq. ft. Unfortunately, there is no way you can reduce this cost, because the ISO board itself is very expensive.
2. Number of penetrations and curbs
Each roof penetration requires additional materials/flashing and slows down installation. Therefore, the contractor needs to make up for the lost productivity and additional cost of materials.
So a typical chimney/skylight/roof hatch or other square/rectangular curb will run $250-500, depending on size and complexity.
Simple pipe flashings are easier to deal with and less expensive. Expect to pay about $50 per pipe flashing.
Drains, which are required on many flat roofs, will cost you about $180-250, because they call for a very expensive assembly.
3. Removal of old roofing material
Before you install the new TPO membrane, you will need to remove the old roofing material. Depending on the type and number of layers of the old material, you will pay between $0.75-3.00 per sq. ft. to remove it.
The most expensive types to remove are tar and gravel, BUR, and river rock balast. The cheapest to remove is rubber.
4. Replacement of damaged plywood
It may turn out that there are some damaged or rotten plywood boards underneath the old membrane. They would need to be replaced before installing a new roof. Expect to spend $75-90 for each 4×8 sheet of plywood.
5. TPO membrane thickness and color
Your total cost will greatly vary depending on the TPO membrane thickness you select. The following thicknesses are available: 45 in. (budget), 60 (mid-range), 80 (premium).
A thicker, more expensive TPO roofing material offers improved puncture resistance, increased longevity and improved resistance to the harmful UV rays.
In terms of colors, any color other than white will cost more. Also, the options are rather limited. Common colors that don't have an extra charge are: white, tan and grey.
6. Higher labor charges
Another reason for the high cost of TPO roofing is that it is a specialty flat roofing material. As such, it requires particular tools, installation training and experience.
As a result, there are a lot fewer contractors who can do this work, keeping installation prices high. This is especially true in the residential market, as most installs are commercial. Therefore, the ones that do, typically charge more than regular roofers.
Also, commercial pros often hire union or highly paid none-union LEGAL workers. However, residential contractors will often hire undocumented workers to keep costs down.
7. Your geographic location
Regional contractor labor rates can vary greatly.
If you live in a high income area, such as San Francisco or New York City, you can expect to pay more for the same exact installation, than someone who lives in a small town in Texas or Alabama.
Thus, don't be surprised if you get a much higher estimate from a local TPO roofing contractor compared to the quotes you see online.
Typical Price Range To Install new Flat Roof
Average:
$6,980 - $9,720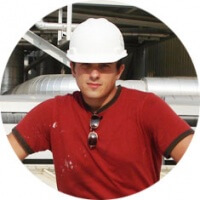 Author: Leo B
For over 20 years Leo has run a successful roofing business in New England, specializing in metal roofing, as well as cool flat roofing technologies. Having replaced and installed hundreds of roofs in New England, Leo has first hand experience with pretty much every residential roofing material and roofing manufacturer available in the US.