Often, a homeowner who has a difficult time dealing with contractors, may get a very unreasonable price estimate for roof replacement or repair.
Single moms, elderly, divorced women and widows are especially vulnerable to these predatory roofer scams.
Many pros (like car mechanics) find that most people know very little about the technical aspects of roofing and therefore can be easily fooled.
This lack of understanding opens the door to charging much higher than usual labor and material prices. Unfortunately, many contractors see this as an easy way to make money, and often take advantage of clients.
Example: We had a client (single woman) who got a quote from Olyn Roofing (big residential roofing company in Boston area) for 60-80% higher than the average in Massachusetts. It was about $700 per square for laminated asphalt shingles, while the average roofing cost for this around Boston is $400-450 per square. Her roof was about 18 squares, so if she went with Olyn, she would overpay at least $4,500!
Here is what you can do to protect yourself and hire a contractor that will give you a fair price and a quality job.
x
Low End
Mid Range
High End
Materials
$1879
$2042
$2593
Cost / S.F.
$3.05
$3.31
$4.2
Total Cost
$4598
$4998
$6348
See Costs in Your Area!
Start Here - Enter your zip
Online tools to research accurate roof replacement cost
If you want to get a reasonable price quote for your new roof install or repair, you need to do some research, before asking local contractors to come in and give you an estimate. There are a number of reputable online tools and resources that will tell you up to date roofing prices in your area.
Once you have this information, you will be more prepared to speak with contractors, because you will instantly know if they are giving you a completely bogus price.
Here are the ones we recommend:
1) Roofing Calculator: our online calculator will give you an accurate roofing cost estimate in your area. You can input your house information and the material you want to use to get an instant quote. You will see three price tiers: budget, average and high-end. This is what a local roofer should be charging you. The margin of error is very low, about 3%. The tool uses the latest pricing data from real roofing companies across the US to calculate local costs.
2) Talk.Roofing.com: this is a very helpful site for homeowners to ask questions and receive advice from professional roofers. You can ask what would be a reasonable price for a roof installation in your area (specify dimensions and material you want to use). Alternatively, you can get a few quotes from local pros and then ask on the forum if these prices are reasonable. Either way, you will be getting unbiased advice from knowledgeable people, who are not trying to solicit your business.
3) DIYchatroom.com: this is another very useful forum and community of people who do a variety of construction projects on their own. There is great information on how to hire a roofer, which materials are best, insurance issues, etc. You can also ask your own question about prices and get solid advice.
We strongly advice against using such services as HomeAdvisor.com, Fixr.com, Improve.net to get an accurate estimate. These and other similar websites put out pricing information just to get you to fill out a lead form, because they make money on generating leads. They lure many homeowners to fill out the estimate form by purposely quoting very low roofing prices, as well as all other construction and remodeling projects. They can be as much as 30% lower than what a real local contractor will quote you. So, if you rely on information from these sites, you will be in for an unpleasant surprise.
Where to find a good roofing contractor?
Once you have done your research, you are ready to call contractors. At this point, many homeowners get stumped, because they are not sure where to look for a reputable local roofer. If you can't get personal recommendations from friends or neighbors, there are a couple of things you can try:
1. Search online for a "free roofing estimate". You can fill one out on one of the many lead generation sites that will pop up right on the first page. Within 24 hours, local pros will contact you. There is no obligation to hire anyone, once they give you their price for the job.
2. Use the Better Business Bureau to find businesses in your area who have good ratings.
3. Search in the database of the National Roofing Contractors Association. Put in your zip code, the type of roof you need, and get local roofers' contact information.
4. Go to a specific manufacturer's website and find certified installers in your area. CertainTeed has ShingleMaster and Select ShingleMaster Contractor Certification. GAF has Master Elite Certification. Owens Corning has Preferred Contractor and Platinum Preferred Contractor Certifications. These certified roofers usually install the roofs by the book, and their work typically comes with extended labor and material warranties from the manufacturer.
Keep in mind that many BBB A+ ratings are simply bought with an annual membership, so you can't rely solely on BBB.

Moreover, Angie's list, which used to be a reliable source for unbiased reviews, has been acquired by Home Advisor, and became another big lead generation site. This means that while you can request a roofer through them, you should not necessarily rely on their ratings.
Questions to ask a roofer during the initial phone call
Some homeowners get nervous and run into trouble when local pros start calling, because they don't know what questions to ask a roofer to figure out if he should come in for a full estimate.
Here are 4 essential roofing questions to ask:
1. How many years have you been in business?
2. Do you have a license (write down the number they give you)
3. Do you have insurance?
4. Can you provide 3 references of recently completed local jobs?
If a company does not have a license or insurance, don't bother asking them to come in. These types of companies are not invested into doing good work. Typically, they go out of business very fast, and can't be found if something goes wrong. While they may lure you in with a very low price, its best to avoid them, if you actually want a quality job that will last.
It is best to request estimates from a company that has been in business for a long time, over 5 years. However, small companies that are just starting out can also be a good fit, provided they can give you 3-5 references of recent completed jobs.
A new company does not mean bad quality. A small, owner operated roofing business that is only a few years old may be willing to give you a better price than a more established one. Owner operated small companies often do a better job than larger established companies that hire subcontractors. If they don't have 3 references, they should at least give you 1 or 2.
Roof inspection checklist
When a contractor comes in to take a look at your roof, here are the questions you need to ask:
1. Provide an itemized estimate of how much everything costs
After he takes a look at your roof and gives you a verbal estimate, request for him to send you an itemized scope of work. All materials should be included, as well as estimated labor hours, start and completion dates, and the rate for labor. Also, make sure that roof tear off and removal of the old material are included, as this can end up being $1,000-3,000 extra.
When you have an itemized price list, you can compare it to the prices online and ask more specific questions in the forums listed above. Never agree to an overall figure, no matter how low it is! All to often, a roofer will give a price (often low to get your business) and then once he starts working, "things will come up".
New materials will all of a sudden need to be purchased, new problems with the roof will be "discovered", more labor hours will be added. Before you know, the original price you were given, will double or even triple! Unfortunately, at that point, you will most likely not be able to back out, as you will be in a middle of a roof replacement ordeal.
Another very important reason to have an itemized price list is in case you will need to take the roofer to court. If he doesn't deliver what has been listed, or if the price becomes higher, you will have tangible evidence to prove your case. This will be your best bet to get the money you deserve.
2. Discuss add-ons policy
The reality is that sometimes things do come up during a repair or replacement, that will require extra materials, and labor. Typically, if a roofer spends a proper amount of time on the estimate and assesses everything carefully, these add-ons should be minimal or none-existent at all. So before you sign the contract, ask him about add-on policy. Take a look at what is written in the contract, and don't just trust what he will tell you verbally.
If something comes up during the job, he will need to produce a "change order form", where all new items and labor hours will be documented. Its very important to have this paper trail for your records.
3. Avoid cash deals
You may have a roofing contractor offer you a discount, if you pay cash. We recommend staying away from this deal, because companies that operate like this (even though they may have a license) typically don't do high quality work and have overall poor business ethics. Requesting cash should a red flag for you, as it may mean one, or all of the following things:
-he isn't going to be paying taxes
-he owes someone money, needs to pay in cash and therefore needs to hide these earnings
-he pays his workers cash, so he can avoid buyer proper insurance for them
-he doesn't want a paper trail when an unhappy client tries to track him down for poor quality work
However, keep in mind that if a roofer does not ask for cash, but you offer it, to try to lower the price, and he agrees, that is NOT a red flag. Don't we all try to pay less taxes:)
4. Ask for details of the job
Often, a roofer will just try to get away with a quick general overview of the scope of work, without getting into the details. This is an easy way to then try to add-on things that will cost extra, or avoid doing all the work properly. This happens often when a woman client is involved, because many roofers assume that a woman knows nothing about roofing, and just cares about what the roof will look like.
So, make sure to educate yourself first, and then ask for a lot of technical details. Even if you will not understand everything, he will see that you cannot be easily fooled. We recommend hiring someone who communicates very clearly, and willingly provides a lot of details about the materials, and everything he plans to do.
5. Inquire about labor warranty
We strongly recommend hiring a company that offers their own labor warranty. This shows that they do quality work and are willing to stand by it. Carefully read what it covers. Some companies are certified by a specific roofing manufacturer, like CertainTeed or GAF, to install their product. This means that the company will cover their labor in some cases. However, labor warranties from big manufacturers are often very complex and end up not covering most cases. Thus, while its good to have, its still best to hire a company with their own labor warranty.
6. Watch for the attic inspection
An experienced contractor will want to do a very thorough inspection to make sure he doesn't miss anything and will not need to add anything on later. This includes an inspection of the attic, if there is access available. Inspecting the attic lets the roofer asses any damage or rotting to the roof deck itself, which will impact the total price. It should be a red flag if the roofer just goes up on the roof for a few minutes and doesn't come inside the house.
Another red flag is if the estimator does not go up on the roof at all. This shows that this person is simply a sales man. He will not thoroughly assess your roof and will not discover all items that require attention. This means that down the road you will have extra charges added on, because the sales man missed it during the estimate.
7. Get a lien release
Doing this will protect you from a contractor who owes a supplier for roofing materials and other supplies after you have already paid him. Essentially, if a roofer has your money, but hasn't paid for the supplies, you will be liable for everything that has not been paid for.
8. Don't wait until last minute
One of the best ways to ensure that you find a reputable company and the best price is to get a head start. Don't wait until your roofing damage is so bad, that you need immediate assistance and will hire just anyone. If you notice problems, start calling a few companies to get an assessment and a repair.
If you need to replace a roof, make a time line and start the process early, so you are not under tremendous pressure. A roofer will easily see if your roof is in dire condition and needs to be repaired or replaced immediately. Then he will be a lot more likely to jack up the price and take advantage of the situation.
Avoid storm chasers
If you live in a densely populated area that has been hit by a heavy hurricane or hail damage, there are a lot of roofs in need of replacement or repair right away. This means roofing companies are extremely busy, which provides prime opportunity for storm-chasers to play some nasty roofing scams on vulnerable homeowners.
These guys will offer you a low ball price and take off with your money without doing any repairs, or doing a very bad job. If you are in a situation where your roof has been badly damaged, you should still follow the best practices outlined in this guide to hire a professional, licensed roofer. It is best to hire a local company that is in your town or the next town over. Definitely stay away from out-of-state roofers, because you will not be able to find them if something goes wrong.
If you have insurance roof replacement questions, its best to spend a few hundred dollars extra to hire a public adjuster (PA). Between the roofer and the insurance company, the PA will be the only person who will be truly looking out for your best interests.
What should you do in a high-pressure sales situation?
Very often a homeowner may end up in a situation where the roofer or the sales person representing the company will use very aggressive techniques to get them to sign the contract on the spot. If he sees a woman, or especially an elderly woman, he may exert even more pressure. Some even offer incentives, such as a discount on the job, for signing the contract and not looking for other bids.
If someone employs these sales techniques, it does not necessarily mean that he is a scammer, or that he will do a poor job on your roof. Often, the reason he wants you to sign right away is that he knows that once he walks out the door, the chances of getting your business are significantly smaller. Many companies also don't want to spend the time and effort to follow up with you after the initial estimate.
However, we strongly recommend waiting on signing the contract, and telling the roofer/sales person that you will need to think about this. There are a number of reasons to do this:
1. Ideally you should call the roofer's references to find out if they do good work. Its a really important step in the process, to make sure you will be getting a quality job.
2. You may end up getting a better price from another contractor, if you spend some more time getting additional roof quotes.
At the same time, its understandable that doing all the leg work to get multiple bids, call references, do research online is a time consuming and exhausting task. Many people don't have the time or energy for it, and don't have anyone to help them out. This is the reason why numerous homeowners do sign the contract right away, just to get it over with.
If you are in a position where you would prefer to sign immediately, still make sure of the following:
1. Roofer should be licensed and insured. He should provide this information.

2. He should provide an itemized scope of work right then and there. Never sign a contract without it!

3. He should spend a significant amount of time with you, and explain everything, so that you feel this is a competent and trustworthy professional.

4. Still ask for references, even if you don't plan to call them.
If this person refuses to provide any of the above, its best to tell him to walk away. If you don't have the energy to search for and vet a contractor, you will certainly not have the energy to chase after a company that will take your money and do a very bad job.
How to hire a roofer – take away points
As a homeowner, you may likely get a roof quote that is significantly higher than the fair market price in your area. Measure your roof accurately, so you know the exact square footage and use that information to estimate a reasonable replacement cost.
Even if you go for a high-end price, make sure that the contractor is a manufacturer certified installer with all the proper licensing and insurance, and does not employ sub contractors.
Strongly insist on the company owner being present on the job site, to at least inspect the work of his roofers.
Lastly, request before, during and after pictures of important details, such as skylight and chimney flashings on all four sides, valleys and side walls (if you have dormers), ridge vent., etc. You can later use these images to verify on Roofing.com or other forums whether the contractor did a good job, before releasing final payment.
Your Estimated Roofing Cost
Roof Price:
Cost per sq. ft.
Roof Size:
Roofing Material:

See costs in your area Start Here - Enter Your Zip Code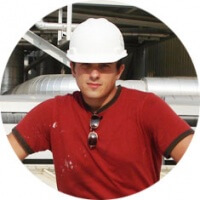 This roofing guide is presented by Leo B.

I've been a roofer for 15 years, and specialize in Metal Roofing and Flat Roofing.

Have a roofing question or issue? Ask me any roofing question!

Roofing Contractors - join our free Local Roofers directory to get more customers!