While a flat roof is not designed to be a water shedding system, because it has a low pitch, flat roofing can still protect your home from leaks and severe weather.
Today, there is a wide range of cutting edge flat roof systems that offer distinct pros and cons, longevity, and of course, price.
To get started on installing a flat roof, contact your local roofing pros for FREE ESTIMATES!
What Is A Flat Roof?
A classic flat roof is either almost completely level or has a very slight pitch of 3 in 12 inches or less.
Most flat roofs are typically not as long lasting or durable as sloped ones, because the latter shed snow and rain a lot quicker.
However, over the last few decades new and advanced flat roofing materials have been developed. They are highly durable, energy efficient and can compete with traditional roofs on longevity.
How Much Does A Flat Roof Cost?
When it comes to cost, a flat roof is cheaper than the majority of sloped roof materials, with the exception of composite shingles.
Here are estimated costs per square foot for the most popular flat roofing materials.
| Flat Roof Material | Cost per sq.ft. | Installed cost per sq.ft. | Lifespan |
| --- | --- | --- | --- |
| EPDM rubber membrane | $1.50 | $5.50-6.50 | 10-15 years |
| TPO membrane | $1.70 | $6-7 | 20-30 years |
| PVC membrane | $1.90 | $6.5-7.5 | 30-50 years |
| Modified Bitumen | $1.30-2.20 | $5.5-6.50 | 12-20 years |
| Rolled asphalt | $1.30-2.20 | $5.5-6.50 | 8-12 years |
| Spray foam | $1.65-2.25 | $4.5-7 | 20-40 years |
You can use our Flat Roof Calculator to estimate the cost of installing a flat roof on your house.
Flat Roof Types
Here are three general types of flat roof systems you can install:
1. Single – Ply roofing membrane
2. Built-up roofing
3. Spray-on/paint-on roofing
Popular Flat Roof Materials
Lets take a close look at the most popular flat roof materials within the category of single-ply roofing membranes. These membranes are the most frequently installed on commercial and residential properties across the US.
EPDM rubber roof
Most existing commercial and residential flat roofs are covered with an EPDM rubber membrane. Rubber roofing is the cheapest membrane roof.
The average rubber roof cost is $1.5 per square foot. This is why EPDM rubber membranes continue to be the most popular cover for a flat roof among businesses and homeowners.
Moreover, ease of installation further contributes to such a large volume of installs. If you are looking to do a quick re-roof before selling your home, or replacing a roof on a rental property, a rubber roof is a good option to consider.
Overall, you can expect a rubber roof to last 10-15 years. However, it is highly likely that it will leak and require repairs multiple times throughout its service life.
Rubber roofs are known to be the least durable in areas that have severe temperature fluctuations throughout the year.
Drops and increases in temperature cause issues with the glue that attaches the rubber membrane to the roof deck and also cause the membrane to expand and contract.
All these factors weaken the EPDM membrane, particularly at the seams and penetrations, creating tears and allowing water to seep in.
PRO TIP: If your current roof is EPDM rubber, consider repairing it – either yourself or by hiring a contractor specializing in flat roofs.

Most rubber roofs can be fixed for a fraction of new replacement cost, and service life can be extended by 3-7 years!
TPO roofing
In the last decade, TPO roofing has started to gain major recognition. This single ply membrane offers good value. It provides better quality and durability than EPDM rubber, but cheaper pricing than a premium material, such as PVC.
You can expect to pay around $1.79 – $2.25 per square foot of TPO material, when you include all required accessories. Many higher-end residential new construction projects or re-roofs now specify a TPO membrane.
Essentially TPO roofing technology is very similar to PVC. The membrane also has hot air welded seams and can be mechanically attached to the roof deck, all of which helps to prevent leaks and greatly improves durability.
Similar to PVC roofing, TPO is also considered a green roof, as the membrane reflects solar heat and saves energy.
However, the main difference between PVC and TPO is in the chemical composition of the material. PVC roofs are designed to be able to withstand temperature fluctuations, rain, snow, etc.
On the other hand, TPO roofs have a different chemical composition which makes the membrane overall less durable and more susceptible to inclement weather.
The cheaper chemical composition makes the cost of the TPO membrane cheaper to the consumer, but on the downside the roof is overall less reliable than a PVC membrane.
Before you settle on installing a TPO membrane, check out our extensive guide on TPO roofing problems.
Prices
Low End
Mid Range
High End
Materials
$3327
$3914
$4971
Total Cost
$8619
$10140
$12878
See Costs in Your Area!
Start Here - Enter your zip
PVC Roofing
In my experience, IB PVC is the most reliable thermoplastic material. I've been installing it for over 12 years, and while I have tried a number of other products,
I still always go back to IB. While it is more expensive, about $1.90 per square foot, you get superior durability, longevity and leak-free performance, compared to all other materials.
A properly installed PVC roof can easily last 30-45 years, which is by far the longest service life among all flat roofing materials.
Moreover, once installed, a PVC roof will require very little maintenance and almost no repairs (unless some major accident happens that will tear the membrane).
Experienced roofers, builders and architects know that PVC roofing is top of the line and is the most durable flat roof material. A properly installed PVC membrane features a breaking point of 300 pounds per inch (the industry standard is 200 lb).
Moreover, white color membranes are highly energy efficient and reflect sun light. Many homeowners can save up to 30% of their energy costs.
PVC roofing is therefore often used in luxury residential and commercial building projects. If you are planning to stay in your home for at least another 5 years, and don't want to deal with roof leaks and repairs, a PVC membrane is the best option.
A PVC membrane is installed with hot air welded seams, which prevents leaks. And it turns out the welded seams are stronger than the membrane itself. Most commercial and residential PVC membranes are mechanically attached to the roof deck.
Here is an example of a PVC roof installation on a residential home:
Flat Roofing Installation Methods
Single ply roofing is either fully adhered or mechanically attached.
The fully adhered method consists of gluing the membrane directly to insulation, or to the substrate.
The mechanically attached method consists of fastening each row of membrane to the roof deck with screws and barbed plates. Fasteners are typically spaced 12 inches O.C.
The most common problem with the fully adhered installation (typically EPDM rubber) is that the seams are poorly glued, there are bubbles in the membrane, and leaks inevitably result.
Torching is used in the installation of Modified Bitumen, and therefore can be a fire hazard to your home or commercial property.
Today, EPDM is the most commonly installed single-ply membrane both for residential and commercial applications. It is so popular because no special equipment is needed to complete the install.
We strongly recommend that you find a contractor who specializes in single ply roofing to ensure that there will be no leaks after installation.
Many customers make the mistake of hiring contractors specializing in sloped roofing (asphalt shingles), who have little to no experience in this field.
It is best to do a full tear-off before proceeding with the installation, to eliminate any moisture and replace any rotted substrate.
How Long Does A Flat Roof Last?
The visual above displays the most common signs you would notice when your roof starts to get really old. These include:
– Thinning and blistering
– Cracking
– Contractions or pulling
– Flaking
– Slice marks
– Grease and dirt built-up that can no longer be removed
PVC is considered to be the longest lasting. Because of heat-welded seams, it remains flexible throughout its lifetime and can also withstand thermal movement.
A PVC roof can last well over 30 years. Manufactures offer a 25 year warranty for commercial installations and some offer LIFETIME warranty for residential (IB, Flex, Fibertite).
EPDM roofing lasts only about 10-15 years. Even though manufacturers offer warranties that are up to 40 years for commercial roofing (none for residential), its important to be aware that these warranties do not cover failing seams or ponding water. Both of these are the primary causes of failure for a rubber membrane.
Longevity of TPO roofing varies greatly due to issues with membrane's formulation. Currently, they range from 7-20 years. Manufacturer warranty is up to 20 years for commercial TPO installs and none for residential.
Keep in mind that warranties offered on different types of single ply membranes vary greatly depending on thickness, size, method of installation, and environmental conditions. Thus, you should carefully read and compare warranties for different materials you are considering.
Tar & Gravel as well as Modified Bitumen roofs last about 10-20 years, but are very costly to remove at the end of their service lives.
How long they last greatly depends of the installer, because today there are very few roofers who actually know how to work with this material.
If you have one of these roofs and it needs repair, it is best to call on a pro who has experience with it; someone who does single membranes will not do a very good job.
Flat Roof Maintenance and Repair
A typical flat roof repair costs at least $350 – 400 and involves locating sources of leaks and patching the seams or holes.
However, depending on the severity of the damage, and the type of material installed, repairing a flat roof can cost as much as $600-800+.
PVC membranes are easy to maintain and repair. Their heat-welded seams remain weldable throughout their service life, which makes any repair, maintenance or modifications to install new equipment fast and simple.
A typical repair of a heat – welded membrane, such as TPO or PVC consists of welding a patch on the membrane over the hole that has been discovered as the source of a leak, or re-welding a void in the seam.
If no leaks occur, its still recommended to re-seam (apply 6 inch cover tape over all seams) an EPDM rubber every 7-10 years, when adhesive starts to naturally fail. Repairs are done using EPDM peel & stick flashing + EPDM primer (recommended method) or using older black glue. Penetrations are repaired using uncured flashing that can be stretched to form around angled surfaces.
Built-up roofs are very difficult and expensive to fix, or even to find the source of the leak.
You can fix a rubber roof yourself by using this rubber roof repair kit.
How Often Does A Flat Roof Need To Be Replaced?
The answer to this question ultimately depends on what kind of a flat roof you have. Different materials have various life spans. Here is what you can expect:
EPDM Rubber – contrary to the recent flood of information on line, saying that EPDM lasts 50 years, its simply NOT TRUE! Based on my experience in this field for the past 15 years, rubber is the least durable membrane, that last 10-12 years, at best. This is under perfect conditions.
TPO – you can get a good 15-20 years out of a quality product.
PVC – this is the longest lasting single ply membrane, with service life of 25-35 years, or more.
Modified Bitumen – this is another short lived material, with life expectancy of about 10-15 years.
Rolled Asphalt – it is almost never installed today, and for good reason. It only lasts 5-7 years.
Therefore, depending on what you have and how many years passed since it has been installed, you have a pretty accurate sense of when it will be time to replace it.
Its important to realize that many of these materials fail completely and require replacement long before these projected average life spans. This usually happens as a result of sub-par installation, or if the house is located in a particularly harsh climate.
Importance of Flat Roof Insulation
If you are planning to install a flat roof, it is very important to put in high-quality insulation, with appropriate R-value.
Without it, you will be wasting a lot of money on heating and cooling costs. You will also experience severe temperature fluctuations inside your house.
The best product out there is Polyiso rigid foam. It is also the most expensive; $55 per 100 sq.ft. for 1 inch of insulation, which has a 6 R value. It is available in various thicknesses, at 1 inch increments.
We recommend you consult with your contractor to figure out what type of insulation will work best for your home, and how much of it you will need.
Pro Tip: It is not a good idea to save money on insulation. It will only result in decreased service life of your roof, poor energy efficiency, as well as uncomfortable temperatures inside your home. Most likely, you will end up spending more money to fix insulation problems, which could have been avoided from the beginning.
Should You Do A Flat Roof Inspection?
To determine whether its best to do hire a pro to fix your leaking roof or install a new membrane ask a professional contractor to conduct an inspection.
Make sure that you hire a pro because a general contractor or a residential shingles guy will not know all the nitty-gritty details and complexities of flat roof materials. Therefore, he may give you wrong advice that will cost more money and time to fix down the line.
During the inspection, your contractor should conduct a very thoroughly examination, including:
– Seams

– Flashings

– Attachment points

– Check for cracks at joints and corners, around chimneys and ventilation slits.

– Assess any damage: deterioration, punctures, aging, leakage, ponding water, etc
It is very important that he does a test-cut (cut through the material to see what is under the top layer). Very often, there is mold and rotted sheathing underneath, that is no visible on the surface.
Flat Roof Maintenance
Whether you have just replaced or repaired your flat roof, regular maintenance is the key to its longevity.
Even the best, most expensive products will not achieve optimal performance without proper care. It only takes a few easy steps:
As a rule of thumb, do maintenance once a year. You should also do the necessary upkeep on an as needed basis, for example after a major snow/rain/wind storm, freeze/thaw cycles, etc.
Remove loose and embedded debris, such as moss, sticks, etc.
Check seams and flashings for wear and tear.
Clean the drains.
Is A Flat Roof Energy Efficient?
One of the greatest advantages of a flat roof system is that it can be highly energy efficient. Both TPO and PVC roofs are considered to be very reflective, with up to 90% of heat back into the atmosphere.
This means that one of these membranes can help you save hundreds of dollars on your energy bills. Both are Energy Star Rated for their cool properties.
It is important to note that white color roofs collect a lot of dirt and dust over their lifetime. Over time, this decreases their energy efficiency.
However, they still remain highly reflective. Good, regular maintenance can help prolong optimal energy efficiency of a white membrane.
Today, many darker color membranes are are also formulated to have light-reflective properties and offer energy savings. You should check the manufacturer's specifications on a particular product to see its efficiency ratings.
Modified Bitumen and EPDM offer the lowest energy efficiency. In fact, because they are so dark, they can heat up to 170 degrees in the summer, making your HVAC system run over-time and rake up huge energy bills.
Environmental Impact Of A Flat Roof
Both TPO and PVC flat roofing membranes are 100% recyclable. At the end of their service lives, old membranes get recycled back into making new ones.
It is possible to install a PVC membrane over an old roof, thus eliminating tear off, which cuts your costs and saves landfill space.
On the other hand, EPDM, Tar & Gravel, Modified Bitumen are not eco-friendly. They all cannot be recycled, because they are made from petroleum based by-products. Therefore, they have to be landfilled.
Where Should You Install A Flat Roof?
In addition to serving as a beautiful and durable cover for the house, a flat roof has a number of other useful applications.
Many homeowners prefer to install a flat roof over a porch, a house addition or a garage. One of the biggest architectural trends is to have a house with a sloped roof and build a modern looking addition with a flat roof.
Moreover, a flat roof membrane can even be used to build a deck!
If you are building a brand new home or an addition, remember that your flat roof will not actually be flat. For the best water drainage, it should have a slope of at least 1/8 inch per foot.
The minimal slope allowance for flat roofs, according to most building codes, is 1/4 inch per foot.
Because a flat roof tends to collect water and sheds it much slower than a pitched roof, it may not be an ideal option if you live in an area that gets a lot of heavy rains and snow storms. EPDM rubber roofs are particularly notorious for developing leaks as a result of ponding water.
Flat roofs last the longest in a mild, dry climate that does not have severe temperature fluctuations.
Still, states in the northern parts of US do have their fair share of houses with flat roofs, and its perfectly fine to install a flat roof in a state like Massachusetts or Vermont. You just have to be ready for more frequent maintenance checks and potential repairs.
Did you know? a flat roof with proper insulation will be 30-40% more energy efficient than asphalt shingles, which are used on the majority of sloped roofs.

This can save you hundreds of dollars in heating and cooling costs. For maximum savings, you need to make sure that you are installing rigid foam insulation (Poly Iso) with a proper R-value.
Unique Flat Roof Benefits
A flat roof is the best material on a very large size building. Installing a pitched roof on such a building is not recommended, because it will be a lot more difficult, and costly.
It will also require special engineering to accommodate the additional structural weight, as well as rooftop HVAC equipment and drainage.
One of the most unique features of flat roofs is that most can be utilized as a deck, green roof (rooftop garden), patio or penthouse.
Green building enthusiasts prefer these systems, because they can be turned into rooftop gardens. A side benefit of a rooftop garden is that it improves air quality and reduces the heat island effect in large urban areas.
If you are planning this type of application, it is best to use 80 mil or thicker PVC or TPO membrane, because hot-air welded seams ensure that the roof will not leak under the soil and plants.
Another advantage is that flat roofing works best in cases when large HVAC equipment needs to be installed. It can go straight on the rooftop, instead of being installed on the ground.
Lastly, these roofs are great for large-scale solar PV installations, as they are typically not shaded and get very strong sun exposure throughout the day.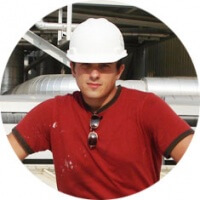 This roofing guide is presented by Leo B.

I've been a roofer for 15 years, and specialize in Metal Roofing and Flat Roofing.

Have a roofing question or issue? Ask me any roofing question!

Roofing Contractors - join our free Local Roofers directory to get more customers!