|
EPDM rubber roofing may be very cheap, but there are a number of disadvantages to EPDM roofing a homeowner should be aware of, before choosing it as membrane cover for their flat roof.
From the perspective of quality and longevity, EPDM rubber roofing is one of the least reliable flat roofs.
To get started on installing a quality flat roof, contact your local roofing pros for FREE ESTIMATES!
Top Disadvantages Of EPDM Roofing
It may come as a surprise to you, but the roofing industry often misleads and misinforms consumers into buying products designed to FAIL within 15 years or less.
This is happening in an effort to keep up the demand for production of new materials, as well as the demand for roof replacement (just like old-time furniture makers would put bedbugs in new mattresses).
This mass deception based on the promises of long warranties and low prices, is called "effective marketing".
We are not the ones to judge, but we would like to shed light on what is really going on in the residential rubber roofing materials market.
Average Flat Roof Cost:
Low End

$6815

Mid Range

$8769

High End

$11211

See Costs in Your Area! Start Here - Enter Your Zip Code
1. Unprofessional Contractors = Poor Residential Rubber Roof Installation
Many contractors praise and install the EPDM roofing system, because manufacturers that make this material do not require roofers to be certified or trained in order to purchase and install it.
Furthermore, rubber roofs are CHEAP. There are no special tools, or equipment required for installation. Some $1 paint brushes and a $15 hand-roller is all that you or a roofer would really need to get going.
EPDM is also easily accessible. Anybody can get all materials and accessories at a local home improvement store. You also don't need to purchase very large quantities, (as you would for most other materials).
All of the above factors combined with eager cooperation on the part of distributors, promoting this roof at "special seminars", creates a situation where poorly trained contractors put up a "rubber roofing" sticker on their trucks, and set out to get some business.
Homeowners, who are unaware of this situation, usually believe that they are dealing with qualified professional contractors. Although, these roofers may know how to shingle a roof and may even have good references, chances are that their expertise with a single ply membrane is limited, or non existent.
It is important to realize that a flat roof is a completely different "animal" and not every contractor can properly install, or repair a single ply membrane. Furthermore, there are many fly-by-night roofers who will do the install dirt cheap, and when the roof leaks you will never find them.
Here is a great example of a "Professional" flat roof installation – the membrane glued directly to asphalt shingles: EPDM material should never come in contact with asphalt-based products, and it should be installed over insulation, or fiber recovery board. This roof is leaking in 7 different places.
2. Seams Failure = Leaks
Here is an industry fact that most homeowners don't know – even when a rubber roof is installed correctly, it will most likely still leak. This is because it is designed to have seams that are glued together, effectively keeping it watertight.
Over time, even the best glue dries up and fails in 7-10 years or sooner, allowing the seams to come apart. At that point, the roof is left completely vulnerable to water infiltration.
The worst part – this is an unavoidable systemic problem with the design of this roof. The best you can do is prolong the period before the seams fail. But, they will eventually fail, nonetheless.
This is why if you want to avoid recurring leaks, it is best to install a seamless single-ply membrane, such as PVC or TPO roofing.
3. A Rubber Roof Membrane Will Inevitably Shrink = Leaks
Another inherent design problem is that after a few years, this roof membrane simply begins to shrink, slowly pulling away from parapet walls, flashings, corners, drains and other areas. At that point, leaks start penetrating these weak points. Shrinkage is a particularly serious problem on a larger size roof.
4. EPDM Rubber Roofing Requires Regular Maintenance
If your flat roofing membrane was installed correctly, you will still need to perform regular maintenance to avoid leaks and get the maximum service life.
Because the seams can start to come apart, they need to be inspected at least once a year to ensure they are in tact, and speedily repaired, if any problems are detected.
Such an inspection can cost around $300-550, depending on where you live.
After about 5-7 years, you will have to reseam your roof by installing a 6-12 inch wide EPDM cover tape over the old seams to make sure they don't leak for the next few years.
This update will cost you about $10-15/linear foot, so if you have a few hundred feet of seams, the total cost will be several thousand dollars, making it a very expensive maintenance program.
If your rubber roof develops small leaks, hiring a contractor will cost you $400 or more. Alternatively, you can do the repair yourself using a DIY Repair Kit, like this.
Average Flat Roof Cost:
Low End

$6815

Mid Range

$8769

High End

$11211

See Costs in Your Area! Start Here - Enter Your Zip Code
5. EPDM Rubber Is NOT An Environmentally-Friendly Material
If you care about the environmental footprint left by the materials you use in your home improvement endeavors, you would want to stay away from EPDM roofs.
Rubber is considered one of the least eco-friendly materials in the industry. It is manufactured primarily from oil-based byproducts, such as ethylene, propylene and others.
Thus, it requires heavy energy consumption during the production phase, supports our country's dependence on oil and increases green house gas emissions.
Black color membranes (most common and cheapest) are not energy-efficient, because they attract UV radiation from the sun and raise the ambient temperature inside the house.
This means that you will spend more on your cooling costs during the summer months. Poor energy efficiency will be most pronounced in regions with hot, sunny weather, year round.
Average Flat Roof Cost:
Low End

$6815

Mid Range

$8769

High End

$11211

See Costs in Your Area! Start Here - Enter Your Zip Code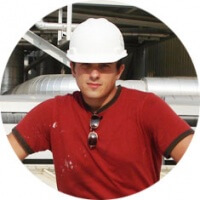 Author: Leo B
For over 20 years Leo has run a successful roofing business in New England, specializing in metal roofing, as well as cool flat roofing technologies. Having replaced and installed hundreds of roofs in New England, Leo has first hand experience with pretty much every residential roofing material and roofing manufacturer available in the US.