Flat roof insulation costs $0.76 per square foot (for 1 inch thick PolyISO with 6-R value).
High quality rigid foam insulation that is properly installed will greatly improve ventilation, eliminate drastic temperature fluctuations inside the home, and protect from leaks.
Here are the best insulation materials along with prices, features, and r values.
Average Flat Roof Cost:
Low End

$6815

Mid Range

$8769

High End

$11211

See Costs in Your Area! Start Here - Enter Your Zip Code
Rigid Foam Board Insulation Prices
Usually homeowners spend about 25% of the total cost to install a flat roof, on high quality insulation.
The most efficient and best insulation used is rigid foam (Polyiso); it accounts for over 60% of all flat roof installs.
ISO is available in a range of thicknesses, that come in increments of 1 inch. The thinnest board is 1 inch. This size rigid insulation r-value is 6 and costs $67 per 100 sq. ft..
However – 1/2″ and 1″ thickness ISO are the most expensive. If you get a 2″ or 3″
thick insulation boards, your cost per inch will be much lower (about 40% per inch less)
Consequently, if you are looking to increase your r value, you will need to get a thicker board, which will cost more, but cheaper per inch of thickness or per R-value. For example, to get an 18 r value, you will need a 3 inch ISO board, which will cost $120-125 per 100 sq. ft.
As mentioned in the beginning, current price for 1″ ISO insulation is $0.67 per square foot. So you would think 2″ thick board would be $1.34? Well it is more like $0.91 per sq. ft., and 3″ board is about $1.26 per foot.
These prices are in Massachusetts, and will likely be another 10-20% lower in mid west states and south. MA and NorthEast in general are among the highest cost areas for building materials and construction services. Please refer to this to estimate how much Insulation would cost in your area:
Understanding Insulation R value
R value is extremely important, as it determines insulation's resistance to heat flow, and reduces heat loss in your house. Thus, you want to have a high r value, which is achieved by getting thicker insulation.
Its best to discuss with your contractor the most appropriate insulation material for your needs. This will depend on your roof and house construction, as well as the climate you live in.
Keep in mind that for new construction homes or commercial buildings, the minimum r value requirement is 20, or 3.3 inch thick Polyiso.
Home Depot Prices For Foam Board Insulation
You can find a number of insulation board products at Home Depot, called Foamular. They are an XPS insulation, manufactured by Owens Corning. Prices range from $14.47 to 33.92, depending on the board thickness and r value (ranges from 3-10).
By comparison, foam board products at Lowes are more limited. They sell XPS insulation by Kingspan.
Insulation prices are pretty much the same in both stores. There is a board that has a 4 r value and costs $14.98, where as Foamular at Home Depot that has a 3 r value, also costs about the same: $14.47
Best Insulation Materials
There are a number of high quality rigid insulation products to consider.
XPS foam
XPS is extruded polystyrene rigid foam insulation. It has a fairly high r value of 5 per inch. It is strong, dense, and more water resistant that both EPS and Polyiso.
The best known brand that manufactures this product for roofing is: ROOFMATE BY Dow Chemicals (known as blueboard). It has a number of advantages:
– Designed for use on heavyweight decks, such as reinforced concrete.

– Rot resistant, making it ideal for roof garden applications.

– Protects membrane from external temperature fluctuations and provides a steady comfortable temperature inside the home.
However, XPS is not often used in roofing applications, because it is very expensive. In addition to the high insulation cost, you also need to install another layer between it and the roof membrane, thereby increasing the total price.
The install is also more complex and time-consuming, so a contractor will charge you more money for labor.
EPS Insulation
EPS, also known as beadboard is the third and cheapest type of rigid foam. It is made using expanded polystyrene EPS foam. It can have a plastic backing, but not fiberglass.
EPS board can be used with a variety of different flat roofing materials. Similar to PolyISO, EPS is also available in a range of thicknesses and r values. Its r value ranges from 3.6 to 4.2 per inch; higher density EPS will have a higher rating.
Its biggest advantage is that on large commercial roofs, that require 3-4 inch insulation thickness, savings can be significant; as much as 20-25% over Polyiso.
However, on small residential roofs, EPS is not cost efficient, because you will need to use a separation barrier between it and the roof membrane. This will add at least 10 cents per sq. ft.
Moreover, roofing suppliers don't quote it for small jobs. Home Depot and Lowe's sell EPS in 2×8 foot boards with different thicknesses. Those are about 30% more expensive than ISO insulation sold by roofing suppliers.
Another disadvantage is that its not as strong as as other rigid insulation types. It is also the MOST vapor permeable out of the three rigid foams, so it will absorb the most water. Moreover, it is prone to crumbling at the edges, and becoming damaged during installation.
R Tech Insulation
This is a fan-fold recover rigid board that can be used in either roofing or siding applications. R
tech is also made from EPS (expanded polystyrene, with advanced polymeric laminate facers.)
It usually comes in a fan-fold package with each sheet being 2×4 feet, making a bundle of 24 pieces attached together. This insulation typically has a clear plastic on one side and foil backing on the other to improve thermal resistance. It comes in 0.5 inch to 1 inch thicknesses. One bundle covers almost 200 sq. ft.
R-tech insulation has an R-value of 4-5 per 1 inch thickness. It is typically used in lay-over jobs; when a new single ply membrane is being installed over an old tar and gravel/built-up roof.
One of the top manufacturers of R-tech insulation is Carlysle.
It is important to note that this particular EPS insulation SHOULD NOT be used as a thermal barrier. Its primary purpose is to separate a single ply membrane from the rough surface of built-up roofs. Thus, it should NOT be stacked to increase r value.
The average cost is $20 per 100 sq. ft. for 0.5 inch thickness. One inch thickness costs double, or about $45 per 100 sq. ft. and does not come in fan-fold (only as 4×8 sheets).
Using Tapered Insulation To Resolve Drainage Issues And Flat Roof Leaks
One of the biggest issues with flat roofs and one that causes the most leaks, is ponding water (huge pools of water).
A properly designed flat roof must had a positive slope, at least 1/4 inch rise per 1 foot run. This allows water to run off toward roof drains or gutters and not sit on the roof, causing leaks and even potential collapse.
You can actually create positive roof slope by installing tapered insulation. It comes in 4×4 foot sections with one end being 1.5 inch thick, and the other end being 0.5 inch thick.
Using these sections, you can build up slope either in one direction or in multiple directions. You can even center the water flow toward a drain.
Because this is a specialty product, it costs about 60-80% more than a flat foam insulation of the same thickness. Thus, a 0.5 – 1.5 inch board would cost about $80-85 per 100 sq. ft.
Standard tapered insulation is typically an ISO board with fiberglass mats on both sides. It can also be made using EPS rigid or high density styrofoam. However, these are not widely used, because they require an additional separation layer between the roof and insulation.
The reasons for this are:
1. You can't glue single ply membranes or built up roofs to either EPS or styrofoam. So you have to use mechanical attachment.

2. When mechanically attached, a single ply membrane with expand and contract at a different rate than the insulation, and will rub against the soft foam causing its top layer to eventually turn into dust.

Therefore, PolyISO is often the most versatile system, because it has the separation layer already built in (fiberglass mat), and does not require using a costly separation layer.
Your Estimated Roofing Cost
Roof Price:
Cost per sq. ft.
Roof Size:
Roofing Material:

See costs in your area Start Here - Enter Your Zip Code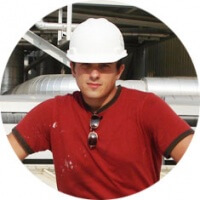 This roofing guide is presented by Leo B.

I've been a roofer for 15 years, and specialize in Metal Roofing and Flat Roofing.

Have a roofing question or issue? Ask me any roofing question!

Roofing Contractors - join our free Local Roofers directory to get more customers!