|
While the popularity of TPO single ply membranes is continuing to grow among homeowners and commercial builders, there are a number of problems with this material you should be aware of.
Initially, TPO roofing was created to compete with PVC. Its original intent was to be a cheap welded seams reinforced membrane, to dominate the commercial roofing market based on price, while offering all the benefits of PVC (a high-end, long-lasting single ply membrane).
In this opinion piece, I compare Genflex TPO (not the most expensive product) to PVC made by IB Roof Systems (one of the most expensive PVCs).
Prices
Low End
Mid Range
High End
Materials
$3327
$3914
$4971
Total Cost
$8619
$10140
$12878
See Costs in Your Area!
Start Here - Enter your zip
I will discuss how TPO has evolved from a fully welded system into a glued/welded product, and how it has failed to live up to its goal of being a less expensive, yet equally good alternative to PVC.
Failed Promise of TPO Roofing
25 or so years ago, large EPDM manufacturers decided to compete with the likes of Sarnafil, DuroLast and FiberTite, and take away their market share of high-end flat roofing.
They began experimenting with TPO, which to this day is about 10% more expensive than EPDM and 10-30% less expensive than PVC (cost of membrane only).
They marketed the new material as providing: PVC roofing quality at the price of rubber.
Since these companies already had a large pool of commercial contractors and distribution in place, getting TPO to market wasn't difficult. Roofers readily bought into the idea of a cheap PVC roofing membrane alternative. After a few years and millions of square feet purchased, TPO became the number 1 commercial roofing material installed (by volume).
Because PVC was seemingly a lot more expensive, many architects, specifiers and building owners chose TPO membranes (especially with the modern craze about Cool Roofs). Seeing the success of this product, many other manufacturers jumped on the band wagon.
TPO Roofing vs EPDM rubber vs PVC Membranes
EPDM rubber roof – On the lower end of the price spectrum there is EPDM rubber roofing – a time-tested black single ply membrane.
An EPDM membrane is pretty much the lowest priced flat roof.
Its main disadvantages are: lack of reinforcement (major shrinking after 15+ years), glued seams, and block color which is not a "Cool Roof".
Sure, there is White EPDM, but it's expensive, and very few suppliers carry it. Comparatively, white EPDM is at least as expensive as very good PVC.
Once EPDM seam adhesive starts to break down, repairs become very expensive, and it's only a matter of time until that happens. Also, manufacturers strongly advise against installing EPDM in the winter, because glue freezes, and the roof may leak.
PVC
– On the upper end of the price spectrum there is PVC roofing. It is a white, reinforced membrane with welded seams and flashings.
PVC can last well over 30 years. It is very easy to repair by welding a patch or re-welding seam voids. The membrane is reinforced, which ensures dimensional stability, and prevents shrinking or cracking (with the exception of the Trocal fiasco, which was an un-reinforced product, and could easily shatter in very cold weather, upon impact).
Most PVC roofs are white, with exceptional solar reflectivity. They also come in variety of colors for job specific requirements. And of course welded seams – once they are (properly) welded or fused together by heat, they should never come apart.
Even if there is a seam void, it's easy to take care of it. Even all the flashing and edge metal is heat welded, so there is virtually no glue used for waterproofing.
This roof is fairly expensive compared to EPDM, but long-term (considering life span, maintenance, repairs and energy savings) it is more cost efficient than rubber.
Prices
Low End
Mid Range
High End
Materials
$3827
$4502
$5718
Total Cost
$9913
$11662
$14811
See Costs in Your Area!
Start Here - Enter your zip
TPO Roofing Problems That Nobody Wants To Talk About
Remember welded seams? They are the MAIN benefit of PVC vs. EPDM Rubber – this was the primary selling point of TPO roofs.
Well, TPO membranes have problems. If the material was perfect – manufacturers would not change the formulation every few years. The main issues were (and still are) with the seams, among many other things. They simply did not hold as well as they were supposed to.
Want proof? About 15 years ago most TPO makers started offering PEEL & STICK tapes, flashing, as well as primer (fancy word for glue). Wait a second – that is how EPDM is installed??!!! You clean and then prime seams, add 3″ seam tape and roll the sandwich together, to make sure everything is glued properly.
So since TPO is a welded system – why on earth would manufacturers offer Peel & Stick products for it??? The answer (in my opinion) is because welded seams failed!
Now, how come nobody wants to talk about this? Because manufacturers invested millions of dollars in building new manufacturing plants, marketing, incentives, and it would be very costly to admit that TPO did not live up to its promise.
TPO vs. PVC flashing details – glued – heat welded
Here we show how PVC and TPO manufacturers want contractors to install their product. Since for price comparison (below) we use GenFlex and IB Roofs, we also use their respective training videos. In the examples below, TPO is seamed with glue, whereas PVC is fully welded.
1) Edge metal flashing:
TPO material is glued to the roof with peel and stick primer & cover tape.
PVC drip edge is heat welded to the roof.
2) Pipe flashing:
TPO – peel & stick (glued) pipe boot.
PVC – welded pipe boot
3) Field seams:
TPO glued field seam (TPO seams also can be heat welded).
PVC welded field seams.
We can provide many more examples. However, the above is enough to see that TPO is not a true heat-welded system.
If it was, manufacturers would not come up with peel & stick / glued accessories. Because any non-factory glued seam will come apart (it's just a matter of time), TPO in my opinion is not much better than EPDM rubber roofs, and is definitely not as good as PVC.
TPO Roofing Is Not Cheaper Than PVC!
If you examine the cost of TPO material, which without insulation, is about $1.66 per square foot (includes all necessary accessories) – it is not really cheaper than a PVC roof ($1.47 per square foot.), which it's supposed to replace as the "less expensive alternative".
NOTE: the section below will get very technical, because materials must conform to the installation instructions set forth by each manufacturer, and accessories should be used accordingly.
Let's compare GenFlex TPO to the cost of an IB PVC roof – both 60 mil mechanically attached assembly. We quoted a 1575 sq. ft. roof using materials at the local Harvey Building Products, and got the following cost, after a 10% discount off list price.
We compare this to IB's contractor price list from Feb 2017. Since the roof in question is 1575 s.f. we will need 2 rolls of 10×100′ of TPO and 3 full rolls of IB (6×90′) and 2 half rolls of IB (3×90′). Half rolls are used for perimeter sheet.
GenFlex installation instructions are unclear about the use of perimeter sheet. However, one 10×100′ roll can be cut into 3.3'x100′ rolls and used around perimeter.
NOTE: In 2006, GenFlex was acquired by Firestone BP. This means that GenFlex TPO roomembrane is the same as Firestone TPO, since it's made in same factories. However, Firestone TPO is more expensive (I don't know why).
Cost Of Genflex TPO – 60 mil white
| Material | Quantity | Unit Price | Cost / s.f. | Amount |
| --- | --- | --- | --- | --- |
| GenFlex 60 mil TPO (10′ x 100′) | 2 rolls | $562.50 | $0.5625 | $1125 |
| GenFlex Peel & Stick Flashing (12″ x 25′) | 1 roll | $178.87 | n/a | $178.87 |
| GenFlex Peel & Stick Cover Tape (6″ x 100′) | 2 rolls | $257.75 | n/a | $515.50 |
| GenFlex Peel & Stick TPO Pipe Boot (1″-6″) | 2 pcs. | $33.44 | n/a | $66.88 |
| TPO Peel & Stick Outside Corners | 4 pcs. | $29.70 | n/a | $118.80 |
| TPO Primer (Glue for Peel & Stick) | 5 ga. | $31.27 | n/a | $156.37 |
| Coated Roofing Screws – 4.5″ (1000 pcs) | 4 ct | $116.73 | n/a | $466.92 |
| Barbed Plates (1000 pcs) | 4 pails | $117.45 | n/a | $469.80 |
| Edge Metal – .032″ White Aluminum | 17 pcs. | $11.47 | n/a | $195.07 |
| Total | | | $1.66 / s.f. | $3329.22 |
NOTE: GenFlex requires membrane fasteners to be spaced 6″ apart, due to larger sheet size. IB fastener requirement is 12″ apart. Because of this, we will double the amount of screws and plates to the GenFlex "order".
Cost Of IB PVC – 60 mil White
| Material | Quantity | Unit Price | Cost / s.f. | Amount |
| --- | --- | --- | --- | --- |
| 60 Mil White Full Roll (6′ x 90′) | 3 rolls | $588 | $1.09 | $1764 |
| 60 Mil White Half Roll (3′ x 90′) | 2 rolls | $294 | $1.09 | $588 |
| IB Pipe Flashing (4" – 8") | 2 pcs | $20 | n/a | $40 |
| IB Outside Corners | 4 pcs. | $6 | n/a | $24 |
| IB N/R Patches 5″ x 8″ (50 / bundle) | 1 pack | $29 | n/a | $29 |
| 3″ steel 45 Mil White Drip Edge (10′) | 17 pcs | $19 | n/a | $323 |
| Coated Roofing Screws – 4.5″ (1000 pcs) | 2 ct | $116.73 | n/a | $233.46 |
| 2" Barbed Steel Seam Plate (1000 pcs) | 2 pails | $85 | n/a | $170 |
| Total | | | $1.47 / s.f. | $3171.46 |
What we have is TPO installation using mechanically attached assembly, coming in at $1.66 per sq. ft.. and PVC at $1.47 per sq. ft. These figures are based on 2,000 sq. ft. of TPO and 2,160 sq. ft. of PVC.
If we consider that we need to install only 1,575 sq. ft. (45'x35′ roof used for above material quotes), our cost per square foot is nearly identical, but there will be a lot more left-over materials on the PVC side, that can be used on future jobs.
Things to keep in mind: IB is very expensive compared to other brands like Carlisle, Versico, Weatherbond, Flex, DuroLast, etc. It is on par with Sarnafil in price. Basically if you compare generic TPO price to generic PVC price, TPO is even more expensive!
The reason why TPO roofs cost more is you MUST use Peel & Stick flashing and primer (glue) for all penetration flashings, and for drip edge cover tape. With PVC, all flashings and cover tape are heat welded.
Now here is the "subjective" part: IB PVC is by far a much better product than GenFlex TPO. You can argue with it, but here is what roofers have to say about it!
Bottom line – TPO failed to be a cheaper alternative to PVC!
At $1.66 per square foot generic TPO is 13% more expensive than high quality brand name PVC, so the price war is lost.
TPO also lost its competitive advantage by using Peel & Stick flashing. It's no longer a truly heat welded system, but is a hybrid of welded plus glued roof. Now, TPO is more like EPDM rubber with heat welded field seams.
Commercial size roofs – massive discounts
In the price example above we used a small size roof. Now what happens if the project is 10,000 or even 50,000 square feet? Sure contractors will get bigger discounts, but GenFlex TPO is already at $0.56 per square foot. How much lower can it go? Let's say $0.50 or even $0.45 (highly unlikely). You still have massive amounts of expensive peel and stick accessories, primer, cleaner, and extra labor involved.
And be sure that IB Roof Systems and other PVC manufacturers also provide volume discounts. Once again – IB is one of the most expensive PVCs out there, and yet it's cheaper than TPO. At the end of the day, the extra discounts on volume will be offset by extra labor, and the final material price will be nearly the same.
Why PVC Roofing Costs More To Install?
Honestly, I believe that higher quotes on PVC roofs are all superficial. Basically, since PVC has historically been a "premium" product and TPO/EPDM have always been "commodity" or cheaper alternative – contractors just charge more, because everyone does. As you can see from my analysis, both materials cost about the same, and installation is fairly similar.
It just like buying a BMW over Hyundai – the common perception is that BMW is a better car. The same goes for roofing – the common perception is that PVC is better than TPO, hence contractors charge more for it.
Average Flat Roof Cost:
Low End

$6815

Mid Range

$8769

High End

$11211

See Costs in Your Area! Start Here - Enter Your Zip Code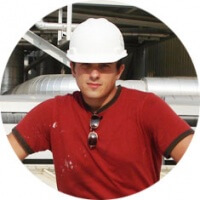 Author: Leo B
For over 20 years Leo has run a successful roofing business in New England, specializing in metal roofing, as well as cool flat roofing technologies. Having replaced and installed hundreds of roofs in New England, Leo has first hand experience with pretty much every residential roofing material and roofing manufacturer available in the US.