Flat roof insulation is one of the most important and misunderstood building components.
There are many different types and insulation installation methods out there, along with a lot misinformation about which insulation products offer the greatest energy savings.
Here, we share the most common mistakes people make when installing insulation on a flat roof
We will also offer our professional take on what insulation actually works, how much it costs and the benefits you get as a homeowner.
Average Flat Roof Cost:
Low End

$6815

Mid Range

$8769

High End

$11211

See Costs in Your Area! Start Here - Enter Your Zip Code
Flat Roof Insulation Materials To Avoid
Some so called "experts" online may recommend the following, claiming to achieve a greater r value at a lower cost.
Mistake # 1: Save money by installing Fiberglass Insulation, and framing out roof slope using OSB board substrate<>
When a homeowner really needs to cut down on costs, some contractors may suggest the following:
Add an additional layer of OSB over the sheathing. It should be installed on tapered 2x furring strips, in order to slope the surface of the roof toward drains. Then, install R-30 fiberglass batts between the rafters.
Our Take: Framing this out and buying 30-R fiberglass insulation will cost you about 50% more than just buying 5 inches of PolyISO (equivalent of 30-R).
Because it will take a lot of time to actually install all of this, you are risking major leaks, if it starts to rain before everything is complete. Also, if a roof leaks and fiberglass insulation gets wet, it will loose most of its insulating properties.
Moreover, you are also risking that underneath this wet insulation, you roof sheathing and deck will start to rot. The worst part about this: you will not even know its happening. These problems typically come out when its too late to fix the roof, and complete replacement is in order.
However, PolyISO absorbs considerably less water, therefore if it gets wet, it looses only a small fraction of its insulating properties. If moisture is a major concern, you can also install XPS rigid insulation, which offers superior moisture resistance.
While expensive, the best insulation is PolyISO rigid foam. It is top quality and the most cost effective product for your flat roof.
You can expect to pay about $55/100 sq. ft. for a 1 inch board (equivalent of 6 r value). We recommend having at least 20 r value worth of material for optimal energy efficiency.
Mistake # 2: Combining different types of insulation to increase R value
If someone wants to get a very high r value without breaking the bank, some contractors may propose this:
Install 4 in. of rigid foam on top of the deck, 2 in. of closed cell foam under it, as an air barrier. Then, R-30 batts can be added for additional efficiency at a lower price. This option can give you a total r value of about 62.
Our Take: The extra labor required to get inside a typically inaccessible crawl spaces under a flat roof will more than negate potential savings of using 30-R fiberglass batts.
If on top of this you have to hire a spray foam specialist to install only 2 inches of foam, your costs will skyrocket.
Once again, increasing the thickness of ISO will give you a higher r value at a much lower total cost. If you can actually get into the crawl space, its much more effective to install blown in cellulose or fiberglass insulation.
Mistake # 3: Yet another wrong way to raise the R value at a low cost
This error is similar to the one above. Some pros may suggest it to a homeowner looking for alternative insulation materials that are inexpensive.
First, install sloped decking as described in the first option. Then, do 2 in. of closed cell foam insulation and fill out the remaining 10 in. of the roof cavity with dense packed cellulose. With this combo, you can achieve a total r value of about 47.
Our Take: Framing out a new sloped roof while making sure that your old one does not leak during this process will cost about 50 % more than to add a quality PVC membrane and 6 inches of ISO or another high density rigid foam.
Mistake # 4: Using fiberboard
If you tell a roofer you are on a really tight budget, he may try to convince you to do the following:
Install fiberboard insulation, because it will save you hundreds of dollars.
This scenario often happens if you hire a cheap roofer, who typically installs EDPM rubber.
Our Take: This is a REALLY BAD idea! Fiberboard is not an insulation. It has only 1-r value per inch and is always installed in 0.5 inch thickness. Therefore, you get practically 0 r value out of it.
Additionally, attic condensation and leaks will make fiberboard wet. Moisture will be trapped inside, causing mold growth and further reducing its efficiency.
Fiberboard is intended as a glue-down surface on roofs above none-living spaces, such as garages or porches, where r value is not needed. Living spaces should have real insulation, and the more of it the better.
If your contractor suggests using fiberboard, we recommend that you fire him immediately. Clearly, he does not care about your roof or you, and will likely do a very sub-par job.
Why Its Important To Insulate Your Flat Roof
While insulation for a flat roof is expensive and can account for as much as 25% of the total installation cost, there are a number of important benefits to having it in place.
1. Reduce extreme temperature fluctuations inside your home
When you have an un-insulated roof, you have to live with rather uncomfortable room temperatures inside the home. During the cold months, warm air will quickly rise up and escape through the roof, leaving the rooms very chilly.
The opposite happens in the summer: hot air gets trapped inside, making the room unbearably hot and sticky This is particularly true on roofs that are dark and have a low insulation r value.
It is important to note that Polyiso has the best performance in warm climates. Its insulating properties are worse in extremely cold temperatures. If you live in a region that is cold for many months of the year, you should consult a professional on the best insulation type for your house.
2. Improve energy efficiency
A roof without good insulation is a great contributor to energy loss. This is bad for the environment and for your wallet, as you end up spending a lot more on your electric bills.
Proper insulation can significantly reduce your energy consumption (heat in the winter, AC in the summer) and reduce your energy costs by hundreds of dollars a year.
A high r value of 20 or more, combined with well insulated walls and energy efficient windows can reduce your heating and cooling expenses by as much 30% every year.
Therefore, it will pay for itself within 4-6 years in energy savings alone. If you have oil heat, the pay-off will be even faster, and you will be saving money for many years there after.
As you can see in the image above, the roof is not the only area in the house where energy loss occurs. Thus, for optimal savings, you want to ensure that your entire house has proper insulation, including walls, flooring, windows, etc.
However, a roof is a good place to start, since it is the second larger contributor to energy loss, after walls.
3. Prevent rotting of the sheathing and roof deck
Across the US, the majority of flat roofs either have no ventilation at all, or are poorly vented. This is due to faulty original architectural design that did not take proper venting into account.
As a result, if you open up most flat roofs, especially those located in places like Arizona, you will see a lot of moisture, rot and mold as a result.
This problem also occurs in roofs that have fiberglass batt insulation and no venting. Sometimes, inspectors find that it is completely wet; there is severe rot and mold growing in the sheathing.
To mitigate venting issues, and still have all the benefits insulation offers, its ideal to install high quality foam board products, such Polyiso or XPS. They are not susceptible to moisture infiltration and will keep the roof dry, even without a good ventilation system.
You just need to make sure that you put in enough insulation to keep the sheathing above dew point temperature in the cold months. For best protection, professional contractors recommend at least 6 inches of foam insulation board.
Your Estimated Roofing Cost
Roof Price:
Cost per sq. ft.
Roof Size:
Roofing Material:

See costs in your area Start Here - Enter Your Zip Code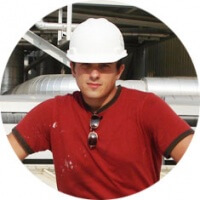 This roofing guide is presented by Leo B.

I've been a roofer for 15 years, and specialize in Metal Roofing and Flat Roofing.

Have a roofing question or issue? Ask me any roofing question!

Roofing Contractors - join our free Local Roofers directory to get more customers!