|
On average, a 300 sq. ft. flat roof deck costs $800-2,800 to install, depending on the material you choose.
Unfortunately, many homeowners who have a flat deck roof have to deal with frequent leaks.
This is usually because low quality, leak prone decking materials, such as EPDM rubber are used, often in an effort to save money.
If you want to avoid problems and build a durable, watertight rooftop deck, PVC is the best material to use.
Here, we will discuss how to build a rooftop deck that will be impervious to water, how much it costs, the best decking materials, as well as floating deck alternatives to consider.
Average Flat Roof Cost:
Low End

$6815

Mid Range

$8769

High End

$11211

See Costs in Your Area! Start Here - Enter Your Zip Code
How Much Does A Flat Roof Deck Cost?
Across the US, homeowners report spending $750-3,000 to build a flat roof deck, depending on project size and materials.
In fact, the price range is so spread out, because the quality of rooftop deck materials ranges from very low to top notch.
EPDM rubber is at the lowest end of the price spectrum. Average rooftop deck cost is $700 – 900 per 100 sq. ft. So if your roofing deck is 300 sq. ft. you will pay $2,100 – 2,700 total.
At the highest end of the price range is 80 mil PVC membrane. PVC deck cost per square foot is $9-12. You are looking to spend about $900-1,200 per 100 square feet installed. So 300 sq. ft. will cost $2,700-3,600. This estimate includes slippers, and all necessary penetration flashings.
TPO roofing membrane falls somewhere in the middle, costing about $800-1,100 per 100 sq. ft.
Thus, the difference between the cheapest and most expensive option is $600-900 As we will review the multiple problems that await you with rubber decking, it will hopefully be clear that this initial savings is not worth the long term troubles and expenses.
Finally, keep in mind that all installation jobs for less than 100 sq. ft. typically include an up charge of 10-15%

Best Rooftop Decking Material
If you want the best flat roof deck material, there are two high quality membrane options, which have pre-molded flashings – PVC and TPO. However, TPO does not have square post flashings, so you still need to use uncured material and stretch it around the posts.
PVC decking, on the other hand, comes with a wide array of different sizes of square / rectangular and round flashings, that are heat welded, easy to install, and will not shrink.
Prices
Low End
Mid Range
High End
Materials
$3827
$4502
$5718
Total Cost
$9913
$11662
$14811
See Costs in Your Area!
Start Here - Enter your zip
Note, that all flashings are heat welded. Hot air melts the membrane, and the installer compresses two pieces with a hand roller, creating a permanent bond, that will not come apart with time.
In fact, not only flashings – all seams, roof to wall connections, even the metal drip edge, are all welded together to create a fully seamless roof that is impervious to moisture.
Once all seams are heat welded, slippers are installed between deck rafters and roof surface to protect the membrane. Then, a frame is built on top, and pressure treated or composite decking is installed.
Here is how I welded post flashings on a job in Hopkinson, MA
PVC roof deck is easy to fix – in the summer or winter, dry or wet!
Ease of repair is one of the best features of a PVC membrane, in my opinion. Any punctures can be simply re-welded or patched in any weather condition.
Once, we had to do a PVC install and it started snowing, while all our seams were still unfinished. We were able to easily, albeit uncomfortably weld all seams, even as they were getting wet.
The hot air blows all moisture from the membrane surface, and heats it up enough to melt. If it's really cold, we simply increase heat gun temperature, to make sure we don't have cold welds!
The Worst Flat Roof Decking Options
Below are the jobs that we did, replacing various types of flat roof decks. Most of them failed due to ponding water!
1) Modified Bitumen Deck
The roof above is 3 ply mod-bit – thick bitumen membrane, that is very puncture resistant, but cannot stand up to ponding water.
Seams "torched" together, and any kind of debris in seams will cause delimitation and leaks. Mod-bit is very heavy, and on this job, the homeowner had to pay $1,500 in dumpster fees alone!
2) EPDM Rubber
Here are real examples of very expensive EPDM rubber roofing failures:
Above you can see a leaking deck made of EPDM Rubber, with a completely destroyed room below it.
Next, is the new PVC roof + pressure treated deck. It is located in Newton, MA
Finally – a small balcony deck (again rubber) caused massive water damage in a condo in Brookline, MA:
And here is the bad boy, who caused all this trouble:
This rubber roof is only 3×6 feet – yet the damages it caused exceed $10,000!
Why EPDM Rubber Is A Bad Decking Material
Unfortunately, the "natural" choice for many contractors and homeowners looking to build a roofing deck is to go with a rubber membrane. This is because it's the only option that most people are aware of.
The problem with EPDM roofing is that glued seams will eventually come apart, and if you have your composite/pressure treated deck over rubber, you will have to disassemble the entire structure to fix the leaks.
Now, consider that in 3-5 years (or much sooner – depending on how poorly it was installed), your rubber decking starts to leak.
The cost of taking the deck apart and putting it back together will be about $6-10 per square foot This is pretty much the same amount as the initial deck cost! Hiring a pro for a simple EPDM roof repair will set you back $500+
Now you are out of $2,300-3,500 just to fix the leak in a rubber roof.
You may ask – why do you need to take the deck apart?
Here is why: most likely, the rubber seams will be coming apart, and since rafters are laying perpendicular to seams, you need to take off ALL rafters. Even if it's only post penetrations that need to be repaired – you still need to take off decking all along the outer edge of the roof. That is at least $500 in labor!
Even worse is the situation with penetration flashings. The only option is to use uncured peel and stick material, which is stretched around the four corners of a 4×4 post, and is glued down.
Uncured flashing tends to shrink back, and as a result, pulls off the roof surface, creating leaks. Since posts are typically located at the low point (along the outer perimeter), all the water simply runs down and leaks through these flashings.
Roof Deck Ponding Water Issues
Ideally your flat roof should have a positive slope, with a fairly flat surface (no indents). It is optimal to have 1/4″ per foot pitch on any flat roof.
However, that isn't always the case. Foundations settle, rafters "bend", or door openings are too close to the roof surface to increase the slope.
As a result, many flat roofing decks have ponding situations, where water pools for longer than 72 hours after a big rain storm. On rubber / built-up and tar roofs, this often results in leaks.
The ponding should (have) been addressed when the structure was built OR when the roof was replaced. In some cases it is very easy to increase slope with tapered insulation. However, depending on design limitations, this solution may not always be feasible.
To compare, PVC decking can easily withstand pooling water. Since all seams are fully welded, even tiny leaks will not penetrate properly fused overlaps.
So even if you have ponding water, and it's not possible to increase the slope, PVC is the best choice in this situation.
Floating Roof Deck Alternatives
If building a floating roof deck is too expensive for you (it is not cheap – about $12/sq. ft. + cost of the roof), there is a walkable, slip-resistant material that can eliminate the need for a floating deck – IB DeckSheild.
Deckshield (or similar products from other manufacturers) are fully adhered over DensDeck rigid substrate.
It can be walked on, and you can put patio furniture on it, etc. It's the same PVC material, only with added texture, created to prevent slipping. It also makes the surface look visually appealing.
Once again all components are fully heat welded, so there will be no glue coming apart and no leaks.

Don't Waste $1,000s On A Rooftop Deck By Saving A Few Hundred
I have been in the flat roofing business for 15 years and I can provide 100s more proof photos. The choice is yours: save a few hundred now, and pay thousands later, or get the best deck material that you can.
I've seen too many failed rubber roofs to even mention it as a viable (good enough) choice. Sure there will be roofers that swear by rubber, and will tell you that after installing it for 50 years they never had leaks.
Its simply not true, because ANY glued field seam will break down and begin to leak. And it happens to all rubber roofs at 7-10 years mark (when installed correctly) and much sooner, if it was a hack job.
My recommendation is to go with quality PVC material. You can choose TPO, but you may not get heat welded seams, which will result in the same problems that we have with rubber.
Keep in mind that an IB deck, which is my personal favorite, is not the only quality PVC option. There is also Sarnafil and FiberTite … but the latter two are strictly commercial products, as they don't have residential warranty.
Besides issues we discussed that are specific to rubber roofing, the main cause of ANY leak is sub-par installation. So be sure to hire only a pro who specializes in flat roofs – otherwise you will be dealing with repairs.
Your Estimated Roofing Cost
Roof Price:
Cost per sq. ft.
Roof Size:
Roofing Material:

See costs in your area Start Here - Enter Your Zip Code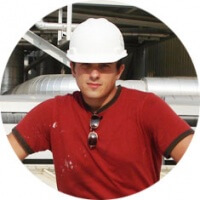 Author: Leo B
For over 20 years Leo has run a successful roofing business in New England, specializing in metal roofing, as well as cool flat roofing technologies. Having replaced and installed hundreds of roofs in New England, Leo has first hand experience with pretty much every residential roofing material and roofing manufacturer available in the US.