Is your flat roof leaking again? If your roof is relatively new, repairing any leaks or damages should be your first go-to solution.
An average flat roof repair costs around $400-600, which is significantly cheaper than the cost of full replacement.
Moreover, having a pro repair your flat roof can easily extend its service life by at least 3-5 years. However, in some cases, trying to fix a leaking roof membrane might be a futile effort and a complete waste of money.
Often leaks, water damage and other issues may be the result of faulty installation, poor maintenance, or old age of the roof itself.
We will go through the common flat roof problems and signs that warrant repair vs replacement, so you can figure out the most cost-effective and lasting solution for your roof.
If you are ready to repair of replace your flat roof, contact your local roofing pros for FREE Estimates!
Average Flat Roof Cost:
Low End

$6815

Mid Range

$8769

High End

$11211

See Costs in Your Area! Start Here - Enter Your Zip Code
Common Flat Roofing Problems
Flat roofs have inherent design and installation peculiarities that often lead to performance issues and a shorter life span. Here are the top three:
Roof Leaks
A leak is the most frequent and common issue on any type of a flat roof. It usually happens as a result of ponding water that puddles for more than 48 hours, after the most recent rain.
Typically, water penetrates at the seams or flashings. It may also come from drains, chimneys, skylights, parapets and other penetrations. It is very rare to have a leak due to a puncture.
If water gets under the membrane, into the sheathing, mold and rot can occur. This is especially likely in areas with high moisture and frequent rain storms.
Material shrinkage
One of the most common issues for EPDM membranes is shrinkage. When rubber shrinks, it can pull off parapet walls, drip edge or a chimney.
This is more likely to occur on a large building, and on one where the membrane has not been properly attached.
Damage due to foot traffic
Another problem, especially for flat roof decks and commercial properties is heavy foot traffic.
Maintenance personnel (mainly HVAC contractors) and other random visitors going out on the roof, dropping tools, walking over fasteners, etc. All these actions can accidentally puncture the membrane and causing other damages that need to be repaired.
When To Repair Your Flat Roof?
If your flat roof has been properly installed and maintained on a regular basis, and it started to leak, repairing it is best.
However, if the roof is old, has sustained major damages to due a natural disaster, or continues to leak despite the fact that repairs have already been done, replacement may be warranted.
If your roof is relatively new, look at your warranty paperwork. You may be able to have your roof repaired for free or at a discounted rate, depending on warranty terms. Most flat roofing materials carry a warranty of 10-15 years.
There are a couple of repair options to consider:
1) If you have EPDM rubber and don't mind getting your hands dirty, you can purchase a DIY repair kit. It comes with an adhesive and tape for making localized repairs. This is also a quick and inexpensive option, if you are not planning to keep the property for more than a year or two.
2) If you don't want to get yourself into an endless cycle of repairs every few months, get an EXPERT contractor to do the job. You may pay a few hundred dollars more, but you will save yourself thousands of dollars, as well as avoid stress associated with recurring problems in the long run.
3) If you have modified bitumen, you will most likely need a pro, as it requires torching to repair.
4) If you have a leaky tar and gravel roof, finding the source of the problem is very difficult. Even the most skilled pro will have a repair success rate of less than 50%. Consequently, it will most likely need to be replaced.
5) If you have a single-ply membrane, stay away from roof coatings. They are:
a. Expensive
b. Only last 2-3 years. Afterwards, the coating starts to peel, chip and crack. If your roof still leaks, it becomes virtually non-repairable.
Roof Leak Repair Cost
The average cost of professional repair for a leak is $350-600. It entails things like:
– Patching a few small sources of leakage
– Patching a couple of puncture holes
– Fixing a chimney, skylight, or pipe flashing
Bigger jobs can run significantly more, and will depend on the scope and complexity of the work. Typically, contractors charge $75-100 per hour, plus materials.
How To Fix A Leaking Flat Roof DIY
If you are handy, doing a DIY roof repair will save you about 50%, compared to hiring a pro.
An EPDM rubber roof is the easiest and cheapest to repair on your own. You will spend $200-300 on materials, if you buy a roofing kit, like this:
As you can see, this kit is made specifically for fixing a roof leak yourself, and has just the right amount of all required materials.
Otherwise, you would need to go to a supplier and get very large quantities, that will cost you at least 3 times more.
This is because single ply membrane parts and accessories are only sold in commercial size quantities, needed for contractors. For example, you would have to purchase 100 ft of flashing, 1 gallon of primer, 1 gallon of cleaner.
Its not really possible to DIY a TPO or PVC repair because, both of these require heat – welding equipment. Moreover, you will only be able to get large amounts of other necessary materials, as there are no DIY kits for homeowners.
Locating The Source Of A Leak On A Flat Roof
Before you can start the actual repair, the most important step is to find the source or multiples sources of leaks on your flat roof.
Pro Tip: did you know that if you have water damage on your ceiling, the actual source of leak may NOT be directly above it on the roof membrane?

This is because the water that seeps in through the exterior membrane can travel as much as a few feet until it penetrates a weak spot in the sheathing and leaks inside.
This means that discovering the real source of the leak may be a bit tricky and will require some careful examination of the roof.
Here are a few tips:
1. First look for the most obvious points of water penetration. Examine the roof for any holes, punctures, popping screws, rips or tears, visibly worn out areas, raised or separated seams, etc. Once you discover any of these, you will know that is where you will need to patch up the membrane.
2. If you don't see any obvious damage on the membrane itself, look at flashings and caulkings around your vents and other exterior roof structures. Often, leaks are located in these areas, because the original installer did not do a good enough job caulking all the penetrations.
3. In case you can't locate the source of the leak on the roof itself, but have water spots on your ceiling, measure the distance from this spot to the nearest walls. Go back to the roof, and use those measurements to narrow your search area.
4. If your roof is leaking and you can't find the source, contact a roofer to do an inspection and repair the roof.
How To Patch A Flat Roof
Once you pin point all areas where your roof is leaks, its time to patch them up.
Small holes are the easiest and fastest to fix up. You can simply applying a rubber sealing directly to the puncture. Another option is to apply a peel and stick flashing patch to the area (be sure to follow the instructions).
If you discover blisters on your membrane, these will be a lot more challenging to repair. First, use a utility knife to cut through the blister. Use towels to dry the wet area under it (you can also use a propane torch). Once the area is completely dry, apply a peel and stick patch.
When it comes to blisters, one of the biggest mistakes DIYers can make is cutting too deep into the membrane when trying to cut through the bubble. If you are not sure how to do this correctly, its best to call a pro.
Last but not least, your roofing membrane can have a few big rips or tears. These can also be repaired using a peel and stick patch. However, this will require a lot more experience and skill. First, you need to remove all the damaged material.
Be sure to prepare a completely clean and dry surface before applying any new patches. There are various sizes of EPDM rubber rolls that range from 3 to 50 inches, so you can get one most appropriate for your needs.
As mentioned earlier, all other types of flat roofs, such as modified bitumen, tar and gravel, PVC and TPO are a lot more challenging to repair, require special tools and expert knowledge.
When Is Roof Replacement Necessary?
Flat roof replacement is a costly and time consuming option, and it should really be your last resort. Just because your roof has had a few leaks does not mean it its time for it to go.
There are really only two scenarios that warrant a new install:
1.Old age
When the original material has reached the end of its service life, your best bet is to replace it. Depending on the roof you have, local weather conditions, as well as maintenance, this life-cycle may vary, as we have discussed above.
Since EPDM has seams that are prone to water infiltration, they will cause a lot of problems in areas with heavy and frequent rain storms. TPO may not live up to their fullest service life in areas with very high heat and drastic temperature fluctuations.
2. Faulty installation
Unfortunately, problems with installation happen all too often. In fact, this is the Number 1 source of all other issues, including leaks.
If you constantly need to fix a relatively new roof, it most likely means that it was incorrectly installed. Some of these can be fixed by a pro, but others cannot be. This is why getting a thorough inspection is so critical.
In case installation errors cannot be eliminated, the best course of action is replacement. Otherwise, you will just keep dumping money into a product that will never preform the right way.
Keep in mind, that if it turns out that there is wet insulation, it cannot dry out on its own and can cause mold issues and structural damages. These are much more expensive to fix than putting on a new roof, or replacing a large section of the original one.
If you have enough money, opt for a premium material such as PVC. While it costs more that other single ply options, once you install PVC roofing, you will not have to worry about leaks and other problems again.
PVC has hot air-welded seams that will never come apart, and will remain impervious to moisture. It is also an Energy Star rated, cool material, that will reflect the sun's heat, and save you hundreds of dollars on energy costs.
You can use our Flat Roof Calculator to quickly estimate the cost of installing a new membrane.
How Often Does A Flat Roof Need To Be Replaced?
The answer to this question ultimately depends on what kind of a flat roof you have. Different materials have various life spans. Here is what you can expect:
EPDM Rubber – contrary to the recent flood of information on line, saying that EPDM lasts 50 years, its simply NOT TRUE! Based on my experience in this field for the past 15 years, rubber is the least durable membrane, that last 10-12 years, at best. This is under perfect conditions.
TPO – you can get a good 15-20 years out of a quality product.
PVC – this is the longest lasting single ply membrane, with service life of 25-35 years, or more.
Modified Bitumen – this is another short lived material, with life expectancy of about 10-15 years.
Rolled Asphalt – it is almost never installed today, and for good reason. It only lasts 5-7 years.
Therefore, depending on what you have and how many years passed since it has been installed, you have a pretty accurate sense of when it will be time to replace it.
Its important to realize that many of these materials fail completely and require replacement long before these projected average life spans. This usually happens as a result of sub-par installation, or if the house is located in a particularly harsh climate.
Should You Do A Flat Roof Inspection?
To determine whether its best to do hire a pro to fix your leaking roof or install a new membrane ask a professional contractor to conduct an inspection.
Make sure that you hire a pro because a general contractor or a residential shingles guy will not know all the nitty-gritty details and complexities of flat roof materials. Therefore, he may give you wrong advice that will cost more money and time to fix down the line.
During the inspection, your contractor should conduct a very thoroughly examination, including:
– Seams

– Flashings

– Attachment points

– Check for cracks at joints and corners, around chimneys and ventilation slits.

– Assess any damage: deterioration, punctures, aging, leakage, ponding water, etc
It is very important that he does a test-cut (cut through the material to see what is under the top layer). Very often, there is mold and rotted sheathing underneath, that is no visible on the surface.
Flat Roof Maintenance
Whether you have just replaced or repaired your flat roof, regular maintenance is the key to its longevity.
Even the best, most expensive products will not achieve optimal performance without proper care. It only takes a few easy steps:
As a rule of thumb, do maintenance once a year. You should also do the necessary upkeep on an as needed basis, for example after a major snow/rain/wind storm, freeze/thaw cycles, etc.
Remove loose and embedded debris, such as moss, sticks, etc.
Check seams and flashings for wear and tear.
Clean the drains.
Your Estimated Roofing Cost
Roof Price:
Cost per sq. ft.
Roof Size:
Roofing Material:

See costs in your area Start Here - Enter Your Zip Code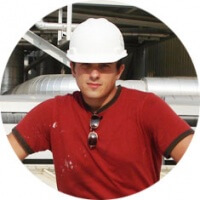 This roofing guide is presented by Leo B.

I've been a roofer for 15 years, and specialize in Metal Roofing and Flat Roofing.

Have a roofing question or issue? Ask me any roofing question!

Roofing Contractors - join our free Local Roofers directory to get more customers!