Among flat roof options for residential homes, PVC roofing stands out for its exceptionally long service life, durability, leak-free seams and energy efficiency.
The average cost of a PVC roof is $6.5-8 per square foot installed, depending on the quality and thickness of the membrane.
Get an accurate estimate for installing PVC on your flat roof. Price quote includes: all materials and accessories, labor, tear-off and dump fees.
Prices
Low End
Mid Range
High End
Materials
$3827
$4502
$5718
Total Cost
$9913
$11662
$14811
See Costs in Your Area!
Start Here - Enter your zip
To get started on installing a PVC roofing membrane, contact your local roofing pros for FREE ESTIMATES!
How Much Does A PVC Roof Cost?
Installed on a 1,600 sq.ft. ranch style home, a PVC membrane costs $9,300-13,950. Prices differ primarily due the thickness of the material.
50 mil is the thinnest and also the cheapest. There are also 60 and 80 mil products.
115 mil is the thickest and most expensive option. For longest possible service, we recommend installing the thickest PVC roofing material you can afford.
50 mil is $6.17 – 8.12 per sq. ft
60 mil is $7.44 – 9.78 per sq. ft
80 mil is $7.62 – 10 per sq. ft
Note, these estimates include: 1 inch PolyIso insulation, installation, and 1 layer roof tear off.
You can use our Flat Roofing Cost Calculator to estimate the cost of installing a PVC membrane on your house.
PVC Roofing Material Prices Based On Brand
Moreover, PVC membrane prices will vary based on the manufacturer you select. Budget quality brands don't last as long and don't do that well in severe weather. Higher-end products are made using premium quality components that ensure longevity and durability.
Low-end: GAF and JM
Mid-Range: Carlisle and Duro-Last
High-End: IB Roof Systems, Sika Sarnafil and FiberTite (most expensive)
What Is A PVC Roof?
PVC is a premium flat roofing material. The name "PVC" stands for Polyvinyl Chloride, and this material is used to create a single ply thermoplastic roofing membrane.
As you can see from the diagram above, a PVC roofing system is made up of a couple of layers of materials that make this roof durable, flexible and water-tight.
PVC material itself contains numerous plastecizers and stabilizers that give this roof its unique properties and longevity.
Ultimately, the quality of the chemical composition determines how well a particular PVC roofing product will perform.
The most notable feature of a thermoplastic membrane is that it can become pliable and soft when heated and then hard again when it cools.
Because of this, PVC membranes are heat welded together at the seams, and don't allow any moisture to come through.
Average Flat Roof Cost:
Low End

$6815

Mid Range

$8769

High End

$11211

See Costs in Your Area! Start Here - Enter Your Zip Code
Cost Of PVC Roof vs. Other Single Ply Roofing Materials
Lets compare the cost of PVC roofing to more budget friendly flat roofs: EPDM rubber roofing and Modified Bitumen.
We will assume you have a simple 1,600 sq.ft. roof. Installing 60 mil PVC membrane will cost $11,760 or $735 per square. Over a 30 year service life, you would be spending $392 per year.
By comparison, the same size EPDM rubber roof costs $9,520. However, it will last about 15-18 years, and will definitely require repairs along the way.
Let's be generous and say rubber roofing will last 20 years (highly unlikely). Your cost per year will be at least $476 per year.
Moreover, keep in mind that glued seams are the weakest point of a rubber membrane, making it prone to leaks where there is ponding water, and a completely flat slope. The glue which holds together sheets of material will also break down due to time and exposure to elements.
On average, EPDM roof seams must be repaired every 5-7 years. Flashing should also be redone – otherwise the roof will begin to leak.
Each repair will cost $700-1,000, and if there are three of them in the service life of this roof, you are looking to spend at least $2,100-3,000 extra.
This does not account for any internal damages to your house, which you may have to pay for in case of severe leaks. These happen a lot with EPDM Rubber.
Now, lets consider Modified Bitumen as an option. Some contractors will only install "torch down" or Mod Bit roofing, which typically consists of a two ply (layers) installation. The plies are a base sheet, and a cap sheet.
Roofers who prefer this system are more like dinosaurs now – nearly extinct "old timers" who claim that torch down lasts 50 years. Well, it doesn't.
In my experience, you can get about 10-15 years out of it, because the seam overlaps in each 3 foot wide roll are torched together and will break apart. Especially the cap sheet, where there are stone granules embedded in the seam, making it ever more weak and prone to leaks.
Thus, in the course of its service life, modified bitumen will cost at least 30% more than a PVC roof!
Also it is very difficult and costly to repair ($1,000+), and there will be interior house fixes to account for, in case major leaks happen. In the end, reality speaks for itself, and modified bitumen is now the least installed of all flat roofs.
Finally, when comparing different flat roof options, you need to consider lifetime savings on the cost of energy. Because PVC roofing reflects 95% of solar heat, you won't have to run your AC as often, or as much.
Expect to save about 20-30% off your electric bill during the summer. In the winter, this roof, along with proper insulation, will also keep your heating costs down, because it is designed to be a heat barrier.
PVC Roofing PROS
Here are the top reasons why so many homeowners choose to install PVC roofing material.
Leak Free
One of the biggest problems with a budget flat roof, such as EPDM rubber, is that it leaks at the seams. A PVC system eliminates this issue.
It features unique heat welded / fused seams , which are completely water resistant. Once these seams are welded, you cannot pull them apart, without tearing the material itself.
Moreover, ALL flashing, penetrations and system components are welded together to create a complete, seamless roof cover! This unique design pretty much guarantees that water will not be able to seep through.
A PVC Roof Eliminates Ponding Water Problems
This system takes care of another serious problem: ponding water. In a typical roof membrane standing water destroys the seams, saturates the insulation and rots the wooden deck. The seams are the weakest link and most susceptible to leaks from ponding water.
However, because PVC seams are hot air welded, they are actually the STRONGEST part – completely impervious even to standing water.
PVC roofing manufacturers, such as IB Systems, actually provide a Ponding Water Warranty with all of its products.
Superior Durability
Another major benefit is that this roof will not break down, deteriorate, or leak, when installed correctly. It is manufactured using high quality polymers, plasticizers, fire retardants, and UV stabilizers.
This ensures that you get a highly flexible and durable membrane that can resist harsh elements, such as UV rays. Moreover, it can be installed in a wide range of regions, including areas that get a lot of snow.
Long Lasting
Out of all flat roofing materials, PVC lasts the longest. You can easily get 30 years or more of leak-free service out of a properly installed PVC roof.
By comparison, other materials, such as EPDM, last half this time, or even less. This means that while you invest less money initially, you will have to keep spending to cover repair and replacement costs.
Easy To Fix
Even if PVC is punctured or otherwise damaged physically, it is very easy and quick to repair. A roofer can do this in any temperature and even under light rain or snow!
All it takes is welding a patch of the PVC material over the puncture. Moreover, the membrane remains weldable for years, so any future repairs are also easy. Hiring a contractor to patch up a few holes costs around $300-500.
Energy Efficient
Most PVC roofs are white in color. They are designed to reflect 95% of the sun's rays, making them a Cool Roof Technology.
All PVC materials carry an Energy Star rating, and can save you up to 30% off your heating and cooling costs. In fact, white and sand color membranes have been shown to exceed both Energy Star and CRRC standards.
Average Flat Roof Cost:
Low End

$6815

Mid Range

$8769

High End

$11211

See Costs in Your Area! Start Here - Enter Your Zip Code
Low Maintenance
Unlike EPDM rubber, whose seams need to regularly re-sealed every few years because they come apart, PVC will remain completely intact.
This is because its scrim is coated with high performance plasticizers that will not degrade over time. All you will need to do is clean debris and periodically hose off the surface, to keep dirt and dust from accumulating.
Green Roof
A PVC roof is one of the most eco-friendly flat roofing materials. First, the membrane is 100% recyclable. Second, it can be installed over an existing roof. This eliminates the need to tear off the old material, thereby saving money, resources and landfill space.
PVC Roof CONS
There are not too many disadvantages to installing a PVC membrane. Here are the most common reasons why people choose to opt out of this product.
Too Expensive
The main disadvantage of PVC roofing is the high cost. This is a premium material, and even the most budget friendly GAF PVC membranes are still more expensive, compared to other flat roofs.
You can install TPO roofing for 15-25% less and EPDM rubber for about 30-40% less.
Installing PVC roofing makes the most sense for homeowners who are planning to live in their house for at least another 10 years and don't want to deal with leaks and related problems.
However, if you are selling your home now or in the near future, and need a cheap new roof, EPDM would be your best bet.
High costs also make PVC extremely expensive to install on large commercial or government buildings, often leading to selection of cheaper alternatives.
Still, because PVC roofing internationally recognized for superior quality, many architects and builders specify this membrane for commercial jobs.
Not DIY-Friendly
For homeowners who like to do repairs themselves, a PVC roof would not be ideal, because only a pro can do the job correctly.
Since any holes need to be air-welded, only a specialty contractor will have the right equipment and expertise. He will also charge 20-30% more for his labor than a regular roofer.
Average Flat Roof Cost:
Low End

$6815

Mid Range

$8769

High End

$11211

See Costs in Your Area! Start Here - Enter Your Zip Code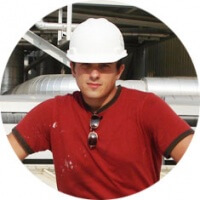 This roofing guide is presented by Leo B.

I've been a roofer for 15 years, and specialize in Metal Roofing and Flat Roofing.

Have a roofing question or issue? Ask me any roofing question!

Roofing Contractors - join our free Local Roofers directory to get more customers!