If you're interested in replacing your roof and want to save money on materials and installation, here are the cheap roofing shingles you need to know about.
A budget roof replacement using 3 tab asphalt shingles on a 1,500 sq. ft. ranch house may cost as little as $2,625-3,750, depending on local labor rates and roofing material prices.
To get started on your roof replacement, contact your local pros for FREE ESTIMATES!
Cheap Shingles Options
Typical Price Range To Install new Roof
Average:
$4,190 - $6,740
The reality is that architectural roof shingles are gaining traction and a larger market share each year. Yet not everyone is keen on opting for them because of the high initial cost. The cheapest alternative to architectural shingles are 3 tab asphalt shingles.
Three tab shingles are an asphalt based material that has 3 These shingles are made of 3 distinct tabs, each 12 inches wide. This construction lends itself to a distinctly flat appearance.
3-tab shingles have limited 20, 25, and 30 year manufacturer warranties. Realistically mostly asphalt shingles products last anywhere from 10-16 years, depending on your local climate and quality of installation.
Inexpensive pricing is not the only point of attraction for 3-tab shingles. They still remain very popular for a number of reasons:
– Thinner shingle body and low weight compared to architectural shingles
– Ease of installation
– Wide range of colors to choose from
Preferred in at least two markets – residential rental properties and people looking to buy or build low value homes – the low initial cost of three tab shingles is very attractive.
These shingles are also the go-to choice for DIY savvy home owners who want to do a roof install themselves, instead of hiring a pro. In these cases, three tab shingles are a lot simpler to install correctly, so that the roof does not leak.
Another reason for the steady popularity of 3-tab shingles is that they can be installed on roofs with a low pitch. If your roof pitch is 2-12, ideally you should install a flat roof.
However, many homeowners only want shingles on their roof, and in this case 3-tab shingles are the preferred choice instead of architectural ones, because the latter will leak on a low pitch roof.
In case you are not what roof pitch you have, use our Pitch Calculator.
Asphalt Shingles Cost Per Square Foot
Three tab asphalt shingles cost between $0.56-75 per square foot without the installation. This is the equivalent of $56-75 per roof square ( 1 roofing square = 100 sq. ft.).
Comparatively, the cost of architectural (composite or laminate) shingles is 10-15% more expensive. Here is a more in-depth look at the costs and pros and cons of using 3 Tab vs Architectural Shingles.
Its important to note that roofing material prices, including prices for shingles, vary widely, depending on where you live. For example, GAF shingles at a Home Depot in Alabama cost $0.56 per square foot, where as the exact same shingles at a Home Depot in Massachusetts cost $0.75 per square foot.
This is why when you are trying to estimate roofing costs, its important to check your local prices, and not just national averages published online.
Keep in mind that when it comes to roof replacement, the cost of shingles alone only makes up a small fraction of the total cost – about 30%.
The rest of the money goes toward professional installation, roof tear off and dump fees, permits, roof insulation and other materials necessary to complete the install and make the roof water tight.
The total cost per square foot to install three tab asphalt shingles is $1.75 – 4.50, largely depending on local roofer's fees and complexity of labor.
The average is about $2.50-3.75 per square foot. Keeping this in mind, the average cost to install budget asphalt shingles on a 2,000 sq. ft. one storie house $3,500 – 9,000. Average total cost is $5,000 – 7,500.
You can use our Roofing Calculator to get a more accurate price estimate for your new roof, using shingles, as well as other types of roofing materials.
Did You Know? Professional roofers have various certifications. Some certifications indicate a higher level of experience but it often also indicates a higher roof installation cost, regardless of the asphalt shingles you choose.
How Much Is A bundle Of Shingles?
A bundle of asphalt shingles may cost $18.44 – 25, depending on the shingle brand and your location. I
n some areas, a bundle of asphalt shingles can cost as much as $30-35. Each bundle should cover at least 32 square feet. On a typical roof, you will need about 3 bundles of shingles to cover 100 sq. ft. of your roof's surface.
How Much Does A bundle Of Shingles Cost At Lowe's?
Here's an overview of what 3-tab shingles, simple and laminated cost at Lowe's.
BRAND
PRICE PER BUNDLE
COVERAGE (SQ.FT)
AVAILABLE COLORS
GAF Royal Sovereign
$26 – 32.56
33.3
11
Owens Corning Supreme
$25 – 31
33.3
15
"GAF Marquis Weathermax
"
$45.60
33.3
4
Cost Of 3 tab Roof Shingles At Home Depot
BRAND
PRICE PER BUNDLE
COVERAGE (SQ.FT)
AVAILABLE COLORS
GAF Royal Sovereign
$35
33.3
3-7
"GAF Marquis Weathermax
"
$51.00
33.3
2
If you buy 48 bundles or more of GAF Sovereign shingles the price will go down to $24.8 per bundle
Note, availability of brands, colors and prices may be different at your local home improvement store. Check in-store prices for exact quotes.
Cost To Install Shingles
The cost to install shingles differs depending on whether you're installing a new roof on a new construction home or replacing an old roof on an existing house.
Of course, in each situation a variety of factors also drive the installation cost up and down. As we mentioned earlier, roof installation makes up 60-70% of the total cost.
On average, roofers charge anywhere from $60-90 per hour for labor depending on location, with the common average being $75-85 per hour.
Factors that increase roof installation cost
There are multiple variable that will impact how much you will end up spending on your new roof. First of all, roof size will dictate the base price since it determines how many shingle bundles the roof requires.
Also, depending on the local labor market and real estate prices, roofers charge an average of $2.25-3.75 per square foot to install shingles on a simple one storie roof without many penetrations. Low income states such as Alabama, can see roofer installation rates as low as as $1.25 – 2.00. On the opposite end of the price spectrum, you can have very expensive states such as Massachusetts, California or New York, were roofers can easily charge $4 -5 per square foot for labor alone!
Another important factor is roof pitch and architectural design. If the roof has sections that are particularly steep, if there are valleys, skylights, chimneys and other penetrations – all of these factors will greatly increase the cost.
A complex roof installation can easily double the price tag, compared to a straight forward install. This is because this type of installation is more labor intensive and will also take a lot longer, all of which is factored into the price.
Any roof repairs that may many need to be done such as rotten substrate, decking, underlayment etc will cost extra and can increase the overall cost of even a simple job by as much as 30%
While this may not be an issue with many standard homes, roof accessibility is also a factor. Some homes have roofs surrounded by trees or other obstacles. Moreover, doing second storie re-roofs usually adds 20-30% to the total cost.
If you are replacing an old roof, as opposed to building new construction, you have to factor in the cost of tear off and removal of old roofing. Depending on the size of the roof and the amount of layers of old material, this can cost $1 – 2.75 per square foot.
Ultimately, whatever adds more time to the project raises the installation cost. Only a roofer will be able to give you the exact price quote for your particular home, after doing a thorough assessment.
Is it Ok to put new roof shingles over old ones?
Many homeowners who are trying to save as much as possible on a re-roof, consider the idea of installing new shingles over the existing ones, since its faster and can save over $1,000 on tear off and removal fees alone. Often this advice is offered by roofers who are trying to get the job and are willing to lower the labor costs by foregoing tear off work.
However, while this may initially sound attractive, its USUALLY not a smart idea to install asphalt shingles over the old shingles. Here are some points to consider and ask your roofer:
– Does your local building code allow for two layers of shingles? Some do, while others don't. You don't want to do any kind of install that will be in violation with local building codes.
– Is the existing roof old/rotting/leaking/overall bad shape? In any of these cases installing new shingles will not take care of your existing roofing problems, and can actually make them worse.
– Does your shingle warranty allow for two layers of installation? Many manufacturers will automatically void the roofing warranty, if their shingles were installed on top of an existing roof.
– Compromised roof ROI: If you go to sell your home, and the inspection discovers that the new roof is installed over old shingles, this may lower the overall value of the property and scare away some buyers who may worry about potential roofing problems.
– Consider the long term effect. Putting a cheap roof on top of an old cheap roof saves you money then. But when the time comes to replace the roof again then you'll most likely have to tear off two layers of shingles to add the new roof. This will considerably raise the cost of the installation, not to mention the length of the project.
Did You Know: in some cases, you can use your homeowner's insurance to cover most if not all of your roof replacement costs. Assuming that the roof was built up to standards, the insurance may cover hailstorm damage and other environmentally-caused issues.
What's the Lifespan of 3 Tab Shingles?
Despite what roofing manufacturers like to tell homeowners, the service life of 3 tab shingles is HIGHLY variable, depending on the quality of insulation and other roofing materials used, quality of the installation and the local environmental conditions. These shingles may last as little as 8 years or as long as 20+ years. On average, you can expect a budget asphalt roof to last 10-14 years.
Keep in mind that the majority of asphalt shingles of the 3 tab variety are not rated to withstand wind speeds of over 60 mph. If you happen to install them on a roof located in an area with stronger winds, you run a very high risk of shingles being blown off and early roof replacement.
Another factor that greatly degrades the service life of low budget shingles is regular exposure to moisture, ice damming, and severe temperature fluctuations. They also don't perform as well under extreme heat and constant exposure to UV rays from the sun.
Did you know? architectural shingles tend to come with minimal warranties of 30 years? That's for low-cost options. And they can last longer against winds more than twice as strong as those that blow 3-tab shingles off the roof.
Best economy brand shingles
Let's do a quick overview of the best 3 – tab shingle products by top roofing manufacturers that offer low cost while still maintaining good value in terms of durability, longevity and leak resistance.
GAF Royal Sovereign
GAF is the most recognizable and trusted roofing shingles manufacturer in the US. Their shingles are a stable product at all home improvement stores and roofing suppliers. Their 3 tab shingles, Royal Sovereign, offer the most affordable and competitive pricing compared to other brands. So if you are looking for absolute cheapest entry level asphalt shingles, Royal Sovereign is the way to go. Even though they have a fairly simplistic appearance, there is a great color variety to choose from. Once installed, these shingles offer a very clean look.
The line is also suitable for any homeowner looking at lighter roofing options. It's known that the entry-level 3-tab shingles from GAF Royal Sovereign aren't as thick or heavy as others. Despite all this, the wind resistance is very impressive as reported by homeowners and seasoned roofers. However, when compared to other brands, this one only comes with a limited 10-year warranty.
Owen's Corning Oakridge
These shingles are energy star rated and come in a variety of gorgeous finishes. You may find that the Aged Cedar or Brownwood colors are widely popular but you can also find something darker to highlight your home such as Estate Gray or Onyx Black, among other color choices. The laminated body features a double layer at the top, in the nailing area. This provides a better fit as well as protects the integrity of the shingles.
Another interesting aspect is the superior algae protection through Owen's Corning StreakGuard proprietary technology. Well-suited for high-humidity regional climates.
Pabco Tahoma
Based in Tahoma, Washington, Pabco is one of the premier choices for anyone looking to build a roof from the deck up with 3-tab shingles. The shingles have a Class A fire resistance rating and a limited warranty of 30 years.
Although these are available in nine colors, there's not as much variation as one would hope. It's also worth noting that the Algae Defender layer doesn't come as a guarantee in all markets across the country. Still, the durability is there and the clean finish of the shingles will definitely improve the ROI of your new roof.
Atlas GlassMaster
If you're really interested in a very classic look, the Atlas GlassMaster 3-tab shingles may be the ones for you. They resist winds up to 60 mph but have a very traditional clean appearance. They also come with good algae growth protection and a very nice warranty plan.
Atlas offers the shingles on a 30-year transferable limited warranty. Again, not something you see every day. The fiberglass base layer not only strengthens the adherence to the roof but it also lowers the cost of the shingles, making them better-suited for the average homeowner. The color catalog is very well put together since it covers pretty much any traditional and modern home color scheme, without complicating things.
Tamko Heritage
Tamko Heritage shingles may not have impressive color variety. Yet they offer a very detailed curb and add depth to any roof. They're among the most stylish economy brand 3-tab shingles and Tamko Heritage also offers all complementary accessories your roof could possibly need.
It's worth pointing out that the color availability may also be influenced by your zip code. Still, the pricing is good and the installation is rather easy. The integrity and durability of the shingles is also good when using the recommended 6 nail pattern. It's definitely a brand that increases your ROI on exterior remodeling.
IKO Marathon Plus AR
Here's another brand of traditional 3-tab asphalt shingles that might interest you. Not only because of its low cost, but also because it features algae protection. The embedded granules offer very good protection against blue-green algae, which is so common in many regional climates. These shingles can be installed with the IKO Fastlock sealant for extra uplift protection. The 25-year warranty is also nice, so too the nine very different available colors. The Aged Redwood looks particularly attractive in some areas, but you can go as dark as Dual Black if you wish.
CertainTeed XT25
This is a brand of economy shingles that does a great job in surviving harsh weather. Their fiberglass base gives them a unique toughness and stability. Furthermore, there are around 13 colors to choose from so you can give your roof the style it needs. The shingles also come with a limited warranty but it's a 25-year warranty nonetheless. This is a good sign. With that in mind, the warranty is transferable which is something that not many 3-tab shingle manufacturers bother to offer anymore. Overall, CertainTeed always competes with GAF, and all their products are considered top of the line in the roofing industry.
Malarkey Duraseal
The Duraseal AR is a fortified take on the traditional 3-tab shingle design. It features a NEX polymer asphalt technology which enhances the granule adhesion and boosts the weather protection. These durable shingles are also rated Class 4 for impact resistance, making them great for your roof during hail storms.
Malarkey shingles are particularly popular on the West Coast and Pacific North West. Although the company exercises higher prices, it still makes the cut on the economy shingles list. One of the things that definitely set these shingles apart is the ease of installation. It's perfectly viable to install Malarkey asphalt shingles with accessories and products from other manufacturers. You can check the Malarkey Secure Choice system for information on acceptable cross-brand combinations.
Best 3 Tab Shingles Reviews: Who Is the Winner?
There are many manufacturers of 3-tab shingles that still appeal to homeowners across the country. Not everyone's ready to make the switch to architectural shingles, and not just because of the price.
It's the fact that 3-tab shingles still have plenty to offer in terms of durability and even style. If you're looking for the absolute winner among brands, the tile has to go to GAF. Its shingles are just superior in quality to many others and the price to performance ratio is on-point.
How to save on roof replacement
Look at the two factors that affect the cost of a roof installation the most – labor and materials. The best way to cut down on roof replacement costs is to hire skilled workers that will do a great job, so you will not be spending money on roof repairs, or even worse untimely replacement.
Buying cheaper shingles such as 3-tab shingles is also a good way to save a few hundred to a few thousand dollars depending on the size of your roof.
Pro Tip: Keep in mind that a lot of roofing suppliers will sell shingles for more than the prices you can get at Home Depot or Lowe's. So if you are planning to buy shingles from a supplier, you can get them to match prices from the big box store.

For example: I went to roofing supply and they wanted to sell me shingles for $99 per square, even with my contractor prices. when I showed them Home Depot prices, they knocked off $15 dollars, bringing the price down to $84 per square.

Moreover, If you served in the military, you can get a military discount of 10% at Lowe's. Alternatively, you can get a family member or a friend who served in the military to buy the shingles for you with their discount.
Another costly part of roof replacement is the disposal of the old shingles. This can cost at least $0.5-1.00 per square foot to remove a single layer of shingles, and as much as $1.75 per square foot if you are removing three layers of old roofing. If you know what you're doing, you can strip the old shingles on your own. That way when the installers arrive, all they have to do is put on the new roof. You can also dispose of old shingles to save more money.
Another way of saving some money is timing your re-roof right. If you don't need a new roof in the summer or fall you may be able to get a discount during the spring or in late winter. That's because roofers are busy during warm seasons.
Lastly, shop around for quotes. Local roofing business can offer very different pricing depending on many factors, so call around and don't be afraid to negotiate.
Tips on hiring the right roofer
As we have mentioned the importance of quality installation numerous times, the big question is: how do you find the right roofer?
The single best piece of advice is this: Never go for the cheapest or an unrealistically cheap roofer. The lowest bids are are OFTEN an indication of lack of experience, unhappy prior clients, lack of proper worker compensation and insurance as well as a host of other back end problems that indicate a sub part quality business. What could save you money in the initial investment stage may cost you thousands in roof replacement and repair work a few years down the line.
When contacting local roofers for estimates, it's very important to get at least 3 recent references and check their credentials. Every area should have a building department or a state consumer protection agency. You can check at their offices to see if your roofer have their credentials in order, all their licenses, and if they're insured.
Always consider more skilled roofers than beginners. Skilled roofers work faster and although the hourly labor cost is higher, they won't take too long to finish your project. Besides, a job well done is worth every penny.
Last but not least, inform yourself on what it takes to put up a new roof or to replace one. You need to understand what factors drive up the price, what angles are tough to work with and have all that information on you at all times. This will help you compare quotes and estimate what you can do to save some money while still hiring the best roofer you can afford.
Note, that basing your hiring decision solely on online testimonials and ratings is not the best idea.
Get free roofing quotes from our vetted, licensed roofers in your area.
Final Thoughts
There's just one way to go if you want to keep your investment small but still score high on your ROI. 3-tab shingles are the cheaper option, but they don't compromise as much as many believe, when it comes to durability, style, and color scheme availability.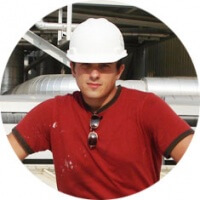 This roofing guide is presented by Leo B.

I've been a roofer for 15 years, and specialize in Metal Roofing and Flat Roofing.

Have a roofing question or issue? Ask me any roofing question!

Roofing Contractors - join our free Local Roofers directory to get more customers!