An energy efficient roof provides an excellent way to reduce energy bills while maintaining a comfortable home. In addition, this type of roof can increase your property's curb appeal and value.
A roof is considered energy efficient through the use of select materials, by infusing reflective granules in roofing materials or applying a reflective coating on an existing roof.
To get started on your roof replacement, contact your local roofing pros for FREE ESTIMATES!
Average Cost For An Energy Efficient Roof
The national average cost for roof replacement ranges between $7,000 and $24,000.
The low-end average cost for 1,000 square feet of asphalt shingles on a single-story property is approximately $3,500.
On the high-end, the cost to install 2,000 square feet of slate shingles on a two-story property, including deck reinforcement, is $44,000.
| Approximate National Average | $7,000 – $24,000 per Sq Ft |
| --- | --- |
| Low-End Average for 1,000 Sq Ft of Asphalt Shingles | $3,500 |
| High-End Average for 2,000 Sq Ft of Slate Shingle | $44,000 |
Roof Cost Based On Roof Pitch
The roof's pitch refers to the steepness of the angle at which the surface rises from the edge to the top. This impacts the roof replacement cost.
Below are average price ranges for the most commonly used energy efficient roofing materials, including labor.
| Average Cost by Pitch | |
| --- | --- |
| Flat Roofing | $4.50 – $7.00 |
| Low Slope | $4.50 – $7.00 |
| Conventional Slope | $3.50 – $9.00 |
| Steep Slope | $5.00 – $12.00 |
Typical Price Range To Install A New Roof
Average:
$4,190 - $6,740
Cost By Roofing Material
The roofing material used significantly impacts the total cost, and the more features a material has, the more it costs.
Average cost for an energy efficient roof replacement per square foot
| Average Cost by Material | |
| --- | --- |
| Asphalt Shingle (Cool Roof) | $9.00 – $15.00 |
| Metal | $4.00 – $30.00 |
| Cedar | $15.00- $25.00 |
| Green | $10.00 – $35.00 |
| Solar | $12.00- $25.00 |
| Slate | $29.00 – $57.00 |
| Tile | $7.00 – $41.00 |
| Cool Roof Coating | $0.75- $1.50 |
Roofing Labor Costs
Labor plays a prominent role in your total cost to install an energy efficient roof.
Roofing installation cost will vary depending on the roofing material. For example, tile, wood shakes, and slate are more challenging to install than asphalt shingles. Most professionals will charge approximately $75 per hour.
Roofing is installed per square foot, or 100 square feet, and labor costs per square foot range from $400 to $600.
| Average Labor Costs | |
| --- | --- |
| Professional Charge per Hour | $75 |
| Installation per Sq Ft | $400 – $600 |
Average Cost To Tear Off And Replace Roof
The average cost to tear off and replace a roof is around $7,000 to $24,000.
Depending on the roofing material and pitch, the tear-off cost is approximately $100 to $200 per square foot, while installation costs fall between $150 to $500 per square foot.
| Average Roof Replacement Costs | |
| --- | --- |
| Average Tear-Off and Replace | $7,000 – $24,000 |
| Material and Pitch Tear-Off Cost per Sq Ft | $100 – $200 |
| Installation Costs per Sq Ft | $150 – $500 |
Pro Tip: Get a written quote from your prospective roofing contractor. If you need to wait longer than a week for a quote, this could signal that the contractor isn't ready to handle business efficiently.
Your Estimated Roofing Cost
Roof Price:
Cost per sq. ft.
Roof Size:
Roofing Material:

See costs in your area Start Here - Enter Your Zip Code
Most Energy Efficient Roofs
Below is a general overview of the eight most energy efficient roof types:
Asphalt Shingle Roofing
Asphalt shingles are the most popular shingle used for roof protection. When filled with reflective granules, asphalt shingles boast higher Solar Reflectance Index (SRI) scores and qualify for energy efficiency criteria at a competitive price.
Pros
They're available in lighter colors for better sun reflection
They last 20 to 50 years or more
They're one of the most inexpensive options
Cons
They may increase condensation
They are susceptible to algae or mold growth in humid climates
Metal Roofing
Metal roofing is one of the most eco-friendly options (since metal is reusable) and one of the most energy efficient roof options as well because it keeps homes cooler as it reflects solar energy (pigments, meanwhile, re-emit heat).
Metal roofs can be copper, steel, tin, zinc, and aluminum. They are available in shingle, shake, or paneled styles and can come in various colors to fit commercial and residential buildings.
Metal Roofing lasts between 40 to 80 years or more.
Pros
It's a recyclable material
It can significantly reduce energy bills
It uses cool roof reflective pigment technology
Cons
It can be more expensive
It is noisy during heavy rain or hailstorm
Typical Price Range
Average:
Tile Roofing
Tile roofing is also considered a top contender when considering energy efficient roofing options.
Common energy efficient tile roofing materials include clay, concrete, and slate.
The main advantage of tile roofing is its ability to circulate air efficiently between each overlapping tile. The insulation layer between the tiles and roof deck promotes round-the-clock energy conservation.
Pros
It increases natural ventilation
It's available in various options
It lasts up to 50 years or more
It offers federal and state tax credits eligibility
Cons
It can be expensive
Tiles may crack or break easily
Solar Shingles
Solar shingles are a relatively new energy efficient roofing technology. They're designed to resemble asphalt shingles and provide the same level of protection while harnessing solar energy.
Solar shingles are approximately the same size as traditional shingles, with a high conversion efficiency rate of 10% to 20%.
Pros
They can reduce utility bills by 40% to 70%
They are lightweight and easy to install
They can significantly increase your home's resale value
They are an alternative to solar panels
Cons
They are expensive
Its efficiency is dependent on the slope and positioning of your roof
Did you know? That solar shingles are an integrated photovoltaic (PV) building product? This means they directly generate electricity from the sunlight.
Typical Price Range To Install A New Roof
Average:
$4,190 - $6,740
Green Roofing
Green roofing is essentially soil and vegetation on top of a flat roof.
This primitive combination of energy efficient roofing materials dates back thousands of years. However, urban developers prefer green roofs because they efficiently combat the urban heat island effect in cities.
Green roofs help keep buildings more comfortable by absorbing solar radiation and providing insulation.
Pros
It reduces the demands on air conditioning
It supports wildlife habitats
It helps improve air quality
It offers natural beauty
Cons
Some types require frequent maintenance
It's heavier, therefore requires more structural support
Cedar Shake
Cedar shake is an outstanding roofing material with a beautiful rustic wood look and excellent energy efficiency.
Over time a cedar shake roof will naturally age to beautiful grayish or brown tones depending on the type of wood. It's also recyclable and eco-friendly.
Cedar shake provides natural insulation up to two times more energy efficient than asphalt shingles.
Pros
It looks great
It offers excellent resistance to extreme weather
It has an average life span of 30 years
Cons
It requires regular maintenance
It is flammable
Your Estimated Roofing Cost
Roof Price:
Cost per sq. ft.
Roof Size:
Roofing Material:

See costs in your area Start Here - Enter Your Zip Code
Slate Roofing
Slate roofing is another stunning, all-natural, energy efficient, and extremely durable roofing system.
Slate tiles are naturally dark in color, absorbing heat and releasing it when the weather turns cold. It can last for over a century and instantly adds market value to your property.
Pros
It can last anywhere from 60 to 200 years
It requires little maintenance
It is highly resistant to water damage
Cons
It is costly
It's pretty heavy, therefore requires a solid structure
Cool Roof Coatings
Cool roof coatings are ideal when your existing roof still has plenty of life left and you live in a hot climate.
A cool roof coating is a white reflective coating that maximizes the roof's ability to reflect and emit heat. It saves you the trouble of replacing your existing roof while becoming an energy efficient roof.
Pros
It can reduce up to 30% of cooling costs
It looks excellent on low-sloped roofs
It extends the life of your roof
It reduces the heat island effect
Cons
It's expensive to install
It is susceptible to mold
What Type Of Roof Is The Most Energy Efficient?
The best roofing material for energy efficiency is metal roofing.
Metal Roofing is cool and can last more than 50 years with little maintenance.
Metal roofs are reasonably lightweight, and therefore, they will reduce stress on your home structure. Moreover, it offers excellent insulation properties and thus has great energy efficiency ratings.
The metal roof has a high SRI, as much of the sun's energy bounces off of it. It can also be coated for an even higher efficiency rating.
Did you know? That Robert Morris developed metal sheet roofing during the American Revolutionary War? It gained popularity during the 19th century.
Typical Price Range To Install a Metal Roof
Average:
$9,150 - $14,310
What Makes A Roof Energy Efficient?
An energy efficient roof reduces the energy consumption of the structure beneath it.
The roofing material is vital in how energy efficient it is. A roof is deemed energy efficient when designed with reflective materials that reflect heat rather than absorb it.
Are Energy Efficient Roofs More Expensive?
Energy efficient roofing might be more expensive, however, they do pay for themselves over time.
For example, a metal roofing system in the summer may reduce your energy bill by 40%. And a cool roofing system can save money through incentives, rebates, and tax credits.
Energy efficient roofs can also save you money by extending the life of your roof.
In addition, your HVAC system will require less work to keep your home cool; therefore, it will last longer too.
What Are The Benefits Of An Energy Efficient Roof?
Reducing your energy bills is just one of the perks of an energy efficient roof. Here are the other reasons why an energy efficient roof is worth it:
It offers better temperature control and sun protection.
ENERGY STAR-certified roofs reduce your home's peak cooling demand by 10% to 15%.
It can help prevent power outages by reducing peak electricity demand.
It maintains a comfortable temperature in your home.
They contribute to your home's value or resale value.
They provide extra insulation.
They look better than non-energy efficient roofing.
They can be better for the environment by reducing power plant emissions.
Is There A Difference Between An Energy Efficient Roof And A Cool Roof?
A cool roof is intended to reflect more sunlight and attract less heat than a regular roof. Therefore, an energy efficient roof can be classified as a cool roof.
However, a "cool roof" is typically related to commercial or flat roof installations.
Cool roofs generally use an existing roofing system and add a reflective coating. But it will be unsuitable for some roofing types.
Cool roofs make a big difference by reducing local air temperatures in cities where most homes and buildings have flat roofs.
Did you know? That metal roofing systems can last a lifetime? It could serve your home for up to 50 years, even if you neglect it.
Your Estimated Roofing Cost
Roof Price:
Cost per sq. ft.
Roof Size:
Roofing Material:

See costs in your area Start Here - Enter Your Zip Code
What Color Roof Is Most Energy Efficient?
White is the perfect roof color for energy efficiency due to the "albedo effect."
The albedo effect is when light and heat are reflected off a lighter surface instead of being absorbed by a darker surface. White roofs or colors with similar light hues will reflect the sun's rays instead of absorbing them.
White or light-colored roofs are proven to be more energy efficient. They offer a drastic reduction of electricity usage during the summer and temperature regulation for a comfortable atmosphere inside the home.
Does A New Roof Help Energy Efficiency?
Older roofs tend to be built using outdated roofing materials, making them less energy efficient.
A new roof can help you save energy; however, the level of efficiency can vary depending on the materials used and the installation method.
Here are some essential factors to consider when installing a new energy efficient roof
Solar reflection
The more efficient it is at reflecting solar light, the more energy efficient it is.
ENERGY STAR rating
The ENERGY STAR is the authority on energy efficient building materials and products. The ENERGY STAR logo gives confidence that a product will save you more energy than a non-ENERGY STAR product.
Roof ventilation
If a roof isn't ventilated properly, hot air can get trapped inside the attic and cause the whole house to heat up like an oven.
Shingle color
Your roof color should depend on your local climate. Homes in cold weather will benefit from dark-colored roofing shingles, while hotter climates should have lighter roof colors to help deflect the sunlight.
Enhance Your Property's Energy Savings With Energy Efficient Roofing
An energy efficient roof reduces energy costs and helps maintain a comfortable home atmosphere.
Metal is the best roofing material for energy efficiency, while other great options include slate and cedar. However, these types can be more expensive.
Cool roof coating offers the opportunity of creating an energy efficient roof from your existing one, but this treatment is only suitable for specific roof types.
When deciding on the best energy efficient roofing material, consider overall installation costs, longevity, and maintenance.

Most People Spent:
$4,190 - $5,740
(For a 1600 sq. ft. Roof)
See costs in your area Start Here - Enter Your Zip Code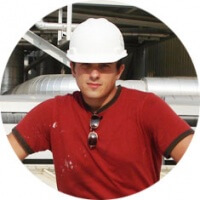 This roofing guide is presented by Leo B.

I've been a roofer for 15 years, and specialize in Metal Roofing and Flat Roofing.

Have a roofing question or issue? Ask me any roofing question!

Roofing Contractors - join our free Local Roofers directory to get more customers!