If you need to replace your roof, you may have noticed that roofing prices seem to be higher than what they were only one year ago. The average reported cost for asphalt shingles is $5,460- 8,750 on a 1,600 sq. ft. ranch style home.
In this post, I would like to offer a unique insider's perspective on this pricing situation to homeowners looking to get the best deal on installing a new roof.
Most People Spent:
$4,190 - $5,740
(For a 1600 sq. ft. Roof)
See costs in your area Start Here - Enter Your Zip Code
How to lock in low(er) roof replacement price?
As you will see below, roofing shingles prices are going up in some instances as much as 15% per year. On top of it, because of Covid payments to anyone who didn't want to work (thanks Joe), the labor cost is up about 30% since before Covid began.
Unfortunately, our dollars get devalued, and prices will keep on rising. At some point, if you need a roof, it's better to just do it. Obviously it's better to do it in a lower price environment, and according to many economists, US will have a recession in late 2023. That might be a good time to get your roof replaced, as contractors and suppliers will be more willing to give discounts.
Another option – if you are not dead set on a particular roofing brand or color, most suppliers usually have "clearance" items. For example, Alside in Massachusetts is selling off their Tamko roof shingles – officially for $100/square (GAF Timberlines are $120), so that is a nice almost 20% saving. So look around.
Second option – go to Home Depot or Lowe's website and search for "Roof Shingles". These two stores always have some random color shingles on sale, and you get additional 10% off for orders over 24 or 36 squares.
Roofing Prices On The Rise Across The US
People who are doing any kind of renovation, including re-roofing, often face the fact that today contractors are charging at least 15 -20 % more for the job than what their friends or neighbors paid only a few short years ago.
While there are a number of reasons for this spike, there is one that most consumers are not aware of. I would like to shed light on it here: contractors' costs for roofing materials keep increasing!
I have had my roofing business for the past 18 years, and for the last 13 years, I've been amazed and frustrated with the fact that the cost of roofing materials continues to rise. This includes the shingles themselves, as well underlayment, and all kinds of other necessary accessories.
Every spring, distributors send out notices to pros that read something along the lines of:
"Dear Customer,

XYZ Manufacturer has increased the selling price of their product, and we have to pass the added cost on to you. Beginning March 1st, the cost of ABC Product is going to increase by 7%, and most accessories will go up 3-8%… blah blah blah…"
Think about this for a moment:
In late 2020, when the COVID XIX construction boom was in full swing, 1 square (100 sq. ft.) of GAF Timberline HDZ was $84/sq. Now in 2013 it is $120 per square. That is a 43% increase in less than 3 years, or 14% annual increase, which is far ahead of the highest CPI reading of 9.1% that we had in July 2022, and 3 times higher than current 5% inflation (as of May 2023).
In 2008, a gallon of EPDM Primer from Harvey was about $18-20. Recently I picked one up for $69 (tax included).
In 2007, I used to pay about $220-275 per square of metal shingles (with basic accessories) and $130 per 10 square roof of GAF DeckArmor underlayment. Now, my cost is $470-550 for metal shingles, and $280-310 for GAF DeckArmor.
Architectural asphalt shingles were about $70 per square, and now they are at $110 or more.
Your Estimated Roofing Cost
Roof Price:
Cost per sq. ft.
Roof Size:
Roofing Material:

See costs in your area Start Here - Enter Your Zip Code
That is more than a 50% increase in 7 years! Mind you, inflation is in theory only around 4%.
I know for a fact that the true cost of these products went up AT MOST at the inflation rate, but most likely much less! How do I know, you ask? One of my INDEPENDENT suppliers is charging only $10 bucks more per square of METAL shingles vs. what they charged in 2008!
Why Are Roofing Prices So High?
Back in 2008, I used to buy TAMKO steel shingles from ALSIDE Supply. Unfortunately, they no longer carry Tamko products in RI and MA, so I had to switch suppliers.
But back then, I was on good terms with my salesman, and one time he sat me down at his desk to fill out some paperwork.
I noticed that right in front of me was a document that showed ALSIDE's material cost, which was only 60% of what they charged me! Turn percentages around – that is a 67% markup on materials!
I was enraged! Sure – a business needs to make money, and I have no problem with it. But, typical markup for distributors in ANY industry is 40% or less. This is enough to cover costs and make a VERY good profit:
ABC Supply's former founder and CEO Ken Hendricks, before his death in 2007 (he died from a fall off a ladder – how ironic) had a net worth of $1.5 Billion, selling "roof shingles". And at that time, ABC had $2 billion in sales every year. A company does not become that big by not making money.
So – suppliers charge a lot. I get it – after all, a corporation's main purpose is to make and increase profits. But here is another "story" that we keep hearing from the manufacturers – rising costs. Rising cost of OIL, rising cost of LABOR, and this and that, and so on. Every year.
As you can see from the price above, the Crude oil price is now at $62.29 per barrel (as of February 19, 2018) which is $50 (FIFTY) lower than the high prices we had in 2011-2014.

Yet in September alone, we got another round of emails from Harvey BP (Roofing Supplier) stating that roof prices are going up yet again:


Sep. 2, 2017

– Aluminum Products

Manufacturers of aluminum products have announced increases of between 5-8% on all aluminum products. As a result we will be passing on these increases effective October 1, 2017. These increases include, but are not limited to, Aluminum Trim Coil, Siding, Gutter, Edging, Sheet Stock, etc.

– Fabral Roofing

Fabral has just announced a 5% increase effective September 15th which we will need to pass on at that time.

We have also received notifications of increases of between 5-10% from our asphalt shingle manufacturers that take effect in early September. We will continue to hold the line on asphalt shingle prices as long as possible.

Sep. 16, 2017

– Roof Cost Increases

A reminder that all roofing manufactures raised their prices between 5-10% effective at the beginning of September. We will need to pass along an increase of 1-4% effective October 1, 2017. This increase will apply to many non-standard shingles and various accessories.

Non-standard shingle examples include: CertainTeed Patriot, GAF Timberline Natural Shadow, Tamko Heritage Vintage, etc. Some accessory examples include Tamko Ridge Roll Vent, GAF Snow Country, Cobra & Shinglemate, select Hip & Ridge cap products, etc.

This increase does not include 3 of our most popular shingles: Landmark, Timberline HD and Heritage. We will continue to hold the line on these standard shingles as long as possible, but please factor in a 5-10% increase when pricing out any projects that will begin after mid-October.

– Aluminum Products

In the past 30 days, Manufacturers of aluminum products have announced multiple price increases. These combined, result in some products increasing by as much as 12%. As a result, we will be passing on two rounds of increases: the first effective October 1, 2017 and a second effective October 15, 2017.

These increases include, but are not limited to, Aluminum Trim Coil, Siding, Gutter, Edging, Sheet Stock, Storm Windows and Storm Doors, etc.
Let's look at it this way:
Since 2008, oil prices have been dancing around $140 / barrel (a temporary record), with a huge decline after the housing and financial bubbles of late 2008. However, they did not stay low for very long. In 2009, they dropped to around $58 / barrel, but by 2011, came back up into $100 range.
Now let's compare this to ASPHALT shingles prices – why asphalt? Because OIL is the main and most expensive ingredient in these shingles, and is one of the few building materials that is directly affected by large fluctuations in cost of crude oil.
So, in early 2008, the cost of shingles went up to around $90 per square (100 square feet or 10×10 area). But in 2009-2011, it did not decrease a single penny … rather stayed stable. After 2011, the cost of these shingles began rising again, while crude prices slowly came back (and stayed) at around $100/barrel.
Now, February 2018, crude oil is considerably cheaper – $62.27/barrel, and shingles are still $100-110 per square. So yeah – oil prices "really affect the price of roofing". Basically, manufacturers increase prices, while maintaining stable or even lower costs!
But even more frustrating to me is a huge increase in the cost of flat roofing materials, such as PVC.
Core PVC roofing contains ZERO oil byproducts. If fact – PVC (poly vinyl chloride) is made of CHLORINE (gas) and Vinyl (made from fossil fuel, which is NOT oil).
However, our cost for PVC has gone up 40% since 2008, and our supplier actually cited "increasing oil prices" as the main reason for the price hike!
The REAL Reason Why Roof Installation Prices Keep Going Up
I think by now you get the picture – it's pure greed! Manufacturers and suppliers are in a very unique position, where in theory there is competition, but in reality, you have 3-5 major players in the industry, who all, like a clock, raise their prices every spring and on other "special occasions".
Contractors do not have much of a choice but to bite the bullet, pay up, and pass the added cost onto the end user – the home or building owner.
I recently came across this discussion on the roofing forum, where an aging roofer is considering becoming a materials' distributor.
A common response from others, who already tried this, is that big roof manufacturers will not sell to them! They are protecting their status quo.
Here is the thread.
Your Estimated Roofing Cost
Roof Price:
Cost per sq. ft.
Roof Size:
Roofing Material:

See costs in your area Start Here - Enter Your Zip Code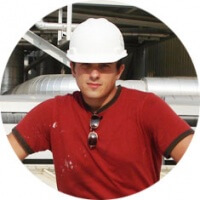 This roofing guide is presented by Leo B.

I've been a roofer for 15 years, and specialize in Metal Roofing and Flat Roofing.

Have a roofing question or issue? Ask me any roofing question!

Roofing Contractors - join our free Local Roofers directory to get more customers!