It's no secret that the beauty and curb appeal of a natural slate roof far surpasses other types of materials. After all, this is why roofing manufacturers continue to develop technologies that can replicate the look of slate using composite and polymer materials, asphalt, as well as metal.
Today, its possible to install a synthetic slate roof for 50-65% less than the price of real slate stone, and it will actually look beautiful!
So many homeowners and architects wonder whether a real slate roof is worth the money, or a different material that simply looks like slate can work just as well?
To answer this question, let's take an in-depth look and the pros and cons of slate roofing.
Install Slate Roof:
(17,780 projects)
National Average Cost
$17,347
See Costs in Your Area!
Start Here - Enter your zip
Slate Roof Pros
Here are the top reasons why people choose real slate over more modern and modestly priced roofing materials.
Superior protection
Regardless of the weather conditions prevalent in your area, you can be sure that slate will protect your home! It is completely resistant to wind, snow, rain, sun, hot and cold fluctuations. After all slate is a rock, so it remains unscathed even in the most severe weather. No other material, including metal, can offer this level of protection to a house or building.
Impervious to water
Leaks, large and small, are a serious issue for the majority of roofing materials. However, being a stone, slate tile will remain 100% leak-free for the duration of its life, provided proper installation techniques and high quality materials for other parts of the roofing system have been used. Only a properly installed metal roof can offer similar resistance to leaks and ice dams. However, all composite and synthetic slate roofing materials are a lot more susceptible to leaks.
Exceptional durability
Slate is highly resistant to mold, mildew, insect infestation, UV rays, algae, rust and other sources of damage that plague various roofs.
Longevity
A forever roof = slate. In fact, it is the longest lasting roofing material. 1st grade slate stone can last well over 200 years! There are many instances, where the entire house is destroyed, and a slate roof is the only thing that remains in tact.
Its important to note that longevity of slate depends on its origin. Some softer varieties of slate that are quarried in China and Brazil will last 60-75 before they start showing signs of old age. Still, this is decades more than most other types of roofs. However, a good quality slate tile should easily last over 100 years.
If you are after a long service life for your roof, be sure to ask the supplier about the slate's origin and how long stone from those quarries typically holds up. Moreover, keep in mind that the cost of slate, depending on its grade and therefore longevity, will be different. Premium Vermont slate that lasts 150-200+ plus will cost a lot more than other varieties.
Fire proof
This material is none-combustible and will never catch fire.
Custom look
You can order slate roofing tiles in a countless array of lengths/widths/thicknesses, different patterns, colors and a variety of installation types. You can combine tiles of different colors on one roof to create a stunning mosaic that will be a true work of art. Slate is highly versatile and can compliment pretty much any architectural house style. Note, that its much harder to work with and cut thicker slabs of slate, so a pro will charge premium for working with thicker tiles.
Does not fade in the sun
One of the greatest advantages of slate is that its beautiful color remains steadfast throughout decades. However, this is only true if you get "unfading" slate. Harmful UV rays which sooner or later ruin the initial color of other roofing materials, don't have a negative impact on this type of slate. Over a very long period of time, natural elements can cause the original slate color to become slightly more dull, but this will hardly be noticeable within one person's life time.
However, if you purchase "fading" slate, also known as "semi-weathering" or "weathering", its original color will eventually turn brown. Fading slate from different quarries has a different rate and amount of this discoloration. Some weathering slate will only loose 10% of its colors, while other varieties can loose up to 100% of its color over a specific period of time. A slate supplier can easily tell you how much color a particular fading slate will loose. If color preservation is a big concern for you, its recommended to install unfading slate.
Slate's colorfastness stands in sharp contrast to synthetic slate. While initially, these "faux" slate tiles look as good as the real deal, they loose their initial appeal only after 15-20 years. This is especially noticeable on synthetic tile roofs installed in regions with constant exposure to direct sun rays and strong heat. Regardless of the technology uses, the color on these roofs starts to fade dramatically. They look dull and bland, no longer bearing any resemblance to real slate:(
Easy maintenance
Unless slate cracks or breaks (requiring replacement) you can enjoy a virtually maintenance free service life for many years to come.
Environmental benefits
Slate stone is a green building material. Over the course of its lifetime it can help lower your energy costs and conserve resources required for frequent roof replacement.
Increased home value
Superb curb appeal, combined with the fact that it is a "lifetime" roof will add great value to your house and attract more buyers. A slate roof will not depreciate in value over time, which is what happens with common roofing materials, such as asphalt or woof shingles. The projected ROI of a slate roof is around 80%
Cons
Here is a run down of the most significant disadvantages to installing slate roofing.
High cost
Real slate tile is so expensive that its out of the price range for most homeowners. On average, slate roofing costs $15-25 per square foot, including materials and installation. So a 1,600 sq. ft. slate roof will cost $24,000-40,000. However, more complex installs combined with premium quality slate can easily cost $35 – 40 per square foot.
Low grade slate stone can cost as little as $4.5-5 per square foot. However, here you get what you pay for. This tile will likely not last more than 50-60 years, and can break or crack fairly easily. Good quality slate costs $7.5-8.5 per square foot, and higher grade varieties can easily cost $10+ per square foot.
Install Slate Roof:
(17,780 projects)
National Average Cost
$17,347
See Costs in Your Area!
Start Here - Enter your zip
Labor to install slate is very expensive as well. Basic installs that don't require any major cutting or shaping of the stone, on a simple roof start at $6-6.5 per square foot.
However more complex jobs, especially those that call for thick tile, creation of patterns, etc can easily cost 30-50% more.
If your roof or home structure will require reinforcement to support the heavy weight of slate, this will also cost extra. A structural engineer should be called to provide an exact scope of work and an estimate. However, homeowners report spending an average of $5,000-9,000 to add the necessary reinforcements.
Brittle
Slate tile can easily crack and break during installation or a repair job. Cheaper varieties of slate as well as thinner pieces are a lot more susceptible to cracking that premium slate stone. Falling tree branches, thrown stones or large hail can also cause slate to crack, warranting expensive replacement.
Exceptionally heavy
Natural slate tile weighs from 8 to 15 pounds per square foot. Many existing house structures are not built to withstand such a heavy load. It is important that you structurally evaluate your residence to make sure it is an appropriate fit for slate installation.
If your roof is not properly built, you will need to upgrade the framing to support the roof load, as well as snow (if you live in the Northern States). New construction homes can be specified to withstand the added structural load of slate with extra reinforcement.
Long job completion time
Unlike most other roofing materials, slate is not quickly available upon placing your order. It may take as long as 1-3 months for your materials to arrive to the job site. Furthermore, because of the difficult and tedious installation process, completing the install also takes a long time.
For an average home size, you can expect the install to take up to 3 months, if you hire a professional slater, who will not skip on crucial installation procedures. In rare cases, very large jobs (around 170 roof squares) that have many obstacles on the roof (dormers, valleys, chimney, etc) and require graduated, textural patterns can take up to 1 year!
Challenging tile replacement
If you need to replace broken tiles, it is often a challenge to find an exact match in terms of size, color and textures to match the existing slate on your roof. Extensive expertise in slate roofing is necessary to get this job done well.
Lack of professional installers
I put this as the last disadvantage, but really its probably the biggest one. The truth is that slate is completely different from all other roofing materials when it comes to installation. The most skilled roofer will still not be able to do a good job with slate! This is because working with real slate stone is an intricate balance of art and science, so only a pro slater (a roofer who works exclusively with slate) can get all the installation elements just right.
This is where all problems begin. On one hand because slate is such a premium material with a fairly small demand market, there are very few professional installers. On the other hand, homeowners and builders who do want slate, but also want to save money on expensive installation, fall prey to unprofessional contractors who are willing to install this material at a "discount". As a result, they end up doing a lot of damage that costs thousands of dollars to fix.
Because so many slate installs are bad and roofs are leaking or failing in the worst case scenario, many people prefer to avoid this material all together. Today, more and more architects specify synthetic slate on historic buildings and luxury residences, where original slate can be restored or partially replaced.
To avoid this problem, consult the National Slate Association to find an expert slater in your area.
Final verdict on installing a slate roof
After going through all the pros and cons related to slate roofing, is it a "go" or "no go"?
Here is what I think:
If you have a high value home (expensive new construction or a luxury/historic residence), natural slate is a very appropriate choice of material. You should go for it if you are prepared to spend money on BOTH high quality stone and expert installation. For example, I would avoid Chinese slate.

If you try to save money on either materials or labor, its not worth the trouble! There are other less expensive roofs that will not drain your pocket, if they are low quality and/or are not properly installed.
Repair and replacement considerations
Just like all materials, slate will eventually age, break, leak, etc. At that point you will need to decide whether to repair or replace your roof. Choosing one or the other largely depends on the type of slate your roof is made of.
In short, there are soft and hard varieties. Hard slate usually has a very smooth surface and a slight shine. A roof that looks like this still has many decades of life in it. Soft slate will eventually start to look "flaky", which is an indicator that it will soon develop problems. If you are not sure which slate type you have, you need to seek advice of an expert "slater".
If you have the hard type and it is leaking (even if it is already 100 years old), it makes sense to fix and restore, because you can get another 100 years of service out of it. However, if its soft slate, and the roof is already very old, it may not be worth repairing, as it is already nearing the end of its service life.
To avoid putting your home at risk and wasting a lot of time and money, be sure to work only with a professional for both slate repair and replacement jobs. While a slate roof is supposed to last for centuries, at the end of the day it is only as good as the roofer who installs it.
Your Estimated Roofing Cost
Roof Price:
Cost per sq. ft.
Roof Size:
Roofing Material:

See costs in your area Start Here - Enter Your Zip Code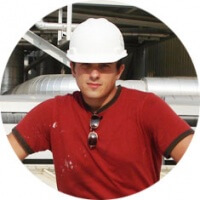 This roofing guide is presented by Leo B.

I've been a roofer for 15 years, and specialize in Metal Roofing and Flat Roofing.

Have a roofing question or issue? Ask me any roofing question!

Roofing Contractors - join our free Local Roofers directory to get more customers!