Tile Roof Cost Calculator estimates the cost of installing a clay tile roof on your house.
Our estimate includes all permits, the entire roof system including underlayment and accessories, as well as dump fees.
Removal of old roofing is not included, and can rack up an additional $1,000-3,500 depending on the size of the roof and material.
If you are ready to replace your old roof, contact your local roofing pros for FREE ESTIMATES!
Install Clay Tile Roof:
(15,713 projects)
National Average Cost
$13,544
See Costs in Your Area!
Start Here - Enter your zip
How Much Does A Clay Tile Roof Cost?
Natural clay tile roofing is very high-end material, rivaled only by real slate.
Homeowners across the states report spending $15,000 – 17,000 to install clay tiles on a simple 1,600 sq. ft. ranch style home. This is equivalent to $10-12 per square foot, or $1,000 – 1,200 per square.
However, based on the tile quality itself, as well as the complexity of the roof, your total installation cost can be significantly higher; in the ballpark of $25,000-45,000 +.
For example, Terracotta roof tile is 20-30% more expensive than regular clay because its color is baked into the material during the manufacturing process, so it will never fade with time. Moreover, it is also heat reflective, which will lower your energy consumption.
In terms of labor, roof penetrations, such as: chimneys, skylights, roof vents, as well as roof pitch, number of storeys etc., can significantly increase your total installation cost.
Also, it is possible to customize your clay roof tiles. This may include ordering a unique tile shape, pattern, color or glaze, etc. For such upgrades, you can spend anywhere from $10-30 per square foot extra.
Lastly, you need to keep in mind that because tiles made of clay are very heavy, shipping them may be very expensive. Depending on the distance, your shipping charges may add as much as $1,000-1,500 to your overall budget.
Clay Roof Tile Prices Per Square Foot
Not all clay tile is created equal. Depending on the quality of the clay material, style/shape of the tile as well as the manufacturer, you can expect to spend about $4-10 per square foot.
For example:
– Pantile roof tiles are the most light-weight and least expensive

– Roman and Spanish tiles are in the middle of the price spectrum

– Riviera and Barrel tiles are most expensive.
There is also a special premium variety, known as Terracotta tile. Traditionally they are made using a particular kind of clay, known as monocottura, or red clay.
This produces the distinct, world-renown reddish, orange color of these classic roofs. Such a color will also never change or fade, and the tile itself is more durable than classic roofing tiles made of regular clay.
You can budget about $6-15 per sq. ft. for materials only.
Overall, patterns that use smaller size pieces will cost more (both materials and installation) than larger ones.
Cost of Structural Reinforcement For A Clay Tile Roof
When considering clay tile roofing, it is important to ensure that your roof deck and overall roof structure can carry the heavy weight of this material.
Clay roof tiles can weigh as much as 8-10 lb per sq. ft. compared to the weight of asphalt shingles 2-5 lb per square foot, or metal roofing 1.5-3 lb per square foot.
If you live in a region that gets heavy snow storms, the extra weight load of snow also needs to be taken into account.
It is best for an experienced roofing contractor to come in and do an inspection to determine how suitable your home is for this type of install.
If it turns out that your roof deck, as well as trusses and beams will need additional structural reinforcement, you are looking to spend another $6,000-15,000+ depending on what needs to be done.
In some older homes, a roofer may discover that the deck is too old, rotten, or sagging, and it will need to be completely replaced, before installing a clay tiles. In other instances, repairing the deck and adding reinforcement will be sufficient.
There are homes where installing clay tile will not be recommended at all! In this situation, a homeowner may consider a much lighter roofing material, which looks similar to real clay and is also extremely durable: stone-coated metal tile.
Clay Tile Roof Styles and Profiles
One of the unique benefits of clay tiles is that they are available in a wide range of beautiful profiles, that can really make your home stand out from the rest. Here are the most popular ones:
Spanish Tile
Spanish tile is one of the most popular profiles, which is characterized by one-barrel design and wide water courses, making the pattern look like waves or ripples. The Scandia profile is a variation of this style.
Mission Tile
This profile is also commonly known as the Double Roman. The high profile barrel design creates pronounced ridges and ribs.
This produces very dramatic shadows, as the sun moves along the roof throughout the day.
The distinct Mission tile look is most popular on Mediterranean style homes and has numerous beautiful variations. One of them is called the Riviera tile – the ridges here are flattened instead of being round.
French Tile
Also called "profile" tile. This style looks like a reversed Double Roman, and is considered to be on one of most sculpted types of tile.
It has a noticeable square protrusions and large indents. This makes it a great water-shedding roof system, and it is ideal for homes located in regions that get a lot of rain.
True Barrel Tile
While both Spanish and Mission profiles also have a round barrel-like shape, the original barrel roof tile is actually tapered, so one side is wider than the other. Today, a barrel tile roof is very popular if you want to have curved architecture.
Interlocking Shingle Tile
This tile shape is ideal if your are looking to replicate the look of other roofing materials, such as asphalt shingles, wood shakes, or slate tile. It is available in a wide range of textures and colors.
Most other profiles are variations of the ones above. It is also possible to create a custom profile or pattern for your particular aesthetic preferences.
Tile Roof Color Options
A clay tile roof does not need to have a traditional "clay" hue, such as brown, red, orange, etc. There are many beautiful glazes available, that are baked on to the tile during the firing process.
Custom blends can also be ordered, depending on the manufacturer you choose. You can have colors that are matte, glossy, weathered, etc.
Here is a sample of natural clay color blends, from Redland Clay Tile.
Here is a sample of various glazed hues from Ludowici. Note, that this is just a small sample, and many more colors in hues of purple, blue, grey, black, are available.
If you are looking for something really special, or need to match historic roof tile, Ludowici offers a number of textured finishes for terracotta that replicate the authentic look of centuries-old tile.
Tile Roofing Pros & Cons
Real clay tile roofing is one of the top preforming, most valued roofing options that boasts unique benefits.
Still, a clay tile roof is not for everyone, and there are important drawbacks to consider. This table summarizes its pros and cons, and will help you figure out if a clay tile roof is right for your home.
| PROS | CONS |
| --- | --- |
| Extremely durable | Very expensive. Costs 3-5 times more than asphalt shingles |
| Life-time material. Lasts at least 50 years but often over 100 | Brittle and can easily crack or break if walked on |
| Resistant to fire, rot, mold, insects, water infiltration | Often requires structural reinforcement of the roof deck |
| Can withstand very strong, hurricane level winds of up to 125 mph | Clay, other than terracotta tile will darken with time |
| Beautiful styles that greatly increase house curb appeal | DIY repair or installation is not possible |
| Heat reflective material that can save up to 30% on energy costs | Roofing underlayment will need to be replaced every 10 years |
| Many color options available and colors will not fade with time | |
| Considered a GREEN building material | |
| Easy, minimal maintenance | |
| Clay is 100% recyclable, so it will not fill our landfills | |
| If broken, individual tiles are easy to replace | |
| Can reduce ice dams in colder climates | |
| Provides excellent insulation and can save money on heating costs | |
| Withstands hail storms (2 inch hail) much better than most other roofs | |
| Highly attractive to prospective buyers: great value | |
Tile Roof Regional and Climate Considerations
Clay roofs can be installed in pretty much any climate. This material is best suited for and most often found in warm/hot weather regions.
Because clay tile offers great energy efficiency, it helps to save homeowners a lot of money (as much as 30%) on cooling costs, in regions that get high temperatures and a lot of sun year round.
This is why there are so many clay tile roofs in states like: Florida, Texas, Louisiana, Arizona and California.
Still, a clay roof can also do very well in a cold region, with snow storms, as well as regular freeze and thaw cycles.
Clay tiles do a great job shedding snow and ice, and can help prevent ice dams. Also, because clay has very good insulating properties, it will help you avoid wasting energy and money on heat during the winter months.
However, if you live in a cold region, such as the Northeast or Canada, it is very important that you install only a Grade 1 tile. It is fired in a way that extrudes the most moisture from it, thus making it highly resistant to water absorption.
Therefore, it is able to withstand freeze and thaw cycles. On the other hand, Grade 2, tile is not as moisture resistant, while Grade 3 is very porous. It provides very poor moisture resistance and therefore and should not be used in these regions.
Finally, most types of clay tiles can be installed in coastal areas, as they are not susceptible from damage to salt air.
Clay Tile Roofing Maintenance and Repairs
Overall, clay tile roofing is considered easy to maintain. Typically, you will need to wash the roof to get rid of dirt, moss growth and other debris.
If you live in an area with frequent winds and/or hail storms, you should inspect your roof after every such event to make sure that there are no broken or cracked tiles.
In case you or the roofing inspector finds any broken tiles, they should be replaced immediately.
Leaving them there makes your roof susceptible to moisture infiltration and a host of resulting issues. Repair costs start at around $500-650.
It is best to avoid walking on a clay tile roof, especially if you are not a pro. Clay tile can easily crack and even break under pressure, and will require replacement.
Concrete Roofing vs. Clay Tile Roof
For homeowners who love the look and durability of a clay roof, but cannot afford the steep cost, concrete tiles are a great alternative. These can be manufactured in most colors and profiles of clay, but for 40-50% less.
A concrete roof will generally last around 40-50 years, which is extremely long compared to most other roofs. Similar to real clay roofing, concrete is fire and rot resistant, and can withstand hurricane level winds.
While heavier than most other materials, concrete is a little lighter than clay, averaging 6-10 lb per square foot. This means that it can often be installed without additional structural reinforcement.
Another big difference between the two materials is that concrete is more porous. Some products may need to be sealed to prevent moisture infiltration. Once you seal it, you will need to repeat this process once every 10 years, to maintain the roof's durability.
If you live in the Northeast with drastic freeze and thaw cycles, you need to look for a concrete roof that meets the ASTM standard for these weather conditions. Not all concrete tiles would be appropriate for this application.
Clay Roof Tile vs. Best Roofing Materials
A clay tile roof is a very expensive investment. It is important to know how its price stacks up against other popular roofing options. Keep in mind that cheaper roofs, such as asphalt shingles, are not as durable, long lasting, or weather resistant as clay.
| MATERIAL | COST PER SQUARE FOOT INSTALLED |
| --- | --- |
| Clay Tile | $9 – 14 |
| Terracotta Tile | $12 – 18 |
| Concrete Tile | $6 – 10 |
| Stone Coated Metal Tile | $7 – 9 |
| Slate Tiles | $18 – 30 |
| Synthetic Slate | $7 – 10 |
| Painted Metal Tiles | $6 – 9 |
| Cedar Shingles | $5 – 10 |
| Architectural Asphalt Shingles | $3 – 6 |
| Basic 3-Tab Shingles | $2.5 – 4.5 |
How To Find A Quality Tile Roof Installer
It is very important to keep in mind that tile roofing is a very specialized field. Installation requires technical knowledge and skills that are unique to this material.
This means that a roofer who installs asphalt shingles will most likely not be able to do a good job with either clay or concrete.
While he may charge you a lot less for labor than a contractor with proper experience, you will pay a lot more in the long run, once roofing problems start to show up out of the blue.
We strongly recommend hiring a pro who has installed tile roofs in the past. Make sure the company is licensed, insured, and can provide references and pictures of recently completed jobs.
You can also look for a contractor who has a certification from a professional association, such as TRI (Tile Roofing Institute).
Top Tile Roofing Manufacturers
Here are the top manufacturers of both clay and concrete roofs.
1. Boral Roofing: manufactures both clay and concrete roofing. Boral offers Spanish and Mission clay profiles.
Boral roofing also has a unique product, Claylite, that is 40% lighter in weight than regular clay and would not require structural reinforcement.
2. Ludowici Roofing one of the oldest manufacturers of clay tile, with a stellar record of 120 years in business. They make all popular, decorative, as well as custom clay and terracotta profiles.
Considered a leading expert in glazed coatings, Ludowici offers over 40 beautiful colors, as well as custom blends. This is an ideal option, if you are looking to restore a historic roof, or want a high-end, exquisite material.
3.MCA Tile Roofing: another manufacturer that produces exclusively fired clay, and has been in business for close to a century.
MCA offer a number of Mission, Barrel, Tapered Barrel, Roman, Japanese, and historic profiles. Moreover, MCA offers eco-friendly colors that are produced without the use of lead.
4. Verea Roofing: this Florida based company offers Grade 1 European made clay and terracotta tile to the North American market. Currently, you can purchase Spanish S style, Barrel and Flat Tile profiles, in 11 beautiful colors: Red, Brown, Graphite, Vintage, Fume, Jacobea Blend, Aneja, Santiago Blend, Capcana Blend, Mocha and Peach. ​
5. Eagle Roofing: for 25 years, this US based company has been manufacturing high quality, beautiful concrete roofing products. They are not distinguishable from real clay.
The company specializes in producing tile suitable for different regions and weather conditions. They offer products made for Florida, California, Northeast and Canada.
Your Estimated Roofing Cost
Roof Price:
Cost per sq. ft.
Roof Size:
Roofing Material:

See costs in your area Start Here - Enter Your Zip Code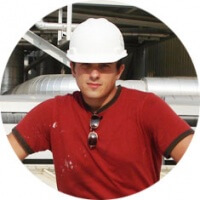 This roofing guide is presented by Leo B.

I've been a roofer for 15 years, and specialize in Metal Roofing and Flat Roofing.

Have a roofing question or issue? Ask me any roofing question!

Roofing Contractors - join our free Local Roofers directory to get more customers!