Architectural shingles are an exceedingly popular roofing material. They're remarkably durable and look great. But how do they compare to other types of asphalt shingles, and should you install them on your roof?
To get started on your roof replacement, contact your local roofing pros for FREE ESTIMATES!
How Much Do Architectural Shingles Cost?
Shingles are generally sold in bundles and squares.
You need 100 square feet for one square, whereas bundles cover just 33% of the area.
The cost of architectural shingles varies. They can set you back anywhere between $90-$135 per square. Whereas you can expect to pay around $27-$45 per bundle.
| Installation | Cost |
| --- | --- |
| Per Bundle | $27-$45 |
| Per Square | $90-$135 |
The total price of reroofing your house with this material is around $4,700-$9,000, putting the average cost at about $6,850.
Most People Spent:
$4,190 - $5,740
(For a 1600 sq. ft. Roof)
See costs in your area Start Here - Enter Your Zip Code
What Are Laminated Shingles And What Are The Benefits?
Architectural shingles are also called composite, laminate, or dimensional shingles.
Laminate/architectural shingles have a thick base with multiple layers. This gives them their famous three-dimensional look, which is why they're more attractive than standard shingles with flat layers.
It also makes architectural shingles more expensive than 3-tab models.
Even though they're constructed from the same materials as other asphalt shingles, Architectural shingle are far thicker.
The heavier base increases the sturdiness of laminate/ architectural shingles, allowing them to provide better protection from the elements.
Most people refer to laminate shingles as architectural shingles due to the fascinating patterns they create when exposed to sunlight.
Architectural shingles are expensive, but they're typically worth the price.
Since they're thick, they can endure tremendous impact caused by high winds and storms.
Their robust design also keeps them in place, so they don't need to be replaced as often as other products.
Plus, they're more resistant to curling than traditional asphalt shingles.
Owing to their incredible durability, manufacturers back them up with excellent warranties.
Another reason you should consider switching to architectural shingles is that it increases the resale value of your home.
If you plan on selling your property, one of the first things potential buyers will look for is a high-quality roof. architectural shingles are stylish and rugged, enabling you to set a higher price tag and sell the place faster.
How Architectural Shingles Are Made
Manufacturers produce architectural shingles by bonding two asphalt shingles to create a three-dimensional appearance.
Each architectural shingle consists of the following sections:
Sealant
Mineral granules
Weather-grade asphalt
Mats
There are multiple layers of each element to make the architectural shingles stronger and more elegant.
Your Estimated Roofing Cost
Roof Price:
Cost per sq. ft.
Roof Size:
Roofing Material:

See costs in your area Start Here - Enter Your Zip Code
Architectural Shingle Colors
Choosing the right color for your roof can be tricky. Depending on the material, the manufacturer may offer limited options, so you might not find an appropriate choice.
However, with architectural shingles you can easily ensure your roof blends in with the surroundings as most manufacturers provide a wide array of colors.
Here are some of the most attractive shades:
Antique Black
Driftwood
Buckskin Tan
Harvest Brown
Pewter Gray
Oakwood
Sherwood Green
Weathered Wood
Weathered White
Charcoal Gray
Dual Black
Dual Gray
Dual Brown
Earthtone Cedar
Harvard Slate
Did you know? You can visit the website of shingle manufacturers to see how their products look on your house. Many platforms showcase the end result in 3D.
Getting The Best Architectural Shingles For Your Home
Buying architectural roof shingles is a low-risk investment. However, you need to choose carefully.
Look for Shingles That Can Endure Weather in Your Region
Every area faces different weather conditions. Some regions are stormier, while others are affected by heavy UV exposure.
Consider local elements and make your decision accordingly.
For instance, if you're concerned about wind, you should ask manufacturers about the wind resistance of their architectural shingles.
Many providers use proprietary technology to make their products more resilient to high winds. They're less likely to detach from your roof and are typically shipped with extensive warranties.
Moreover, they can help you get a discount on your homeowner's insurance premium.
Hail might be another element you need to account for. If your region is impacted by severe hail storms, look for architectural shingle models with rubber-like flexibility. It will enable them to "bounce back" rather than crack.
You might need reflective architectural shingles if you're dealing with excessive sunlight exposure and reduced energy efficiency. They can lower the temperature in the attic to keep the place cooler.
Lastly, architectural shingles installed in humid regions are more susceptible to algae-induced discoloration and stains. Note that manufacturers boost their architectural shingles with advanced formulas to combat this if it's a problem for you.
Most People Spent:
$4,190 - $5,740
(For a 1600 sq. ft. Roof)
See costs in your area Start Here - Enter Your Zip Code
Get a Matching Style
The next step is to consider the style of your property.
You need architectural shingles that suit your home and are compatible with the rest of your community.
Consequently, you may need to closely examine nearby houses and take note of their shingles.
Once you've done your research, consult a roofer to determine the best solution.
Shingle Color Is Vital
Architectural shingles are available in many stunning colors.
Like the style, you need to find a shade that complements your house and neighborhood.
If you can't think of anything creative, neutral colors are always a safe choice.
Here are a few house colors and matching shingle shades:
Red – black, gray, green, and dark brown
Light gray – blue, white, black, green, gray
Cream/beige – blue, green, gray, black, brown
Brown – blue, brown, green, gray
White – virtually any color, including white, black, blue, green, gray, and brown
Log or weathered wood houses – gray, black, green, and brown
You should also remember that darker shades absorb heat, whereas lighter shades reflect it to keep your place cooler.
However, ensuring optimal energy efficiency requires much more. Primarily, your home needs to be properly insulated and ventilated.
Finally, refer to your homeowner's association to familiarize yourself with any roofing codes in the area. Your community may require you to install architectural shingles in highly reflective colors.
Luckily, experienced contractors should be aware of these guidelines.
Did you know? Maximizing your roof's energy efficiency can help you cut electricity bills by 10%-15%.
Architectural Roof Shingles Warranty
There are different types of warranty you can obtain for your roof. The one you should focus on when shopping for architectural shingles is the manufacturer's policy.
Many producers offer various policies for architectural shingles. For example, you can find shingle and accessory limited policies and roofing system limited policies.
Each type has specific eligibility requirements that typically address the kind of shingle you used and whether you hired a certified contractor.
As for coverage, you can normally expect manufacturers to back your laminate shingles for 10-50 years.
Most policies also state the maximum wind speed their products can withstand. Plus, you may obtain coverage regarding workmanship, disposal, and tear-off in some packages.
The key to getting the best coverage is to do in-depth research. Get detailed information from as many companies as possible instead of just one or two.
Inquire about the policies and determine the price.
Sometimes, you can hire contractors who can obtain discounts on your behalf.
The policy most companies offer is the so-called "shingle warranty." It covers flaws with the architectural shingles themselves that could lead to premature failure.
If you can prove the defect was caused by faulty production, you should be able to replace the product for free. But this can be difficult.
If your architectural shingles break, crack, or warp prematurely, the most likely culprit is improper installation. Even if you attribute the failure to materials, the policy might not cover the labor cost of replacing the product.
That's why it's crucial to select a reputable roofing company.
Top-rated teams go out of their way to meet building codes and ensure your new shingles endure the climate for many decades.
More importantly, they won't insist on selling you their most expensive product, which generally comes with the priciest warranty. Instead, they'll take the time to figure out what fits your budget and needs best.
Most People Spent:
$4,190 - $5,740
(For a 1600 sq. ft. Roof)
See costs in your area Start Here - Enter Your Zip Code
Pros And Cons Of Laminate Shingles
Pros
We've already mentioned a few advantages of installing laminate shingles. Here are a few other benefits.
Wide Selection of Styles
Many homeowners prioritize elegance when shopping for their new roofing material. If you're one of them, you're good to go with architectural shingles.
Laminate/ architectural shingles offer a wide variety of style options for your house. You can choose from numerous colors, textures, and patterns, allowing you to customize your property more easily.
Additionally, you can find laminate shingles that replicate tile, wood shakes, slate, and other high-end solutions.
This lets you upgrade your dwelling without burning a hole in your pocket or wasting too much time maintaining the investment.
Easy to Install
Some roofing materials are notoriously difficult to install. They require extensive preparation, and the mounting process is complex. Professionals often need specialized equipment to cut them to appropriate shapes.
However, despite being heavier than 3-tab models, architectural shingles are relatively easy to install. They put less stress on your roof than 3-tab units since architectural shingles need less support than 3-tab units.
Did you know? Replacing laminate shingles should generally take less than 24 hours. In extreme cases, the job can extend to three to five days.
Resistant to Hail Damage
Hailstones can wreak havoc on your roof. Poor-quality construction can easily crack, leaving holes for water to seep into your home.
Often, you'll need to replace entire sections of the structure, which can be prevented by installing sturdy materials.
That's where laminate shingles come into play.
Their rigid construction means they can withstand even the fiercest hail storms. This gives you peace of mind, knowing your laminate shingles are less likely to suffer irreparable damage.
Energy Efficiency
Another great thing about laminate shingles is energy efficiency.
architectural shingles offer more insulation to your property and deflect sunlight. As a result, you can lower your cooling and heating bills by mounting this material.
Cons
Laminate shingles can be a terrific upgrade, but they're not perfect. You should be aware of their drawbacks before purchasing the material.
On the Expensive Side
As architectural shingles are comprised of more layers than standard models, you'll need to fork out more money.
This can be a problem if you're on a budget, whether you're shopping in bundles or per square foot.
The good news is that the higher price may be offset by easier installation. Therefore, you get to save some money on labor.
On top of that, architectural shingles are costlier than traditional asphalt shingles, but they're still cheaper than high-end solutions. The list includes tile, wood, and slate.
May Not Be Compatible With Your Home
Laminate shingles aren't too heavy. However, they weigh more than other types of asphalt shingles. That's why they might not work with houses with poor construction.
Hence, consult a contractor before mounting architectural shingles onto your roof.
Contractors will inspect the property to ensure it can bear the weight of architectural shingles.
They may also recommend minor changes to bring your home up to modern standards.
Your Estimated Roofing Cost
Roof Price:
Cost per sq. ft.
Roof Size:
Roofing Material:

See costs in your area Start Here - Enter Your Zip Code
Laminate Shingles vs. Architectural
Laminate and architectural shingles are one and the same. Roofers use these two names interchangeably.
You may come across the term "architectural" more often because companies use it to highlight the architectural appeal of these shingles.
Laminate Shingles vs. 3-Tab
Laminate shingles are superior to their 3-tab counterparts. But what makes them so good?
Similar Installation Costs Despite the Heavier Design
Regular 3-tab shingles are normally two times lighter than laminate shingles, as they're constructed from less material.
Although the production process is cheaper, installing them takes more time than mounting architectural shingles.
Consequently, many roofers may charge you the same for both solutions.
Laminate Shingles Are More Durable
Architectural shingles are more robust, offering the toughness of multiple 3-tab shingles. This allows them to endure more extreme weather conditions, such as high winds.
As a consequence, laminate shingles last longer than 3-tab models and maintain their attractive appearance for longer. This can extend the lifespan of your roof by more than 15 years.
Better Warranties
As previously discussed, shingle warranties vary from brand to brand.
Nevertheless, 3-tab models are typically only covered for 20-30 years. Many manufacturers also prorate the policies for this type, which can sometimes result in no coverage.
On the other hand, laminated shingles are more reliable, and you can typically obtain coverage for 50 years. Some producers even back their products for a lifetime.
Are Laminate Shingles Good?
If you wish to boost your property with a dependable roofing material, architectural shingles are a fantastic option.
Laminate/architectural shingles are more expensive than some other solutions, but they're a phenomenal long-term investment.
Thickness is the architectural shingles' biggest selling point. The bulky construction makes architectural shingles more resilient to snowstorms and winds of up to 130mph.
This protection promises decades of high-quality service.
Did you know? Many shingles are blown off roofs when winds reach 45mph.
How Long Do Architectural Asphalt Shingles Last?
Architectural shingles are made of stronger materials, so they last longer than 3-tab models.
Maintained correctly, your laminate shingles can shield your roof for well over 50 years.
This brings us to the key to prolonging your roof's lifespan – proper upkeep. Here are a few tips on maintaining your laminate aka architectural shingles.
Clean Gutters
If gutters get clogged during snowstorms or rain, the water has nowhere to go but to the edge of the roof, damaging shingles in the process.
Fortunately, this can be prevented by clearing the gutters of sticks and leaves.
Trim Trees
Planting trees close to your house provides shade and makes your property more attractive.
That said, it also requires you to perform another chore – trimming the branches. Shorten them whenever they start hanging over your home to keep them from harming your shingles.
Ventilate the Attic
Optimal attic ventilation lets you reduce energy bills and increases comfort indoors.
Furthermore, it extends the lifespan of your roof by minimizing extreme temperature ventilation.
Experts recommend mounting soffit vents in the lower section of your attic and roofing vents in the upper parts. This system expels hot air and invites cool air.
Most People Spent:
$4,190 - $5,740
(For a 1600 sq. ft. Roof)
See costs in your area Start Here - Enter Your Zip Code
Curb Appeal of Architectural vs 3 Tab Shingles
Regular 3-tab shingles have a uniform appearance. They're flat and have the same dimensions. Manufacturers also design them to create a matte look.
In contrast, architectural shingles have more dimension to their design. They replicate the appearance of cedar, slate, and other expensive materials to enhance your home's curb appeal.
Regarding overall variety, laminate shingles blow 3-tab units out of the water.
Laminate shingles are available in a wider array of shades, shapes, textures, and colors, and are therefore more suitable for customization.
You can make laminate shingles look like virtually any other material, but the same can't be said for 3-tab shingles.
This enables you to show off your creative side when reroofing your house. You can add some unique flair with laminate shingles by experimenting with different textures and shades.
Their versatility is unmatched.
Conversely, 3-tab shingles leave little room for customization. Their flat complexion and uniform sizes often result in generic looks.
Make Heads Turn With A Mesmerizing Architectural Shingle Roof
Durability and stylishness should be your top priority when shopping for roofing materials.
Laminate or architectural shingles tick both boxes. They offer endless design options and first-class resistance to the elements.
Best of all, installing architectural shingles won't dent your budget.
Typical Price Range To Install new Roof
Average:
$4,190 - $6,740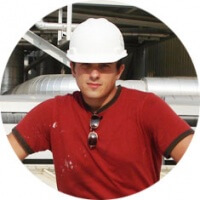 This roofing guide is presented by Leo B.

I've been a roofer for 15 years, and specialize in Metal Roofing and Flat Roofing.

Have a roofing question or issue? Ask me any roofing question!

Roofing Contractors - join our free Local Roofers directory to get more customers!