|
To install the best metal roof, consider metal shingles, as they come in an unprecedented variety of profiles, styles and colors to choose from.
In recent years, metal roof shingles have grown in popularity because of an unbeatable combination of features. They are less expensive than standing seam panels, beautifully replicate the look of other upscale roofing materials, offer a long service life and great energy savings.
We have picked the top 7 metal shingles products from the most reputable manufacturers – any one of them can become your "forever roof".
x
Low End
Mid Range
High End
Materials
$2486
$2793
$3547
Cost / S.F.
$6.09
$6.84
$8.69
Total Cost
$6086
$6838
$8685
See Costs in Your Area!
Start Here - Enter your zip
Is The Best Metal Roofing Made Of Steel or Aluminum?
When you research various metal shingles, you will find that some are made from aluminum and others from steel. While both are equally durable and long lasting, there is one important difference.
Steel will rust and corrode if installed in coastal areas within 1 mile from the shore. Aluminum will not have this problem. While aluminum shingles are more expensive than steel, its strongly recommended to install them, if you live in a coastal area.
Technically, aluminum will never rust and steel roof shingles potentially could. In reality, because they are made from high grade corrosion resistant steel, it usually does not happen.
In my experience installing them for the past 13 years, I never had a corrosion issue come up. I even installed them on my house. I have many cut pieces laying in the boneyard (on the ground) for years, with zero signs of corrosion at the cut lines, where metal is most exposed to rust.
Therefore, inland, both metals are equally great as far as corrosion is concerned. So when choosing between the two, you should concentrate more on color, style, profile, choosing the right contractor and overall price.
Also, keep in mind that most common residential metal roofs are made of steel. This shows you complete confidence on the part of manufacturers in the products' quality and durability.
Best Metal Roof For Residential Homes
Here is our pick for the top notch metal shingles that are an all around win for any style home.
1. TAMKO Metal Shingles
From a roofer's and a homeowner's perspective, Tamko roof shingles, also known as Metalworks, are my Number 1 Choice. In fact, I did put them on my house 8 years ago.
They are most reasonably priced, have a very well thought out flashing kit, are very easy to work with and will work excellent even on the most cut-up, complex roofs. There are only two major drawbacks:
– they are not made in aluminum (which I requested from a senior executive within the company)
– at this point, there is only solid color paint.
This company is a very large roofing products manufacturer. It offers traditional asphalt products as well as metal roofs, in Wood Shake, Tile and Slate profiles. Metalwork shingles are made of heavy duty 28 gauge steel.
In fact, they started manufacturing the AstonWood line using 28 gauge steel, instead of 30 gauge, due to numerous requests from contractors and builders. These are double stamped to create a realistic look of natural cedar shake.
They are 100% recyclable, as well as Energy Star Qualified and Rated by Cool Roofing Council to reduce cooling costs. They are available in 9 beautiful, bold colors. My clients prefer mostly the slate profile in Vermont Blue and Sequoia Red.
Tamko is a budget-friendly option, with material prices averaging $2.5-2.80 per square foot.
2. McElroy Metal Roofing
While I don't have much experience with McElroy metal roofing, their Milan shingles have a very solid reputation among roofing contractors and homeowners.
They are made of quality steel, have been very well designed and the kit is very good. Overall, I rate them on par with Tamko, maybe slightly below because they are more expensive.
McElroy has been manufacturing metal roofs for 50 years. Their shingles are very good quality and highly durable. They are coated with 8 attractive Kynar 500® (PVDF) colors, as well as Slate and Shake Kynar 500 Prints. They have a four-way interlocking panel to withstand strong wind uplift, and an A fire rating.
Another product worth considering is the Met-Tile. It mimics the look of ceramic tile at a fraction of the weight and offers all the benefits of metal. It is made of 26 gauge galvalume steel, has a stucco embossed surface and comes in 10 gorgeous Kynar 500® colors.
In terms of pricing, McElroy metal shingles are $3 – 3.5 per square foot for materials.
3. Classic Metal Roofing Systems
Classic has very good metal shingles line. The biggest issue is that they work on regional dealership basis. This means there is one contractor per region, no competition, expensive material pricing, and dealers also charge a premium price for installation.
In some regions, dealers use pushy sales tactics, talk trash about competitors, but in reality their installation is no better than from small roofing companies.
In my region, the Classic dealer actually hires former Interlock Roofing installers by luring them for a couple more bucks an hour.
This means that the quality of installation is on par across big dealerships. The problem with both dealers is that you speak with a pushy salesman and have no idea who your installer will be.
In different areas, these dealers use either subcontractors or directly employ the installers. Bigger dealers have multiple crews, usually subcontractors, who work on volume and want to finish your job as soon as possible, thereby sacrificing quality.
The company has been in business since 1980, and has been installing its US manufactured metal roofs around the globe. Its products are made from 95% recycled materials. They offer a number of beautiful aluminum shingles. They are designed to withstand even the harshest coastal climate conditions.
Moreover the concealed fastener and the 4 way interlocking system is designed to withstand the highest wind uplifts and will remain intact in the harshest weather.
Also, all of them are coated with the strongest finish in the industry: Kynar 500® or Hylar 5000® PVDF resin-based finishes. This finish is considered the most durable and long lasting; it resists streaking, staining, chalking and fading.
You can choose from a number of profiles. Compared to other manufacturers, Classic Metal Roofs has one of the greatest color selections. There is Oxford Metal Shingle that offers the versatile aesthetic of architectural asphalt. It is available in 13 bold colors.
If you like the look of cedar shingles, there is Rustic Shingle, which boasts a realistic wood texture and is available in 12 beautiful colors.
Finally, there is Country Manor Shake, which offers the rustic look of hand-split cedar shakes, ideal for a high-end property. The shakes have deep groves for a very distinctive appearance and are available in 6 colors.
4. InterLock, PermaLock, AlumaLock Metal Shake Roof
These three companies make essentially the same products – 8×16 inch interlocking aluminum shingles, based on a patent that expired over 40 years ago. Now, it can be manufactured by anyone in US.
If you love the look of cedar roofs, but want to avoid the cumbersome and costly maintenance, you will love Interlock's shingles and shakes.
They will never rot, decay and will be impervious to moisture. This roof offers a unique and practical design: each shingle has an interlocking edge on all four sides, and is embossed with a distinctive cedar wood texture.
If you like a more rustic, hand-cut look, you can install Interlock Shakes, also made from aluminum. Both are available in 11 designer colors. This system has interlocking edges on two sides.
For extra protection, the surface is coated with a special Alunar coating, embedded with TEFLON surface protector. They have an Class A fire rating, are resistant to hail, strong wind, temperature fluctuations, and are Energy Star Rated.
Both are also considered to be cool roofs, recognized by the Cool Roof Rating Council. This means they will reflect the sun's rays and will keep your AC bills down.
This is an excellent system, that has been time proven to work in every climate across US and Canada. However, there was a Canadian manufacturer of this product, that had major problems with paint and to the best of my knowledge is no longer in business.
Moreover, Interlock also had issues with paint, but apparently they have been resolved. Basically, the quality of this roof will come down to the quality of installation.
5. EDCO Steel Roofs
EDCO is one of the industry leaders that has been manufacturing quality metal roofing and siding since 1946. They offer a number of steel shingle lines that have a 4-way interlocking system and are rated to withstand winds of upto 160 mph.
They also have the highest hail impact resistance rating. All are coated with a special TRINAR® finish for flawless, fade-proof color retention.
There is ArrowLine Enhanced Shake line, which is available in six blended, multi-tone colors offering a natural, weathered look. There is also Generations Metal Shake that offers 9 beautiful multi-tone colors that have a more weathered cedar shake appearance.
Finally, there is Infinity Steel Shake, that comes in 7 deep multi-tone colors and boasts a special Whisper Quiet coating that mutes outside noises.
Due to superior design quality, EDCO is on the higher end of the price spectrum. You can expect to spend at least $4 per square foot.
6. Matterhorn Metal Tiles
Matterhorn metal tiles and steel shingles are now produced by CertainTeed, one of the biggest building materials manufacturers in the USA.
In 2016, CertainTeed acquired Matterhorn from Quality Edge, a metal exterior products manufacturer, which has been in business for 27 years.
They offer steel roofing shingles, which are 100% recyclable, have the highest hail and fire ratings, as well as 130 mph wind uplift rating. They also feature a 4 way interlocking system and a special water channel, to allow constant water movement away from the roof deck.
All are Energy Star rated, and coated with a PVDF Tri-Pigment Reflective Paint System, which helps reflect solar heat on a roof. As a result, they can re-emit up to 89% of absorbed heat.
One feature that distinguishes Matterhorn metal tiles from competitors is the superior aesthetic appeal. The cedar shake panels have eight separate elevation changes to replicate the irregularity of real wood shakes (patent pending).
They also feature chiseling and cracks which enhance the organic look of real wood (patent pending). Finally, they have a shadow bead fold, located where the shadow line would be on real cedar shake, when the wood shrinks and creates a gap (patent pending).
These metal shingles are available in 4 different colors, that capture the four stages in a life cycle of real cedar roof: from a rich dark wood color to the iconic silver grey.
In my opinion, this is an incredible looking product, with a very poorly designed flashing kit. This compromises system quality and opens the potential for many roof leaks. The side wall flashing does not go under the shingle properly, which creates huge leaks potential and makes installation difficult.
In fact, in 2015 Matterhorn management asked me to come out to either Michigan or Chicago (I don't remember) to help them redesign the flashing kit. However, I declined the offer.
They also have a very small installer base and most contractors will be installing their first ever Matterhorn roof. Also, the shingles are very large and there will be a lot of waste, which makes the total cost a lot higher.
In terms, of pricing, this is one of the most expensive options: averaging $4.5-4.75+ per square foot for materials only.
7. Decra Stone Coated Steel Roofing
Before I get into the specifics of the products, here is my personal opinion of this manufacturer and all other stone coated steel shingle and tile products.
All of them are very expensive, hard to work with, nearly impossible to repair and have poorly designed flashing. Because of these reasons, I would never install them on my house.

At the same time, the actual system is very durable. So if you have a simple roof layout, and need to replace clay tile, installing stone coated steel will save you a lot of money. Keep in mind that this system does not work great on complex and cut-up roofs.
Decra makes a number of highly durable and attractive stone coated steel roofs. They are an industry leader, who first pioneered the production of stone coated steel roofing over 50 years ago. All of their products have a unique interlocking design, that can withstand very high winds and adds additional strength to the structure.
If you love the look of designer asphalt shingles, you can consider their Shingles XD line. They have the striking appearance of heavy weight architectural shingles, but actually weigh significantly less (1.5 lb/sq. ft.) Moreover, they have a unique hidden fastener system and can be installed directly to the roof deck. They are available in 4 beautiful blended colors.
If you are looking for the rustic look and feel of wood shakes, there is Shake XD and Metal Shake. The latter has a more uniform appearance and is available in 6 blended colors. It can be installed over a solid deck with battens, which helps reduce energy consumption.
The Shake XD line is more expensive and upscale. It offers the more rugged, custom look of hand split cedar shakes. The system boasts hidden fasteners and can be installed directly over the deck. It comes in 2 beautiful blended colors: Antique Chestnut and Pinnacle Grey.
This is another high-end option, with average pricing of $4.5-5 per square foot, for materials.
Your Estimated Roofing Cost
Roof Price:
Cost per sq. ft.
Roof Size:
Roofing Material:

See costs in your area Start Here - Enter Your Zip Code
How To Choose A Metal Roof
First thing, you need to understand what a roofing system is. It is comprised of the shingle itself and a whole slew of accessories that go along with it, to make your entire roof watertight.
These include: drip edge, gable trim, VALLEY PAN, side wall flashing, ridge cap, snow guards, underlayment, etc.
Without properly designed accessories, it doesn't matter how good your shingle is, the roof will leak. Especially important on this list are the VALLEY PAN and side wall flashing. These protect the areas that leak the most on all roofs.
In the description of each product, we will discuss which ones have good accessory kits.
I would recommend going for one that has been on the market longer. If a particular metal shingle has been around for a long time, it means that there is also a wide network of pros installing it.
This in turn means that these contractors are much more experienced with the system. It also means that the manufacturer has worked out numerous problems, like poorly designed flashing kits, paint issues, and have verified that their supplier provides high-quality coil.
One problem you may run into is lack of contractors that install a particular product in your area. For example, EDCO and Matterhorn have a pretty small market share, which means they have very few contractors and suppliers. This leads to low competition and higher prices.
On the other hand, TAMKO is sold through distribution in virtually every part of the USA, and has been on the market for over 30 years.
Finally, while we recommend getting quotes from at least three licensed roofers to get the best deal, we strongly advise to hire a real pro, even if it costs more.
Metal needs to be properly installed to provide long lasting and leak-free protection. If you get a cheap contractor, who does not specialize in metal, you will spend a lot of money down the road trying to fix problems that will inevitably happen as a result of poor installation.
Install Metal Shingles Roof:
(36,208 projects)
National Average Cost
$12,439
See Costs in Your Area!
Start Here - Enter your zip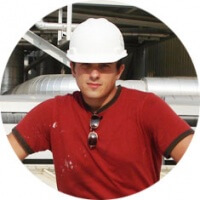 Author: Leo B
For over 20 years Leo has run a successful roofing business in New England, specializing in metal roofing, as well as cool flat roofing technologies. Having replaced and installed hundreds of roofs in New England, Leo has first hand experience with pretty much every residential roofing material and roofing manufacturer available in the US.