Opting for McElroy's metal roofing solutions for your home is one of the best investments you can make.
Its curb appeal, long lifespan, and durability are only a few of its benefits.
But before you make the final decision, it's worth knowing the cost of the endeavor so you'll know what you must do to be able to afford it.
To replace your roof with a metal one, contact your local metal roofing pros for Free Estimates.
McElroy Metal Prices
The average cost for installing McElroy on a 2,000-square-foot roof is around $25,000.
The Exposed Fastened solution costs $20,000, while the Standing Seam offer is around $29,000.
The total cost for the roofing after 15 years of usage remains the same, compared to other materials like shingles that can triple the cost of the project a decade after the investment.
As far as labor cost is concerned, expect to pay an average of $370 for 100 square feet.
Most People Spent:
$4,190 - $5,740
(For a 1600 sq. ft. Roof)
See costs in your area Start Here - Enter Your Zip Code
McElroy Metal Roofing Cost Breakdown
The cost of installing metal roofing solutions ranges from $3 to $28 per square foot. The type of metal roofing, materials, geography, and other factors can affect the price.
Here's a breakdown of prices for metal roofing solutions by material.
Metal Shingles – $5 to $12 per square foot
Standing Seam Metal – $7 to $13 per square foot
Copper – $9 to $17 per square foot
Steel Shingles – $5 to $11per square foot
There are also the underlayment costs associated with metal roofing installation. This can cost from $3 to $4 per square foot. Roofing contractors usually integrate this cost into the estimate.
Finally, the labor cost can add from $11 to $17 per square foot for metal roof installations.
The cost factors also include the amount of preparation work needed before the actual roof installation takes place.
The preparation work for McElroy Metal roofing can include cleaning the surface, installing necessary insulation and other features, and more.
The prices provided her does not include removing and disposing of an old roof.
Access to the roof can impact labor costs.
If the technicians need to perform risky work, use advanced equipment, or the roof is inaccessible, it can boost labor costs.
As you can see, a number of factors can affect the overall cost of the project.
That's why it's important to contact your local contractor and discuss the price of each part so you know how big a budget you'll need.
| Material | Price per Square Foot | Material Price per Square Foot | 1,700-Square Feet Installation Price | Approximate Installation Cost | Total Cost |
| --- | --- | --- | --- | --- | --- |
| Corrugated Steel | $95-$245 | $0.99-$2.25 | $1,650-$4,200 | $7,500-$15,000 | $9,000-$19,000 |
| Galvanized Steel Shingles | $330-$420 | $3.25-$4.00 | $5,600-$7,200 | $11,200-$17,500 | $16,700-$24,500 |
| Standing Seam Roofing | $390-$640 | $3.80-$6.30 | $6,700-$11,000 | $10,000-$18,500 | $16,500-$29,500 |
| Zinc | $590-$990 | $5.80-$9.70 | $10,100-$16,500 | $20,000-$30,200 | $30,300-$47,300 |
The Purchasing Process At McElroy Metal Roofing
McElroy isn't a single-shop operator.
They have more than 20 service centers and 13 manufacturing facilities.
If you want to purchase their products, you can visit the center nearest you.
Alternatively, interested buyers can contact the company online on their website by filling out a form. A customer representative will get back to you by phone or email.
After you complete the purchase, the company will deliver the metal roofing products to your desired location.
Communication with the service center should be smooth and fast, and you can arrange a payment and shipping method that works best for you.
Once the roofing material is delivered, you can hire local contractors to install the roof on your property.
McElroy Metal Roofing Warranty
McElroy is a firm believer that the length of warranties isn't necessarily proportional to the quality of the product.
They state that the best way for optimum satisfaction with metal roofing is to purchase high-performance components that fit the homeowner's needs and expectations.
This is to say that one shouldn't shop for a warranty, but a product.
Still, McElroy Metal roofing offers robust warranties for application-specific metal elements.
McElroy offers two substrates – Galvalume and Galvanized.
Galvalume comes with a zinc and aluminum substrate while the Galvanized has a zinc coating on the raw steel construction.
In addition, the Galvalume substrate has a 25-year Steel Mill Warranty that protects the product from perforation (or rust-through), while the galvanized solutions don't have this warranty.
Still, they remain a popular option for animal confinement and similar applications.
Did you know? Installation and building design can significantly lower the risk of edge rust in roofing. Doing these elements properly can help make up for the lack of a Red Rust Warranty.
Your Estimated Roofing Cost
Roof Price:
Cost per sq. ft.
Roof Size:
Roofing Material:

See costs in your area Start Here - Enter Your Zip Code
McElroy Standing Seam Metal Roofing
Standing seam panels by McElroy are some of their most popular products.
The Standing Seam system uses concealed fasteners for attachment.
These clipless panels come in five different systems that professionals can curve on-site.
As a result, you get lower transportation costs and can make sure the product fits perfectly.
There are different nuances in the standing seam product family.
Structural – Used for lower sloped roofs and come with great watertight features; great for open-framing or solid deck applications.
Architectural – Most often used for 3:12 or greater slopes and are considered hydrokinetic (can keep the building water-tight while the water flows over them).
Standing Seam roofing solutions by McElroy are used for numerous applications.
They have interlocking seams for panel connection and offer an attractive and distinctive roof appearance.
They are made from high-end steel and are low maintenance.
Some popular options include the following.
Maxima
Maxima offers one of the broadest vertical leg standing seam system selections.
It's ideal for coastal area homes whose roofing requires high wind resistance and strength.
Medallion-Lok
Medallion-Lok is among the most beautiful and elegant standing seam roof solutions.
It has a 1.75-inch-tall standing seam with clean and crisp visual lines.
This option works best for large and custom homes.
Meridian
Meridian is an appealing standing seam solution that's easy to install and comes with universal usage benefits.
It's an economical solution that has it all.
138T and 238T
138T and 238T are symmetrical standing seam options with numerous advantages compared to the traditional panels.
They are easily removed and replaced in case of damage, are energy-efficient, and are economical.
MasterLok-90 and MasterLok-FS
MasterLok 90 is a snap-together trapezoidal standing seam solution, while the FS is mechanically seamed.
Both solutions work for low slopes (1/4:12)
Typical Price Range To Install new Flat Roof
Average:
$6,980 - $9,704
Mirage II
Mirage II concealed fastener panels have 8-inch on-center ribs and are 1.75 inches high.
This solution is usually installed over solid decks or substructural members.
Medallion I and II
Medallion I and II panels are the oldest standing seam systems.
Medallion I's batten cap is narrow, while that of Medallion II is wider.
Both systems work well for solid decking and can be used as eyebrows over windows and similar installations where they can serve as an accent detail.
Instaloc
The Instaloc snap-together standing seam solution has 1-inch seams and uses concealed clips to install.
This system works best for solid decking and residential applications.
Note that although it's the most popular, Standing Seam isn't the only roofing system offered by McElroy.
McElroy Metal roofing also offers a variety of other solutions.
Exposed Fastener Panels
Retrofit Systems
Concealed Fastener Wall Panels
Soffit Panels
Curved Metal Roofing
Metal Shingles and Simulated Tile
Canopy Panels
Insulated Metal Panels
McElroy Metal has a diverse offering of metal roofing solutions for most roof styles and slopes.
The best way to choose the solution ideal for your particular needs is to get in touch with professionals from the company with a request.
McElroy Metal has great customer service that will be happy to assist.
Alternatively, you can contact your local roof technician for an assessment and advice on the best type of metal roofing for your particular situation, climate, budget, and preferences.
Typical Price Range To Install a Metal Roof
Average:
9,158 - $14,310
Benefits Of McElroy Metal Roofing
Metal roofing is becoming more popular among homeowners in recent years, and McElroy is a popular manufacturer choice.
Here are some pros of McElroy Metal Roofing.
Aesthetic Benefits
Metal roofs by McElroy are now available in various styles, colors, and patterns, enhancing curb appeal.
Homeowners can find shake-like, slate-like, or any other style of metal roofing for added versatility and flexibility.
Comprehensive Resource Center
Homeowners, contractors, and architects alike can access the resource center of McElroy Metal roofing on its website.
There are plenty of architect-friendly resources, videos, visualizer tools, and much more.
Long Lasting Lifespan
When properly installed, metal roofing can last more than 50 years.
If you were to compare McElroy Metal roofing to shingle roofing, there could easily be a 30-year difference.
Metal naturally has higher longevity, and its performance can become even better when combined with proper paint systems.
Cost-Effective Solution
Metal roofing by McElroy comes with lower utility expenses.
As a result, homeowners can save money on energy bills every year.
The best effect in saving can be achieved by pairing cool roof pigments and the Above Sheathing Ventilation (ASV).
Cool Metal Roofing solutions by McElroy are highly reflective and can add significant savings (up to 20%) in energy costs.
Eco-Friendly
Metal Metal roofing solutions are eco-friendly.
They are made from recycled materials and can keep getting recycled after the replacement.
If you care about leaving the Earth a bit better than you found it, McElroy metal roofing can help.
Weather-Resistant
McElroy Metal roofing is naturally resistant to hail, fire, and wind.
These properties are especially important for people living in extreme weather areas where tornadoes or heavy storms are a common occurrence.
With proper installation, the McElroy Metal Roofing has a higher uplift value compared to other solutions. This makes McElroy Metal Roofing ideal for hurricane-prone parts of the country.
Another benefit of metal roofs is that they do not succumb to hail damage like shingle roofs. In the worst case, metal roofing may show dents, but it can still protect the home for decades.
Did you know? Metal roofing doesn't attract lightning. While being an excellent conductor of electricity, this doesn't mean metal roofs attract lightning. Metal roofs are also safer than wooden roofs because they are fire-resistant and non-combustible.
Most People Spent:
$4,190 - $5,740
(For a 1600 sq. ft. Roof)
See costs in your area Start Here - Enter Your Zip Code
Disadvantages Of McElroy Metal Roofing
Although packed with benefits, metal roofing isn't an ideal solution for everyone.
Here are some disadvantages you can expect.
Higher Upfront Cost
If compared to other roofing solutions, metal has a higher upfront investment.
Many homeowners find the pricing for metal roofing to be daunting.
However, there are significant benefits that come with this roofing option, like a longer lifespan, stronger resistance to natural disasters, and energy-saving features.
So even if shingles, for example, look more affordable at first sight, they have a higher cost over time.
McElroy Metal is known for slightly higher pricing compared to other roofing material manufacturers. They explain that the pricing is due to the exceptional quality of McElroy Metal roofing products and that special care and technology are used in the manufacturing process.
If your budget can allow it, you can enjoy McElroy Metal roofing for a lifetime.
Roofing Can Succumb to Dents
As previously mentioned, metal roofing is not 100% safe from damage.
Yes, it can withstand years of extreme weather abuse. However, some elements can be dented over time, especially from hail or falling branches.
The Metal Can Be Noisy
This disadvantage isn't necessarily a given, but it can still be a deal breaker for some.
Metal is naturally a noisier material compared to shingles and other roofing types. The noise can be especially heavy during thunderstorms or heavy rain.
However, extra solid sheathing layers or proper insulation can minimize the sound inside the home.
McElroy Metal Roofing Reviews
As a top-tier metal roofing company in the U.S., McElroy Metal has a wide presence on the market.
McElroy Metal roofing has 13 manufacturing centers, four customer service offices, and 25 service centers in 16 states.
The company offers a broad, high-quality catalog for roofing solutions.
According to New England Metal Roof, McElroy Metal is quite similar to their competitors in the market; quality and service are guaranteed, but most roofing companies offer it as well.
The website also mentions limited material options McElroy Metal offers, as they only have Galvalume and Galvanized substrates. Both are superior in performance, but they still don't top copper and zinc solutions.
Your Estimated Roofing Cost
Roof Price:
Cost per sq. ft.
Roof Size:
Roofing Material:

See costs in your area Start Here - Enter Your Zip Code
McElroy Metal Roof vs Owens Corning
Owens Corning is one of the country's most notable shingle manufacturers.
For 66 years, they've been a Fortune 500 company.
Owens Corning offers plenty of different shingle types and colors for most budgets.
In terms of affordability, Owens Corning has more budget-friendly solutions than McElroy.
A notable difference is that Owens Corning provide shingles, while McElroy specializes in metal.
McElroy Metal Roof vs GAF
GAF is a well-known manufacturer of roof shingles for residential and commercial properties.
GAF offers some of the largest collections of shingle roofing options on the market.
The quality of GAF products is indisputable.
However, the overall characteristics of GAF shingles, like shorter lifespan and higher maintenance, can be a downside compared to McElroy's metal roofing solutions.
McElroy Metal Roof vs Shingles
Metal roofing comes with some apparent benefits compared to shingles.
The durability of metal roofing is simply out of reach for shingle solutions.
Metal roofing can easily outlive asphalt shingle roofs for triple the lifespan.
While the life expectancy of metal roofs is up to 50 or 60 years, a shingle roof can only last up to 25 years.
Did you know? Metal roofing solutions are the second-most popular material for building projects in the U.S. They are second only to asphalt shingles.

However, the popularity of metal roofs is expected to grow due to their enormous money-saving features in the long term.
McElroy Metal Roof vs TPO
TPO roofing has great energy-saving benefits for single-ply membrane roofing solutions. It's also among the fastest-growing roofing systems for commercial properties on the market.
However, the average TPO lifespan is still shorter compared to metal roofing.
TPO can last up to 20 years with proper care.
With time, the seams tend to rip apart, punctures may appear in the membrane, and there can be a failure with flashings.
TPO roofing comes with a much higher maintenance cost compared to metal.
Did you know? TPO membranes are made in 10, 12, or 20-foot-wide sheets. The sheets are rolled up in the factory and transported to the commercial facility.
Typical Price Range To Install a Metal Roof
Average:
9,158 - $14,310
What Color Metal Roof Is Best?
In general, black and gray are the most common roofing options across residential properties.
If you're after energy efficiency, you may want to go for colors that have light shades since they reflect more heat compared to dark solutions.
What Color Metal Roof Fades The Least?
If you're concerned about fading and would like to postpone this natural process as long as possible, go for lighter shades for your metal roofing.
For example, white and gray shades fade far less than more saturated metal roof colors.
Additionally, a protective coating can help prevent sun damage and postpone the fading process.
Is Galvalume A Good Roofing Material?
Overall, Galvalume is a reliable, robust, and corrosion-resistant roofing material that comes with excellent quality for the price.
What Is The Best Brand Of Metal Roof?
There are many high-quality metal roof brands on the market.
Some of the best include McElroy Metal, MBCI Metal Roofing, ATAS Metal Roofing, Custom Built Metals, and Metal Sites Manufacturing.
Is A McElroy Metal Roof Worth It?
Metal roofing solutions by McElroy are high-quality, durable, easy to install, and offer excellent value for the money.
Despite the higher initial cost, McElroy Metal roofing products come with numerous advantages.
A long lifetime, lack of maintenance requirements, and a variety of styles make them well worth consideration.
Whether you're interested in making a purchase or getting a free quote, you can do so on the official website.
For assistance with installation, contact reliable roofing technicians in your area.
Most People Spent:
$4,190 - $5,740
(For a 1600 sq. ft. Roof)
See costs in your area Start Here - Enter Your Zip Code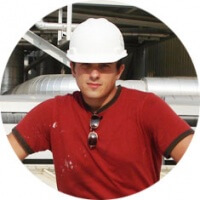 This roofing guide is presented by Leo B.

I've been a roofer for 15 years, and specialize in Metal Roofing and Flat Roofing.

Have a roofing question or issue? Ask me any roofing question!

Roofing Contractors - join our free Local Roofers directory to get more customers!