|
Decra metal roofing is a stone-coated steel roofing brand known for quality and durability.
A Decra roof mimics the look of either asphalt, wood, or tile, without the burden of maintenance and short lifespan.
Decra Roofing is known for their environmental sustainability as well as aesthetic quality of their roofs.
If you are ready to replace your old roof, contact your local roofing pros for FREE quotes.
How Much Does A Decra Metal Roof Cost?
On average, you can install a Decra metal roof for $8.5 – 14 per square foot. On a 1,600 sq. ft. simple ranch style roof, installing a Decra roof costs $13,600 – 22,400
A Decra stone coated steel roof is one of the more expensive roofing material options on the market, but what you pay in initial cost you earn back through the roof's durability and lifespan.
In terms of material costs, expect to pay between $4 – 5.50 per square foot or $400 and $550 per square (100 square feet), which includes the price of the Decra metal shingles, shakes, or tiles, as well as other costs such as battens and underlayment.
The price of installation will vary significantly, depending on several factors including location and the complexity of the roof.
Professional metal roof installation costs anywhere between $4.5 – 8.5 per square foot or $450 and $850 per square, so be sure to get several estimates for the cost of installation.
You can use our Metal Roofing Calculator to estimate the cost of installing a metal roof on your house.
Cost Of Decra Roofing Materials Per Square Foot
Here is an overview of how much a Deca stone coated steel roof will cost per square (usually 100 square feet, broken down into the necessary materials and their cost per square.
| Material | Cost per Square |
| --- | --- |
| Roofing panels (stone coated steel shingles, shakes, tiles) | $175 – $375 |
| Fasteners | $3 – $5 |
| Battens | $50 – $75 |
| Soundproofing underlayment | $80 – $130 |
| Roof decking (only if replacement is required because of existing damage) | $35 – $50 |
While some of the roofing costs are measured by square, others are measured by linear foot. Here is an overview of costs you will incur per linear foot.
| Material | Cost per Linear Foot |
| --- | --- |
| Drip edge | $0.50 – $1.75 |
| Flashing and fascia | $2 – $5 |
| Moisture barrier for rakes, valleys, and eaves | $1.50 – $2.75 |
| Stone-coated steel rake, hip, and ridge to match shakes/shingles | $6 – $10 |
| Ridge vent (installed on both sides of ridge with open center) | $3.50 – $5.50 |
Decra Roof Installation Cost Based On Roof Size And Complexity
The cost of a Decra roof will vary depending on some important factors, like the complexity of the project as well as the square footage of the roof.
The table below compares the prices of roofs by size and complexity, showing how these factors can change the cost of a Decra roof. The table outlines the costs of different roof types, calculated for every 20 squares of roofing.
| House/Roof Type (2,000.sq. ft) | Shingles Cost (without battens) | Tiles Cost (with battens) |
| --- | --- | --- |
| Ranch 4 corners 6/12 pitch | $17,000 | $20,000 |
| Ranch 6+ corners 12/12 pitch | $19,000 | $22,000 |
| Multistory 4 corners 6/12 pitch | $21,000 | $23,500 |
| Multistory 6+ corners 12/12 pitch | $22,000 | $24,500 |
How Is Decra Stone Coated Steel Roofing Made?
At the core, Decra is made from structured grade steel. This provides the durability of steel roofing. It is then dipped in an aluminum-zinc alloy coating, which protects the steel against corrosion.
Above that is a layer of acrylic coating, which acts as a primer for the layers above it. Next is a paint or resin coat, which acts as a binder and also protects the layers underneath from UV damage and moisture.
On top of the paint or resin is the ceramic-coated stone granules, similar to those on asphalt shingles but smaller and applied densely. This layer protects against impact and harmful UV rays.
Decra Metal Roofing Product Profiles
Here is brief overview of Decra Metal Roof products that can be installed on residential roofs.
Decra Roofing Tiles
Decra metal tile mimics the classic beauty of Mediterranean concrete or clay tile roofing without all the hassle.
While traditional clay tile can be easily damaged by hail, debris, and cracking, a Decra tile roof is protected thoroughly against all of these potential harms. Decra tile is available in eight colors, largely warm hues that are commonly found in Mediterranean style roofs.
Specifications:
● Panels per square: 20 per 100 sq. ft.
● Panels per pallet: 350
● Pallet weight: 2,121 lbs.
● Squares per pallet: 17.5
● Installed weight: 150 lbs. per 100 sq. ft.
● Installed exposure: 14.5" x 50"
● Installation method: Installed over battens
● Product size: 16.5" x 62"
Decra Villa Tile
Decra Villa Tile roofing is a step up in aesthetics from the classic Decra Tile. Villa Tile masterfully replicates old – world Italian clay roof tile, giving homes a timeless grandeur and beauty.
While clay tile is prone to cracking and damage from hail and debris, Decra Villa Tile is designed to withstand the tests of time and the most severe weather. Decra Villa Tile is offered in six warm colors.
Specifications:
● Panels per square: 25.2 per 100 sq. ft.
● Panels per pallet: 350
● Pallet weight: 2,104 lbs.
● Squares per pallet: 13.8
● Installed weight: 160 lbs. per 100 sq. ft.
● Installed exposure: 14.5" x 39.5"
● Installation method: Installed direct to deck
● Product size: 17" x 44.5"
Decra Shingle XD
Decra Shingle XD is best suited for styles that mirror wooden shingles, with its deep shadow lines and thick-cut edges.
If you love the look of high-end architectural shingles but want a more durable longer lasting roof, Decra Shingle XD is the perfect option.
Decra Shingle is designed with the thick-cut edges and deep, distinctive shadow lines of premium architectural shingles such as GAF shingles at half the weight. Decra Shingle XD is offered in five colors, all dark-toned.
Specifications:
● Panels per square: 25.2 per 100 sq. ft.
● Panels per pallet: 350
● Pallet weight: 2,104 lbs.
● Squares per pallet: 13.8
● Installed weight: 160 lbs. per 100 sq. ft.
● Installed exposure: 14.5" x 39.5"
● Installation method: Installed direct to deck
● Product size: 17" x 44.5"
Decra Shake
Decra shakes provide the look of cedar shakes without the hassle and maintenance.
While traditional wood cedar shakes require regular upkeep and are prone to moisture damage, Decra Shakes are built to last and can withstand moisture and extreme weather conditions. Decra Shakes come in five colors.
Specifications:
● Panels per square: 22.4 per 100 sq. ft.
● Panels per pallet: 300
● Pallet weight: 1,665 lbs.
● Squares per pallet: 13.4
● Installed weight: 150 lbs. per 100 sq. ft.
● Installed exposure: 12.625" x 51"
● Installation method: Installed over battens
● Product size: 14.625" x 53"
Decra Shake XD
Decra Shake XD is a step up in curb appeal from the original Decra Shake. The premium XD version has the distinctive appeal of thick, hand-split wood shakes with added durability and ease of maintenance.
With Decra Shake XD you will never have to worry about such issues as cupping, splitting, loosening around the fasteners, fungus, and bacteria which plague even the highest grade natural cedar shake roofs. Shake XD is available in 4 beautiful colors which replicate the look of real cedar wood.
Specifications:
● Panels per square: 23.4 per 100 sq. ft.
● Panels per pallet: 280
● Pallet weight: 1,719 lbs.
● Squares per pallet: 12
● Installed weight: 150 lbs. per 100 sq. ft.
● Installed exposure: 12.375" x 49.875"
● Installation method: Installed direct to deck
● Product size: 14.125" x 52.125"
Decra Roof Performance Features
Decra is known for undergoing independently-run intense testing and meticulous testing for all aspects of the roof.
Below is an outline of thirteen features that Decra tests all of their roofs for in order to ensure the highest quality and safety.
| Feature | Characteristic Description | Standard & Method |
| --- | --- | --- |
| Humidity Resistance (at 100% humidity) | | ASTM D2247 |
| Hardness | Fully walkable surface; Class 4 hail impact resistance | CAN/CGSB-93.3 Section 6.7.1 | Test per ASTM D3363 |
| Flexibility | Capable of bending for complicated roof geometry, towers, and cupolas | CAN/CGSB-93.3 Section 6.8 |
| Coating Thickness | Sufficient thickness for thermal performance and weather resilience | CAN/CGSB-93.3 Section 6.2 | Thickness measured per ASTM D1005 |
| Coating Quality | 55% Aluminum-zinc alloy quality for weather resilience and thermal performance | CAN/CGSB-93.3 Section 6.2 |
| Material Thickness | Shear strength and impact resistance | Micrometer or Vernier Caliper measurement |
| Film Adhesion | No granular loss | CAN/CGSB-93.3 Section 6.5.1 |
| `Salt Spray Resistance | Resists metal corrosion from salty ocean spray | ASTM B117 |
| Aluminum-zinc Alloy Thickness | Flexibility, anti-currosion, and durability | ASTM A653 |
| Loss of Adhesion Test | Prevents wearing and loss of stone coating (common in asphalt roofs) | ASTM D4977 |
| Traffic Load | Enhanced impact resistance, resistant to deflection for walkable roofs | ASTM E661 |
| Uniform Load (performance rating for flooring and structural panels) | Load testing for bearing weight with snow and walkable roofs | APA Test S-2 in American Plywood Association PRP-108 |
Is A Decra Metal Roof Energy Efficient?
Metal is one of the most energy efficient roof material choices on the market. A metal roof can save homeowners up to 40% on their energy bills, which helps the homeowner as well as the environment. Metal roofs are so good for energy efficiency because of three features that make them unique: solar reflectivity, thermal resistance, and emissivity.
Metal reflects solar rays away from the home, unlike asphalt or other materials that absorb the energy and transfer the heat to the house. In the summer, an asphalt roof absorbs so much heat it can reach temperatures as high as 160 degrees Fahrenheit.
A metal roof, on the other hand, prevents the heat from entering the home and reflects it back into the environment, keeping the home at a comfortable temperature.
Thermal resistance is a measurement of how well a material or object resists heat flow. A Decra metal roof has outstanding thermal resistance: a 2019 study found that a Decra roof increases thermal performance by up to 218% percent compared to asphalt shingles, a remarkable difference.
Emissivity is how well a surface pushes heat back into the environment rather than absorbing it.
A Decra roof can return up to 90% percent of solar heat away from the house and back into the environment. This prevents heat from building up in the home.
These features all work together in a Decra roof to create excellent energy efficiency, lowering the amount of money you have to spend on temperature control while also reducing harmful emissions.
Is A Decra Roof Heavy?
While some may think of metal as a heavy building material, a Decra roof is one of the lightest roofs found in the industry. Per square foot, a Decra roof weighs 1.4 – 1.6 pounds, and weighs around 4,500 on an entire roof (varying, of course, by square footage).
In comparison, an asphalt roof weighs around 12,000 pounds, and a clay tile roof weighs a whopping 45,000 pounds. Even wooden shingles, known for their lightweight, weigh around 6,000 pounds.
What Kind of Warranty Does Decra Roofing Offer?
A Decra roof is protected by a lifetime limited warranty, compared with other roofing brands that limit the length of the warranty to only ten or twenty years.
You do not have to pay any more for the lifetime warranty, as all Decra roofs are automatically covered. This is especially good for regions prone to extreme weather patterns like heavy snowfall, storms, and hurricanes.
Even better, a Decra roof warranty can be transferred to a new homeowner if you sell your home. However, the warranty can only be transferred within the first twenty years after the roof was installed; otherwise, the warranty ends at the transfer.
Decra Metal Roof vs Other Stone Coated Metal Roofs
While other stone-coated metal roofing manufacturers tend to simply satisfy the bare minimum of safety and durability requirements required by the U.S. building codes.
In contrast, Decra meets the stricter building code requirements of Canada, and a Decra roof is built to withstand the harshest Candian winters. Frequently testing focuses only on fire resistance and ability to withstand wind, unlike the plethora of factors that Decra considers.
Decra Roofing is the only stone-coated metal roof manufacturer that meets the tests below and is certified by independent quality testers:
● International Residential Code (IRC) and International Building Code (IBC)
● CAN/CGSB: Canadian General Standards Board (Version 93.3: Prefinished Galvanized and Aluminum-Zinc Alloy Steel Sheet)
● APA PRP-108: American Plywood Association – Engineered Wood Systems ● ASTM: American Society for Testing and Materials International
If you want a cheaper metal roof, you can consider installing metal roof shingles or corrugated metal panels (the cheapest metal roof option).
Decra Roof vs Standing Seam Metal Panels
While Decra roofing and standing seam roofing are both made from metal, Decra roofing has significantly more aesthetic appeal and variety.
Standing seam metal roofing is seen as utilitarian, uniform, and cold, whereas Decra roofing is versatile and mimics other appealing roof materials such as tile and wood.
Decra is made to blend in with the aesthetic of the rest of the property, whereas standing seam metal roofing tends to stand out disagreeably.
Also, standing seam metal panels are susceptible to "oil canning," waves and ripples that easily occur in standing seam metal roofing. In addition, a standing metal roof has to be installed perfectly to prevent damage from expansion or contraction, whereas Decra roofing is
installed in smaller panels, alleviating those issues.
Material costs for Decra roofing are higher on average and installation costs are the same.
Decra vs Asphalt shingles
Decra and asphalt shingles have similar external appearances but have widely different qualities. For one, a Decra roof lasts two to three times longer than an asphalt roof. While Decra roofing is more pricey, the cost evens out over the course of several decades because asphalt shingles must be replaced frequently.
Furthermore, a Decra roof is more environmentally friendly. Unlike asphalt shingles, which are not made from environmentally sourced material and wind up in landfills, Decra is made from recycled materials and is recyclable after its use.
Here is a closer look at the differences between metal roof vs asphalt shingles.
Decra Roof vs Wood Shakes
Decra can be designed to mimic wood shakes, but the roofing materials are quite different. First, wood is susceptible to fires, whereas the steel makes a Decra roof fire resistant.
Furthermore, wood shakes require regular maintenance and can be easily damaged by moisture and commonly experience mold, mildew, and insect infestations. In contrast, Decra is resistant to these types of maladies.
Decra is two to three times more expensive than wood, but it requires less expensive upkeep and has a longer lifespan.
Decra Roofing vs Clay and Concrete Tile Roof
Decra is around half as expensive as clay and concrete roof tiling tends to be. Decra is slightly more durable, and much lighter than clay and concrete tile, making it less stressful on the building structure and easier to transport and install.
Decra Roofing Pros and Cons
Here is a brief overview of the some of the top benefits and disadvantages you can expect when you choose to install Decra metal roofing.
Pros
Decra is known for its durability and long lifespan. Expect a Decra roof to last for over sixty years, as they are strong and resistant to all types of damage, including moisture, impact, and fires. If issues do occur, all Decra roofs come with a lifetime warranty.
Decra is an environmentally friendly choice. For one, it is fully recyclable and made from recycled materials. Also, it has much better energy efficiency than wood or asphalt roofing is better at regulating temperature, reducing costs and emissions required to temperature control your home.
Because of these desirable attributes, Decra has a good return on investment, and boosts the home's resale cost, making it a smart financial decision for those that may sell homes in the future.
Cons
One primary drawback of Decra is the cost. Decra mimics the appearance of other roofing materials, but tends to be more expensive than the original material (the exception is clay and concrete tiles).
While the initial material costs are higher, over the course of fifty years the cost may balance out though, particularly when compared to materials with short lifespans like asphalt shingles.
While Decra does have some variety in style and color, the choices are not as expansive as other roofing options, so if you are looking for a unique color or design, it may be difficult for Decra to meet your needs.
Another downside of Decra is the difficulty in finding an experienced contractor who can install Decra roofing. Particularly in some regions of the USA, it might be hard to find a roofer who has experience installing Decra. Be sure to confirm a chosen contractor's experience with Decra roofing before signing agreements.
Also, because Decra is made from steel, it may amplify sounds such as rain more than other materials. If this is an issue, you may want to consider ways to muffle sounds more or choose a different roof material.
Is A Decra Roof Worth It?
Decra roofs have a strong return on investment. Up to 85% of the original cost of the Decra roof is regained when you sell your house, because a Decra roof can increase the value of your home by up to six percent.
This makes a Decra roof a good choice for those who may consider putting their homes on the market in the near or distant future.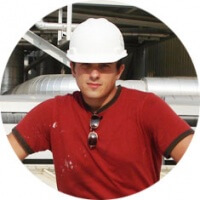 Author: Leo B
For over 20 years Leo has run a successful roofing business in New England, specializing in metal roofing, as well as cool flat roofing technologies. Having replaced and installed hundreds of roofs in New England, Leo has first hand experience with pretty much every residential roofing material and roofing manufacturer available in the US.