A Zinc roof probably isn't the first option to come to mind when discussing roofing options in the U.S.
This is bound to change, since few materials can match the durability, longevity, and classic beauty of a zinc metal roof. 
To get started on your roof replacement, contact your local roofing pros for FREE ESTIMATES!
Average Cost Of A Zinc Roof
Zinc roofing is an attractive alternative to more costly types of metal roofing, such as stainless steel and copper.
This resilient option is available in shingles and standing seam panels for a more modern look.
On average, you can expect to pay from $12 to $20 per square foot for zinc metal roofing.
So, an average 1,700-square-foot zinc metal roof would cost between $20,400 and $34,000.
| Type | Total Cost per Square Foot | Total Cost for an Average 1,700-Square-Foot Roof |
| --- | --- | --- |
| Zinc Shingles | $12-$18 | $20,400-$30,600 |
| Zinc Standing Seam Panels | $13-$20 | $22,100-$34,000 |
Zinc Roofing Cost Breakdown
Depending on the zinc material you choose, you'll pay between $6 and $10 per square foot for materials.
| Type | Cost of Material per Square Foot | Cost of Labor per Square Foot | Total Cost per Square Foot |
| --- | --- | --- | --- |
| Zinc Shingles | $6-$8 | $6-$10 | $12-$18 |
| Zinc Standing Seam Panels | $7-$10 | $6-$10 | $13-$20 |
Zinc shingles are slightly more affordable and run from $6 to $8 per square foot, while a zinc standing seam roof will cost you between $7 and $10 per square foot.
These two zinc options are equally viable for residential roofing, so your choice primarily boils down to your priorities and preferences.
The labor cost for installing a zinc metal roof is significantly higher than most other roofing materials. It ranges from $6 to $10 per square foot.
This high cost is due to the scarcity of installers with expertise and experience installing residential zinc roofs.
Plus, installing a roof made of zinc takes two to three times longer than installing the most common roofing option in the U.S. – asphalt shingles.
The exact labor cost depends on several factors, including your geographic location and the roof's complexity.
If there's an existing roof the installers must tear off and dispose of, expect your labor costs to rise substantially.
Still, you should not let this cost breakdown deter you from installing a zinc metal roof. After all, metal roofs have the best returns on investment (ROI) among all roofing types.
You'll recoup around 86% of its value with zinc if you decide to sell your property.
Most People Spent:
$4,190 - $5,740
(For a 1600 sq. ft. Roof)
See costs in your area Start Here - Enter Your Zip Code
What Is A Zinc Metal Roof?
While it may seem so to U.S. homeowners, metal roofing made from zinc is far from a newcomer to the roofing market.
Zinc panel roofing has been around for some time and is favored for its superior durability and longevity.
A zinc metal roof is mainly made out of pure zinc.
However, trace quantities of copper and titanium are typically necessary to enhance zinc's properties.
In particular, copper makes zinc easier to handle.
At the same time, titanium helps alleviate zinc's tendency to creep or deform under mechanical stress.
Zinc shingles or panels require no special coating, as zinc forms a protective patina that will prevent it from rusting or being adversely affected by severe weather conditions. 
Did you know? The patina is a film that forms on certain types of metals as a result of oxidation over time. Zinc typically has a light gray or bluish color.
Zinc Roof Installation
When installing a zinc metal roof, hiring a professional contractor is crucial.
Improper installation can significantly lower the roof's life expectancy. 
A homeowner's most important task is to keep the roof structure dry before installation. Otherwise, the underside of the roof will rust after the zinc roofing is laid.
As for the roofers, they must use a breathable synthetic underlayment to avoid trapping mold.
If you are adamant about installing a zinc roof on your own, here are some things to keep in mind.
As a rolled metal, zinc has a rolling direction indicated on the material's rolling film. You should follow this direction when laying down the zinc panels to ensure proper light reflection. 
Avoid rolling the zinc panels sharply.
Always use protective gloves when working with zinc. Besides being a safety measure, it guarantees you won't stain the metal.
If you want to solder two panels together, you should only target small pieces of zinc. Doing so ensures that you leave enough room for thermal expansion and contraction. 
Typical Price Range To Install a Metal Roof
Average:
9,158 - $14,310
Zinc Roofing Extension
Zinc is an excellent roofing material choice for covering home extensions.
In these cases, extending the roof is necessary for maintaining the home's functionality and aesthetic appeal.
A functional roof extension will protect the newly extended spaces from heat, moisture, and other elements. 
As a low-pitched roof option with superior flexibility, zinc will work well and fit with the existing dimensions of the property effortlessly.
Using zinc for an extension offers several advantages.
Exceptional durability 
Boosted curb appeal
Low maintenance
A roof extension made of zinc will give you more shade and added insulation, which will improve the temperature distribution and humidity control within the covered area.
Zinc Metal Roof Lifespan
When correctly installed, a zinc roof can last well over 100 years.
Zinc's lifespan is actually one of the most significant selling points of zinc roofing.
Copper is the only other common metal roof material that can compare. 
Did you know? The roofing color can affect how long a roof will last.

Darker roofing absorbs more heat from the sun, which can lead to overheating. This, in turn, can damage the roof and cause moisture buildup.

Naturally, a zinc roof is quite dark, almost black. So, it might be best to consider one of the lighter coloring options when choosing the roof's design, especially in sunny and warm climates. 
Your Estimated Roofing Cost
Roof Price:
Cost per sq. ft.
Roof Size:
Roofing Material:

See costs in your area Start Here - Enter Your Zip Code
Zinc Metal Roofing Advantages
There are plenty of reasons homeowners should consider installing a zinc metal roof.
Let's take a look at the material's key advantages.
Zinc Roofs Are Long-Lasting
Zinc is a highly resilient element, which translates to a long service life for zinc metal roofs.
When installed and maintained correctly, a zinc shingles roof can last in excess of 100 years.
Only a handful of roofing materials can compare to such longevity. These include copper among the metal options, and tiles and slate among the rest. 
Zinc Is Self-Healing
A zinc metal roof will develop a protective layer known as patina over time, thanks to oxidation.
This layer will safeguard the roof against rust and weathering.
If anything scratches the roof's surface, the patina will regenerate itself, effectively removing any blemishes and restoring the roof's structural integrity. 
Pro Tip: Patina is hydroxyl carbonate that will develop over time. If you'd like the benefits of this protective layer from the beginning, consider purchasing pre-patinated zinc roofing.
Zinc Roofs Are Low Maintenance
Zinc is unquestionably the easiest roofing material to maintain.
Since the patina constantly renews itself, your zinc metal roof won't need any aesthetic repairs.
In addition, zinc has antimicrobial properties that reduce or eliminate mold and algae.
And finally, simple rainwater will do most of the necessary roof cleaning.
So, zinc roofs require little to no maintenance on your end, provided they're correctly installed.
To help the roof achieve its entire lifespan, ensure it's clear of organic matter, such as leaves.
Also, pay close attention to elements that can affect the roof's integrity, including rainwater drains, gutters, and possible air-conditioning units on the roof.
x
Low End
Mid Range
High End
Materials
$5,425
$6,096
$8,047
Labor
$6,408
$7,200
$9,504
Cost / S.F.
$7.40
$8.31
$10.97
Total Cost
$11,833
$13,296
$17,551
See Costs Near You!
Start Here - Enter your zip
Zinc Metal Roofs Are Aesthetically Appealing
Zinc is widely regarded as one of the most attractive roofing options.
This is partially due to the patina process that transforms the roof's color into a pleasant light gray or blue hue.
Before the oxidation process kicks in, you can choose among a wide array of colors and finishes for your zinc roofing.
Did you know? The world-famous blue-gray Parisian rooftops get their color from zinc.

Zinc metal roofing is undoubtedly an integral part of the iconic skyline of Paris. In fact, the city is pushing for the "zinc horizon" to get UNESCO status.
Zinc Roofs Are Eco-Friendly
Like many other metals, zinc is nearly 100% recyclable.
Plus, zinc can be reused indefinitely.
Manufacturing zinc also takes significantly fewer energy resources than other standard roofing options.
For instance, aluminum and steel require up to four times the amount of energy in their production.
Zinc Shingles And Panels Are Non-Toxic
As a building material, zinc doesn't contain toxic substances, so it's entirely safe for human health.
Thanks to such a low toxicity level, zinc is often used as a flashing material for all roof types.
Pro Tip: If you're interested in rainwater collection, consider installing a zinc metal roof. Unlike most traditional roofing materials and other metals, zinc won't contaminate the run-off water.
x
Low End
Mid Range
High End
Materials
$5,425
$6,096
$8,047
Labor
$6,408
$7,200
$9,504
Cost / S.F.
$7.40
$8.31
$10.97
Total Cost
$11,833
$13,296
$17,551
See Costs Near You!
Start Here - Enter your zip
What Are the Disadvantages of Zinc Roofs?
While zinc metal roofs offer plenty of benefits, there are some disadvantages that might deter homeowners from choosing this roofing option.
High Cost
Zinc is more affordable than some higher-end metal options, such as copper.
Still, when compared to other commonly used roofing materials, zinc is considered a premium option.
To put things into perspective, installing asphalt shingles, the most widespread roofing material in the U.S., costs around $2 per square foot.
This amount of money can't even begin to cover the material cost for a zinc metal roof at around $7 per square foot, let alone the entire installation process.
Unpredictable
Some homeowners might be drawn to zinc metal roofs due to the patina that develops over time, giving the roof a unique appearance and protective properties.
However, no one can tell for sure how long the patina will take to develop.
Depending on your climate, this process can take as little as two years or drag out over 30 years. 
Furthermore, you never know what color you'll end up with, since zinc patina comes in various tonal variations.
So, homeowners with a specific color tone in mind for their roofs should probably stay away from zinc roofs.
Challenging to Install
Poor installation can affect the longevity and performance of any roofing material.
The stakes are even higher with zinc and other metals.
If too much room is left behind the zinc panels, water can intrude and cause corrosion.
Alternatively, moisture can get trapped under the zinc panels, resulting in mold and leaks that will eventually cause extensive structural damage to your roof.
You can avoid this worst-case scenario by hiring a licensed, experienced contractor to install your zinc roof.
Your Estimated Roofing Cost
Roof Price:
Cost per sq. ft.
Roof Size:
Roofing Material:

See costs in your area Start Here - Enter Your Zip Code
Zinc Cladding vs Aluminum
Although not the most popular choice for cladding, zinc is more durable than other materials, including aluminum.
Zinc is incredibly resistant to adverse weather conditions since it's not sensitive to rust and corrosion.
In its natural form, aluminum does not rust, but it does corrode.
The only way to prevent aluminum cladding from weathering in this way is to anodize it.
Both aluminum and zinc can be formed into more complex shapes that aren't possible with other materials. As a result, they can be used for various purposes, from hangars in industrial zones to more contemporary buildings and housing estates.
Both materials are also available in numerous colors and designs and can be reused over and over again.
Due to zinc's natural properties, zinc cladding is much more challenging to install.
Zinc installation typically requires a specialist contractor who has experience with the material. This increases the overall installation cost.
In contrast, a general contractor can install aluminum cladding, thus reducing the total cost and the time necessary for this undertaking. 
Typical Price Range To Install a Metal Roof
Average:
9,158 - $14,310
Zinc vs Tile Roof
A tile roof is a close rival to a zinc metal roof since it shares many of its strongest points.
For starters, a tile roof is one of the few options that can last upwards of 100 years, like a zinc metal roof.
Clay and concrete tile roofs can withstand hail, high winds, and even fire.
Since a tile roof is made from earth minerals, it can also be recycled.
Like zinc, tile roofing requires minimal maintenance and few repairs throughout its lifespan, and benefits immensely from a professional installation.
However, a tile roof has a few distinctive cons that put it at a disadvantage compared to a zinc roof.
Firstly, tile roofing is incredibly heavy.
A tile roof can weigh up to 2,000 pounds per square (100 square feet), which only a few roof structures can handle. Homeowners looking to install a tile roof might need to pay for structural reinforcement, which drives up the total installation cost.
Although tiles are durable, they can be broken if they suffer a heavy impact, thus causing the need for expensive repairs.
For this reason, homeowners should avoid walking on a tile roof or installing this roofing if their home is surrounded by large trees. 
Zinc vs Slate Roofing
Like zinc, a slate roof has a lot going for it in terms of durability, longevity, and classic beauty.
Slate is one of the few roofing materials more expensive than zinc.
And the difference isn't negligible; a square foot of slate roofing can cost you up to $45 compared to zinc's average of $7.
For this staggering price, you'll get a durable roof that can last for centuries and that offers tremendous ROI.
Since slate is a natural stone, this roofing option is eco-friendly and can be recycled.
Slate is not affected by fungus or mold, it can't burn, and it's highly resistant to temperature fluctuations. 
However, all of these properties are quite similar to zinc roofing.
A slate roof lasting for centuries is a best-case scenario. In most cases, it will last up to 100 years, like zinc.
But unlike zinc, a slate roof is extremely heavy. Slate roofing can add up to 1,500 pounds of weight per square.
For this reason, slate roofs aren't a feasible choice for homes with poor structural integrity or that are located in areas with heavy snowfalls. 
Most People Spent:
$4,190 - $5,740
(For a 1600 sq. ft. Roof)
See costs in your area Start Here - Enter Your Zip Code
Zinc vs Fiberglass Shingles
Fiberglass is relatively new to the roofing industry.
Fiberglass roofing represents one of the most attractive roofing options and provides superb insulation. 
Fiberglass shares many of zinc's advantages when it comes to roofing.
Fiberglass is versatile and available in numerous colors, designs, and styles
Fiberglass is fire-resistant
Fiberglass can withstand high winds, rainfalls, and storms
Both fiberglass and zinc metal roofs require professional installation to avoid damaging the roof and reducing its lifespan.
Fiberglass beats zinc in terms of material price and total installation cost.
Materials used to produce fiberglass roofing are inexpensive and readily available, and no special training is required by professional roofers for installation.
Fiberglass is also lightweight, making it a better option for homes that aren't structurally reinforced.
There are areas where zinc outperforms fiberglass when it comes to roofing.
These are the most significant disadvantages of a fiberglass roof compared to zinc.
Fiberglass requires extensive maintenance and complex repairs
The service life of a fiberglass roof rarely surpasses 30 years
Fiberglass roofs make proper home ventilation more challenging
Typical Price Range To Install a Metal Roof
Average:
9,158 - $14,310
Are Zinc Roofs Cheap?
No, roofs made of zinc are not cheap when compared to other roofing options.
In fact, zinc costs more than most traditional roofing materials, excluding slate and solar glass.
However, zinc is one of the more affordable options among high-end metal roofs. 
Are Zinc Metal Roofs Any Good?
Yes.
Metal roofs made of zinc are fire-resistant, insect-proof, and resistant to mold, mildew, and fungus.
Plus, few roofing materials offer a century-long lifespan.
As such, zinc metal roofs are an excellent roofing option.
A Roof That Will Last A Lifetime
Zinc is undoubtedly a premium roofing option.
While it is less expensive than copper, a zinc metal roof will still set you back more than most traditional roofing options.
Despite its high cost, zinc is an excellent choice if you want a roof that you can leave behind for your heirs.
This resilient roof option requires minimal upkeep for a lifetime of service for you and your family members.
Most People Spent:
$11,130 - $14,960
(For a 1600 sq. ft. Roof)
See costs in your area Start Here - Enter Your Zip Code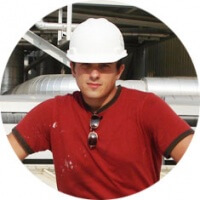 This roofing guide is presented by Leo B.

I've been a roofer for 15 years, and specialize in Metal Roofing and Flat Roofing.

Have a roofing question or issue? Ask me any roofing question!

Roofing Contractors - join our free Local Roofers directory to get more customers!