|
Among savvy homeowners, metal roofs are becoming more popular every day. Still, there is a lot of confusion about metal roof prices and installation costs.
While a metal roof costs more than asphalt shingles, it offers much better long term value when it comes to weather protection, resistance to leaks and ice dams, energy efficiency, and low maintenance costs.
In this guide we will dive into metal roofing prices in great detail to help you figure out if installing a metal roof is financially worth while.
Average Metal Roofing Prices
x
Low End
Mid Range
High End
Materials
$5,425
$6,096
$8,047
Labor
$6,408
$7,200
$9,504
Cost / S.F.
$7.40
$8.31
$10.97
Total Cost
$11,833
$13,296
$17,551
See Costs Near You!
Start Here - Enter your zip
On average, homeowners across the US report spending $8,500 – 10,000 to install a metal roof. Metal roof prices can vary greatly depending on the type of metal roof you choose to install.
For example, corrugated metal roofing panels are the most budget friendly metal roof and can cost as little as $5,000-6,000 installed on a 1,500 sq. ft. roof.
On the on the upper end of the price spectrum are standing seam panels that cost as much as $11,000-15,000 for the same size roof.
Another factor that greatly increases your overall cost for a metal roof is the type of metal its made of.
Steel is the most common and reasonably priced metal roofing material. However, there is also aluminum, zinc and copper. These metals can cost 15-35% more than a steel roof.
Use or Metal Roofing Calculator to get a more accurate roof replacement price quote for your house.
Metal Roof Prices Per Square Foot (low to high)
1. Corrugated steel panels: $4 – 5.65 per sq. ft. ($400-565 per square)
2. Metal shingles: $7 – 9 per sq. ft. ($700-900 per square)
3. Stone-coated steel tile: $8 – 9 per sq. ft. ($800-900 per square)
4. Standing seam: $7 – 13 per sq. ft. installed ($700-1,300 per square)
Keep in mind that these are prices charged by licensed contractors who specialize in metal roofing installation.
Included in the total price quote are the following items:
– Materials that a contractor buys for the job
– Removal of old shingles
– Typical carpentry repairs (fixing up-to 100 sq. ft. of sheathing/substrate)
– New synthetic underlayment
– New chimney / skylight flashing
– Ventilation
– All necessary flashing and snow guards
– Building permits
– Debris removal/dump fees
Note, that snow guards are installed in the "snow country" to prevent ice damming and chunks of snow from falling on your head, or cars parked directly below the roof.
Cost of a Metal Roof Per Sheet
Metal roof panels are a very popular roofing choice, especially if you are looking for a budget friendly material.
Economical corrugated metal sheet panels cost $3 – 6.5 per square foot installed, or $300-650 per square (100 sq. ft.) of roofing.
Metal sheet panels are available in a number of different styles, including: R-panel, 5V-crimp, corrugated and through-fastened panels.
They are made of either galvanized or galvalume steel and vary in thickness from 24-30 gauge steel. These panels can be painted or left as bare metal.
Cheap metal panels are good option for a barn, a storage space or a cabin style home.
Home Depot has a very large selection of various types of metal panels, sold in sheets. Steel metal sheets are available in various lengths from 5, 8, 10, 12, 16 ft. Sheet prices range from $18 to 52 per metal sheet. The most popular are 12 ft Classic Rib Steel panels that cost $39.84 each.
How Much Does a Metal Roof Cost to Install?
Typical Price Range To Install a Metal Roof
Average:
$9,150 - $14,310
Professional metal roof installers charge about $350-400 per square for labor. Standing seam installation can start out as high as $500 per square, because its more difficult and time consuming to install this roofing system.
Typically, roofers charge 2/3 of the total roof installation cost for labor and overhead. Cost of roofing materials is 1/3 of the total price.
When estimating the total materials cost, roofers will include a waste factor of about 5-20% depending on the architectural design of your roof and the metal roof style you choose.
For example, on a complex roof, there will be more waste if you want to install standing seam panels, than if you install metal shingles or tiles.
Keep in mind that price quotes that you get online are for a basic install on a one storie ranch of cape style home. If your roof has a lot of penetrations (skylights, chimneys), valleys, curves, your installation cost can significantly go up.
Roof pitch is another factor that can increase your labor costs. Installing a metal roof over a low pitch is much easier and quicker compared to a high pitch roof architecture. If your roof is curved, expect to pay at least 50% more for labor compared to a standard roof install.
Some roofing contractors can initially quote you a very low installation price, around $260-280 per square. However, they will then charge you extra money for every item of labor that they perform, such as:
– ridge
– valleys
– rake trim
– skylights
– hip
– ventilation
At the end, you may end up paying at least two times more than the initial "low" price. When you are getting roofing quotes, be sure to ask your contractor exactly what is included in the price. Ask him to explain and itemize his labor charges before signing the final contract.
Did You Know? An important factor that affects installation costs is your geographic location.

Roofers that operate in high-income suburban areas, expensive cities, such as: San Francisco, Seattle, New York or Boston, usually charge as much as 15-18% more than the national average labor prices for the exact same job.

On the other hand, pros that are located in less affluent regions may charge 10-15% less than the average, depending on local economic conditions.

This is exactly why roofing prices you see online are not exactly 100% accurate, because your location will ultimately dictate how much a roofer will want to charge for his work.
Metal Roof vs Shingles Cost
Typical Price Range To Install a Metal Roof
Average:
$9,150 - $14,310
For many homeowners looking to replace an old roof, the choice often boils down to metal vs. asphalt shingles.
In the short run, traditional shingles are a very budget-friendly option, with prices starting as low as $3 per square foot installed. These are 3-tab shingles, that look flat and last only about 10-12 years, sometimes even less.
More expensive, designer architectural shingles, last up to 15 years, and look significantly better. They run $5-7 per square foot on average, but can cost as much as $7-8 per square foot installed.
Thus you would be looking at spending anywhere from $4,500 to 10,500 for a new asphalt shingles roof on a 1,500 sq. ft. ranch style home.
To compare, the average cost for a metal roof is about 40-50% more than basic shingles. However, this roof will last at least twice as long, and will require minimal maintenance.
Upon closer examination, the math is actually in favor of installing a metal roof. This is because you can get a low-end metal shingle, which is still superior in longevity and performance to the most expensive asphalt product, for about $6.5-7 per square foot installed.
Thus, you can install a new metal roof for about $9,750-10,500 on the same 1,500 sq. ft. ranch style home.
This roof will protect your home in any weather, especially against ice dams, snow, rain, hail and fire. Many homeowners spend this much on an architectural asphalt roof, but don't get any of the benefits of metal.
In addition to a longer service life and durability, metal offers such tremendous benefits as energy efficiency and recyclability.
Unlike with asphalt, you can save up to 30% off your energy cost. Moreover, it is a green building material, which can be recycled, while asphalt usually goes into our landfills.
Ultimately, the choice really depends on your goal: if you are really pressed for money and need to get a new roof immediately, asphalt shingles make sense. They are also a viable option, if you are currently in the process of selling your home and it needs a new roof.
However, if you are planning to live in your house for at least the next 5-7 years and don't want to deal with costly repairs, which inevitably happen with asphalt roofing, metal is the smart choice.
Over time you will recoup your initial investment, and will enjoy a lifetime of leak-free, hassle free service.
If you do decide to sell your home at some point, it will be a very attractive feature to prospective buyers, as nobody likes to deal with roofing problems.
Installing A Metal Roof Over Shingles
Typical Price Range To Install a Metal Roof
Average:
$9,150 - $14,310
If you currently have an asphalt roof and need to replace it, you may have an option of installing a metal roof over shingles.
This will enable you to save money on tear-off, which can be as much as $1,200-3,000.
It's best to speak with your roofer about this, because it may not be recommended depending on your roof structure, ventilation, and other factors.
Metal Roof Cost vs. Premium Materials
Since metal is considered a high-end material, it makes sense to compare its cost to other premium roofs, such as cedar shingles, slate, synthetic slate, clay and concrete tile.
| Roofing Material | Cost Per Sq.Ft. | Service Life |
| --- | --- | --- |
| Metal | $6 – 13 | 30-50 years + |
| Cedar Shingles and Shakes | $7 – 12 | 20-35 years |
| Faux Slate | $9 – 14 | 20 – 40 years |
| Real Slate | $14 – 25+ | 75 -100 years + |
| Clay Tile | $8 – 16+ | 50 – 100 years |
| Concrete Tile | $7 – 14 | 20 – 40 years |
Looking at the price difference vs benefits derived from high-end roofs, it is clear that a metal roof offers the best value.
Cost To Maintain And Repair A Metal Roof
One of the most attractive features of a metal roof is that it requires practically zero maintenance. If you have a corrugated metal roof, you may need to re-tighten the screws about every 10 years.
All other types of metal roofs are truly maintenance free. For most homeowners this is a breath of fresh air, as no one wants to spend their free time taking care of their roof.
When it comes to repairs, its important to note that in most cases a metal roof will not require repairs, because its designed to be a water shedding system.
This means that its impervious to damage from leaks and ice dams, and therefore should not need to be fixed.
However, there are cases when faulty installation can compromise the integrity of a metal roof, and you will start to get problems like leaks, etc. Fixing a metal roof is expensive; pros charge at least $500 to fix a metal roof.
However, depending on the type of system and complexity of the problem, the total price can be a lot higher. For example, if you need to take apart standing seam panels, repairs can cost thousands, because its such a hard job.
Ultimately, you should invest into high quality installation to avoid any costly problems and repairs down the line.
Environmental Benefits Of A Metal Roof
In additional to tangible savings on the costs of energy, maintenance and repairs, a metal roof offers important benefits for the environment.
First and foremost, a metal roof lands itself ideally to solar panel applications. Particularly, standing seam panels are most recommended if you plan to go solar. Solar energy is great for our earth, and can also set you free from depending on big energy companies for your electricity and hot water needs.
Most metal roofs manufactured today have at least 50-70% of recycled metal content in them. This means that the manufacturing process is a lot cleaner and less wasteful compared to other roofing materials.
By the same token, a metal roof that has come to the end of its service life will not end up polluting our earth in the landfills. Instead, it will be 100% recycled. This makes a metal roof the only truly green and eco-friendly roofing material.
Resale Value Of A Metal Roof
(Image: https://blog.mcelroymetal.com/)
One of the greatest long term advantages of a metal roof is that it boasts a very high return on investment. Across the US, you can get at least 90% ROI when you resell a house with a metal roof.
However, in areas with snow and ice dams, as well as fires and high winds, the ROI of a metal roof can be as high as 95-97%
Compared to asphalt shingles, a metal roof can boost your home value by as much as 5-6%.
Most homeowners don't like to deal with roofing problems and are more willing to buy a home where their roof will last for decades to come without any leaks.
Your Estimated Roofing Cost
Roof Price:
Cost per sq. ft.
Roof Size:
Roofing Material:

See costs in your area Start Here - Enter Your Zip Code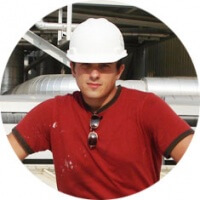 Author: Leo B
For over 20 years Leo has run a successful roofing business in New England, specializing in metal roofing, as well as cool flat roofing technologies. Having replaced and installed hundreds of roofs in New England, Leo has first hand experience with pretty much every residential roofing material and roofing manufacturer available in the US.