Many homeowners appreciate the benefits that come with metal roofs. However, they have a hard time picturing how that roof would look with their current home layout.
Fortunately, for those who prefer the traditional shingle look, there are excellent solution: metal roofing that looks like shingle. 
If you are ready to install a new metal roof, contact your local roofing pros for FREE ESTIMATES!
Do They Make Metal Roofing That Looks Like Shingles?
Yes. Manufacturers now have the technology and know-how to create replicas of shingle roofs made out of metal.
You can now achieve the look of tile, wood, or asphalt shingles but with a metal roofing construction. 
With the traditional-style roof appearance and the heavy-duty strength and durability of the metal, homeowners can get the best of both worlds. 
Metal Roof Shingles Average Cost 
Homeowners wishing to install a metal roof shaped like shingles on their residential homes will spend from $10 to $18 per square foot.
The price difference, of course, varies depending on the type of roofing. 
Standing seam solutions are the most expensive. The corrugated and ribbed panels are the low-end option. Metal shingles and tiles are just in the middle price-wise.
Typical Price Range To Install a Metal Roof
Average:
9,158 - $14,310
Metal Roof Shingles Cost Breakdown 
The cost of a metal roof that looks like shingles depends on the brand, type, and size of the project.
Below is the cost breakdown for stamped metal shingles, Tamko shingles, and interlocking metal shingles so you can better understand how much you may have to spend. 
| Type of Metal Shingle | Price per Square Foot | Price for a 2,000-Foot Home | Price with Labor Cost for a 2,000-Foot-Home |
| --- | --- | --- | --- |
| Stamped Metal Shingles | $3.70-$6.30 | $7,400-$12,600 | $20,000-$30,000 |
| Tamko Metal Shingles | $3.80-$5.70 | $7,800-$11,600 | $20,000-$30,000 |
| Interlocking Metal Shingles | $8.50-$14 | $17,000-$25,000 | $30,000-$40,000 |
Stamped Metal Shingles
Stamped metal roofs cost from $3.70 to $6.30 per square foot. The price is almost twice as expensive as asphalt shingles, but the benefits are also greater.
For a 2,000-square-foot home, you can expect to pay from $7,400 to $12,600 without installation costs. 
With the addition of labor costs, the price can go to $10 or $15 per square foot.
Different regions have different price lists for stamped metal shingles, so you should always get multiple quotes before settling for a price. 
When you combine labor and material costs, the price can go from $20,000 to $30,000. 
Tamko Metal Shingles
Tamko Roofing is one of the top manufacturers of asphalt shingles. They offer a range of affordable architectural, 3-tab, and premium shingles.
Tamko also has three profiles of metal shingles. 
The price per square foot for metal shingles is from $3.80 to $5.70. For a 2,000-square-foot home, the price goes from $7,800 to $11,600 without labor.
For metal slate and metal shake shingles, the price is from $5.70 to $7.80 per square foot. The cost for a 2,000-square-foot home is from $11,700 to $15,700.
With labor, the cost of Tamko metal shingles ranges from $20,000 to $30,000. 
Interlocking Metal Shingles
The price per square foot for interlocking metal shingles is from $8.50 to $14, depending on the project type. 
Different companies offer different prices for interlocking roofing, given that they have different operation expenses. 
When you include the installation cost, the overall price can go from $30,000 to $40,000. 
Whichever metal roofing solution you go for, make sure to plan an additional 10% of the budget just to cover unexpected additional costs.
Different roof complexities and delays can affect the price as well. 
Most People Spent:
$4,190 - $5,740
(For a 1600 sq. ft. Roof)
See costs in your area Start Here - Enter Your Zip Code
Where To Buy Metal Shingles
Metal shingles are available at most large-scale retailers.
Best Buy Metals, Metal Roofing Source, Home Depot, and Metal Roofing Wholesalers are some of the most popular options. 
You can contact local roof contractors to get a deal on metal shingles.
Some professionals will offer a discount if you purchase metal shingles with them, then let them perform the installation. 
Metal Roofing Shingles Reviews
Metal shingles are great because they have all the benefits of robust metal systems but have a traditional appeal.
Many people praise the metal roof shingles due to their longer service life compared to asphalt shingles. 
There's also less blowoff during severe wind conditions compared to traditional shingles. 
Warranty For Metal Roof That Looks Like Shingles
Most metal roofs that look like shingles have a robust warranty.
We're talking about a 30-50 year warranty.
Most metal roof manufacturers also make fully transferable warranties. If you sell your home at some point, the future owner can have access to the warranty as well. 
Pros Of Metal Roof That Looks Like Shingles
Metal roofs that look like shingles may come with a higher cost but are an excellent long-term investment.
Metal shingles are the way to go if you want to increase your home value.
There are many reasons consumers choose metal roofs that look like shingles. Some of the most important ones include:
Long Average Lifespan 
The average lifespan of metal shingles is around 80 years.
This is almost twice as long compared to other shingle solutions, notably asphalt. 
Money-Saving Benefits
Homeowners who invest in metal shingles save more money over time.
The material has excellent thermo-regulating properties, and it reflects solar heat.
As a result, you can expect up to 20% lower cooling costs. 
Environmentally-Friendly Solution 
Metal roofs are among the most eco-friendly roofing options.
A typical metal roof can contain up to 90% of recycled material.
Every metal shingle can go through the recycling process once it reaches the end of its lifespan. 
Traditional Aesthetics 
Most people choose metal roofs because they want durable and strong materials.
However, they also prefer traditional looks.
Metal shingles are the perfect combination that allows them to have the best of both worlds. 
Suitable for Re-Roofing 
Homeowners can install some metal panels and, in particular, stamped metal shingles over their existing roofs.
Leaving the old roof in place is environmentally friendly, less expensive, and potentially has greater energy-saving benefits. 
Simple Flashings 
The low-profile nature of metal shingles makes them easy to handle during the flashing installation and creation process. 
The benefits are even greater for flared gable projects.
You can bring every course of shingles to the gable edge to meet the channel running along the roof. It's then possible to fold the shingles into the channel for a staired look.
This structure lets water and debris flow much faster down the roof. 
Finally, the installers can purchase pre-formed flashings, meaning they have one less task to complete on the installation site. 
Low Maintenance 
Metal roofs, in general, come with low maintenance.
They are naturally tough and can withstand strong winds, rain, snow, intense heat, and other elements.
Thanks to the smooth surface, homeowners get maximum snow and rain shedding, keeping the structure free from damage. 
Your Estimated Roofing Cost
Roof Price:
Cost per sq. ft.
Roof Size:
Roofing Material:

See costs in your area Start Here - Enter Your Zip Code
What Are The Disadvantages Of A Metal Shingle Roof?
Despite the numerous benefits, metal shingle roofs aren't perfect.
A few drawbacks that may prevent you from considering them for your next roofing project. After all, only after weighing out the pros and cons you can be 100% sure you're making the right decision. 
Higher Upfront Cost 
Despite having a longer lifespan than any other shingle type, metal roofs can be very expensive to set up.
Some homeowners simply aren't ready to cash out thousands of dollars on even the cheapest metal roofing solutions. 
Can Get Noisy 
People living in rainy climates can experience more frequent noise during the rainfall season.
Metal roofs don't have any sound insulation, and rain, hail, or branches exacerbates that situation. 
The additional expense of sound insulation may be required to lower the amount of noise. This is an important thing to consider when planning a budget for your roofing project. 
Not Suitable for Low-Slope Roofs 
Stamped metal roofing doesn't work on low-slope roofs.
If your roof has a pitch lower than 3/12, you should look for alternative roofing solutions. 
The low slope affects the draining system, so the water stays on the roof for longer.
This can be a significant issue if you live in an area with heavy snow, rainfall, or extreme weather. 
Replacement May Be a Challenge 
Eventually, the metal roof that looks like shingles will need improvement or replacement.
Depending on the style and color, it may be difficult to find the same pieces of roofing to match the rest of the structure. 
A piece of advice here is to purchase extra material during the initial installation. 
Possibility of Expansion and Contraction 
Specific metal roofs can expand or contract with time. It's important for professionals to install them in a way that gives room for the panels to "breathe."
Installation errors can cause issues with loose panels as time goes by. 
How Do Metal Shingles Compare To Vertical Leg Standing Seam Options?
Standing seam metal roofs have interlocking seams that give the roof its distinct appearance and connect the panels. In addition, metal shingles have all the perks of metal roofs with additional aesthetic benefits. 
In terms of longevity and durability, both roof systems offer excellent results.
The differences primarily appear in terms of aesthetics. 
For example, some associations don't allow the installation of vertical seam panels due to their looks.
In those cases, homeowners who are after metal solutions can use metal shingles. They comply with all HOA regulations due to their traditional look. 
Another difference between the two roof systems is the price.
Metal shingles are often more expensive due to higher associated labor costs. The installers need to place one small shingle at a time.
The metal panels are larger and take less time to set up. 
How Do Metal Shingles Compare To Asphalt Or Shake Shingles?
Homeowners often only start to notice the benefits of metal shingles when they compare them to shake or asphalt systems. 
Metal shingles have a longer service life. They can outlive asphalt and shake counterparts by two or three times. 
The next advantage of metal shingles over the two other systems is their ability to receive less blowoff in high winds. The metal shingle only has one-fourth of the weight of asphalt shingles. 
Finally, metal shingles are a better solution for homeowners concerned about the environment.
Compared to other materials, metal is highly recyclable.
Metal shingles also come with the Energy Star Rated coating to lower cooling costs in homes.
Some insurance companies may even offer reductions in insurance rates because of the high energy rating. 
Typical Price Range To Install a Metal Roof
Average:
9,158 - $14,310
How Does Metal Tile Compare To Ceramic Tile?
Metal is more lightweight than ceramic tiles.
Ceramic tiles weigh from nine to 12 pounds per square foot. On the other hand, metal panels weigh around one pound per square foot. 
Tenfold the weight of ceramic tiles means much higher shipping and installation expenses.
For the same reason, modifications to existing ceramic tile structures are extremely hard to achieve. 
Metal Roof That Looks Like Shingles vs Wood
Metal roof is more lightweight than wooden roof systems.
Some obvious advantages of metal include a fireproof structure and resistance to mold and insect infestations. 
Metal shingles are also more environmentally friendly, especially during the summertime. Metal reflects sunlight away so ACs work less to achieve the same cooling effects as wood structures. 
As a result, metal roofs save homeowners energy and money all year. 
Metal roofing is more costly than wood shingles when it comes to material pricing. However, if you count on energy efficiency and installation savings, metal roofs quickly pay for themselves. 
Metal roofs can also get quite noisy during rainfall, which is not the case with wood shingles. 
Wood shingles may be a better option in terms of aesthetics and affordable price.
With regular maintenance, wood shingles can last up to 30 years, which is more than some other roofing solutions. Still, their lifespan doesn't come close to metal roofs. 
Most People Spent:
$4,190 - $5,740
(For a 1600 sq. ft. Roof)
See costs in your area Start Here - Enter Your Zip Code
What To Consider Before Buying Standing Seam vs Stamped Metal Shingle Roofing
There are numerous things you should keep in mind when purchasing metal shingles. 
Budget
If you're on a budget, the better choice would be the standing seam metal roof system.
On the other hand, those with unlimited or higher possibilities can go for stamped metal systems.
Keep in mind that both of these options are high-end. 
Application 
The type of roof project greatly affects the choice of one option or the other. 
For commercial structures, you may be better off with standing seam metal.
For residential applications, go for stamped metal roofing.
But whether you go for one or the other of these two applications, you won't make a mistake. 
However, for architectural projects, the standing seam solution is your best bet. 
The popularity of stamped metal for residential markets is due to its similar appearance to asphalt shingles that most homes already have. The stamped metal roofs give homeowners the look that's closest to slate, shake, or tile roof systems. 
For the commercial roofing market, standing steam is a better option due to a range of warranty options and a cleaner look. Architectural applications are better off with standing steam solutions for the same reasons. 
Roof Slope 
The best solution for low-slope roofs is standing seam roofing.
For steeper slopes, you can use both standing seam and standing roofs. 
There are also strict requirements for stamped metal roofs.
For mechanically seamed roofs featuring a double lock, you could get a .5/12 slope.
For roofs below 3/12, stamped roofing is not a good option. 
Desired Looks
When it comes to choosing standing seam or stamped metal roofs, you should know the preferred style of your home or the look you'd like to achieve.
The two roofing solutions have very distinctive looks. 
The standing seam is sleeker and more contemporary.
The stamped solutions have a more traditional look. 
So, if you're after a traditional appearance, stamped metal roofs are your go-to solution. For modern homes, you may prefer the standing seam solutions. 
With metal roofs, you get more options in terms of color, so you can combine them with your personal preferences. 
Municipality and HOA
Homeowners who live in areas with an HOA or a different municipal group should verify whether the material they want is allowed.
Some standing seam metals aren't allowed in all communities. 
It's important to learn about the restrictions to avoid unnecessary headaches or difficulties down the road. 
Are Metal Roofs That Look Like Shingles Expensive?
Metal roofs that look like shingles may have a higher initial cost than regular shingles.
Metal construction provides numerous benefits, higher energy efficiency, and energy-saving costs in the long term.
That's why the investment usually pays for itself over the course of a few years. 
Is It Worth It?
Metal roofs in any shape and type are worth it.
Of course, the choice depends on your personal preferences, needs, and budget. But when you weigh the benefits and disadvantages of this roofing type, you can clearly see that the investment is well worth it. 
The only situation where metal roofs may not be worth it for you is if you live in a rainy area and can't stand the sound of rain.
Also, if your roof has too low of a slope, the installation of a metal roof may not make much sense. 
Conclusion
A metal roof that looks like shingles is the perfect solution for homeowners who want the strength benefit of metal with a traditional appearance.
The high energy efficiency, a variety of styles to choose from, and durable lifespan are some of the strongest points of this roof solution. 
On the other hand, high initial costs and potential structural restrictions may deter some homeowners from investing in metal roofs. 
If you're ready to start your next roofing project and want it to be a metal that looks like shingles, you can contact local contractors to get a free quote and plan the next steps. 
Typical Price Range To Install a Metal Roof
Average:
9,158 - $14,310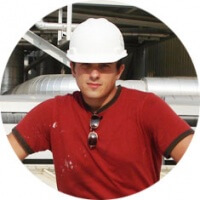 This roofing guide is presented by Leo B.

I've been a roofer for 15 years, and specialize in Metal Roofing and Flat Roofing.

Have a roofing question or issue? Ask me any roofing question!

Roofing Contractors - join our free Local Roofers directory to get more customers!