Rubber roof shingles have become one of the most popular alternatives to traditional asphalt shingles. This is mainly due to their superior durability that helps your roof withstand the harshest weather conditions.
On a 1,600 sq.ft. roof, installing rubber shingles costs an average of $11,760-19,040, including all labor and materials. Keep in mind that roof installation costs may vary greatly depending on local labor rates.
In this article, we'll cover all the major features of rubber shingles including material and installation prices as well as pros and cons of this innovative roofing material.
If you are ready to replace your roof, get 3-4 FREE roofing estimates from local pros that specialize in rubber roof shingles.
What Are Rubber Roof Shingles?
Recycled rubber and environmentally friendly, sustainable, and flexible plastics are the main components of rubber shingles. They provide higher energy-efficiency than other shingle materials in the industry.
Rubber shingles come in rolls or sheets, making the installation process a lot easier than usual. Even though they are made of plastics and used tires, manufacturers develop with a wide range of designs that replicate asphalt shingles, tiles, cedar shake, or slates.
Many rubber shingle manufacturers include at least 80% of recycled materials and a composite of other materials such as sawdust. As a result, rubber roof shingles have great durability and an architectural appearance. In general, these shingles are between 45-90 mm thick.
How Much Do Rubber Shingles Cost?
Rubber shingles cost a bit more than many popular roofing products. Generally, they cost between $7.35-$11.90 per square foot, including all materials and professional installation.
The cost depends on several factors such as the local economy, the area you live in, roof accessibility and height, and the complexity of the job. Other factors that may drive up the total cost of roof installation can be the number of layers that have to be stripped from the old roofing, and the state of your roofing substrate.
Rubber shingles cost two – three as much as classic asphalt shingles.
Their price is much closer to that of premium roofing materials, such as cedar shake and metal roofing.
Best Rubber Shingles
The two most notable producers of rubber shingles are Enviroshake and Euroshield. Here's what each company has to offer:
Enviroshake shingles
Enviroshake rubber shingles resemble real shakes thanks to the presence of authentic wood fibers in their core. These fibers are the reason why Enviroshake shingles feature the same thickness and look like natural cedar shakes. The shingles resist insects, mildew, mold, as well as peeling. They require no maintenance, and aren't prone to erosion, cracking, and delamination issues brought about by freez and thaw cycles.
Wind Resistance
Enviroshake rubber shingles have passed the Testing Application Standard (TAS) 125 and have a 180 mph wind resistance. This means that their rubber shingles remain in place even during conditions of a category five hurricane.
In this regard, rubber shingles outclass most of their competition that resists winds of up to 110 mph. Best of all, you don't need to pay for additional installation to upgrade your Enviroshake shingles to high wind resistance levels. This level of wind resistance can only be rivaled by a high quality metal roof, such as standing seam roofing panels.
Enviroshake shingles have been tested multiple times during real hurricanes across the states. These are just some hurricanes they've withstood:
• Hurricane Sandy (winds of up to 115 mph)
• Hurricane Harvey (winds of up to 130 mph)
• Hurricane Haiyan (winds of up to 143 mph)
• Hurricane Gonzalo (winds of up to 145 mph)
• Hurricane Maria (winds of up to 175 mph)
• Hurricane Katrina (winds of up to 175 mph)
• Hurricane Irma (winds of up to 177 mph)
Did You Know: The damage roofs sustain due to hurricanes includes missing roof sections, damaged downspouts and gutters, severe leakage, etc. Hurricane damage usually requires full roof replacement and costs thousands of dollars in repairs.
Fire Resistance
Enviroshake rubber shingles also deliver outstanding fire resistance. In particular, all their shingles have Class A fire ratings – the highest rating in the industry. Their rubber shingles are nearly impossible to set ablaze, even when struck by lightning. Even if the shingles catch fire, they have great defense mechanisms that can slow down the blaze until firefighters arrive.
To achieve exceptional fire resistance, Enviroshake shingles don't come with topical chemicals, unlike most synthetic products. Instead, the shingles' water runoff is completely potable, and doesn't harm the environment.
Impact Resistance
Enviroshake products are of the top rated Class 4 impact resistant shingles, meaning that they passed the UL 2218 testing. Accordingly, their impact resistance is also second-to-none.
Their shingles have a proven track record of enduring extreme hailstorm conditions. Namely, the company received no warranty claims following a powerful hailstorm in 2010 in Calgary that saw hailstones nearly four centimetres wide. Although the storm resulted in more than $400 million in material damage, Enviroshake rubber shingles weren't among the casualties.
UV Rays Resistance
Owing to their specially designed composite blend, Enviroshake rubber shingles have built-in UV protection. They contain powerful anti-oxidants and hindered amine light stabilizers (HALSs) that reflect UV rays. Consequently, their rubber shingles aren't susceptible to composition degradation or discoloration over time.
Cool Roofing Technology
To estimate the shingles' coolness, the Solar Reflectance Index (SRI) is used to measure thermal and solar emissivity. To obtain the rating of a Cool Roof, shingles' SRI must be higher than 19. As for Enviroshake rubber shingles, they have an excellent SRI rating of 31. In fact, their custom-made color Bermuda White boasts an amazing SRI value of 80.7
Eco-Friendly Shingles
95% of Enviroshake rubber shingles are recycled materials. The company recycles any scraps created during the production process, and diverts its waste materials. In addition, their shingles are 100% recyclable. Thus, you can dramatically reduce your carbon footprint by purchasing Enviroshake products.
Thermal Contraction and Expansion
You can expect Enviroshake shingles to thermally contract and expand no more than 2% between seasons. Their products always meet this standard regardless of the harshness of your climate and the severity of the temperature fluctuations in your area.
Accordingly, there are no pops or loud creaks caused by changes in temperature. There's also no risk of melting, curling, or warping.
Maintenance
Rubber shingles are known for their almost non-existent maintenance requirements. Enviroshake is no different in this respect. Their shingles resist insects, lichen, and moss. This can save you a lot of money down the line, given that there's no need for frequent and costly repairs of degraded roof areas.
Rain Resistance
Enviroshake shingles are nearly impermeable to torrential rain. More specifically, they can withstand rainfall amounts of up to 225 mm per hour. To give you a better picture of the level of Enviroshake shingles' rain resistance, Hurricane Harvey featured rainfall of 96 mm per hour, and it was the most extreme rain condition ever recorded in the US.
Its important not to confuse rubber roof shingles with a flat rubber roofing membrane EPDM, which is extremely prone to leaks and is one of the least reliable roofing materials.
Did You Know: 623 gallons of water runs off a 1,000-square foot roof during 1" rainstorms.
Euroshield Rubber Shingles
Euroshield is your other reliable option if you're looking to install rubber shingles. They also come with a multitude advantages.
Impact, Wind, and Fire Resistance
Euroshield rubber shingles are Class 4 impact resistant. Their products are tested by several labs recognized by the ICC (USA) and the Canadian Construction Materials Council (CCMC). As with other impact-resistant roofing, you can get generous discounts if you install Euroshield shingles. Moreover, their materials come with a limited lifetime warranty.
Since Euroshield shingles have passed the UL 2218 test, they can endure impacts from hailstones 2" in diameter. However, the company offers even greater protection with its Vermont Slate HP model since their shingles can withstand hailstones twice as large.
Euroshield also provides great wind protection. In particular, you can expect their shingles to withstand wind speeds of up to 160 mph.
However, the shingles' fire resistance isn't the best, seeing that they have a Class C certification.
UV Rays Resistance
Some other products normally experience changes in their color due to exposure to the sun's rays. But Euroshield rubber shingles don't have this issue owing to high levels of carbon in their core. This enables their shingles to weather much better than most synthetic shingles or natural roofing solutions.
Eco-Friendly Shingles
Euroshield shingles aren't harmful to the environment because 95% of their content is recycled tire rubber. Just like Enviroshake, the company recycles scraps and trim created during the production stage back into their products.
There are five eco-friendly shingle profiles at Euroshield, each offering beautiful colors and designs that are sure to boost your home's curb appeal
• EuroShake
• Rundle Slate
• Beaumont Shake
• Harvest Shake
• Heritage Slate
Each of these products is environmentally friendly, and replicates stone and wood products without problems such as warping, cracking, and rotting.
Pros and Cons of Rubber Roof Shingles
There are many reasons why you should install rubber roof shingles on your house:
Pricing: despite the fact that rubber shingles emulate the look of traditional, high-end products, such an real cedar woof or slate stone they are much more affordable. Thus you get a high quality, upscale looking roof at a fair price.
Durability: rubber shingles are extremely sturdy, flexible, and strong. On top of that, they aren't prone to deterioration caused by UV rays. They come with warranties of at least 30 years, and most manufacturers offer warranties of up to 50 years.
Safe for the environment: as we've covered already, rubber shingles are made of recycled rubber tires. As such, they are perfect for homeowners who'd like to contribute to preserving the environment.
Easy installation: the user-friendly structure lets you install shingles more easily than some other products, involving glue instead of torch-applied materials or asphalt. With a utility knife, you can cut the shingles to fit any corners and spaces. Also, pre-cut holes ensure ideal nail placement. Thus, faster installation can lead to lower labor costs than for other roofing materials.
Very low maintenance: additionally, rubber shingles are easy to handle, and require practically no maintenance. All you may need to do is clean them with a sponge mop and cleanser to fend off black mold spots and grime.
Superior hurricane protection: not all roofing products boast the protection that rubber shingles have. They can easily withstand hurricanes and the concomitant conditions, including high-speed winds and large hailstones. Many materials would crack or break altogether in the same situation, whereas hail bounces off rubber shingles and leaves them unscathed.
Insurance premium discounts: you can get much lower insurance rates for your house if you install rubber shingles. This is because insurers are aware of the superior resistance of rubber in hailstorms, which isn't the case for many asphalt products.
Lightweight material: rubber shingles are much lighter than natural slate roofing. For instance, Rundle Slate weighs just 3.4 pounds per square foot. Heritage slate is even lighter, weighing in at 2.45 pounds per square foot. By comparison slate stone roofing weighs 8-10 lbs per square foot.
Energy efficiency: owing to the Cool Roof design with most rubber shingles, you have an additional insulation layer for your house. The shingles block the sun's rays, limiting the amount of heat that penetrates the roof and enters your rooms. As a result, you don't have to use your air conditioning as often, saving you a lot of energy and money.
Cons
Still, rubber shingles aren't ideal for everyone. Some homeowners might be put off by rubber roofing due to the following reasons:
Appearance: in spite of the efforts to make rubber shingles closely resemble natural products, the appearance isn't quite as appealing. They come in an array of colors, but they can fade over time. Over the years natural wood or slate or even metal maintain their original curb appeal much better than rubber shingles.
Cost: compared to cheaper roofing products such as asphalt shingles, rubber shingles may not be a worthwhile investment, especially if you are not planning to stay in your home beyond 5-7 years or if you are looking to replace a roof on an inexpensive rental property.
You don't need the extra protection: if you live in a mild climate where hurricanes and hale are not a concern, and don't want to spend thousands of dollars on a super durable roof, you may be able to get away with quality architectural shingles such as GAF
Debris may still cause damage: while rubber shingles are nearly impervious to large hailstones and winds, they can still be harmed by falling debris. Potential threats include sharp objects such as satellite dishes or falling branches that can puncture the shingles and cause leakage.
Finding quality contractors may be difficult: not that many contractors specialize in installing rubber shingles. As a consequence, it can be challenging to find a professional who will properly install your roofing. However, this isn't a job where you should take a chance. Hiring an incompetent worker can cause a large number of issues and lead to premature roof failure which will not be covered by warranty.
Rubber vs. Asphalt Shingles
If the choice for your roof comes down to two options – rubber vs asphalt shingles – consider the following properties of both:
Durability
One of the main drawbacks of asphalt shingles is their relatively flimsy durability and fairly short lifespan. They aren't a lifelong investment, and in most cases, need to be replaced after about 25 years. In areas with poor weather, many asphalt roofs don't even last 10 years. By the time they reach this age, they will have already suffered many forms of damage, including discoloration, algae growth, and potential cracks.
Did You Know: There's a difference between cracking and splitting in asphalt shingles. Cracking occurs as a result of loss of chemicals called volatiles, whereas splitting takes place due to expansions and contractions brought about by changes in temperature.
On the other hand, some rubber shingle models can exceed their usual 50-year warranty and last up to 75 years. Such a long lifespan is normally reserved for tougher materials such as metal, but rubber shingle producers have pulled off a long-lasting roof using just recyclable materials. Furthermore, rubber shingles don't dent, rust, or chip.
Cost-Effectiveness
In regards to pricing, asphalt shingles are the most affordable roofing solution on the market. However, they generally aren't considered very cost-effective. This is due to routine repairs and replacements that can take place much sooner than the time period stated in their warranties.
Conversely, rubber shingles will give you a lot more value for your investment. They require almost no maintenance, meaning that the higher initial price will pay off in the long run.
Eco-Friendliness
Unlike asphalt shingles that contain many materials that harm the environment, rubber shingles are completely environmentally friendly. This makes them the safest synthetic material in the industry. Since rubber tires are recycled and not dumped in landfills, manufacturers such as Enviroshake and Euroshield go to great lengths to protect the environment.
How Long Do Rubber Shingles Last?
Rubber shingles are among the longest-lasting roofing products available. Most of the shingles are positioned as single pieces, meaning that there are few seams or none at all, depending on the layout of your roof. Since there aren't many seams, there aren't many cracks through which water can enter your roof and wreak havoc in your home. Along with the aforementioned UV protection, hail and wind resistance, rubber shingles have what it takes to last more than 50 years.
In fact, many rubber shingles installed in the 1970s are still in decent condition.
What Does This Mean for You?
Considering all these properties, it's hard to think that rubber shingles aren't some of the most dependable roofing solutions. This is especially true if you live in a hurricane-prone area such as the Midwest. The shingles can withstand winds of extreme speeds and huge hailstones. Admittedly, the curb appeal isn't ideal, but it's safe to say that the pros convincingly outweigh the cons. Choose either Enviroshake or Euroshield, and you'll reap the benefits of your well-protected roofing for decades to come.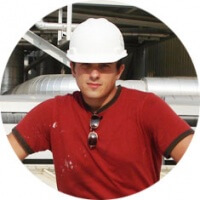 This roofing guide is presented by Leo B.

I've been a roofer for 15 years, and specialize in Metal Roofing and Flat Roofing.

Have a roofing question or issue? Ask me any roofing question!

Roofing Contractors - join our free Local Roofers directory to get more customers!