If you're considering investing in metal roofing, Fabral is likely among the first brands you'll come across.
A Fabral metal roof offers superior weather protection, competative pricing, a wide range of panel styles, and solid warranties.
To get started on your metal roof installation, contact your local roofing pros for FREE ESTIMATES!
How Much Does Fabral Cost?
Most homeowners report spending $14,000 – 19,000 to install a Fabral roof on a 2,000 sq.ft. house, including all materials and professional labor.
Fabral pricing varies depending on the roofing panel material, type, coating, and special features such as insulation.
Furthermore, there's no way to purchase metal roofing panels directly from Fabral. Instead, you will need to find local distributors – this can be easily done using a map on the manufacturer's website. Consequently, prices on the same roofing panel type may fluctuate.
Overall, Fabral roofing lies on the higher end of the metal roofing price range. It isn't the cheapest option on the market, but fairly priced for the quality you get.
You can use our Metal Roofing Cost Calculator to estimate the cost of installing a metal roof on your home.
Fabral Metal Roof Cost Per Square Foot
US Average Installation Prices For Most Popular Metal Roofing Types:
Here are the average costs of the top metal roofing types that homeowners like to install. All estimates include: labor, materials, dump fees, building permits, roofer overhead and profit.
Note: Costs listed above are based on contractors' prices in our Local Roofers Directory, and 724,396 roofing projects estimated by RoofCalc.org. Installation prices vary by state (see regional details below).
On average, Fabral heavy-gauge steel roofing panels cost $4-$6 per square foot or $400-$600 per 100 square feet.
Aluminum panels are slightly costlier, ranging from $5 to $7 per square foot, while premium copper and zinc alloy panels can cost over $9 per square foot.
These prices don't include installation costs or the cost of removal of old roofing.
Enduracote paint can also increase the panel price.
Note that Fabral roofing is priced by the panel rather than square feet. Because the panel sizes vary, the prices for different panel types can differ drastically. The prices here are per square foot for convenience.
| Unit | Cost per square foot | Cost per 100 square feet |
| --- | --- | --- |
| Heavy-gauge steel roofing without installation | $4-$6 | $400-$600 |
| Copper and zinc alloy roofing without installation | $8-$22.50 | $800-$2,250 |
| Professional installation | $3-$5 | $300-$500 |
| Heavy-gauge steel roofing total cost | $7-$11 | $700-$1,100 |
| Copper and zinc alloy roofing total cost | $11-$27.50 | $1,100-$2,750 |
Fabral Residential Metal Roofing Options
If you're looking for metal roofing for your home, it's well worth your time to explore Fabral's residential product range.
Steel Panels 1 1/2″ SSR
Fabral's SSR 24-gauge galvalume steel roofing panels are manufactured with structural integrity and a classic look in mind. The panels feature factory-applied sealant for weather resistance and a concealed clip fastening system for a clean look. Optional shadow lines add dimension to the roof.
These panels require a 1:12 minimum roof slope and provide a 16-inch coverage with a 1.5-inch seam height.
They offer excellent Class 4 hail resistance, Class A fire resistance, and Class 90 uplift test rating, withstanding the strongest winds.
The available colors include white, black, brown, sage, red, orange, yellow, and blue.
Horizon S Series Panels
The Horizon S Series is engineered for outstanding longevity for residential and small-scale commercial projects.
These 26-gauge steel panels feature standing seams with a snap-lock fastening system for durability and a neat appearance. Shadow lines come as standard for a dimensional look, while factory-applied sealant prevents water from getting trapped under the panels.
The Horizon S Series panels require a minimum 3:12 roof slope and provide 16-inch coverage with a 1-inch seam height.
Similar to the SSR range, Horizon S panels offer Class 4 hail resistance and Class A fire protection and can handle extreme winds. The color range is vast, from classic white and black to terra cotta and regal blue.
Grandrib 3 Panels
If you prefer a more textured look, consider the Grandrib 3 series panels. These panels feature clean, traditional vertical lines and come in an array of shades, including regal white, tan, green, blue, red and black.
You can choose among 29-gauge steel, 26-gauge galvalume steel, 016 aluminum, or G60 galvanized steel. The material is covered with high-performance Enduracote paint for increased energy efficiency and fade-resistance.
These panels feature Class 4 hail resistance, Class A fire resistance, and durability against strong winds. They require a minimum roof slope of 2.5:12 and provide a 36-inch coverage with a 0.75-inch rib height.
Grandrib 3 Plus Panels
The Grandrib 3 Plus series look the same as Grandrib 3 but are only available in 29-gauge steel or G90 galvanized steel.
The panels are thicker and covered with a G90 coating for even better durability and weather resistance.
It's an excellent choice for continental climates and coastal areas where roofing deteriorates quicker due to unfavorable environmental conditions.
RoofSeal Underlayment
Any Fabral residential roofing panel system can be combined with the RoofSeal underlayment for added durability and energy efficiency.
It comes with a 50-year no-leak warranty and is stronger than traditional felt underlayments. Furthermore, the underlayment doesn't rot or mold because it isn't organic.
Pro Tip: Opt for a standing seam roofing fastening system if you're looking for outstanding weather resistance and a sleek look.

On the other hand, exposed fastening panels are cheaper and easier to install. Fabral manufactures both panel types to meet different needs.
Average New Metal Roof Costs In US:
Low End

$9,202

Mid Range

$10,339

High End

$13,131

See Costs in Your Area! Start Here - Enter Your Zip Code
Fabral Commercial Metal Roofing
Fabral's commercial roofing system selection is much broader than residential, so we've gathered the most popular options below. Note that all residential panels are also available for commercial use.
PrimeRib Panels
PrimeRib series was developed for ultimate energy efficiency and durability, constructed from heavy-gauge steel with Enduracote coating.
The panels come in virtually any color – from white and beige to blue and yellow – and multiple finishes, including crinkled.
These panels are suitable for roofs with at least 2.5:12 slopes and provide a 36-inch coverage with 0.5-inch rib height. Like all Fabral metal roofing, these panels are resistant to hail, fire, and wind.
Hefti-Rib Panels
Hefti-Rib panels feature a superior strength-to-weight ratio, constructed from lightweight yet rugged aluminum or gauge steel. The ribbed surface adds dimension to the exterior. Furthermore, these panels are suitable both for roofing and vertical applications.
StrongClad Panels
The StrongClad series was developed for light commercial and agricultural applications and requires at least a 2.5:12 roof slope.
They provide a 36-inch coverage with 5/8-inch rib height and offer excellent resistance to hail, fire, and wind. The panels come in five finishes, including crinkled and Enduracote, and dozens of colors from neutral to bright.
Fabrib Panels
Fabrib roofing panels were designed for roofs with a minimum slope of 2.5:12 and can be made from aluminum or gauge steel by order.
They feature Class 4 hail resistance and Class A fire resistance but don't have a wind resistance rating.
The good thing about these panels is that they are suitable for horizontal and vertical applications, so you can match the walls to the roof for a clean look.
Delta Rib Panels
The Delta Rib series is only available in the western U.S. region and is manufactured from 29-gauge steel with durability in mind.
The panels feature an anti-siphon side lap design for outstanding wind resistance and are rated Class 4 for hail resistance and Class A for fire resistance.
Another special feature of these panels is the 10-year edge rust warranty against acid rain. The panels provide a 24-inch coverage and come in a wide range of finishes and colors.
GRG Panels
The GRG series is made from 29-gauge steel or aluminum-zinc alloy for extreme performance, ideal for post frame and agricultural projects.
These panels require a minimum 2.5:12 roof slope and provide 36-inch coverage with 0.75-inch rib height.
All panels are covered with Energy Star-approved paint and feature Class A fire resistance and Class 4 hail resistance.
Fabral Roofing Accessories
Fabral's product range includes not only roofing panels but also various metal roofing accessories. Let's take a quick look at the roofing add-on selection.
Snow Retention
Fabral manufactures clamp-on snow guards, exposed fastener snow guards, and Snow Rail snow retention systems from heavy-gauge steel to increase roof safety in snowy regions. The retention system prevents snow from falling off the roof.
Finials and Spires
Fabral's copper finials and spires add a unique look to any roof, available in classic or custom designs by request. The finials and spires have a hollow base to accommodate cables or lighting arresting systems.
Chimney Pots
Fabral's elegant chimney pots are a stylish design element for any roof, available in copper, steel, and other metals. All Fabral's chimney pots are lightweight and easy to install, compatible with steel masonry flues.
Pro Tip: Metal roofing's performance largely depends on the material. Tin is the cheapest option susceptible to corrosion and is no longer available at industry-leading brands like Fabral.
Galvanized or galvalume steel is a cost-effective and durable option suitable for homes in moderate climates.
If you reside in a coastal area, choose aluminum roofing with Enduracote coating to avoid corrosion.
Copper and zinc alloy roofing panels are the most expensive and durable options resistant to corrosion, extreme temperatures, and strong impact.
Average New Metal Roof Costs In US:
Low End

$9,202

Mid Range

$10,339

High End

$13,131

See Costs in Your Area! Start Here - Enter Your Zip Code
Is Fabral Warranty Any Good?
All Fabral metal roofing panels are backed by a 30-year limited warranty applied to structural integrity and finish.
The warranty covers finish caulking, cracking, checking, blistering, peeling, and fading. Qualifying projects can also get a 30-year weathertight warranty.
The requirements are as follows:
Stand'n Seam, Powerseam, Slim Seam, Thin Seam, or 2 1/2″ SSR series panels
Synthetic underlayment
Panel-associated trim pieces
Snow retention systems installed
Grandrib 3 Plus roofing panels are additionally backed by a 15-year edge rust warranty and a 25-year warranty against acid rain.
A 10-year warranty against acid rain applies to Grandrib 3, PrimeRib, ProClad, StrongClad, and all painted corrugated panels.
Benefits of Fabral Roofing
Fabral roofing and metal roofing, in general, is a costly yet wise investment. Here are the main benefits of installing a metal roof for your home or commercial project.
Long Lifespan
Depending on the metal type, installation quality, and weather conditions, metal roofs can last 30-70 years.
For comparison, asphalt shingles only last 12-25 years.
Fabral offers a 30-year warranty on all roofs, but they can last much longer with proper maintenance and favorable environmental conditions.
Note that steel panels can corrode and deteriorate quicker in coastal regions. Meanwhile, aluminum and copper panels will withstand even humid climates.
Superior Durability
All Fabral roof panels feature Class 4 hail resistance and Class 90 uplift rating.
This means that Fabral metal panels withstand ice balls measuring 2 inches in diameter without any damage and up to 90 pounds per square foot wind pressure.
These are the highest hail and wind resistance ratings for roofing in the U.S. You can safely use Fabral panels even in areas susceptible to hurricanes.
Safety
Metal is the safest roofing material due to its excellent fire resistance. In fact, some areas with strict building codes restrict the use of asphalt and wooden shingles for roofing because they are flammable.
Meanwhile, Fabral metal panels feature Class A fire resistance with the lowest possible flame spread rating.
Energy Efficiency
Metal reflects UV rays, preventing the roof from getting too hot and maintaining a comfortable temperature indoors in the summer. Consequently, metal roofs help to reduce HVAC expenses.
It's important to note that light colors and shiny finishes reflect the sun better than dark colors.
Thankfully, Fabral uses Energy Star-rated paint for increased energy efficiency regardless of the panel color and texture.
Environmentally Friendly
Metal is a natural material, so its production doesn't harm the environment as much as the manufacturing of synthetic roofing panels. Furthermore, metal roofing is fully recyclable and has a long lifespan. It's the most environmentally friendly and sustainable roofing choice.
Versatility
The days when all metal roofs had a shiny steel finish are long gone. Nowadays, metal roofing panels come in an array of textures, finishes, and colors to fit any style: matte, glossy, crinkled, smooth, ribbed, light, colorful, or dark.
Pro Tip: Investing in roof inspection and attic insulation prior to roofing replacement helps to avoid costly repairs or early roofing replacement and increases building energy efficiency.
Average New Metal Roof Costs In US:
Low End

$9,202

Mid Range

$10,339

High End

$13,131

See Costs in Your Area! Start Here - Enter Your Zip Code
Drawbacks of Fabral Metal Roofing
Although metal roofing has numerous benefits, no material is perfect. Here are some vital points to keep in mind when considering metal roofing.
High Cost
Metal is one of the most expensive roofing materials, and the complexity of installation only adds to the high initial cost.
While metal roofing ranges from $5 to $25 per square foot, asphalt shingles cost $1-$4.5 per square foot.
Panel Expansion and Contraction
Any metal expands in high temperatures and contracts in low temperatures. Consequently, metal roof fasteners wear off quicker in continental climates where temperature constantly fluctuates.
Risk of Corrosion
Some metal roofs can corrode in under 15 years in coastal regions. This usually isn't a problem with aluminum and copper roofing, or panels covered with Enduracote.
Maintenance
Metal roofing requires regular inspection for signs of corrosion and repainting every 10-20 years. Finding paint that perfectly matches the initial color may be tricky.
Pro Tip: Roofing can significantly impact your home's appearance, so choosing the right roof color is crucial.
A professional designer can help match the roof color to the house exterior. Alternatively, consider using 3D home design software to model how different roofing styles will look on your home.
Fabral vs. Englert Roofing
Englert Inc. is a popular U.S. metal roofing manufacturer and one of Fabral's main competitors. As with Fabral, Englert produces residential and commercial roofing systems for use in different industries.
Englert's product range includes architectural, structural, and curved roof panels – the latter is a competitive advantage because Fabral doesn't produce curved roofing systems.
Both manufacturers make smooth, ribbed panels, but Fabral's color range is significantly wider. Still, Englert metal panels come in numerous colors, including white, beige, different shades of green, blue, red, orange, and black.
Engler metal roofing is backed by a 20-year structural and finish warranty, 10 years shorter than Fabral's warranty.
The weathertight warranty is issued for eligible products and covers 5-10 years. Englert is undoubtedly a great choice for buildings with curved roofs, but Fabral's longer warranty and wider color selection make it a better option overall.
Fabral Roofing vs. McElroy Roofing
Another Fabral alternative is McElroy metal roofing, an industry-leading metal roofing brand with 13 manufacturing facilities across the U.S. The company was established in 1963, a couple of years earlier than Fabral.
McElroy's catalog includes standing seam panels, exposed fastening panels, insulated panels, metal shingles and tiles, and retrofit panels. Each panel type comes in multiple styles, textures, and colors.
Fabral wins in terms of color selection, but McElroy manufactures recover and retrofit panels unavailable at Fabral.
McElroy's galvalume steel panels are backed by a 25-year structural and finish warranty. Some panel types are also eligible for a weathertight warranty.
There's no clear winner in the Fabral vs. McElroy competition, so we suggest readers explore the product range of each brand and use their own judgment.
Is Fabral Roofing Wirth It?
Fabral is one of the U.S.'s oldest metal roofing manufacturers that participates in government-funded projects and provides a 30-year product warranty. It's undoubtedly a high quality metal roofing brand that's worth your trust and money.
Fabral's experience, long warranty, and wide product selection make it an excellent choice for any U.S. homeowner. The key is to choose the right panel type to meet your unique needs.
Average New Metal Roof Costs In US:
Low End

$9,202

Mid Range

$10,339

High End

$13,131

See Costs in Your Area! Start Here - Enter Your Zip Code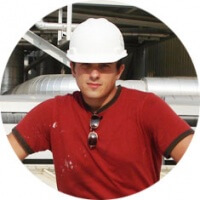 This roofing guide is presented by Leo B.

I've been a roofer for 15 years, and specialize in Metal Roofing and Flat Roofing.

Have a roofing question or issue? Ask me any roofing question!

Roofing Contractors - join our free Local Roofers directory to get more customers!