Among different flat roofs, TPO roofing stands out as a high quality material that offers the best value.
Proven durability, longevity, ease of maintenance and reasonable cost make it a top choice for both large and small scale flat roof installation projects.
TPO roofing material is available in a wide range of standard and custom colors, along with different style options. It will look equally attractive on a traditional Cape or Ranch Style home, as well as a contemporary one.
To get started on installing a TPO roofing membrane, contact your local roofing pros for a FREE ESTIMATES!
Prices
Low End
Mid Range
High End
Materials
$3327
$3914
$4971
Total Cost
$8619
$10140
$12878
See Costs in Your Area!
Start Here - Enter your zip
What Is TPO?
"TPO" is an acronym that stands for "Thermoplastic Polyolefin". It basically describes the roof's chemical composition: polyprophylene and ethylene-propylene rubber.
These are bound together along with numerous additives and stabilizers, such as fiberglass, talc and carbon filler, to create a uniform, single ply membrane.
The roof's seams and flashings are installed using hot-air welding equipment. TPO's unique formulation allows it to be highly reflective and weather resistant.
This is why this roofing material is gaining both commercial and residential market share with such lightning speed. In recent years, TPO has become increasingly popular as a roof covering for RVs and motor homes.
TPO Roofing Material And Installation Costs
Across the US, homeowners who installed a TPO roof membrane report spending about $5-6.75 per square foot.
On a 1,600 sq.ft. home, this is equivalent to $8,000 – 10,800
Keep in mind that your total TPO roofing cost may be higher or lower, depending on a number of important factors, including:
– Geographic location – more expensive areas will have overall higher labor rates
– Experience of your contractor – hiring a real flat roofing pro can cost significantly more than a general roofer
– Complexity of your roof
– Membrane color, thickness
– Required insulation and accessories – depending on what you need this can add as much as 20% to the total cost.
TPO Roofing Colors
In terms of the membrane color, you can select from the most common options: white, grey and tan.
Because flat roofs are not highly visible, they do not need to be as appealing as sloped roofs, such as shingles. Standard TPO colors do not cost extra.
However, if your project calls for a unique color, you can custom order a product that matches your needs. You should budget 10-15% more for a special TPO roofing color. We recommend getting in touch with the manufacturer to get exact pricing for a particular color you like.
You will find the greatest variety of color choices from GAF. This manufacturer offers EverGuard TPO, which is available in 17 beautiful pre-formulated colors.
To get one of these tones, you need to place a minimum order of 400 sq.ft. and allow for 4-6 weeks lead time. Additionally, it is possible to order a custom color.
There is also a 400 sq.ft. order minimum and 6-8 week lead time.
See the 14 available colors bellow. The other 3 colors are standard: white, tan and grey.
Another top manufacturer, Carlisle, offers their Sure-Weld TPO in 5 attractive colors, in addition to the standard white, tan and grey.
TPO Membrane Thickness
Generally, TPO roofing material is available in 3 different thicknesses: 45, 60 and 80 mil. Thicker products are more durable, longer lasting, leak and puncture resistant, and therefore cost more.
Contractors recommend installing at least a 60 mil membrane on the majority of homes. However, if you are willing to spend more money, it is best to go for 80 mil.
Unique TPO Roofing Profiles
If you have a low slope as opposed to a flat roof house, and want a unique looking roofing option, Carlisle TPO is a great choice.
Among standard options, there is a the Contour Rib Profile. It replicates the look of standing seam metal, and will surely boost your house's curb appeal.
It has the same benefits, properties and installation options as other classic Carlisle product lines for TPO. Consult with your local roofer to see if Contour Rib can work for you.
TPO Roofing Energy efficiency
One of this roof's greatest selling points, particularly for homeowners looking to use green building materials, is its high energy efficiency.
White, tan, and grey membrane colors exceed the Energy Star requirements for a heat – reflective surface.
This means that the temperatures inside your home, both in the summer and winter, will be a lot more comfortable than with a dark surface roof.
Moreover, you can expect to see savings of 20-30% on your energy costs.
It is important to note that the majority of the colored membranes are NOT rated by the Cool Roofing Council. This means that they will not be as efficient in reflecting solar radiation as the standard colors.
However, they will still reflect a large portion of the UV rays, simply due to its chemical composition.
Thus, installing one of these special colors may result in slightly higher A/C bills, compared to a standard one. You should call the manufacturer for more specific information about this.
If you want to install a roof with the highest energy efficiency, you should look for the Energy Star and Cool Roof Council Ratings on specific products.
TPO Membrane Benefits
Today, TPO is the second most installed flat roof across the US. It has been steadily growing in popularity both in commercial and residential roofing applications, due to a number of highly attractive features:
– Cost-effectiveness
– Durability and longevity
– Superior leak resistance due to hot air-welded seams
– Resists heat, UV rays, moss, mold, algae, puncture and tearing
– Hot air-welded seams make this membrane 3-4 times stronger than EPDM rubber's adhesive seams.
– High energy efficiency: significant monthly savings on cooling costs (up to 30%)
– Considered to be a cool roof by the Cool Roof Rating Council (colors include: white, tan and grey)
– 100 % Recyclable
– Resists dirt and debris built up
– Very low maintenance
– Easy to repair
– Easy to install: it is very light weight and is manufactured in wide sheets. This makes it quicker,
easier and cheaper to install, and there are also fewer seams
– Great wind uplift resistance, again because of hot air welded seams
– Flexible membrane allows for home's or building's movement or setting
TPO Disadvantages
If you are considering installing TPO on your house or building, you should be aware of some important draw backs of this material.
1. Historically poor performance in regions with high temperatures and lots of sun year round.
In these conditions of high thermal or solar loading, TPO undergoes accelerated weathering.
The MRCA committee researched this problem and issued a warning report to roofers installing it in such areas.
This is really unfortunate, as such a roof could save you a lot of money on cooling costs year round, if it was functioning properly.
It is important to note that this problem seems to have gotten less severe over the years, due to improvements in the formulation. Today, many of these roofs are installed in cities across the Southern states.
However, thermal loading is still a big concern, and we would recommend going with a different product, just to avoid taking any risks with such a big investment as a roof.
2. Many membranes are plagued with poor weldability.
This makes the seams susceptible to water infiltration. It is critical to make sure that you get one that can be welded at the highest temperature range.
3. Numerous recalls.
Since TPO has been first introduced to US market in the early 90's, there have been a number of major product recalls, because TPO systems were failing across the US for a variety of reasons.
Since then, manufacturers have fixed the initial problems in the material's formulation that were causing these failures. However, the track record of successful performance is still very short.
4. Many cheap, low quality TPO membrane to watch out for
Because TPO is such a huge commodity in the flat roofing market, many small manufacturers are jumping in to produce their own product lines.
The problem is that everyone is trying to save money to make it price competitive with PVC. As a result, the formulation continues to change, with very little standards or oversight.
In recent years, ASTM has finally established minimal standards for TPO materials, but there is still a lot of room for experimentation on the part of the manufacturers.
Your best and safest bet would be to purchase this roof from a reputable large manufacturer such as GAF, which is one of the veteran producers of this product.
TPO vs. EPDM
EPDM rubber is the oldest single ply membrane that has been in use since the 1960's. It's the most popular flat roofing choice and has the biggest share in both commercial and residential roofing.
Compared to TPO, EPDM roofing is 30-40% cheaper, which is the primary reason for its popularity. However, it does have a number of distinct disadvantages, which TPO does not have. These include:
– High rate of heat absorption from the sun. EPDM is not an energy efficient roofing material.

– Prone to leaks, especially at the seams.

– Prone to shrinkage.

– Seams are EPDM's weakest point. They are not watertight and eventually come apart because the adhesive that holds them together gets weak after some time.

– Faulty installation causes EPDM roofs to fail and require frequent repairs and replacement much sooner than their expected service life of 20 years. Realistically, the last only around 8-10 years without problems.
TPO vs. PVC
The above advantages make a TPO roof almost the same as its closest competitor – PVC roofing. There are only 2 differences, but they are significant.
First, a TPO system is cheaper than PVC by about 15-20%, which is why so many people decide to install it.
The second difference is that PVC roofing has a solid track record of performance across the US for the past 40 years, while TPO has been around for only half the time.
More importantly, during this time, it has been initially plagued with major material damage and recall issues. While the membrane has been reformulated a number of times to resolve its initial problems, many contractors and builders still trust PVC more at this point in time.
Take a look at some of the installation differences between the two:
How TPO (and PVC) roofs are installed:
It is likely that if it continues to perform well over the next 10 years, more and more people will install it, because of competitive pricing.
Today, you have to decide what is more important for you: cheaper price or a solid track record of performance and durability?
TPO Roofing Reviews
If you want an honest assessment of a roofing material, no one will have a better sense than the people who install it: roofers!
Here is a summary of what many contractors that install both TPO and PVC roofs have to say about them:
– You should expect TPO to last about 15 years. Most PVC roofs easily last 20-35 years.
– TPO performance and longevity varies greatly depending on geographic location. PVC is still preferred in very harsh climates, such as in Wyoming.
– Install at least 60 mil thickness, and better more, if you can afford it. Anything else is pure garbage.
– It is possible to prolong the service life of TPO by re-coating it with an elastomeric cool roof coating, such as X-Tenda Coat by Carlysle, every 4-5 years.
However, in this case you also need to consider the regular additional costs of this job. Comparatively, with this added, PVC roofing becomes the cheaper option over the long haul.
– The majority of TPO installers are NOT certified. They simply get their products from a local supplier. This means that they may have very limited experience installing it and will most likely not offer any warranty on their labor.
This is a big problem, since many of these roofs fail due to poor installation. It is important that a roofer has good training and experience using hot air-welding technology to make the seams water-tight.
By comparison, the majority of PVC installers are certified and trained by the manufacturer, such as IB Roofing. When it comes to warranty,
IB offers a 25 year no dollar limit warranty, if you are going with its certified installer. Thus with PVC, you are getting both better install quality and better warranty.
– The majority (8-10) of flat roofing pros would recommend a PVC product, if you can afford it.
You can read more on what roofers have to say, in this thread of Contractor Talk forum.
Is TPO Right For You?
In short, when you are trying to decide whether or not to go with TPO, you need to call a few local contractors and ask them the following questions:
1. How many TPO membranes have they installed in the past 10 years?
2. How many of them have failed, or needed serious repairs?
3. Would they recommend it in your particular climate?
Your Estimated Roofing Cost
Roof Price:
Cost per sq. ft.
Roof Size:
Roofing Material:

See costs in your area Start Here - Enter Your Zip Code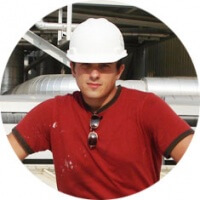 This roofing guide is presented by Leo B.

I've been a roofer for 15 years, and specialize in Metal Roofing and Flat Roofing.

Have a roofing question or issue? Ask me any roofing question!

Roofing Contractors - join our free Local Roofers directory to get more customers!