The price of steel siding is surprisingly affordable, and averages $4-9 per square foot. For a 1,500 sq.ft. home, you can expect to spend $6,000-13,500 for steel siding together with installation.
We're going to take a close look at the cost of steel house siding, including material and installation costs, as well as return on investment.
How Much Does Steel Siding Cost?
Steel is a common commodity metal, manufactured from iron and carbon and delivered to the market already manufactured. This is the main reason why the price of steel panels can sometimes vary a lot. In fact, the prices can often fluctuate outrageously.
A single metric ton of steel can change from $165 to $50 in less than half a year. So, understandably the price of cladding an entire house with steel siding panels can vary considerably.
x
Low End
Mid Range
High End
Materials
$4208
$4950
$6287
Cost / S.F.
$8.43
$9.16
$11.63
Total Cost
$10899
$12823
$16285
See Costs Near You!
Start Here - Enter your zip
On average, homeowners spend $4 – 9 per square foot to install steel siding. On a 1,500 sq.ft. simple ranch-style house For example, it would cost anywhere from $6,000 to $13,500 to install steel siding.
Keep in mind that the gauge of steel as well as the manufacturer can also drive the cost of this siding up or down.
If you want insulation, you need to add at least $1.0 per square foot to the total cost.
You can use our Siding Calculator to get a more exact steel siding replacement price for your house.
Steel Siding Panels Prices
Depending on the manufacturer and the gauge of steel, you can get steel siding panels for $2 to 6 per square foot.
You can buy steel panels in 26, 29 gauge steel (these are considered heavier industrial grade thickness panels which may not always be ideal for residential applications) or lighter 24 or 22 gauge steel.
These lighter gauges of steel are preferred for residential siding but they are also around 10-15% more expensive than heavier gauge steel paneling.
A big benefit of steel panel siding is that it can be arranged either vertically or horizontally.
Steel panels can also be cut to your specifications to create a particular design and you can also reduce the visible amount of seams, depending on how you arrange the panels.
However, doing these additional manipulations and any type of custom cutting significantly increases your total installation cost.
Cost Of Steel Siding Based On Panel Type
Tin wall tiles made of steel cost $1.5 – 10 per square foot depending on design
Steel cladding, which is already manufactured with insulation board and costs $4-8 per square foot
Steel slats are similar to panels, but they use more of a tongue and groove design. These are often preferred in construction projects that call for increased ventilation. Similar to panels, steel slats can be arranged vertically and horizontally and cost about the same.
Most People Spent:
$11,360 - $16,730
See costs in your area Start Here - Enter Your Zip Code
Steel Siding Installation Cost
One of the biggest factors that determines the cost of labor to install steel siding, or any metal siding for that matter is the lack of professional installers that specialize in metal siding. Since metal is not a very popular siding material, it can be a challenge to find a siding pro who can do a quality install.
However, hiring an expert metal siding contractor is crucial, since poorly installed siding will not stand up to the elements, can leak and require repair or replacement much before the end of its normal service life.
Depending on local labor rates, metal siding installers charge $55-90 per hour. In higher income areas, such as Mass, New York, California, Washington State, etc. the cost of installation can be as much as 30-45% higher compared to lower income states like Alabama, Nebraska, etc.
Metal siding installation cost can range from $2-10+ per square foot depending on a number of factors:
– size of the house (square footage)
– number of stories
– need to install insulation
– complexity of house architecture, number of windows, doors, corners, etc
– accessibility issues
– any custom cutting and bending of the metal panels that are not standard sizes or shapes
– cost of removal and disposal of old siding (this can be as high as $1-2 per square foot)
Most homeowners pay $3.5-5 per square foot for professional labor and all construction materials (nails, fasteners, flashing, trim, j-channels, corner caps, etc)
Another factor to consider that may increase the cost of installation is whether you want your steel siding installed vertically or horizontally.
Typically, vertical installations are more labor intensive and take more hours to complete, so your contractor will charge a higher price for it. Expect to pay 15-20% premium if you want your steel siding panels installed vertically.
Projects that Many Homeowners do When Replacing Siding – Roofing & Gutters:
Often a siding replacement job goes along with gutter and roof replacement. First, most roofers also do siding and gutters as part of their service offerings.
Secondly, these 3 exterior improvement projects are connected in physical sense: roof touches siding, and gutters are in the middle to protect siding from rain water run-off from the roof. Thus they usually need replacement together, or ate similar time spans.
Third – having 2 or 3 projects done together, usually saves you 5-10%, as the contractor is already there, thus no need to do setup again.
Most People Spent:
$4,190 - $5,740
(For a 1600 sq. ft. Roof)
See costs in your area Start Here - Enter Your Zip Code
The cost of installing new seamless gutters and downspouts averages $10-12 per linear foot.
Roof replacement cost ranges from $5,500 to 13,500 on a 1,500 sq.ft house depending on the roofing material you choose to install.
Most homeowners that install metal siding, also install a metal roof. Metal roofing is available in a wide range of profiles, colors and styles.
There are high-end and contemporary looking standing seam panels, budget friendly corrugated steel panels, stone coated steel shingles, or metal shingle profiles that replicate the looks of slate and cedar wood.
Cost Of Aluminum vs Steel Siding
Typical Price Range To Install a Metal Siding
Average:
9,158 - $14,310
Many homeowners considering metal siding for their home debate between aluminum vs steel siding. Here cost may be a deciding factor since aluminum siding can be cheaper than steel.
On average aluminum siding costs $3-6 per square foot, compared to $4-8 for steel siding. On a 1,500 sq.ft house, this difference translates into $1,500 – 3,000.
However, when you consider the cost of entire siding installation, the cost difference between steel and aluminum siding is not that significant. Other factors to consider when choosing between these two metal siding options are as follows:
– Steel is heavier and less flexible than aluminum. This makes it more difficult to install and it may require additional supports for house structure. On the up side the thicker panels of steel do not easily bend and are not susceptible to bends and tears.
– The lighter nature of steel makes it easier to manipulate into various shapes not possible with steel and also easier to install overall. However, aluminum is less strong and will also dent and bent much easier if hit by a heavy object or punctured.
– If steel is not coated, its more susceptible to rust and corrosion than aluminum, which is always coated by exterior paint. If you do consider aluminum siding, keep in mind that the quality of paint makes a huge difference in how long it will be able to stand up to the elements, so choose high quality exterior paint for metal siding.
– Steel siding is still very popular due to its modern flair, especially when we are talking about bare metal panels. However, by some standards and in many residential markets aluminum siding is considered to be more outdated and may actually lower the value of your house.
If you are considering residing with either steel or aluminum siding, but have plans to sell your home in the near future, it is a good idea to find out how metal siding fares in your local real estate market.
– In terms of energy efficiency, un-insulated aluminum panels have a lower R-value compared to steel panels. However, this can be mitigated if you install insulated metal panels from a company like MBCI.
Cost Of Galvalume vs Galvanized Steel Siding
When shopping for steel house siding its important to know that there are two types of steel available:
Galvanized or G90 steel (cheaper) is coated with a protective layer of zinc
Galvalume steel (more expensive but better resistance do corrosion) is coated with a protective layer of zinc and aluminum combined.
How To Save Money On Steel House Siding
Many homeowners that want to install steel siding while spending the least amount of money wonder if its possible to install corrugated metal roof panels as siding. In fact, the answer is yes!
This is a great way to save money on a siding install while still getting a high quality durable panel. Metal R panels and 5 V crimp corrugated panels cost as little as $1-1.5 per square foot.
This is the route that many DIY savvy homeowners take, as these corrugated panels are readily available at Home Depot or Lowe's. You can either install corrugated metals as siding on your house by yourself or hire a siding contractor.
In addition to your local home improvement store, you can order very inexpensive corrugated steel panels from Menards.
They have a few dozen panel styles, colors and sizes to choose from, if you are looking to do a basic no frills project, like building a shed or a wood working shop, etc.
On average, corrugated steel siding costs $5 per square foot, so clearly using corrugated metal roofing panels is much cheaper!
In recent years, corrugated steel siding has been enjoying a surge in popularity in residential construction. Typically, corrugated steel siding is a staple building material for industrial or commercial buildings.
However, homeowners that need a strong siding that can withstand hard weather and hair storms have been using this heavy duty siding with great success on residential structures such as sheds, garages, and even their homes.
Steel Siding Return On Investment
Exterior metal siding made of steel has one of the highest ROI's (returns on an investment). The average nationwide is around 86%, but it will change depending on the area.
East Coast has an even higher average of around 95%, which is an excellent return. People looking to buy a new house in areas with harsh winters will almost always see steel siding as a plus, not a disadvantage.
The situation is the same in areas with heavy wind storms and natural fires. In any of these locations, having steel house siding is a big bonus at resale.
The only problem can be if the steel panels don't suit the residential area well and stand out, then because of aesthetics, the resale value of the house may be lowered.
If you are planning to reside your house with any type of metal siding, its best to consult your local real estate agent first.
Is Steel The Best Siding Option For A House?
Steel siding is rarely going to be the wrong decision to make for your house or for your commercial building.
If you love the look and feel of metal and want a hassle-free material that will protect your property in any weather, steel siding is the winning choice.
As we mentioned before, finding the right contractor will be crucial to ensure that your new siding does its job well and lasts for decades to come.
You have a lot of freedom in setting your budget and picking the steel product that appeals to your vision of a dream home.
Let us know in the comments below if you have installed steel siding on your home, how much you spent and how you are enjoying your new siding.
Typical Price Range To Install a Metal Siding
Average:
9,158 - $14,310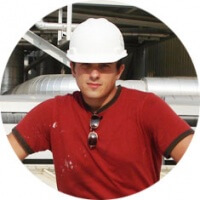 This roofing guide is presented by Leo B.

I've been a roofer for 15 years, and specialize in Metal Roofing and Flat Roofing.

Have a roofing question or issue? Ask me any roofing question!

Roofing Contractors - join our free Local Roofers directory to get more customers!