New seamless gutters cost $10-12 per linear foot installed.
Quality gutters are essential to keeping your home safe from moisture infiltration. Moreover, there are a number of accessories you can add to improve the level protection your roof gets.
This guide covers prices for different gutter materials, including vinyl, steel, aluminum and copper, accessories and professional installation charges.
How Much Do Gutters Cost in your area?
An average size home of 2,000 sq. ft. typically requires about 150-200 linear feet of vertical gutters, as well as downspouts to allow water to drain. This puts the cost of new gutters at $10-11 per linear foot for a one storie home, and $11-12 per linear foot for a two storie home (standard, white, seamless aluminum gutters).
This amounts to about $1,500 – 1,650 for installation of seamless aluminum gutters on a one storie house and $1,650 – 1,800 for a two-storie home. This price does not include any type of leaf protection, such as Leaf Guard.
Note, contractor labor rates vary greatly depending on your location. If you live in a high-income area, such as New York City, you will pay considerably more (about 7% higher than the national average). On the other hand, if you live in a city like, Houston, Texas, you will pay much less, because contractor rates there are about 10 – 16% lower than the national average.
Get Free, no obligation quotes from your local installers here.
DIY installation vs. hiring a contractor
PRO TIP – Hire a Gutter Installer! Getting a contractor to install seamless gutters is cheap enough that it actually makes sense NOT to do it yourself!

1) Most homeowners would install either vinyl or aluminum gutters that come from Home Depot / Lowe's in 10′ sections. This will surely result in future leaks at seams (between every 10′ section).

2) Most homeowners do not have access to SEAMLESS gutters, or cannot transport them from local fabricator to their home. How would you transport a 40-50 feet long gutter section?

3) By doing it yourself you will save at most $500-600 on an average house, while going through a lot of trouble and health risks!
If you want to save on gutter installation cost, you can go the DIY route. In this case, materials will cost about $4-5 per foot. including all accessories, hardware and downspouts. This amounts to about $400 – 500 for 100 ln.ft. So you save at least $500 by doing the install yourself.
These prices are for vinyl Home Depot gutters. Also, similar products are available at Lowe's and other home improvement stores. These stores don't carry steel or aluminum gutters. This is because they are sold in 10 ft. sections, and 99% of homeowners would not be able to install them properly.
Nevertheless, it is possible to purchase seamless aluminum gutters. You would have to find a small local supplier or buy them from a local contractor, who owns a roll forming machine, and is willing to sell it direct.
The biggest downside to DYI gutter installation is that you would most likely only be able to work with sectional gutters. These tend to leak a lot more and faster, compared to seamless ones. So while you will save initially, you also have to consider that you will have gutter repair costs in the future. It is also possible that full replacement may become necessary as quickly as in 2-3 years.
Most People Spent:
$920 - $1,295
(For 110 ln. ft. of Gutters)
See costs in your area Start Here - Enter Your Zip Code
Enhancement costs
You may also need a professional to preform the following services:
– Replace rotted wood fascia board with 1 x 6 PVC Board: $13-14 per linear foot.. Wider fascia boards will cost slightly more.
– Gutter cleaning service: $100-150 for a one time service for a single storie home. $200-250 for a two-storie home. In most regions, its recommended to clean gutters at least 3 times a year. Alternatively, you can get an inexpensive Lowes gutter cleaner for only around $18.
– Install Leaf Guard: $8 / ln.ft. for plastic Lows leaf guard sold at Home Depot and $12 / ln.ft. or more for professional (metal) leaf guards.
Materials prices and options
Seamless rain gutters are available in a number of different materials. Keep in mind that you will also need to purchase downspout extensions.
Aluminum
Aluminum gutters are the most popular and cost-effective. In fact, the account for over 90% of all professional installs. The biggest advantage is that these gutters will not rust! Moreover, they are lightweight and highly efficient at carrying water away from your house.
Coil stock is available in a range of thicknesses, including .032, .027, and .025 inches. It is recommended to choose the thickest 0.032 material, as its a lot more durable. Also, be sure to get primary as opposed to secondary aluminum. It costs a little more, but offers more uniform consistency. Secondary aluminum is made from recycled aluminum scraps, and is typically not as strong and consistent.
The average installation cost is $10-11 per ln.ft. installed for a one storie home, and about $11-12 per ln.ft. for a two storie home.
x
Low End
Mid Range
High End
Cost / L.F.
$9.24
$10.15
$12.28
Total Cost
$924
$1015
$1228
See Costs Near You!
Start Here - Enter your zip
Steel
Residential steel gutters don't really exist, because nobody makes them. The only place where you would find them is large commercial or industrial space metal buildings. There is no benefit to using this metal in residential application, because savings on material would be minimal, while wear on the roll forming machines would be excessive.
Additionally, steel can rust, and because gutters are always subjected to standing water, its not recommended to use this material. There are much better options, such as: zinc or copper, and of course aluminum.
If you still want to purchase steel gutters, you should know that prices vary greatly and you need to get a quote from your local sheet metal shop. However, expect to pay at least $60-70 for a 10 ft section. A 10 ft. downspout will run you another $40-50. All accessories are also very expensive. With such pricing, it doesn't make sense to buy steel, because zinc costs almost the same.
Copper
This is a premium metal that offers superior durability and longevity. However, most homeowners choose copper for its unique and beautiful look. Over time, it develops a greenish patina, which many people greatly enjoy. Most copper gutters are installed on upscale brick mansions with slate roofs, or modern custom-built homes. You will rarely find them on a ranch or cape home.
The average price is around $25 – 30 per ln.ft. installed.
Gutter Accessories
There are a number of useful accessories you may want to purchase to enhance the performance and longevity of your new gutters.
Leaf guards: a mesh, perforated or solid guard that prevents leafs and other junk from clogging your gutters. There are numerous gutter guards available, but its better to select one that will not rust and corrode over time.
They can be made of metal or plastic, and can be purchased in 4 or 10 ft. sections from a multitude of suppliers.There are over 50 Home Depot gutter guards options to choose from, made from various materials.
There are even products with an integrated leaf guard. However, they are expensive to install and can have pretty serious maintenance issues.
Costs range from $40 (DIY installation) to $3,500 (professional installation)
Downspout screens: redirect the flow of debris away from the downspout opening. This budget-friendly screen can be purchased for only about $15 each.
Downspout strainer: an aluminum "basket" that is inserted into the gutter outlet (drain) and prevents debris from clogging the drain. You can buy it for around $6 each.
Heat tape: if you live in a region with cold winters and snow, you will need to deal with leaks caused by ice dams. You can prevent these issues by running a heat tape cable through your gutters and downspouts. When you activate the cable, it will melt the ice and the water will naturally drain away.
Heat tape can be purchased for about $79 / 120 ft. cable
Wire mesh screens: install these on top of your gutters to prevent any insects/pest from entering inside and jeopardizing the integrity of the entire system.
You can buy these for as low as a $1.5/ln. ft.
Install Roof Shingles

$4872


Average price

Install Metal Roof

$10253


Average price

Install Flat Roof

$8257


Average price

See costs in your area Start Here - Enter Your Zip Code
Cleaner attachment: instead of hiring a pro to clean your gutters, you can save a lot of money by doing it yourself, using a special cleaner attachment. It easily fits into a pressure washer and can be used to clean gutters right from the ground.
There are different attachment options available, starting at $22.
Why choose seamless gutters?
The biggest benefit of a seamless gutter is that it comes as one giant strip, without any gaps or seams. Consequently, it can only leak in 3-4 spots – end caps, drain outlets or corners. The good news is that seamless gutters usually don't leak for a long time, if ever. By comparison, sectional gutters usually leak at every joint. Since sections are 10 ft long, you can get 5 or more leaks on a single run.
Moreover, professional installation is fast and easy. A contractor comes in, measures your roof and determines the length of strip required. He then produces gutters on site, by running aluminum coil through a roll forming machine, making the exact length you need.
Once a gutter is made, end caps and drain outlets are installed on the ground, hangers are placed inside the gutter 24 inches apart. Two installers lift the gutter section up and attach it to the roof fascia. Once it is installed, downspouts are added as needed.
Your Estimated Roofing Cost
Roof Price:
Cost per sq. ft.
Roof Size:
Roofing Material:

See costs in your area Start Here - Enter Your Zip Code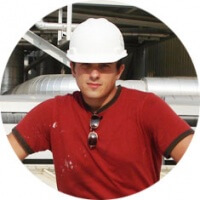 This roofing guide is presented by Leo B.

I've been a roofer for 15 years, and specialize in Metal Roofing and Flat Roofing.

Have a roofing question or issue? Ask me any roofing question!

Roofing Contractors - join our free Local Roofers directory to get more customers!